STYLE & DECORATE WITH BLUE & WHITE
Decorate with blue and white with confidence! Blue and white is a classic, timeless combination that endures for both fashion looks & interior design styles. We hope to provide a little inspiration for styling and decorating with this most elegant of colour duos. We'll suggest how to incorporate blue and white into your chosen look or room scheme, where to draw your inspiration, we'll provide product sources and suggest complementary and accent colours to warm up or tone down the cooler blue hues. Whether your aim is for a calm and restful mood or something more vibrant and invigorating, our images are sure to inspire…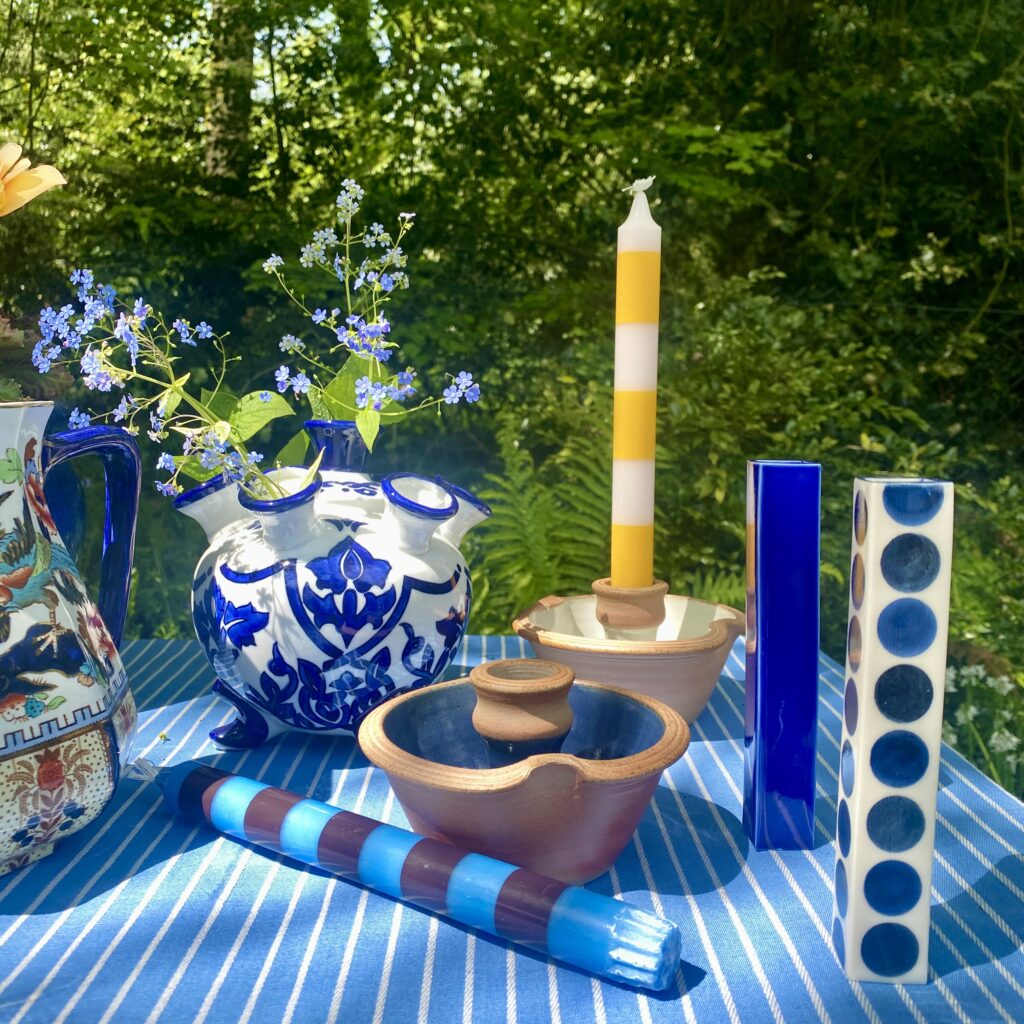 1 An eclectic selection of blue and white decorative accessories for dressing a table; vintage jugs for flowers, diminutive bud vases, handmade pottery candlesticks with floating flower bowls and a Dutch Delft blue tulip vase.
Take Inspiration From Tradition: Ceramics
Classic blue and white china never dates. It lends elegance to more traditional interiors and provides a pleasing juxtaposition of old and new in modern spaces.
1 A cheerful, hand-painted bud vase from Portugal, styled for fun on Lego mats! 2 A giant hand-painted Thai 'swimming fish' bowl. 3 A vintage, Thai, hand-decorated tea pot with brass handle.
There is considerable variety when it comes to blue and white ceramic goods, both vintage and modern. Decide which styles you like from amongst Chinese porcelain; Dutch Delft blue; hand-painted Thai or Portuguese patterns; Japanese pieces or rustic French ceramics, to name but a few.
Opt for a pattern that you love and seek out blue and white pieces with an interesting shape or silhouette.
1 Vintage French blue and white crockery including an array of tureens from Coach House Brocante spied at Henley Décor Fair. 2 & 3 Diminutive blue and white vases in contrasting styles but similar colours: Dutch Delft blue depicting a windmill versus minimalist, Japanese, bud vases with inky, modern polka dots.
Think about functionality. Redundant old pots and canisters can be converted into lamp bases. Patterned blue and white vases are lovely for flowers, but do check they're fully glazed on the inside so won't seep water. Is vintage blue and white crockery or serve ware food safe? Can you put it in the dishwasher?
1 Beautiful, reclaimed, Spanish floor tiles from brilliant brand Maitland & Poate. Modern geometric tiles on a building facade in Porto, Portugal. Read our travelogue about the city and its environs here Domus Tiles sell a fabulous range of modern tiles including these smart, blue and white geometric tiles with printed squares.
Don't discount wall or floor tiles in any style and every combination of blue and white as brilliant inspiration for your decorating project. From elegantly-patterned, reclaimed beauties to ultra modern geometrics, blue and white tiles will add crisp, fresh contrast to kitchens, bathrooms, cloakrooms and hallways. Just temper with warm neutrals to prevent an overly-cool, clinical look.
1 A side aspect of the Capela Das Almas on Rua Santa Caterina in Porto, Portugal. The city is famed for it's traditional blue and while tiles or 'azulejos' adorning building exteriors – read more here. Glossy, irridescent, glass mosaics at CTD Tiles. These would make for an incredible spa-style bathroom when used to cover floors, ceilings and walls.
Take Inspiration From Tradition: Textiles
Blue and white textiles come in an endless array of design styles with many taking their cue from global cultures and civilisations. Ancient motifs and traditional patterns from India, China, Africa, Iceland and Italy, to name a few, play out on scarves, tablecloths, wallpapers, rugs and myriad soft furnishings in these images. Pick your favourite and style your space (or indeed your outfit!) with a similarly eclectic edit…
1 A lightweight, cotton block-print tablecloth – such as this French navy version depicting a Mughal-inspired Indian motif repeat – is a brilliant backdrop for a summer table setting. 2 Alternatively, adorn your outfit with a Chinese-resist print cotton scarf in deep indigo blue, handmade to ancient and traditional methods. 3 This hand-printed Italianate wallpaper nods to the interior of grand Italian palazzos with it's elegant leaf print repeat in soft blues and white.
Blue and white is a great colour scheme for any room in the house as long as you consider the desired mood.
Bedrooms demand a calm and restful feel so opt for gentle patterns and soft blue and white bedding, wallpaper or curtains.
Living rooms need layered textiles that also feel nice to touch; think rugs to sink your toes into, cosy woollen throws and plump cushions, so opt for tactile fabrics in your chosen blue and white palette.
Pretty, gathered lampshades are another way to layer textiles plus they glow come nightfall, so add atmosphere.
1 An over-dyed, blue and white rug takes centre stage in the open plan sitting room of this modern build. 2 Eva Sonaike's smart range of West African inspired motifs and patterns on soft furnishings takes its cue from cultural and architectural history in the region. 3 Ancient Icelandic bind rune symbols decorate this vivid teal blanket/throw from Icelandic design brand Alrún, also available through our store.
Framed textile art and fabric canvases in blue and white are another way of adding textural interest; lovers of blue and white could also consider beautiful, vividly-hued Cyanotype fabric prints for a feature gallery wall.
Formal dining rooms can take a little drama as they are often used for evening entertaining so are candlelit or illuminated by artificial mood-lighting. Go big and bold with your blue and white wallpaper or table decorating ideas here!
Ditto for hallways and cloakrooms as people are passing through.
Blue and white is a confident sartorial choice. If you want subtlety add a chic scarf in printed indigo cotton or luxurious printed silk. Shop our edit here.
1 A zig-zag, block-print lampshade in indigo blue. Shop our eclectic lampshades edit here. 2 Accessorize with a conversation-starting silk scarf: a vintage city map of Oxford in vibrant blue and white. Shop the collection here. Traditional Arabic patterning inspired these luxury, jacquard-woven tablecloths by Julia Brendel available online here.
Take Inspiration From Tradition: Furniture & Accessories
Upholster a key piece of furniture with a blue and white fabric for a crisp contrast. Seek out vintage painted pieces or get out your paintbrush and transform brown wood furniture that has seen better days. Alternatively accent with colour-pop blue and white accessories.
1 A wonderful find, this strikingly hand-painted, antique chest of drawers was spied on the Charpentier stall at Henley Décor Fair a while back. 2 Use an eye-catching blue and white fabric to upholster all manner of things including smaller accents such as these useful extra seats. The hexagonal stools were from Robert Langford and the buttoned, African-print fabric stool is by Eva Sonaike and is available to order here.
Seek out unusual, vintage, painted blue and white furniture or get creative and up-cycle your own pieces.
A striking blue and white fabric on a single item of upholstered furniture can create real wow factor. Be bold and cover a sofa or headboard or keep it subtle and opt for smaller items like side chairs, stools or ottomans.
Dot blue and white accessories throughout your scheme. Add white candles to a grouping of glossy blue candlesticks such as these shown or team black and white photography with unusual silk photograph frames in vibrant Royal blue as below.
1 Elegant Danish design candlesticks only require white candles to contribute to your blue and white table setting! 2 Add verve and a touch of the unexpected with a bright blue-painted, glazed cabinet. 3 Combine Thai-silk photograph frames in this punchy Royal blue hue with black and white photography for a pop of blue and white. Shop the range here.
Timeless Stripes In Blue And White
You can't go wrong with blue and white stripes. On walls, floors, upholstery, tabletops, soft furnishings and even in bathrooms using the endlessly creative medium of ceramic tiles…just not all at the same time!
1 Rapture & Wright's African design-inspired, hand-printed stripe is available to order on cushions or as wallpaper here. Bold baskets handwoven in Kenya will jazz up your kid's bedroom or playroom – stylishly stash plastic toys! Buy them here. 3 A pretty, soft blue, gathered lampshade made from hand-loomed cotton will cast flattering light and add an eclectic vibe to your room. Browse our lampshade edit here.
If you opt for blue and white wallpaper, especially a bold, large scale stripe, keep other patterns or prints in the scheme much smaller in size.
Accent a sitting room scheme with blue and white striped cushions, lampshades, baskets or boxes.
1 Blue and white tiles can be used together to create both boldly, contrasting or subtle muted stripes in a kitchen or bathroom, depending on their intensity of colour. 2 A stripes-inspired mood board for a modern home office. Note the nod to traditional city striped suit shirting fabric.
Get creative with tiles in a bathroom. Create your own stripes using blue and white tiles on the floor, as a border, dado or splashproof feature wall! Go horizontal if you want to visually 'lower' the ceiling height or 'widen' out the space. Go vertical if you want to create the illusion of higher ceilings.
Consider teaming blue and white stripes with florals – a classic and timeless combination that works with both traditional and modern designs.
A bold stripe can look fabulous when used to underscore a pretty table setting. Summerill & Bishop in particular, sell a wonderful range of striped linen tablecloths in the most beautiful colours.
1 Bold stripes are a great backdrop for pretty, summer tablescapes. 2 Faro Home stock an elegant range of block printed stripe fabrics. 3 Check out Rapture & Wright's hand-printed, Japanese-inspired stripe wallpaper and fabric designs entitled 'Sakori' here.
Take Inspiration From Nature
Flora and fauna abound within the global cultural archive of traditional blue and white pattern design…
1 A small, Dutch Delft blue tulip vase looks pretty filled with frothy forget-me-nots as a seasonal alternative. 2 A pleasing combination of orange and blue plumage is depicted in this kingfisher blue art print with by digital fine artist Talia Giles. You can order this print here. 3 A tropical leaf print cushion from our edit of designs by African textile design house Eva Sonaike.
Botanical prints in blue and white pay homage to nature without going full floral. Get inspired by small-scale leaf prints (think William Morris Arts & Crafts era fabrics and wallpapers); Asian-inspired botanicals (think classic Willow Pattern); retro-feel, tropical leaf prints on an altogether larger scale; or, edgier, modern designs depicting foliage in its many and varied forms.
1 A bold, statement floral wallpaper is the focal point in this modern bedroom scheme. This is an archive design, but head to Designers Guild for a wonderful selection of similarly innovative floral designs in blue and white. 2 & 3 Shop vintage floral china in blue and white on our pre-loved and re-found page here.
Whether you're after traditional blue and white florals to adorn your house with or edgy, modern versions, go big, bold and blowsy.
Think statement wallpapers, curtains that steal the show, accent cushions with large scale flower designs, eye-catching trinkets or floral motifs in unexpected places such as on furniture or flooring.
1 One-of-a-kind and repeatable botanical and floral print cushions piled high. 2 A wonderful duo of retro coffee tables printed with delphinium motifs spied at Sunbury antiques market at Kempton race course. 3 Elegant 'folk' floral wallpaper by Olenka Design available through us here.
Ground A Blue & White Scheme With Warm Neutrals
Create a foil for bold blue and white elements with a neutral backdrop. Stone, buff, beige, biscuit and tan together with varying shades of cream and ivory provide a calming keynote.
1 Grey and bright blue 'Kerf' recycled plastic side tables by Make Relief, showcased at this Clerkenwell Design Week. 2 A blue and white tiled table top at Domus Tiles 3 Woven chairs in blues, whites and wicker from Danish brand Sika.
Seek out modern elements in electric blue for an unexpected accent and an edgier overall scheme.
Blue and white geometrics also lend modernity to a scheme. Get creative with tiles, flooring and upholstery fabrics in bold blue and white.
1 A striking, blue and white, hand-painted, Mexican Talavera pottery pot available to buy here. 2 An elegant blue and white dining room with tan, stone and biscuit to ground the scheme. Note the key here is to mix textures and patterns. The Provençal tiled floor from Mandarin Stone together with a 'quiet' geometric wallpaper from Cole & Son provide the backdrop. Warm wood patinas and textured natural linens with ivory white botanical motifs create highlights.
Natural materials provide the textural contrasts necessary to make a neutrals with blue and white scheme work effectively; think hessian, natural linen, wood, stone and rattan.
Blue and white is also a great choice for accessorising a neutral outfit. Opt for a jaunty, indigo scarf with artisanal, hand-printed detailing or choose luxurious silk for tactile and luxurious drapery.
1 Tan and blue hats in a stack. 2 An elegant, silk scarf in cornflower blue and neutral depicting a vintage map of Nice, France. 3 A hand-dyed and resist-printed, Chinese, indigo scarf.
Add Brights For Pop & Contrast
Pink, orange and red balance perfectly with blue, sitting, as they do, opposite one another on the interior designer's colour wheel. The key is getting the strength and proportion of these opposing colours just right…
1 A classic Delft blue and white china tulip vase looks wonderful filled with blooms in a riot of brights. 2 Adding a Royal blue silk trim to a traditional floral chintz adds a little zip and modernity. 3. Magenta pink and Royal blue with white, enliven a mainly neutral sitting room scheme of taupes and greys.
Pink and blue are 'contrasting' colours yet become complementary when matched in equal weight. Essentially this means in equal strength or intensity such as vibrant cornflower blue with hot pink or navy with magenta.
A purely blue and white scheme is always going to be missing something. It requires either neutrals for depth, brights for contrast or a toning, multi-coloured palette for interest and originality.
1 The view towards the imposing, hilltop Santuário de Santa Luzia from our hotel in Viana Do Castelo. 2 The imposing Santa Luzia church up close with its impressive rose window. 3 & 4 Elegant architectural details down in the town squares.
Much like pink, orange in its various incarnations is another great accent colour to a predominantly blue and white scheme.
Brights such as hot pink and orange are particularly effective when combined with darker blues such as navy, midnight or indigo.
1 A 'shelfie' display with a selection of collected blue and white objects. Note the vibrant pink and magenta accents enliven the display and add pleasing contrast. 2 Classic blue and white stripes and florals complement a coral-coloured, wrought-iron occasional chair. 3 A pretty Indian pot with turquoise, blue and white 'Mughal' style patterning available here.
Temper With Teal & Turquoise
Teal or turquoise blues eliminate the strong contrasts of a classic China blue and white scheme and provide a gentler way of decorating with these colours.
1 A fabric swatch board combining toning teal shades in varying intensities. Darker shades serve to accent the scheme while pale neutrals ensure a restful mood. 2 An Asian-inspired turquoise fabric lantern spied on the Asiatides stand at the Maison et Objet design fair a few years ago. 3 Intriguing, blue and white rugs from Paris-based brand Ada Kilims.
Opt for teal or turquoise shades, particularly in the paler, creamier tones, if you are decorating a chilly, north-facing room.
Where the light cast is warmer, teal and turquoise hues work well with gentle greys and even contrasting black and white. Balance stronger teal blue with darker graphite or lead greys and keep the rest of the scheme soft and muted.
1 A bedroom scheme in soft celadon, greys and white with darker teal blue shades as accents. 2 A gathered, silk Ikat lampshade by Rosanna Lonsdale available to order through us here. 3 Pretty, hand-painted brooches by Japanese artist and ceramicist Miyu Kurihara, demonstrate how combining turquoise with monochrome translates for fashion, as well as interiors.
At the same time, the various shades of teal or turquoise also work brilliantly with warm neutrals such as bone, cream, sand, beige and even tan. This combination is one way of balancing blue and white tiles in a kitchen or bathroom for example with the need for a warm and inviting space.
Similarly, you could assemble mismatched wooden chairs with just a pair in your favourite blue hue.
1 A northern Irish landscape print by Emma Tweedie available to order here, combines earthy tones with soft, turquoise highlights. 2 We loved this blue chair by Ercol, with it's vivid blue woodgrain finish, seen at Clerkenwell Design Week 2023. 3 We also love these elegant, modern, mosaic tiles found at the Domus Tiles showroom in London's Farringdon.
Blue & Green Should Always Be Seen
Ditch the myth! The combination of blue and green – particularly the combination of verdant grass green with vibrant Royal blue – is the most uplifting, life affirming palette, mimicking the colours of nature. Think rolling hills, sea and sky…
1 A selection of large, hand-painted Thai pots in celadon and classic blue and white styled in a contemporary sideboard set up. Note the classic Thai lotus and swimming fish motifs. 2 An archive wallpaper by Designers Guild. Vibrant limes and blues often feature in this innovative design house's floral wallpaper and fabric collections. 3 Another gathered, silk Ikat lampshade by Rosanna Lonsdale available to buy here, this time in contrasting blue and green.
However, this fresh and invigorating colour combination is best kept to either a single, bold statement wallpaper or the decorative accessories in a room scheme. For the latter, assemble a still life or sideboard display against neutral or off-white walls for a modern look.
For real wow factor, install a towering, floral arrangement of vividly-hued Bells of Ireland teamed with true blue delphiniums on a circular hall table or sideboard.
1, 2 & 3 The fabulous morning room by Tom Bartlett of Waldo Works in collaboration with De Gournay bespoke wall coverings. The room formed part of the 2023 WOW! house at Design Centre Chelsea Harbour. We particularly loved the fresh and invigorating combination of blues and greens in a decidedly modern context. An elegant tinted mirror by Marianna Kennedy bounces light around the space.
Remember to include coloured glassware and, if you can, position objects near a source of natural daylight so they effectively 'glow'.
Textiles provide a rich source of inspiration and endless pattern options when it comes to combining blue and green. A room scheme that is essentially blue or green can be invigorated by adding soft furnishings that stylishly combine the two hues.
1 Blue and green tumblers displayed on a vintage bottle dryer on the Raj Tent Club stand at Henley Décor Fair. Note also the distinctive Moroccan Tamegrout crockery collection on display. 2 Hand-printed linen cushions from Rapture and Wright available to order here, in the Moorish Maze design. 3 A selection of vintage, one-of-a-kind and made-to-order blue and white cushions are availlable to order here.
In conclusion
For more blue and white interior inspiration head to our Shop By Colour page here and click for our latest product selections. Thanks for reading!
A note about the author.
Our focus is and will always be travel infused interiors and 'destination-inspired design'. However, generic blog features relating to cultural travel experiences are relevant to all. My creative head, background as an interiors magazine journalist (read more here) and obsession with cultural aesthetics the world over leads me to shout about places I have lived, loved and travelled and how these might inspire your own, future travel plans…I hope you find our travel blogs of interest. Sign up below for more of the same!
Annabel Smith, Designs By Origin
FOLLOW US/GET IN TOUCH!