A Tale Of Two CITIES
Porto in Portugal and Santiago De Compostela in Galicia, Spain: our whistle stop road trip with kids in tow!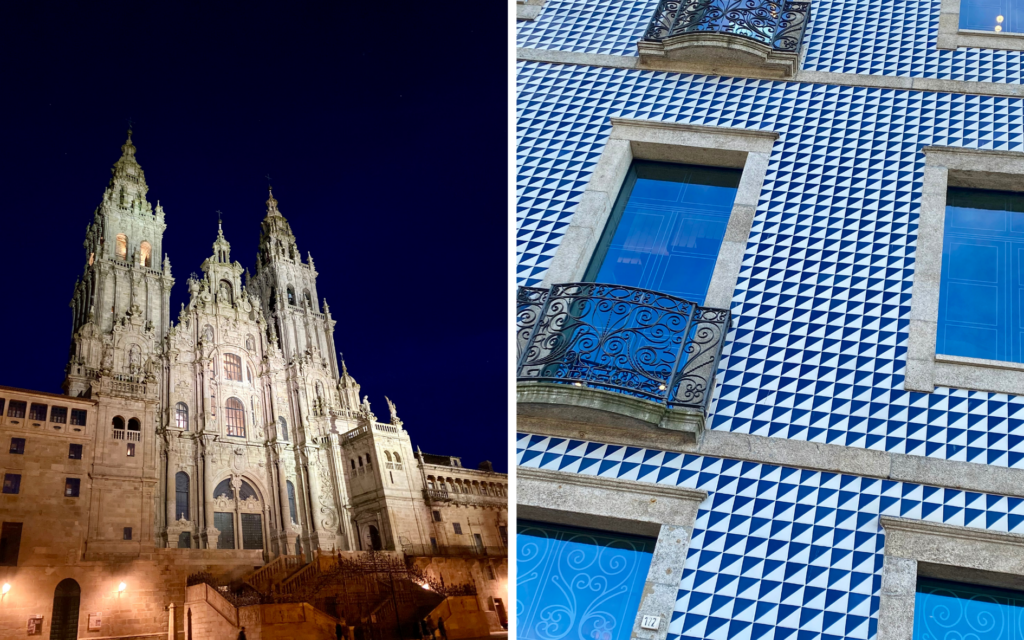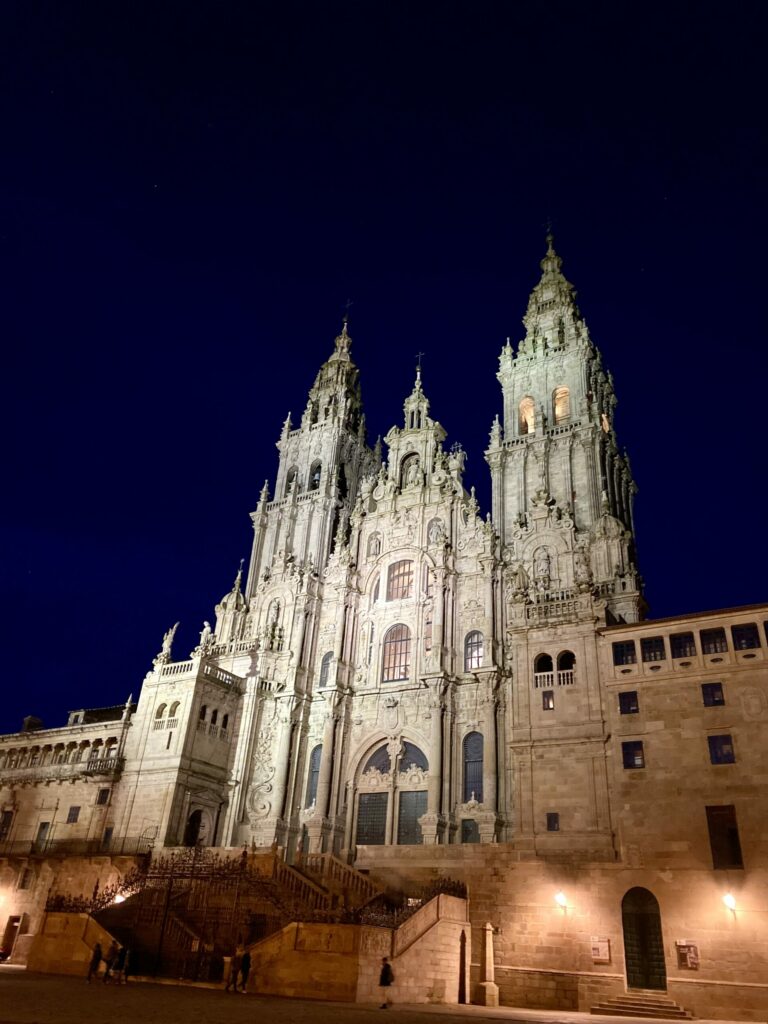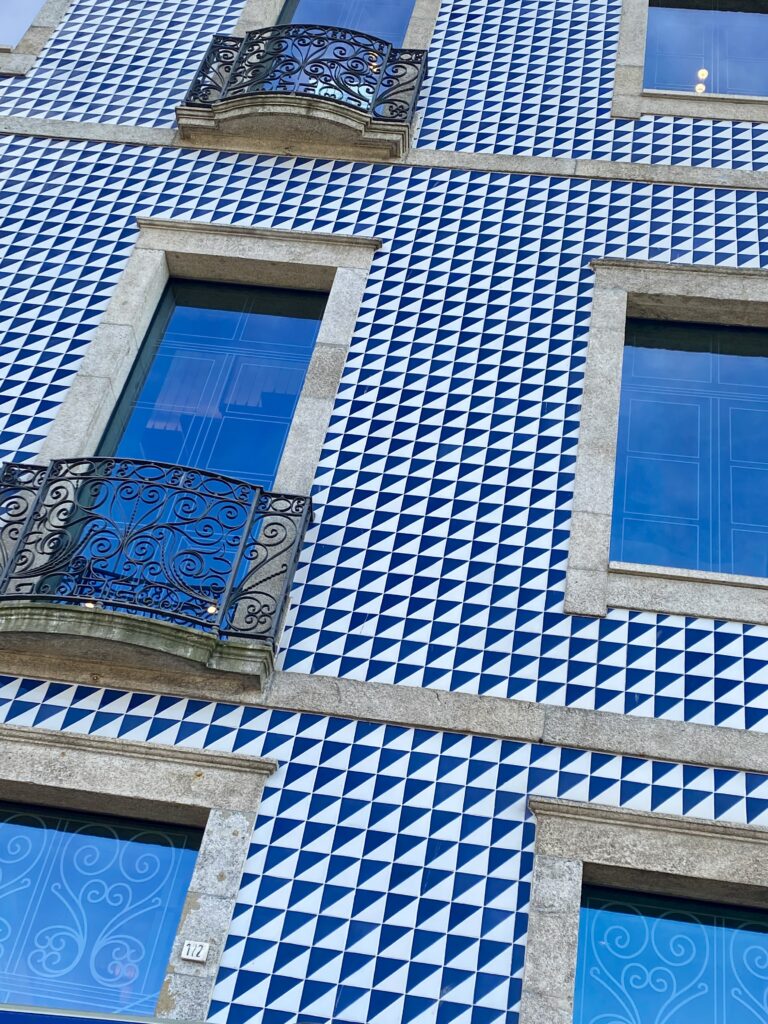 1 The towering, intricate stonework of the cathedral in Santiago de Compostela in Galicia, northern Spain. 2 Eye-catching, geometric 'Azulejos' tiles in blue and white adorn building facades in almost every direction in the old town of Portugal's second city, Porto.
Why Porto To Santiago De Compostela?
Well, the idea of seeing two countries in a one-week road trip around northern Portugal and Galicia held considerable appeal, having effectively been grounded for two years throughout Covid. Seeking new suppliers for our destination-inspired design store, Designs By Origin, we're always keen to discover as much as possible about local craft traditions and get a feel for the cultural heritage of a place. The lure of not one but two historical, regional design styles – Galicia, with its Celtic roots much in evidence, and Porto, with it's incredible blue and white 'azulejos' hand-painted tile tradition – were obvious draws. What we had not anticipated were the additional diversions we encountered along the route. Beautiful hilltop towns; charming coastal villages; stunning national parks and mouth-watering cuisine at every turn.
Viano Do Costello Views
Porto's airport is just north of the city and we had already decided to save the main attraction for the end of our trip so headed straight to Viano do Castello in the Minho region, a small but historic, coastal town around half an hour's drive away towards Spain. It was really a quick overnight stop but the location of our hotel, on a hilltop overlooking the river valley on one side and the Portuguese coast on the other, was truly something to behold. We flung open the shutters that February morning to glorious sunshine, clear blue skies and an awe-inspiring view of neighbouring edifice, Santa Luzia church. With skipping children we took a sunny stroll down to see the building close up and marvelled at the imposing architecture, huge rose windows and the quiet and tranquility of its commanding position.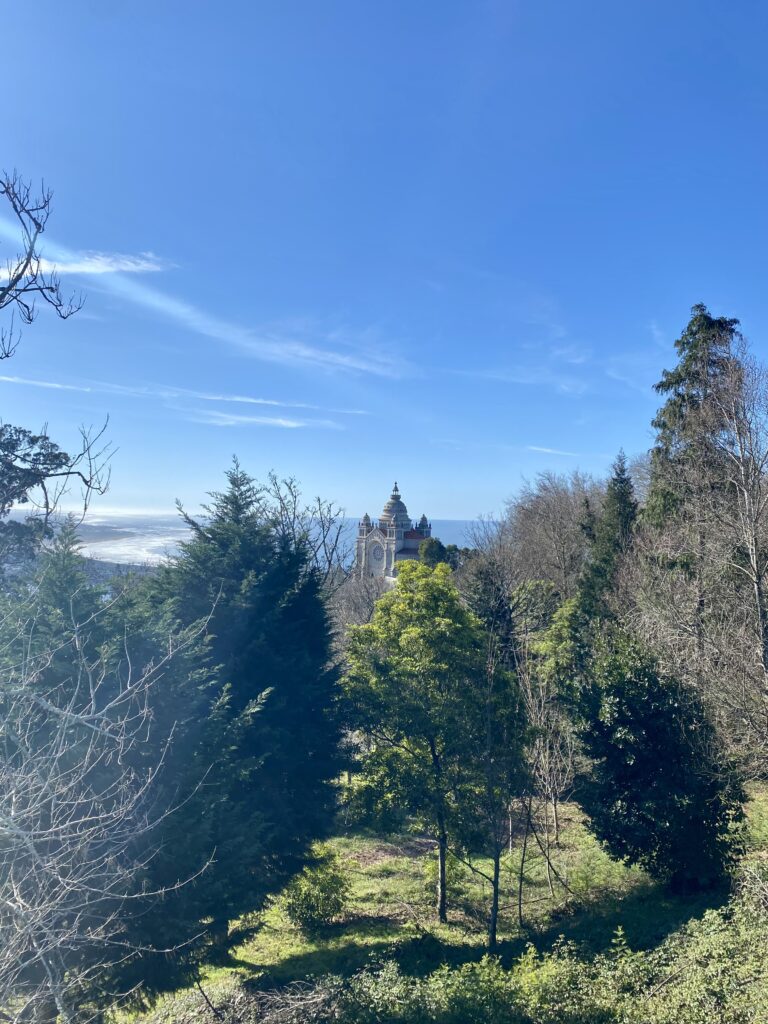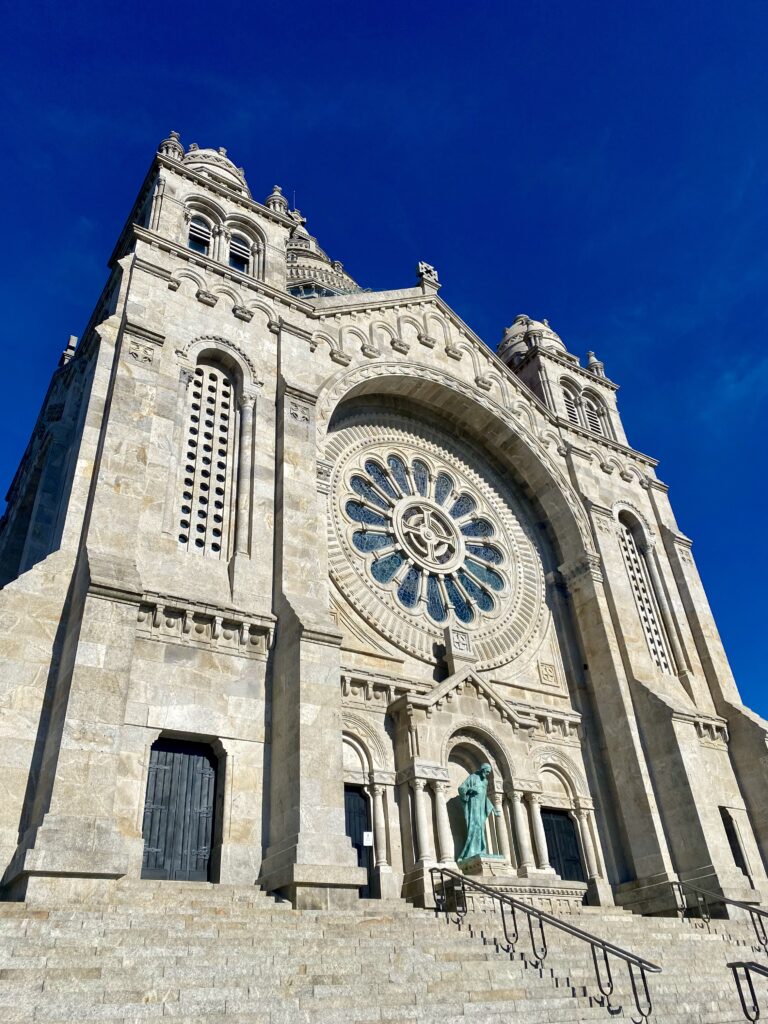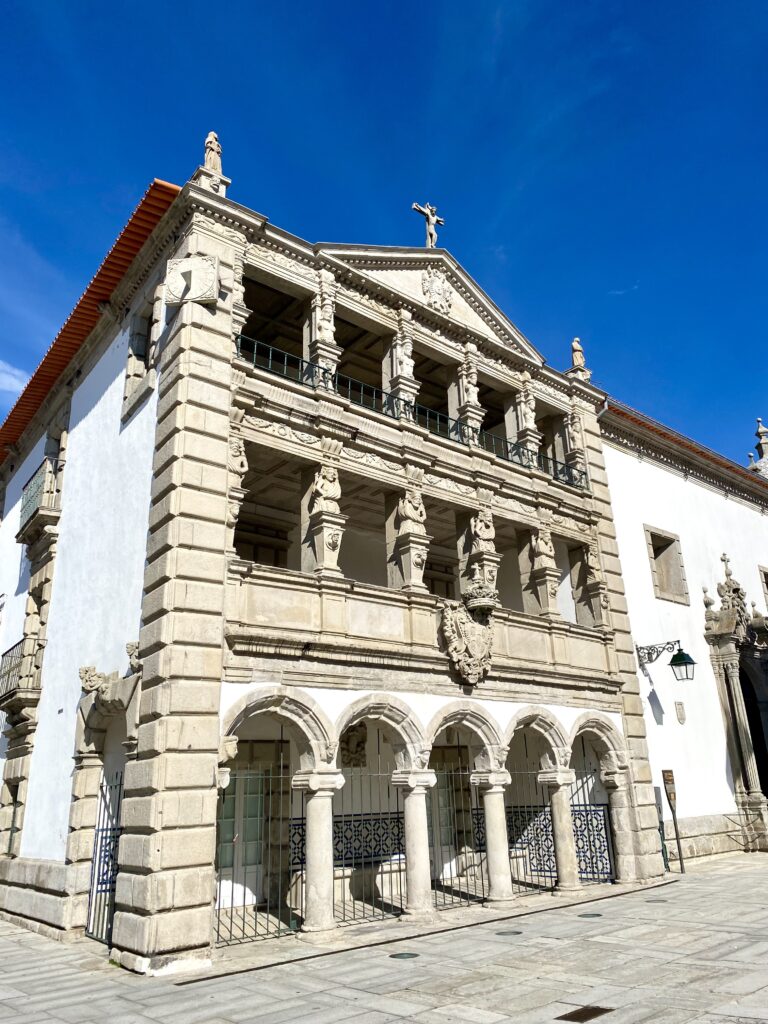 1 The view towards the imposing, hilltop Santuário de Santa Luzia from our hotel in Viana Do Castelo. 2 The imposing Santa Luzia church up close with its impressive rose window. 3 & 4 Elegant architectural details down in the town squares.
Portuguese Costume Culture
We then then hopped on the funicular down to the charming town square to visit the Museu Do Traje (costume) museum in the Praça Da República. After much snapping of traditional Portuguese dress through the ages (I was in my element…the kids quickly opted for al fresco pancakes at a pavement café) and a mooch along the riverfront shops, we headed back via the hotel on our route north.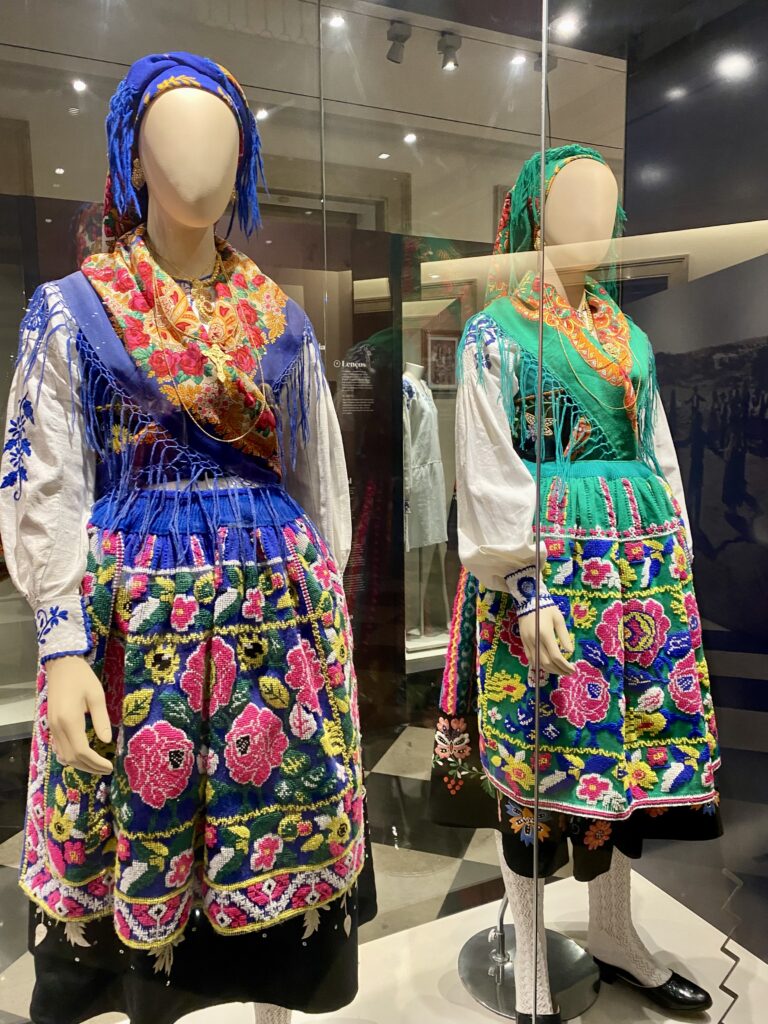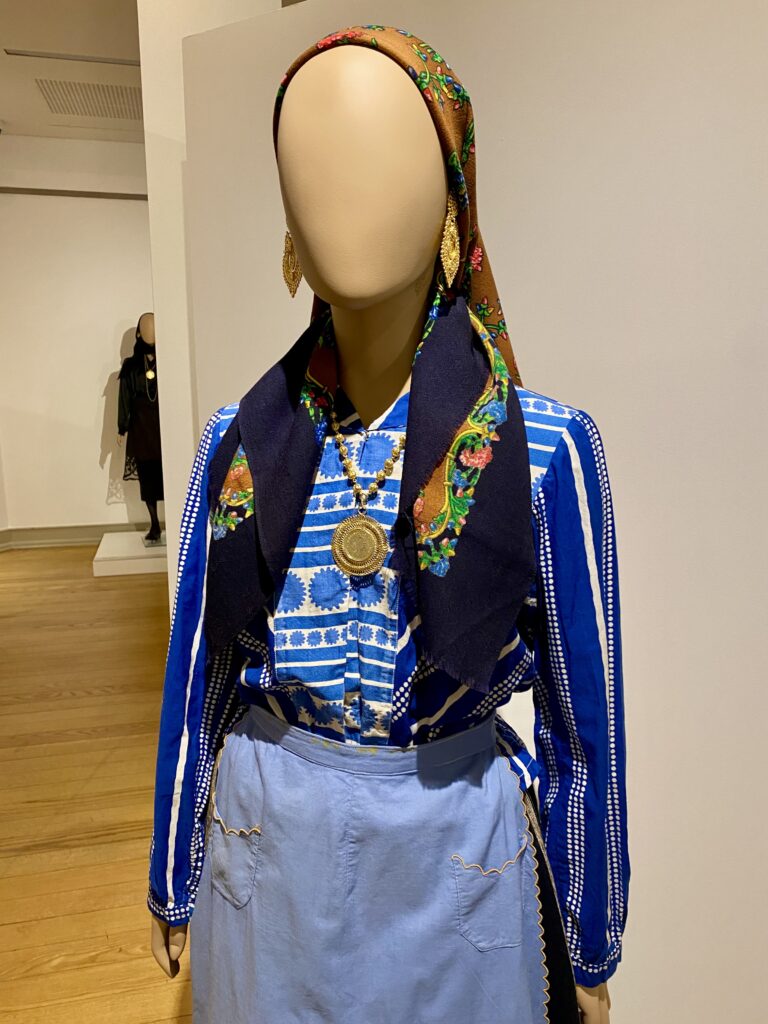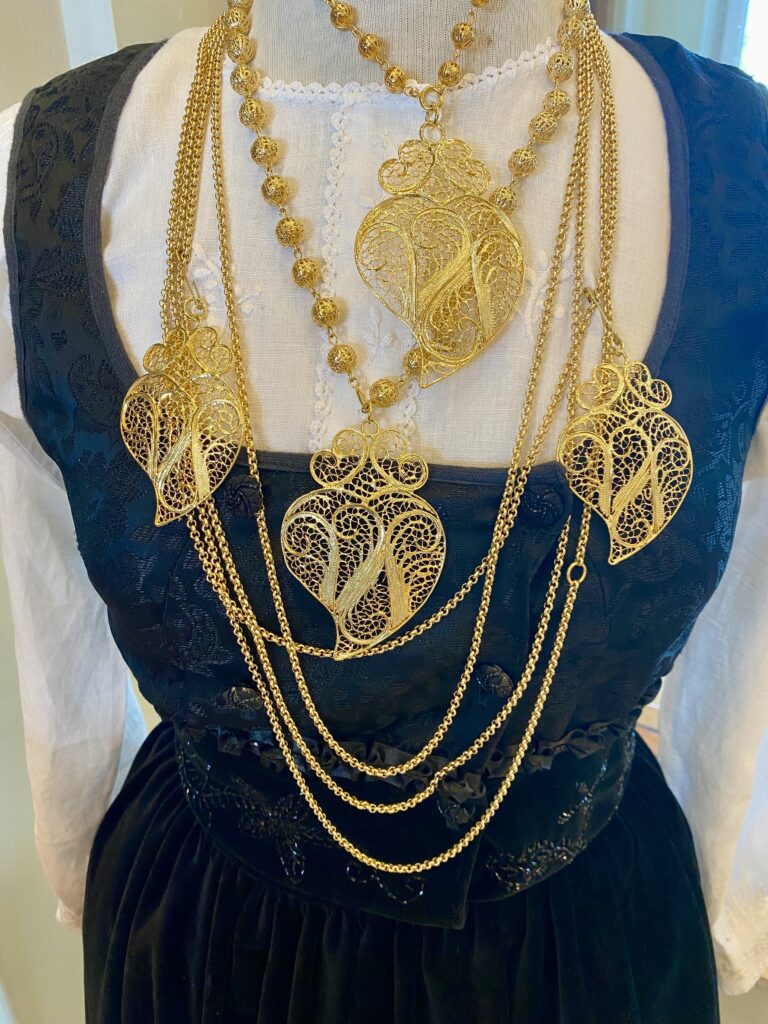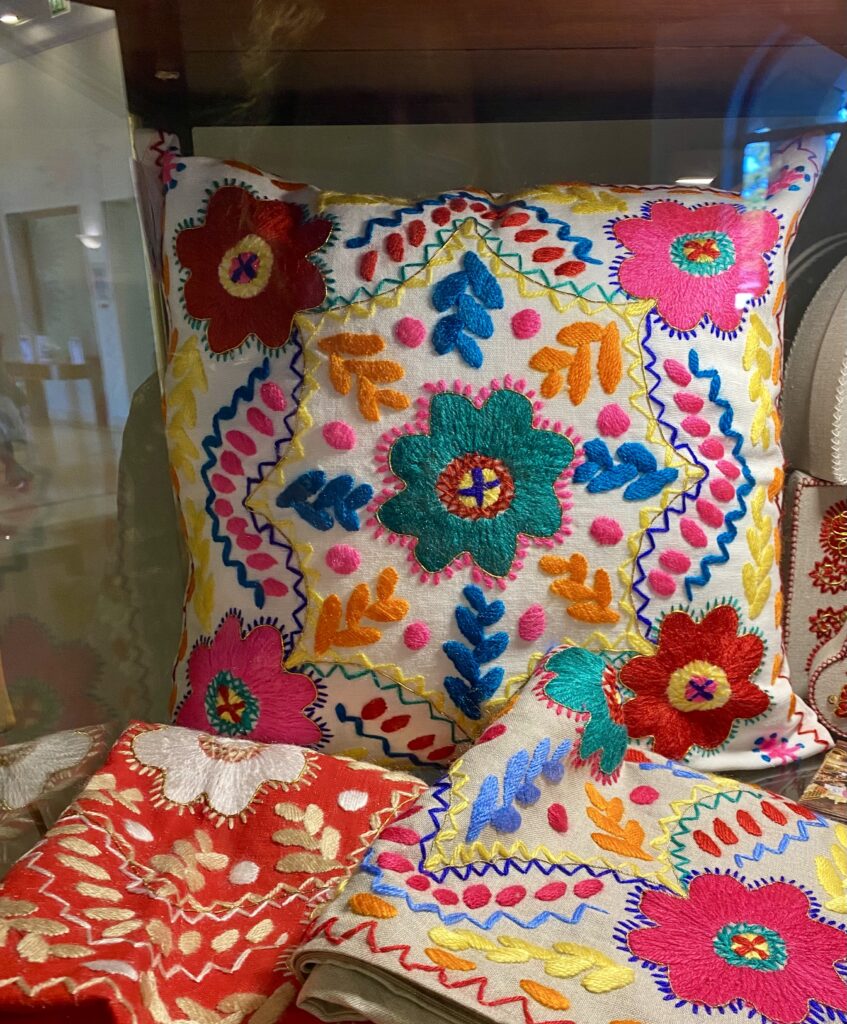 1 & 2 Colourful, traditional, Portuguese costume through the ages and up until the 1950s, showcased at Museu Do Traje in Viana Do Castelo. 3 Adornment with locally metal-worked strands of intricate, filligree jewellery has a long history in the region with the traditional 'Heart of Viana' design shown here against this beaded, black velvet dress. 4 Colourful hand embroidery is a renowned local handicraft.
Sundowners In Combarro
That night we'd be sleeping across the border in the Galician town of Santiago de Compostela. However, we decided to visit Combarro en route, a sleepy and ancient fishing village, just beyond Spanish Pontevedra, with a charm all its own. The waterfront is a meandering, narrow passageway, backed on one side by historic fishing cottages, many of which are now cosy, almost cave-like, candlelit eateries looking out over the bay. On the other side of the path are multiple, ancient horréos or grain stores built from wood on raised stone pillars traditionally constructed to keep out pests. Dotted all around are stacked lobster pots, oars, ropes and floats and you can sit, as we did, under fairy lights strung in all directions and sip on cervezas and tapas in and amongst all this fishing paraphernalia while watching the sun set across the bay.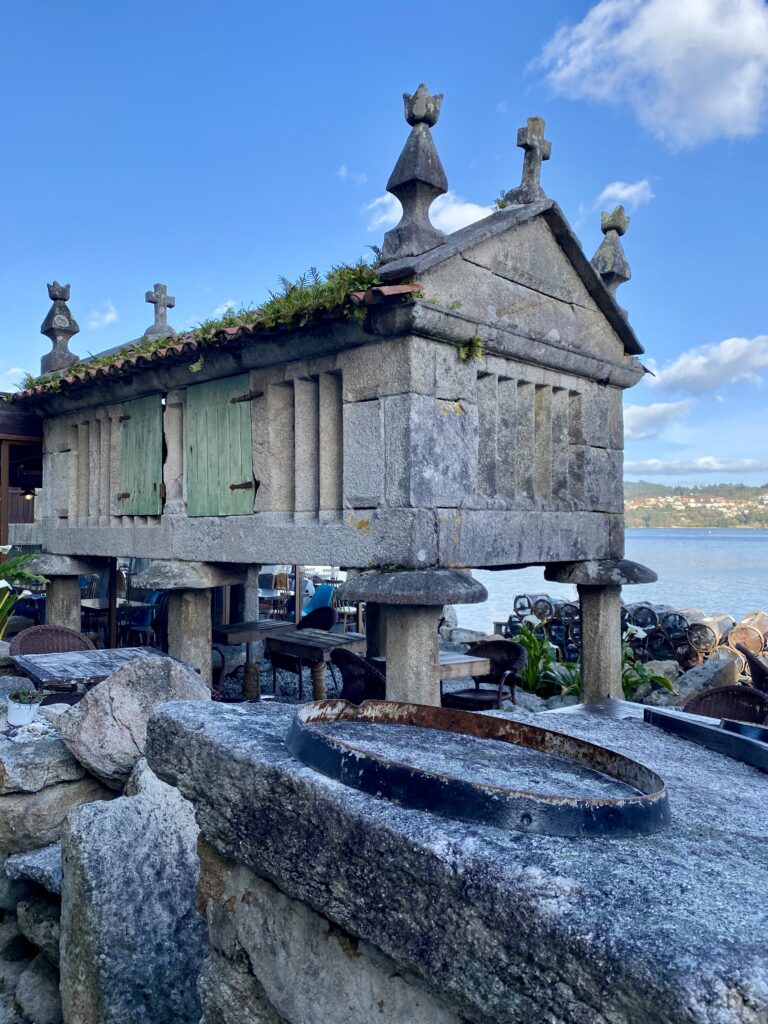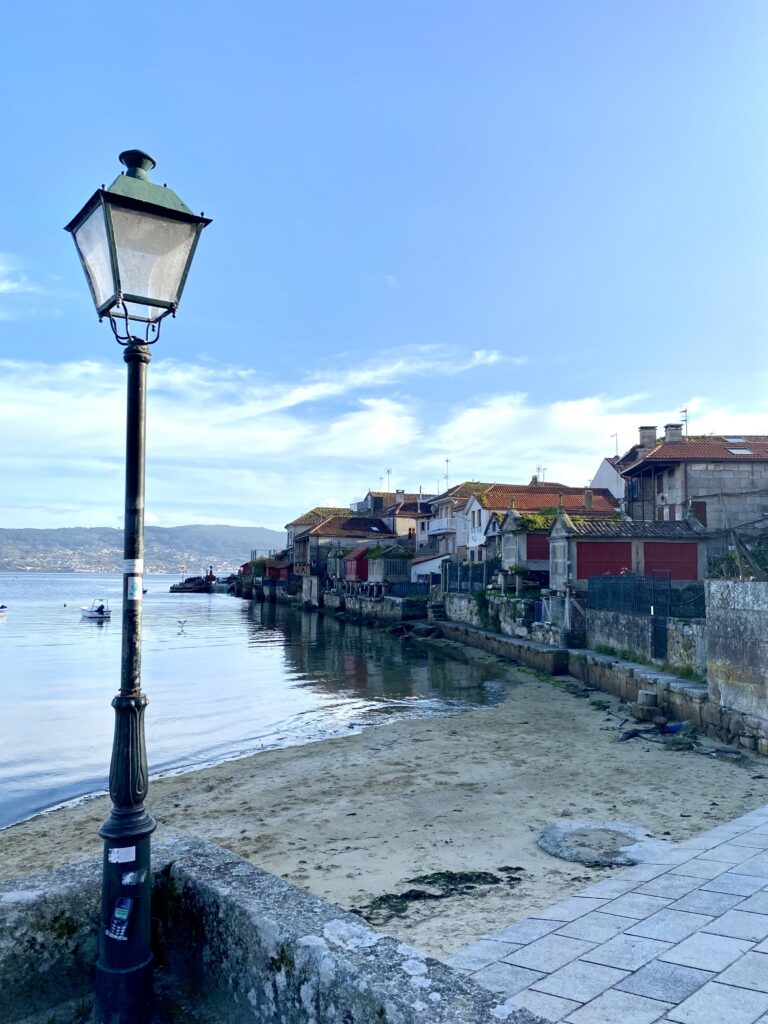 1 An ancient stone 'Horréos' or grain store along the waterfront in Combarro, a quaint fishing village just over the Portuguese border into Galicia in northern Spain. 2 A view towards the Combarro waterfront and the Ria de Pontevedra estuary.
Sacred (& Stunning!) Santiago de Compostela
We arrived in Santiago de Compostela after dark so, having checked in to our digs, our first view of the world-renowned cathedral, with its ornate, towering façade, was illuminated by night. It did not disappoint. I spent a moment musing whether Notre Dame, St. Peter's in Rome or the Duomo in Florence was more impressive…I couldn't decide. The cathedral in Santiago de Compostela is the end point of the Camino de Santiago (or Way of St. James), a network of ancient, Christian pilgrimage routes that traverse France, Spain and Portugal. Often found along the beaches of Galicia, the symbol of the Camino de Santiago is the scallop shell. Not only did these adorn the cathedral's impressive interior but also our plates! We indulged in incredible sea food (the region's speciality) that night. This included simple, grilled razor clams, scallops and prawns with garlic oil dressing and baked octopus washed down with local beer.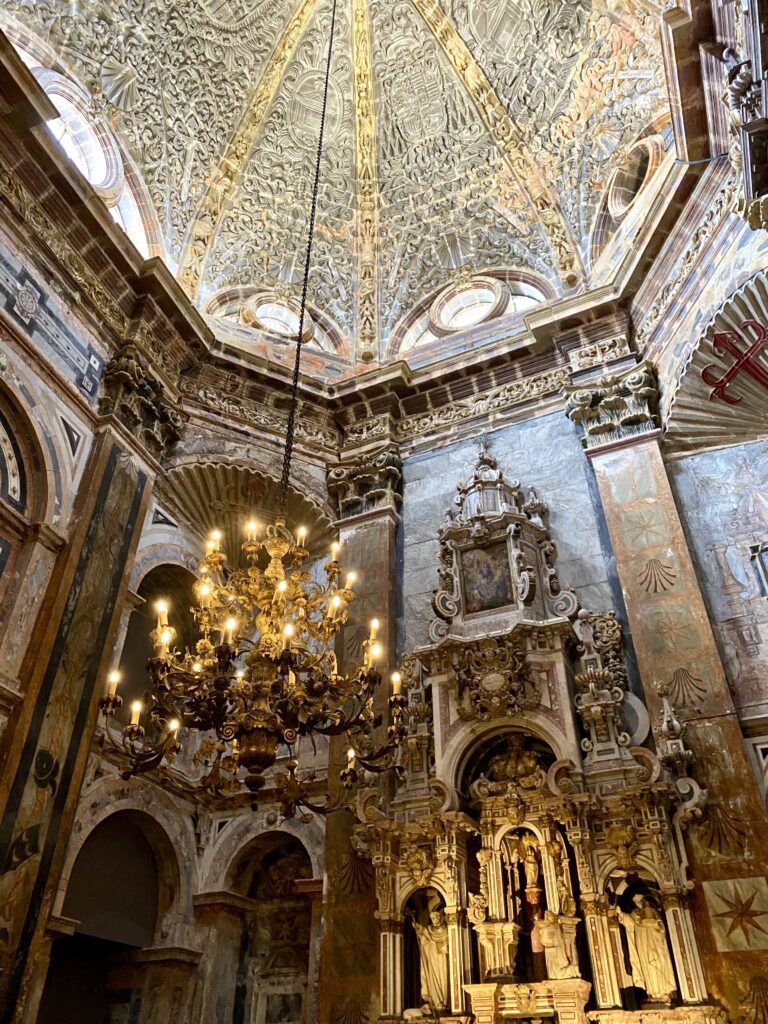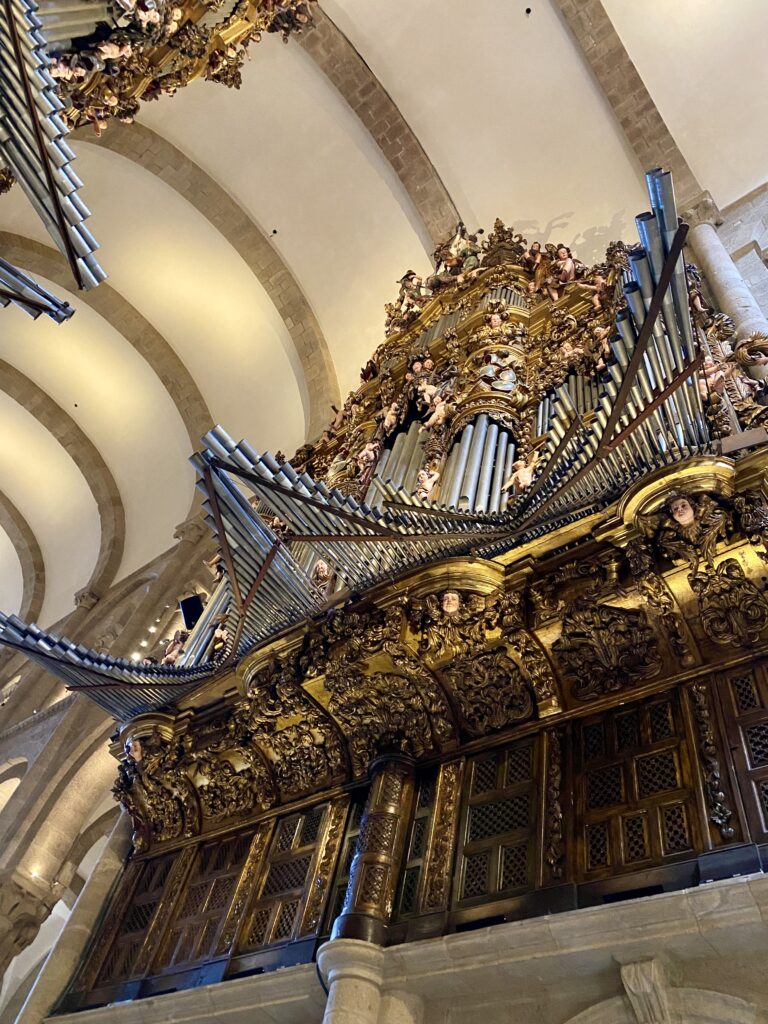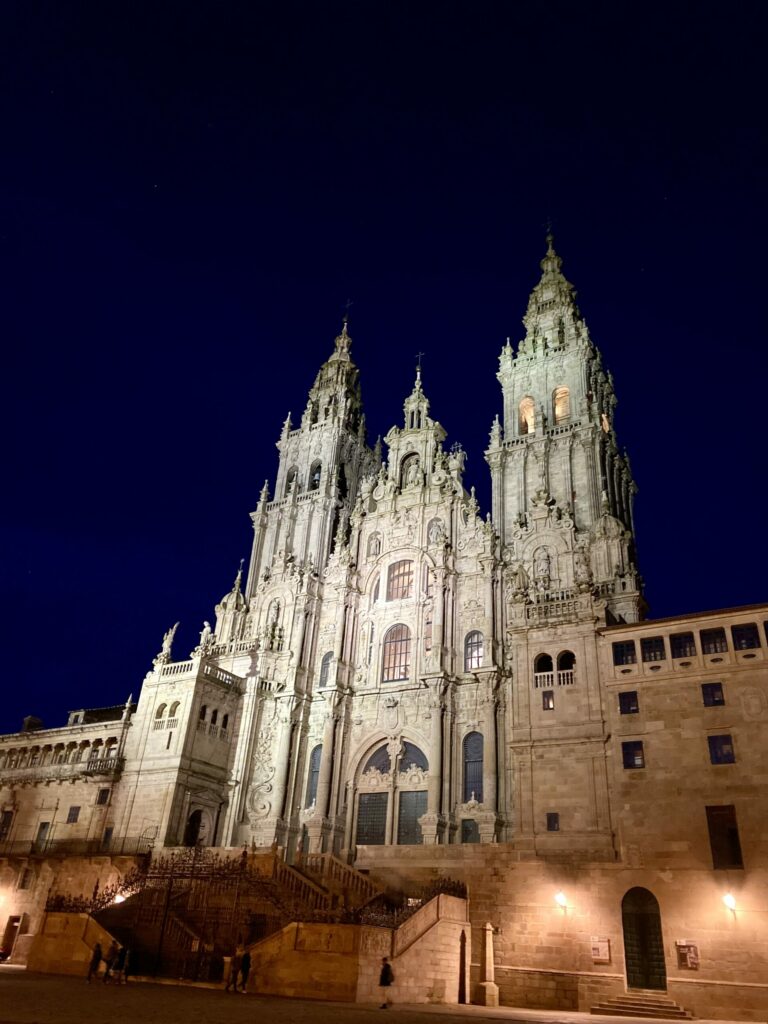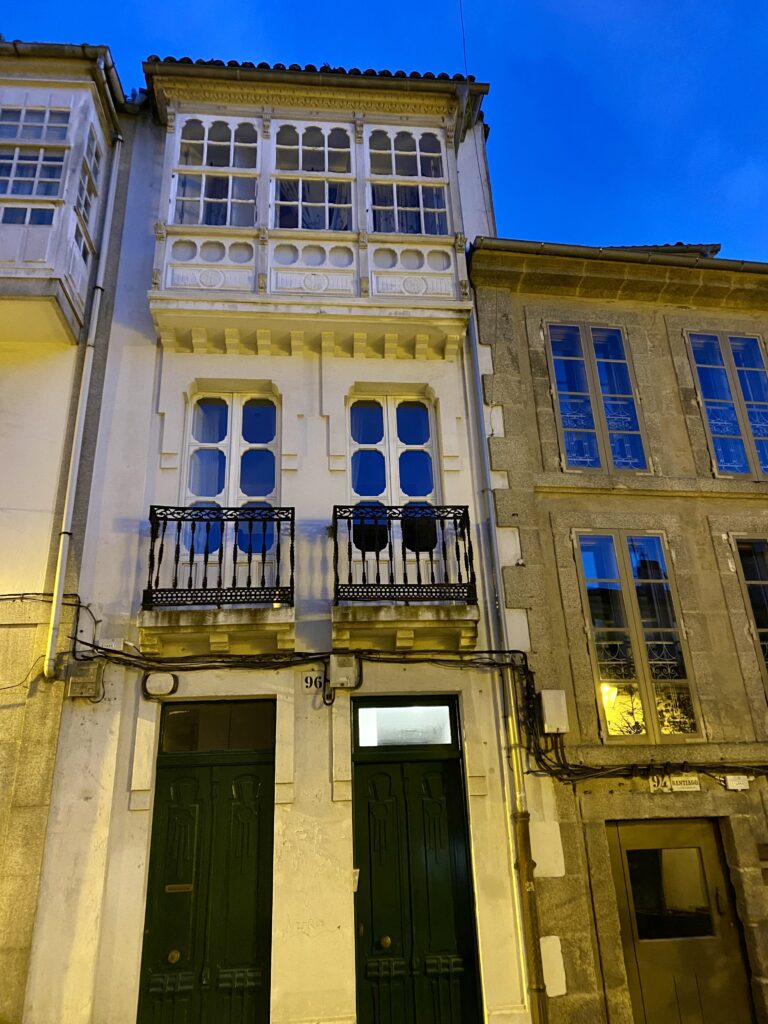 1 The impressive interior of the cathedral in Santiago de Compostela boasts a huge double organ and note the scallop shells with their Cross of St. James behind the hanging candlebra and in each of the four corners of the ornate chapel shown here. 2 The cathedral facade after dark. 3 Tall, residential buildings within the narrow lanes of this ancient city with their attractive, glazed 'Juliet' style balconies.
Galician Heritage
The next morning saw us head back to the cathedral for morning mass – an incredible spectacle which respectful onlookers are permitted to attend – featuring one of the largest censers, swinging towards the side naves in a great arc, a vast double organ and a towering, ornately decorated, gilded altar. We then began exploring the multiple, winding lanes of this ancient city – on the hunt for authentic, artisanal homewares and jewellery. Santiago is traditionally known for jet jewellery, silverware and ceramics as well as bobbin lace and leather goods (the latter derives from the tradition of making shoes for the religious pilgrims). Jet amulets are considered a source of protection and fortune by those who live in or visit Santiago de Compostela.The region's Celtic roots – Galicia is the seventh of the original Celtic nations – are in evidence everywhere from the symbols and motifs on painted pottery and jewellery to the traditional dress and musical instruments (yes, bagpipes!).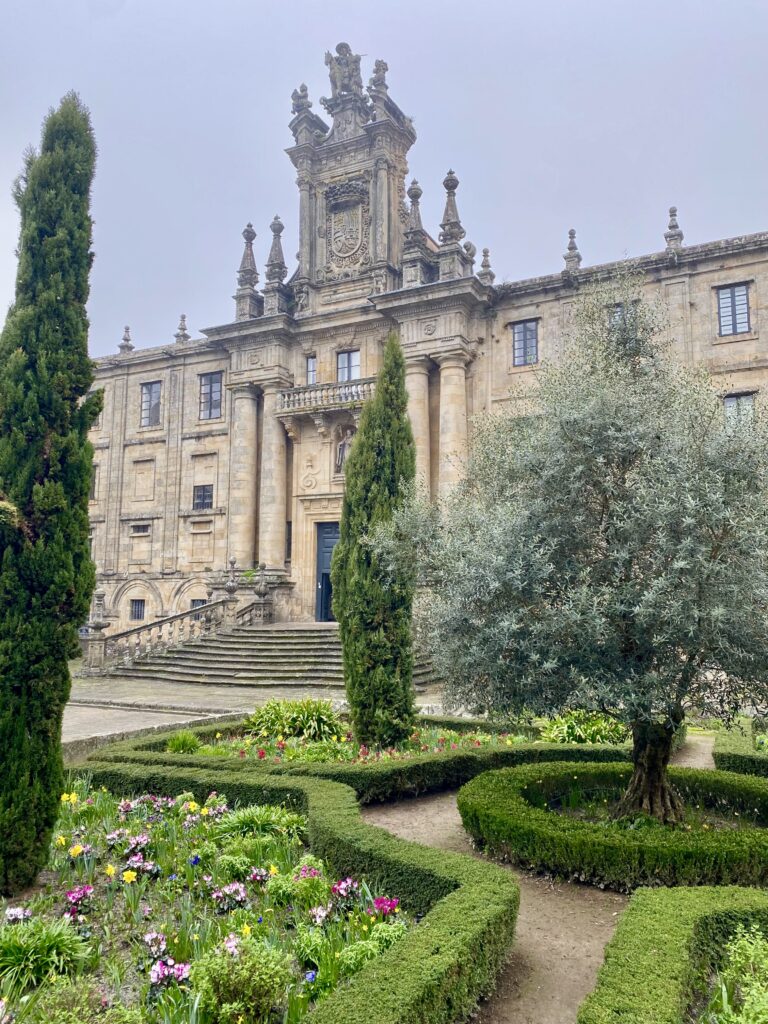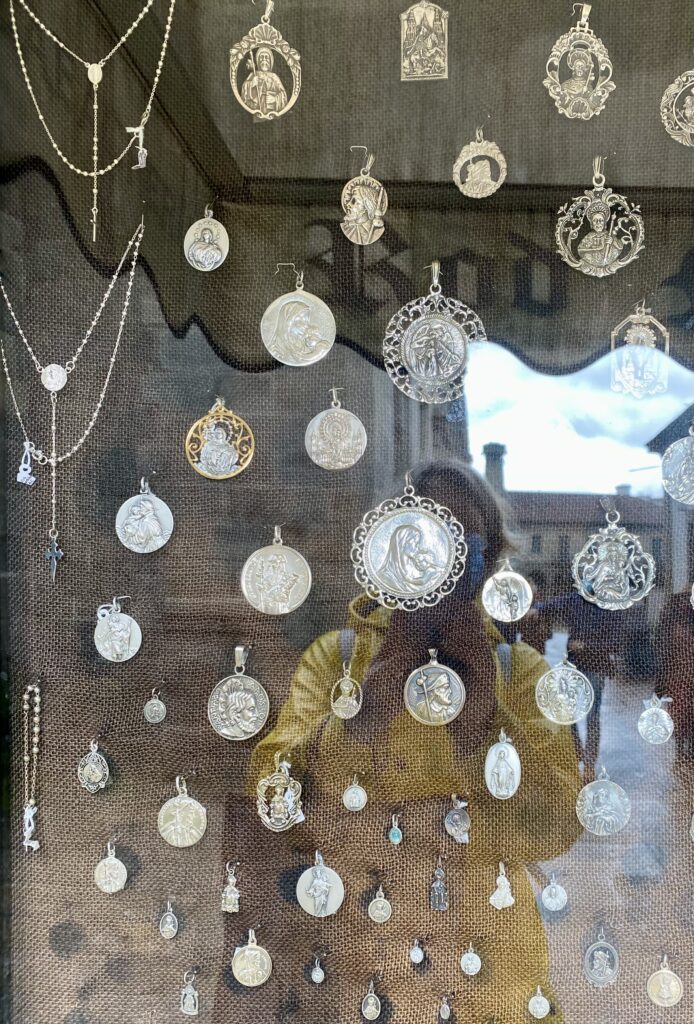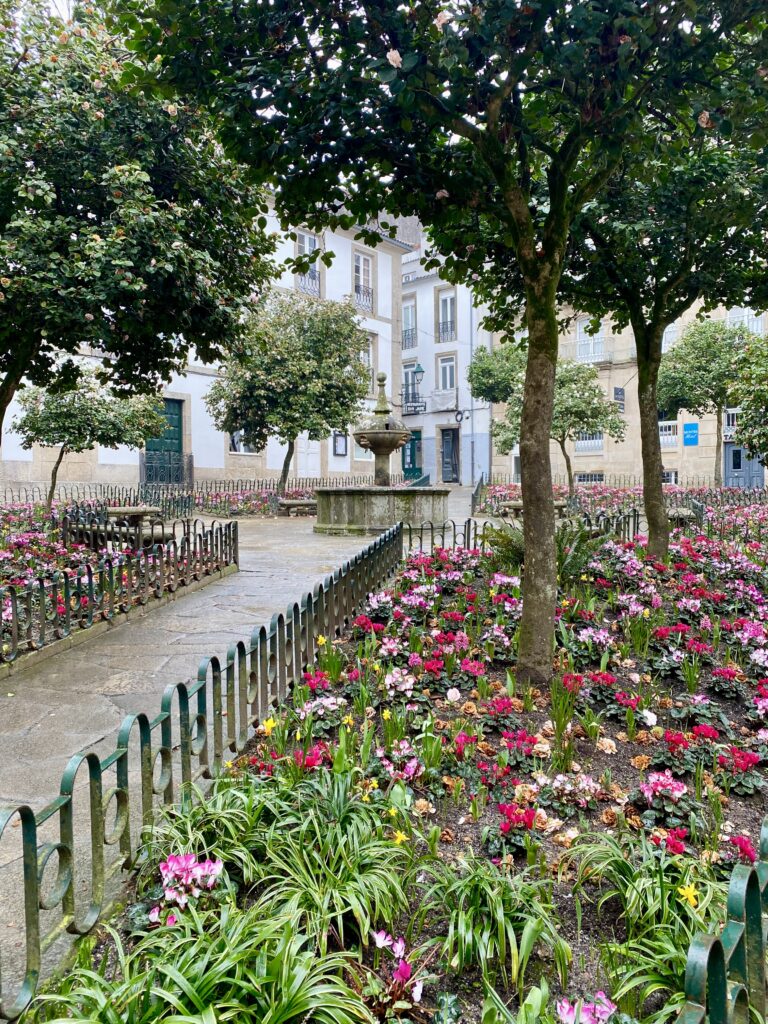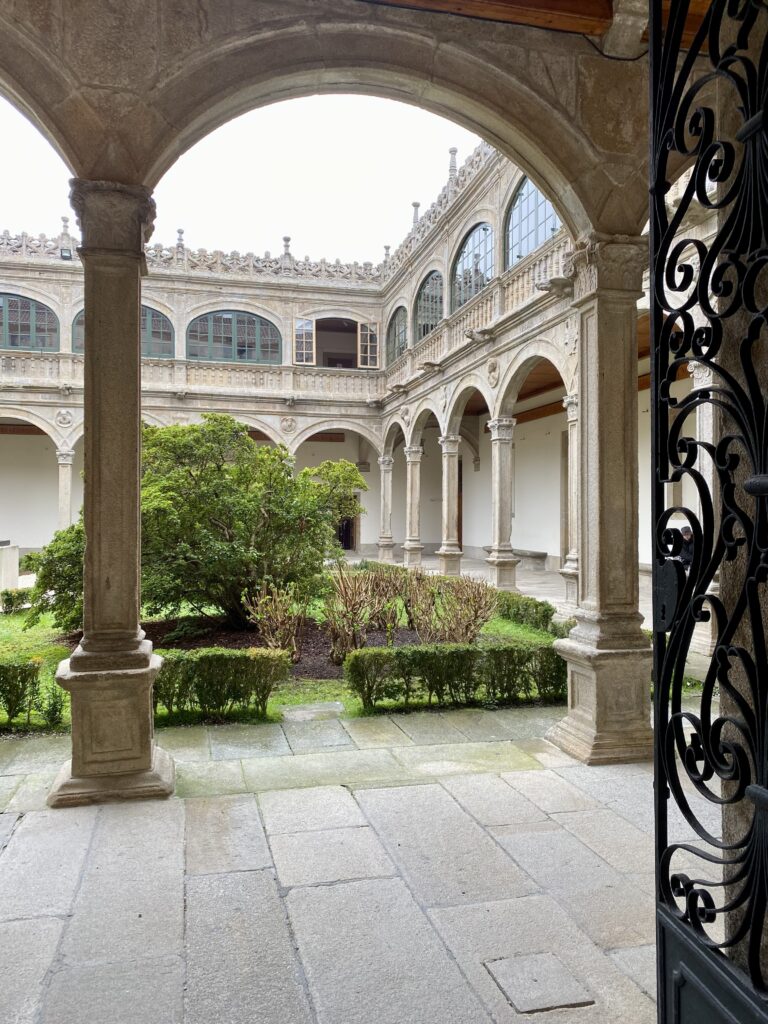 1 The entrance to the Monastery of San Martín Pinario, another of the city's impressive, ancient edifices. 2 Silversmithing and metalwork are another local, long-standing artisanal craft. Silver pendants, such as these depicting religious figures, appear in many of the jewellers in the squares surrounding the cathedral. 3 A formal, garden square in the city centre. 4 A view through to the beautiful Colexio de Fonseca or university library.
Aside from craft heritage, the city lanes are filled with quirky, original shops and boutiques of every kind alongside wonderful local eateries. Beautiful architecture abounds in every direction. I was particularly taken by the glazed, narrow balconies overhanging the tops of the many of the traditional townhouses. Whatever you do, be sure to take home some of the tear-shaped Tetilla cheese – a local speciality – and, also, try a slice of Tarta de Santiago (O 25 Do Franco on Rúa Do Franco sell a brilliant version). This deliciously moist, almond and citrus cake traditionally decorated in icing sugar with the cross of St. James is perfect with a coffee, before you head on. Over the next couple of days, we took in Lugo, another Galician town with a rich, cultural history, and spent a night in Spanish spa town Ourense while researching suppliers, before heading back over the border to Portugal. However, three spots in particular, that we drove through en route, piqued my interest and caught my imagination…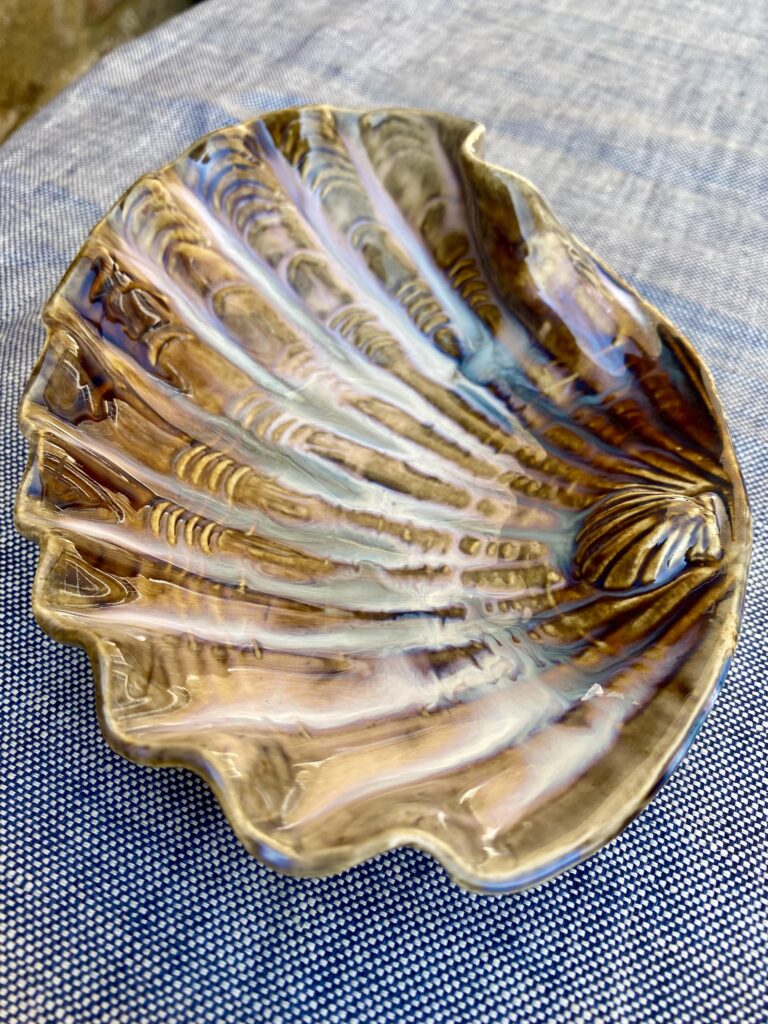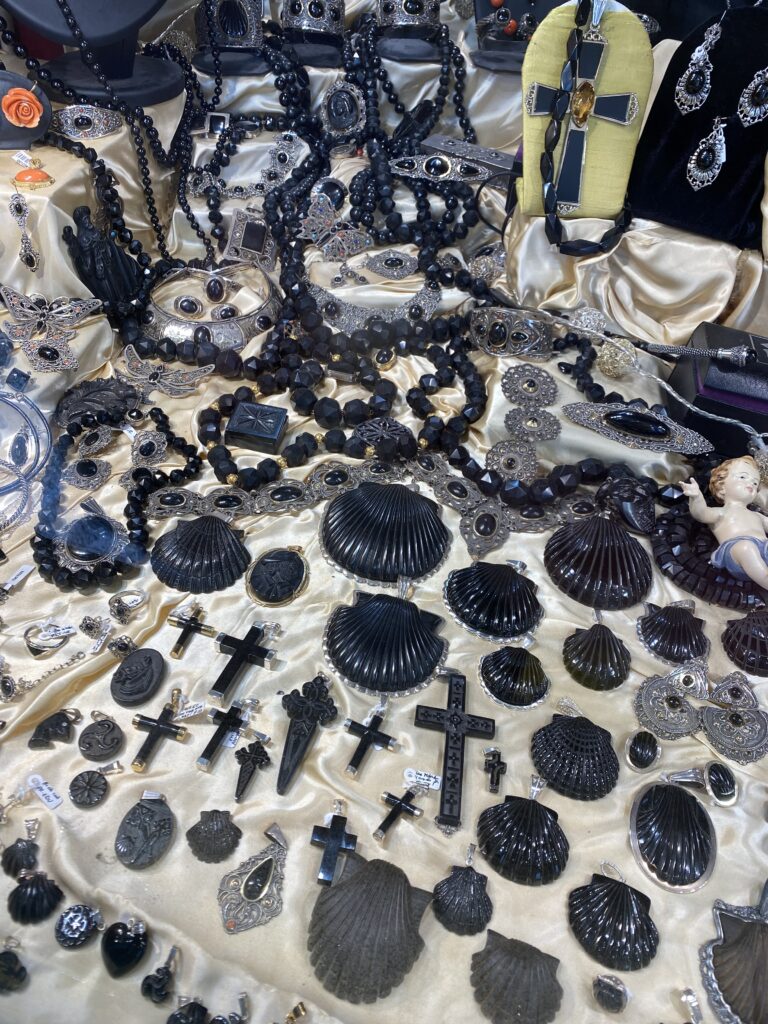 1 In homage to Santiago de Compostela's symbolic connection with the scallop shell, I found and brought home this rather wonderful, hand-crafted ceramic shell by a local, artisan in one of the markets. 2 An array of elegant, jet jewellery for sale. These exquisite pieces are handmade using ancient techniques to create amulets bearing the religious motifs associated with the city and its location along the Camino de Santiago.
Aceredo, Peneda-Geres National Park & Guimarães
We had recently read on the news about the town of Aceredo, just inside the Spanish border, that was abandoned and purposefully flooded by a river in 1992 to make way for the Alto Lindoso reservoir. Due to an unprecedentedly dry winter in 2021, the water levels were at an all-time low and so the somewhat eerie, muddy, ruins of this 'ghost' village of Aceredo have reappeared from the depths. We happened to drive past and stopped to see it. It's incredible how the simple detritus of human life, frozen in time, can be so moving. Little details – a child's shoe, pretty tiling in a kitchen, an old metal bed – convey the sadness and poignancy of the people and families who ultimately had to leave a place they must have loved and called home. It was a moment for quiet contemplation.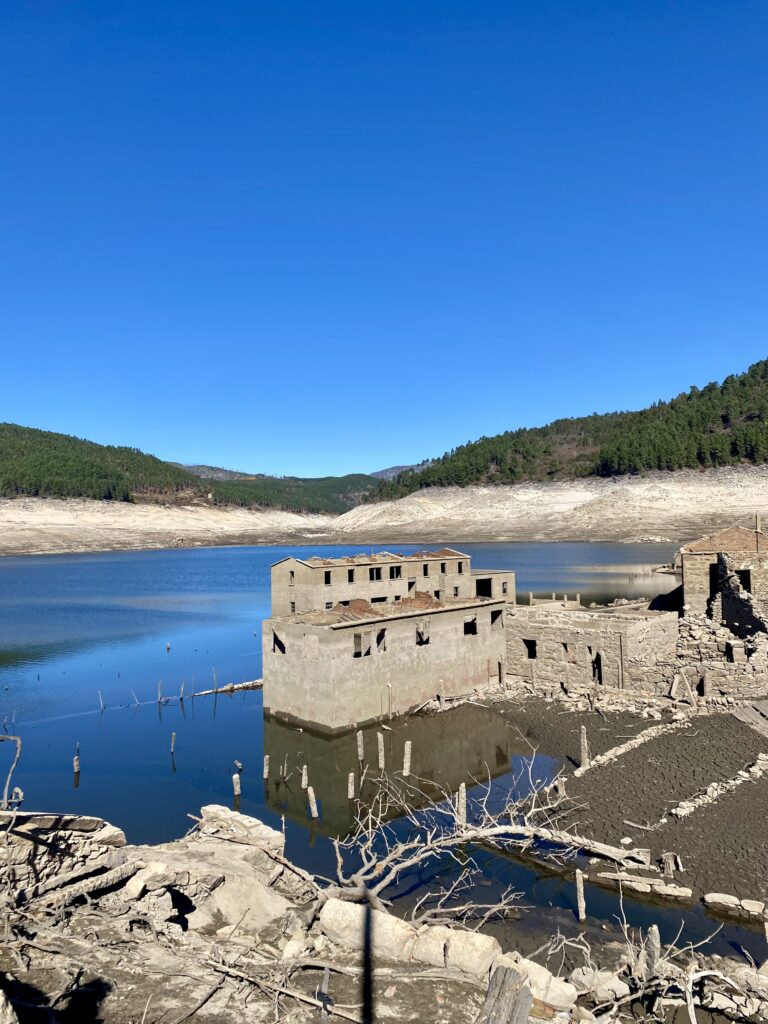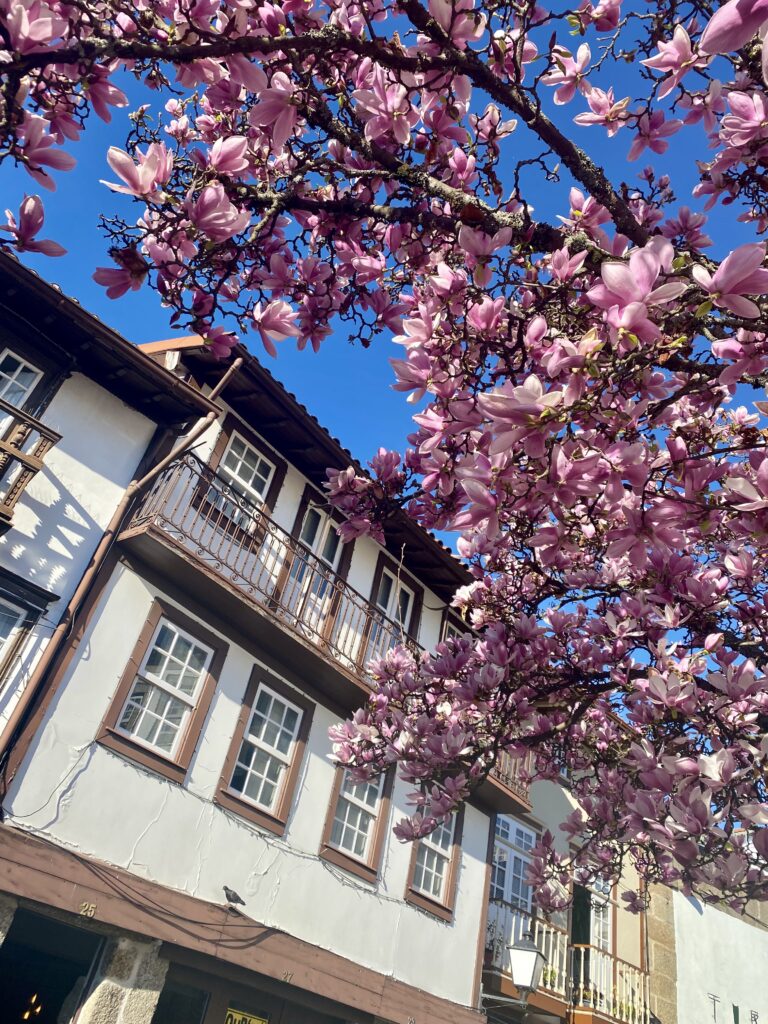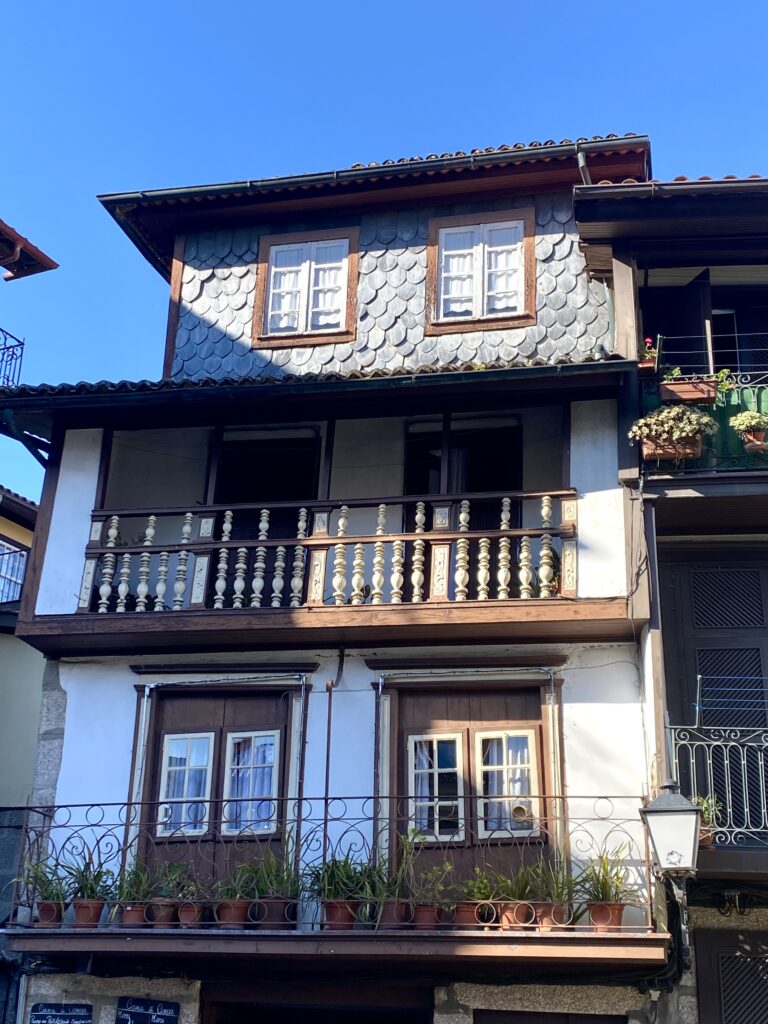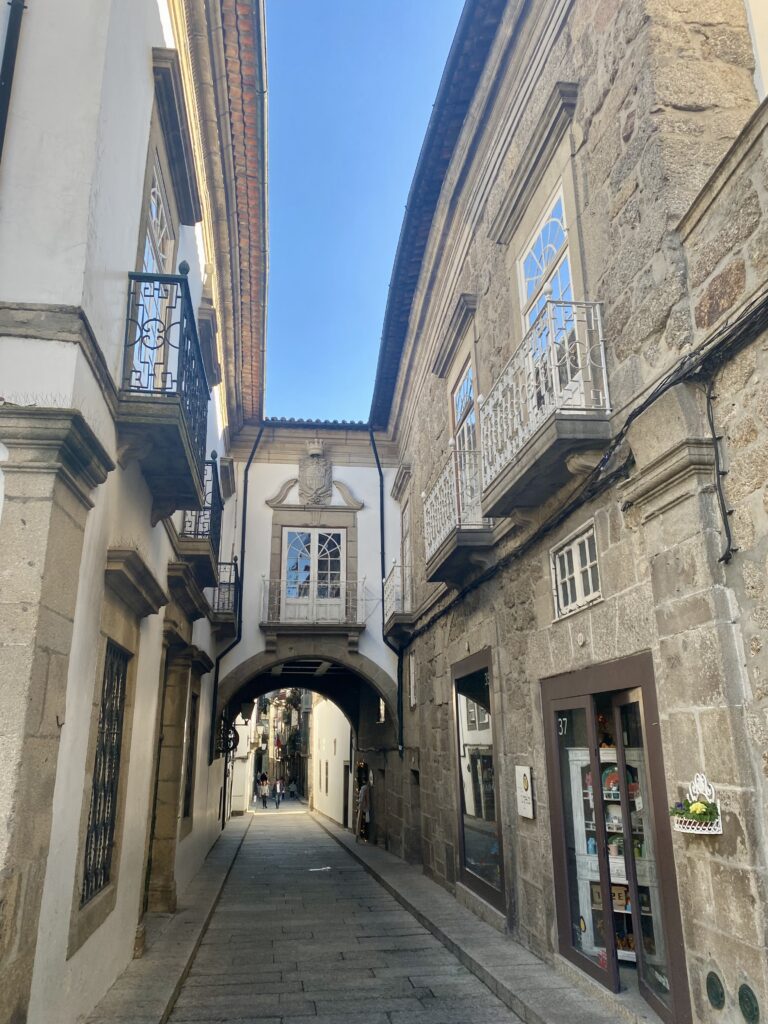 1 The abandoned village of Aceredo made visible by unusually low water levels within the Alto Lindoso reservoir near the Spanish border with Portugal. 2, 3 & 4 The pretty courtyard squares and historic buildings of Guimarães in Portugal.
Onwards we went, across the border into Portugal and the undulating, forested landscape of the beautiful Peneda-Gerês national park – a great spot for camping, water sports and nature that we'd love to re-visit with the kids. Winding down through the canopy, past waterfalls and wilderness, we were afforded incredible views of the valley below and eventually the horizon flattened out as we headed for Guimãres, the birthplace of the kingdom of Portugal. This bustling, working town is rich with medieval architecture, the building facades hewn in local granite and adorned with ornate, wrought-iron balconies. Blossom-filled squares (Praça da Sao Tiago and Largo da Oliveira), ancient monuments and pavement cafes were in abundance and we spent a pleasant few hours strolling around the alleys and passageways of this ancient, hilltop town in the sunshine. When you visit, don't miss the Igreja da Sao Francisco, the Palace of the Dukes of Braganza, the Vila da Flor gardens and the imposing Guimaraes castle, the 12th century seat of Portugal's first king, Alfonso Henriques as well as Rua Da Santa Maria for quirky shops and restaurants.
Dramatic Douro Valley Scenery
The next stop on our Galicia/northern Portugal road trip was the Douro valley, Portugal's wine region to the immediate west of the city of Porto. The steep slopes and winding lanes of the tiered vineyard terrain became apparent as soon as we neared the northern shores of the River Douro from Amarante. The views were breath-taking and the air was cool, crisp and fresh with the scent of the citrus trees growing all around. We stayed in a hilltop farmhouse near Resende with a glorious infinity pool (something of an unfortunate tease for the smalls as although the late February sun was shining brilliantly, the pool water hadn't quite warmed up from the winter, so was more of an invigorating ice bath!) Still we had plenty to amuse ourselves with endless games of hide-and-seek, collecting eggs from the chickens, picking and eating oranges, lemons and limes from our gardens, barbecuing meats on the terrace, sampling the local 'Vinho Verde' – young 'green' wine with a slight fizz and a deliciously fresh, clean taste – and exploring the pretty, local villages of Lamego, Pinhao and, indeed, Amarante.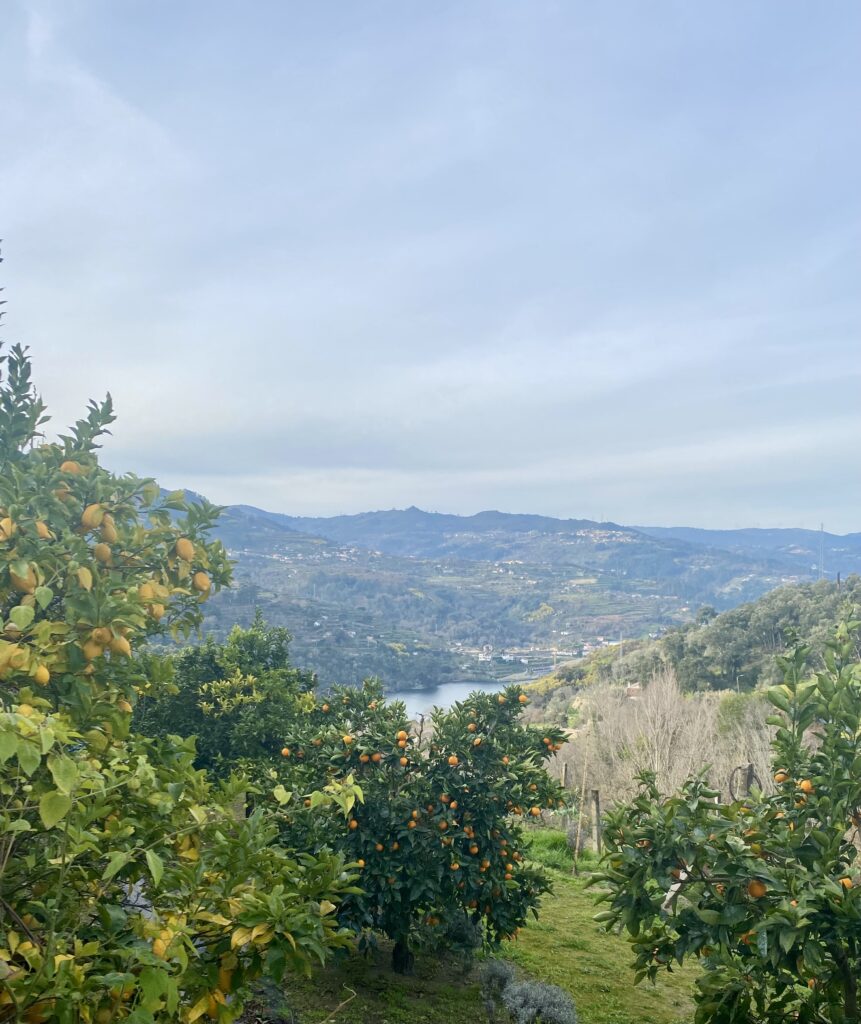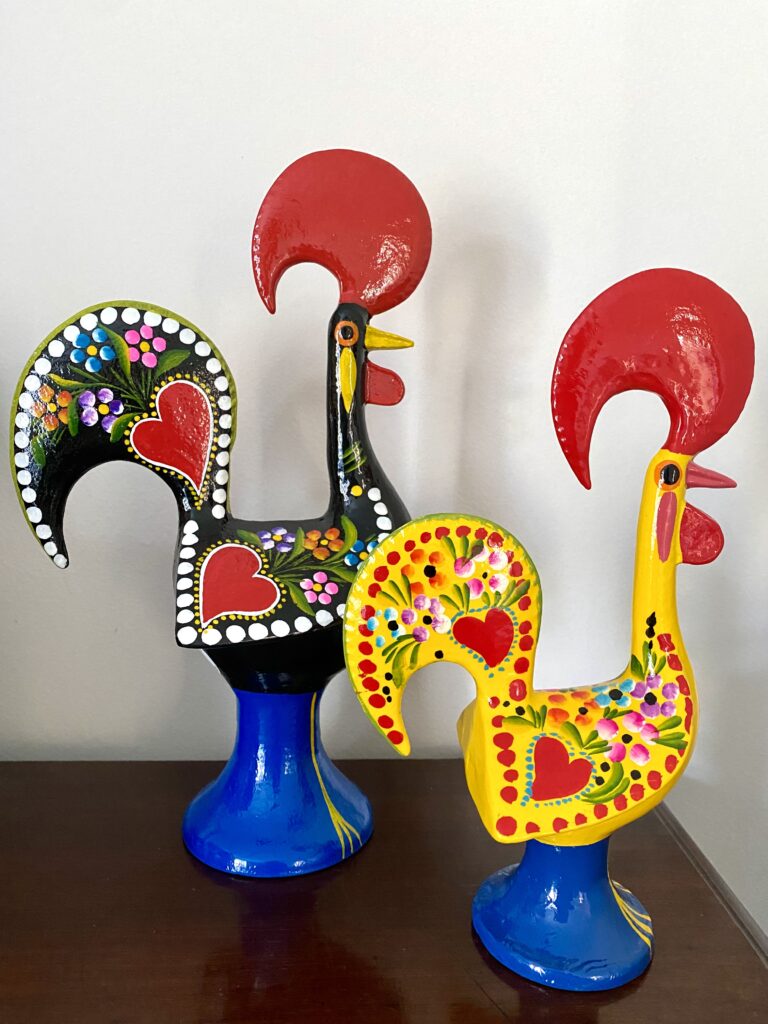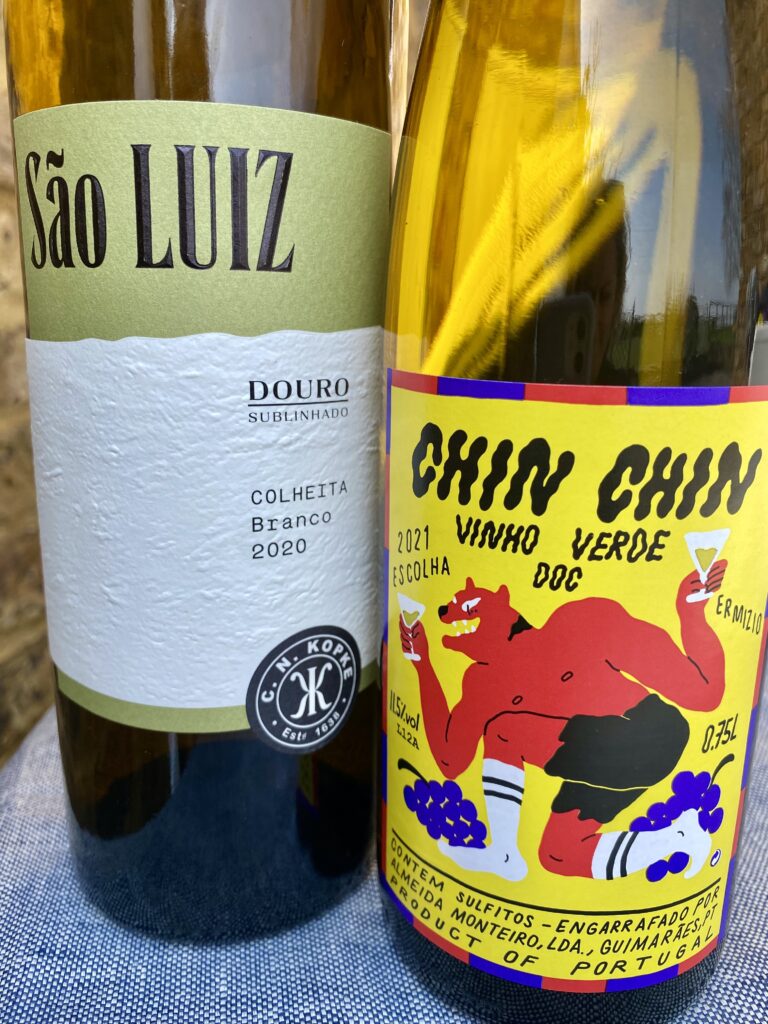 1 A view across the Douro wine-growing region from our lodgings in a rustic farmhouse surrounded by orange and lemon groves. 2 Typically colourful, painted Barcelos roosters, a national symbol of Portugal. 3 Two of our favourite Vinho Verde wines – both light, slightly sparkling, young, white wines from the Douro Valley region.
Having saved the main attraction for the last three nights of our trip, we planned to drop the hire car back at the airport, to the north of the city, so we were unencumbered and able to explore Porto on foot. Not, however, before we called in at Barcelos to buy….what else but a Barcelos rooster from the town's weekly market (the Barcelos rooster is a national symbol of Portugal). Afterwards we happened upon Bar Do Xano – an unremarkable-looking restaurant down a side street, but one with a queue of locals. Always a good sign, we headed indoors for a lunchtime apéritif while we waited for a table. What unexpectedly followed was a simple meal from a family-run eatery, which turned out to be one of the best I have EVER eaten. Simple roast chicken along with a variety of vegetables, baked with local ingredients and seasonings, according to tradition and utterly, utterly delicious. Delightful service too – the waitress left my daughter with (another) mini Barcelos rooster figurine and a beaming smile.
Perfect Porto
And so to the city of Porto. And what a city! Having dropped our hire car back at the airport we opted to explore on foot from our central lodgings in Rua Das Flores, right in the heart of the old town and a few minutes walk from the old water front or 'Ribeira'. The first thing that strikes you, as you stroll down the streets towards the waterfront, is the sheer charm of the place. Tiled facades and elegant buildings in every direction with the bustle of pavement cafes and al fresco diners. Indeed, the first night we arrived we were treated to another, delicious seafood supper serenaded by a trio of outstanding street musicians. Instant atmosphere, evenings warm enough to sit out and yes – it was late February! The view across the old waterfront – particularly from Gaia, opposite the Ribeira – is stunning and gives you a real sense of the city's hilly setting, nestled along the shores of the Douro river.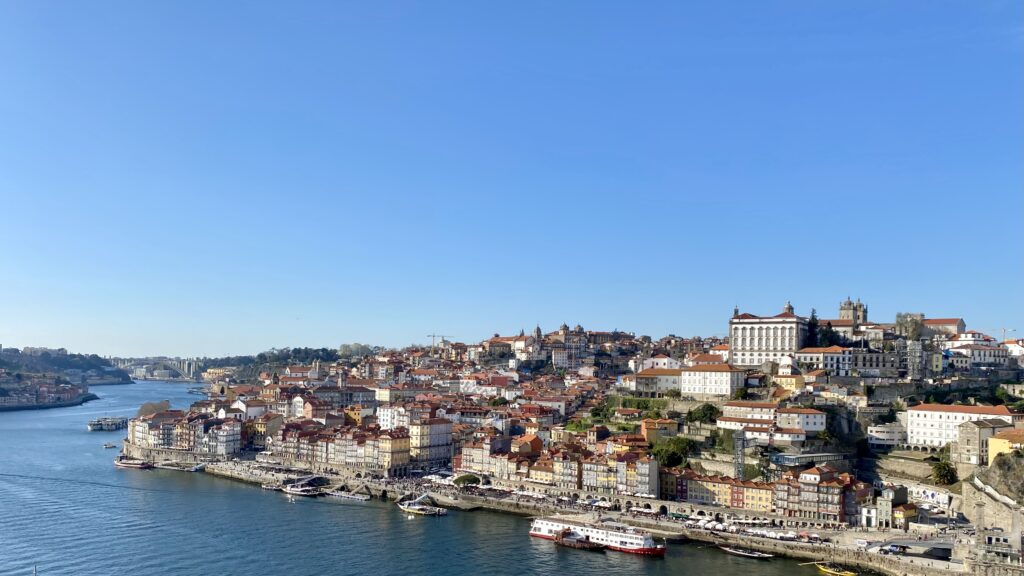 A view across towards Porto's old town and the 'Riberia' or waterfront, from the upper level of the Luis I bridge.
Station Art, Scented Soaps & Chic Shopping
The next morning, after coffee and Pastéis De Nata – delicious, egg custard tarts that are a Portuguese speciality (Fábrica Da Nata on Praça Almeida Garret 7 or Rua De Santa Caterina 331 make the best) – we popped our heads inside the nearby São Bento station concourse to see the incredible, world-famous, tiled interior. The soaring, blue and white 'Azulejos' tiled panels in this Beaux Arts building were hand-painted by Jorge Colaçao (1868-1942) and depict landscapes and scenes through Portuguese history. Having admired their incredible detail and sheer scale, our first morning was mostly spent exploring the meandering shopping streets and alleys around the Clérigos clock tower, around Rua Santa Caterina and back down towards the waterfront.
The Claus Porto soap shop just opposite our accommodation on Rua Das Flores provided a sensory delight for us and the kids and we emerged, half-an-hour later, having smelled almost every fragrance in the store, laden with miniature soaps in our favourite scents – almond milk and honeysuckle. Castelbel is another famous Portuguese soap brand to look out for.
Shopping for national treasures and locally made produce is a boon in these areas of the city. Cork is a major national export – the cork oak forests are mainly concentrated in the centre and south of the country – and there are some great design shops dotted around Porto, selling chic bags and accessories made of this sustainable material. My son managed to find a really smart, cork baseball cap which has lasted brilliantly! Other traditionally Portuguese crafts and mementoes to look out for are, of course, hand-painted tiles or 'azulejos' often blue and white after the earlier, Dutch and Asian decorative colour palettes; filligree jewellery in silver or gold; and, textiles by way of colourful embroideries or striped 'Manta Regional' – handwoven blankets from the southern Alentejo region.
Rua Santa Caterina, lined with everything from department stores and high street fashion shops to ice cream bars and independent boutiques, is the main shopping street in the town but our favourite spot was A Vida Portuguesa, not far from the Igreja Das Carmelitas and the Clérigos clocktower. This veritable emporium of goods for home & lifestyle as well as foodstuffs, books and fashion accessories is a brilliantly curated selection of the best of Portuguese brands from the handmade to high end design. Also nearby is Vista Alegre – selling beautiful crystal, china and homewares as well as a great selection of crockery from the quirky Portuguese tableware brand Bordallo Pinheiro. For fans of vintage finds and flea markets, there is an atmospheric antiques market held bi-monthly in the area around the clocktower in this, one of four, UNESCO designated world heritage zones, across the city. Finally, don't forget to take a peek inside one o the world's oldest bookstores, just up the street, at Livraria Lello. This famously atmospheric, traditional bookstore is said to have inspired J.K. Rowling's 'Harry Potter' series of stories.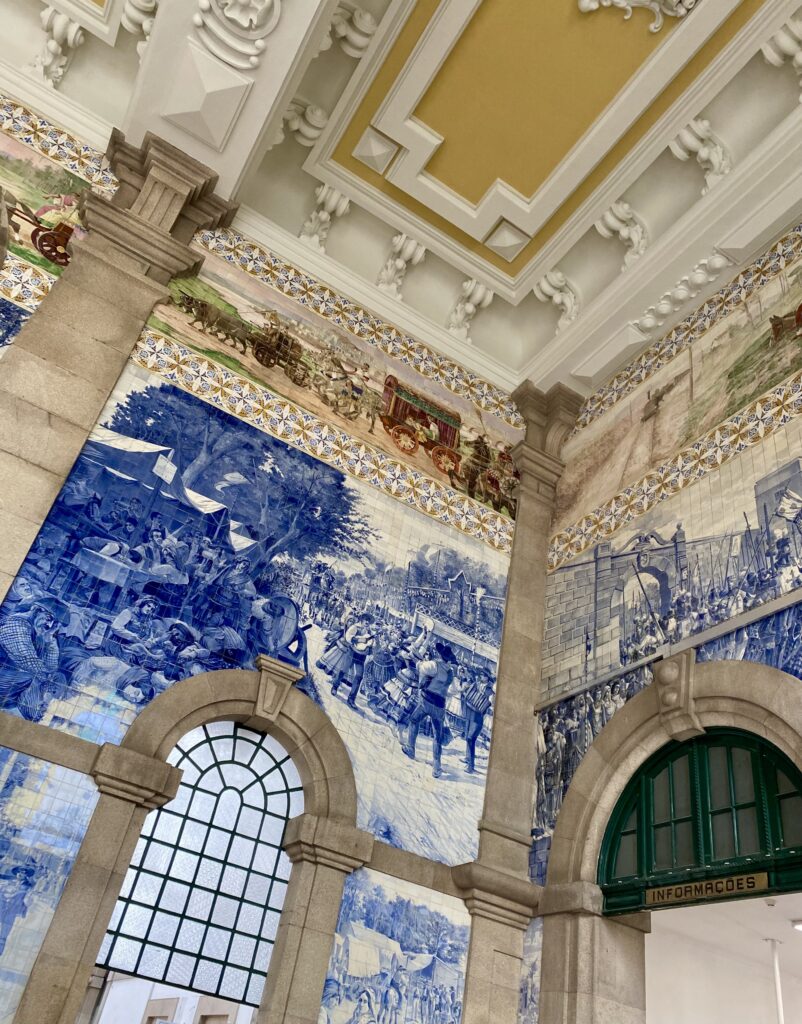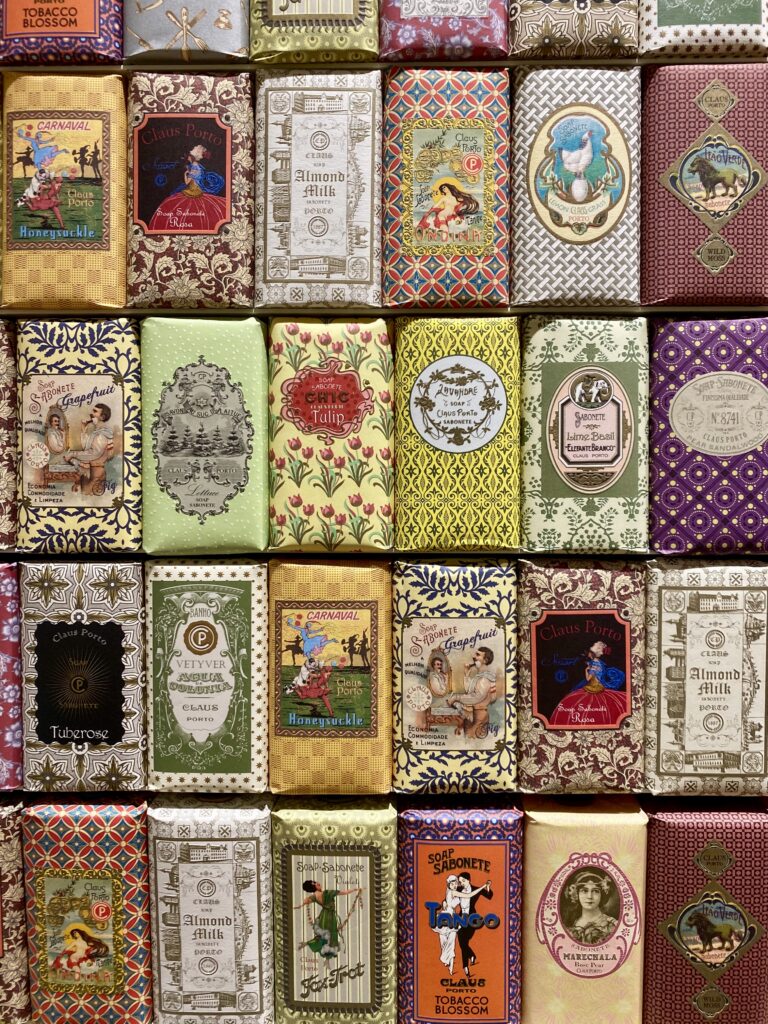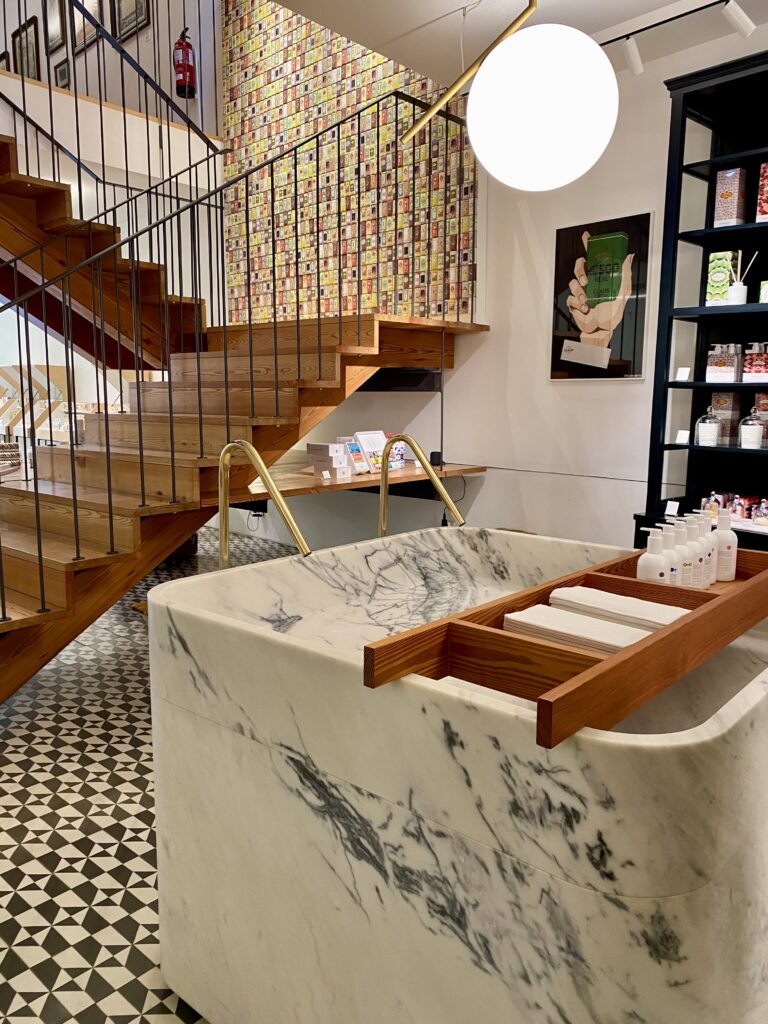 1 Awe-inspiring tiled décor at central Porto's famous São Bento railway station. 2 Heavenly, scented soaps galore and the stylish interior and museum at Claus Porto soap merchants on Rua Das Flores.
Fabulous Facades, Vistas & Views
Porto is definitely a walking city and you can take in the main sights on foot within a long weekend. If you have longer, the tram or metro are a speedy option for visiting recommended spots around the outskirts of the city (more of which below). As I have already mentioned, the city is rich in architectural heritage and more often than not, you turn a corner or arrive at intersecting streets to be greeted with sweeping views from one remarkable building to another equally striking edifice.
After a leisurely lunch and having ambled along the lively, sun-soaked waterfront – think street performers, caipoeira displays, al fresco dining and boats and gondalas to-ing and fro-ing – we took the steps up to reach the top level of the Luis I bridge for the best panoramic views of the city (there is also a funicular for more sensible folk!). We strolled around the Jardim De Morro (you can also visit the imposing Monastery Of Serra Do Pilar up here too) and then took the cable car ride down to Gaia on Porto's south bank. From the cable car, you have a wonderful rooftop view of the fifty or so, traditionally-built, brick, wine warehouses bearing the familiar names Graham's, Ferreira, Taylor's, Croft, Ramos Pinto and Porto Cruz amongst others, each housing multiple barrels of the city's most famous export, Port wine. Most of these offer tours and wine-tasting and I can highly recommend the roof-top bar of the Porto Cruz building right on the Gaia waterfront for sundowners. Having explored the street markets and hilly streets of Gaia, we hopped on a water taxi boat back across to the Ribeira for supper.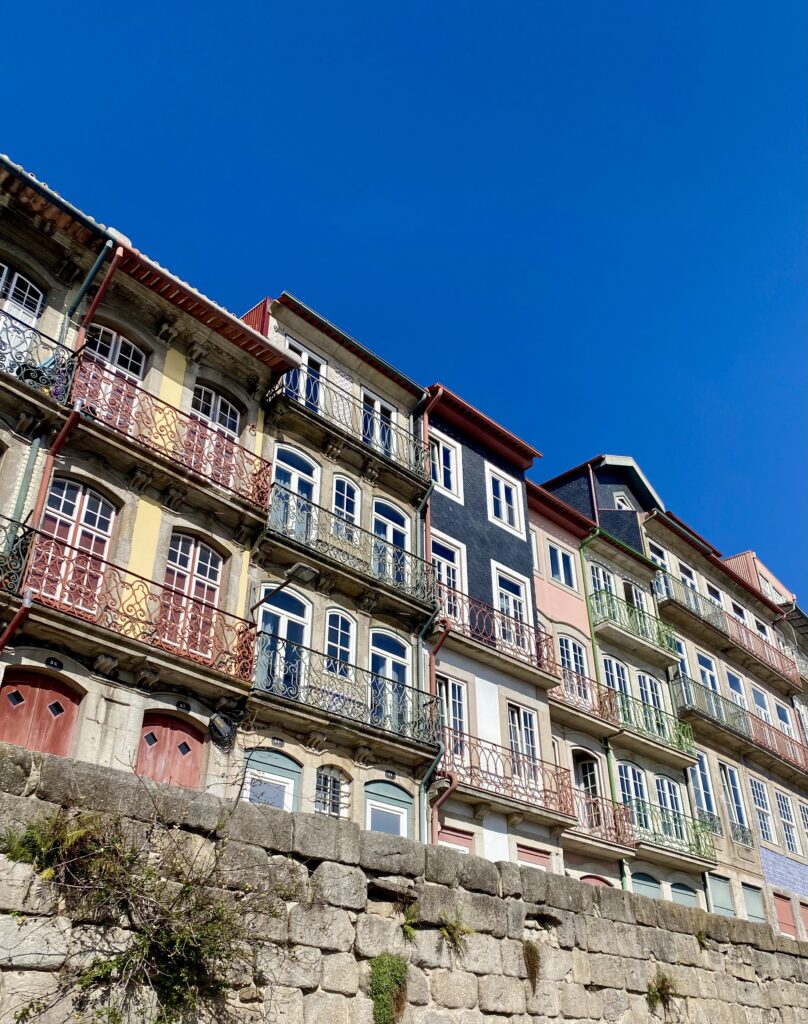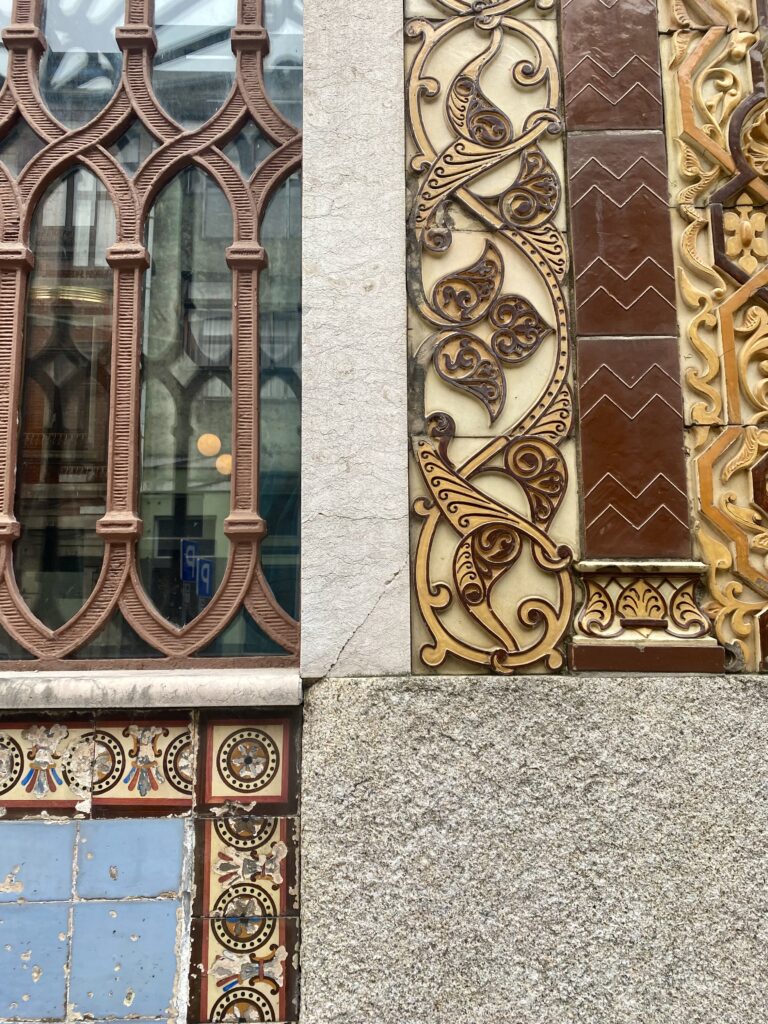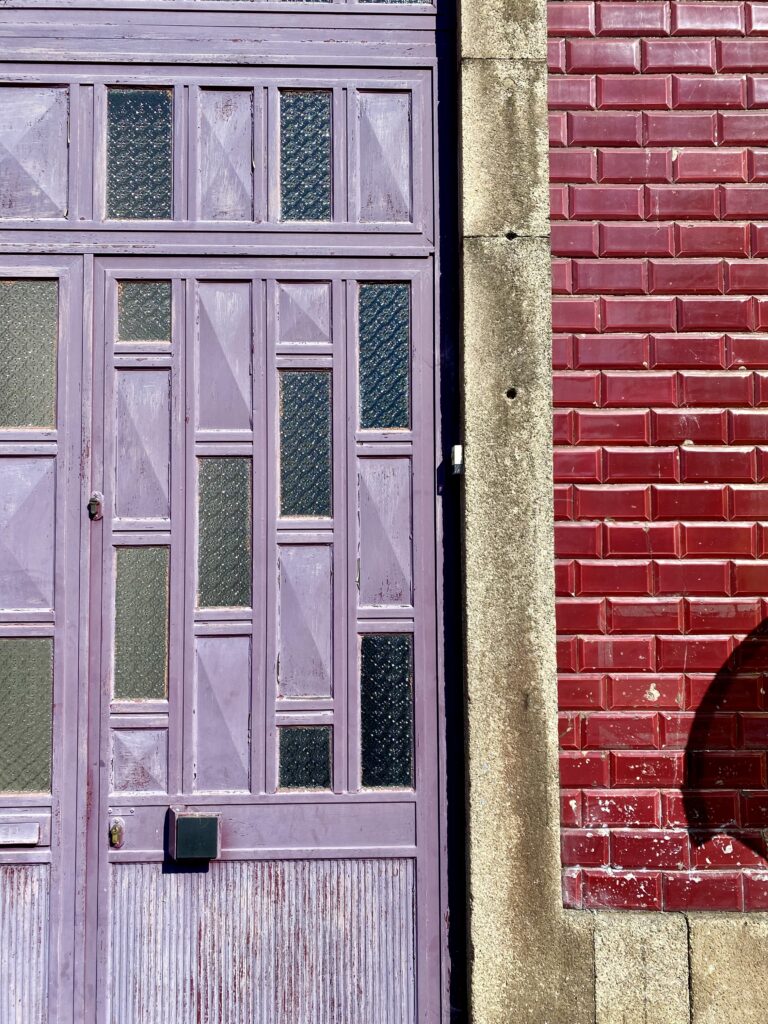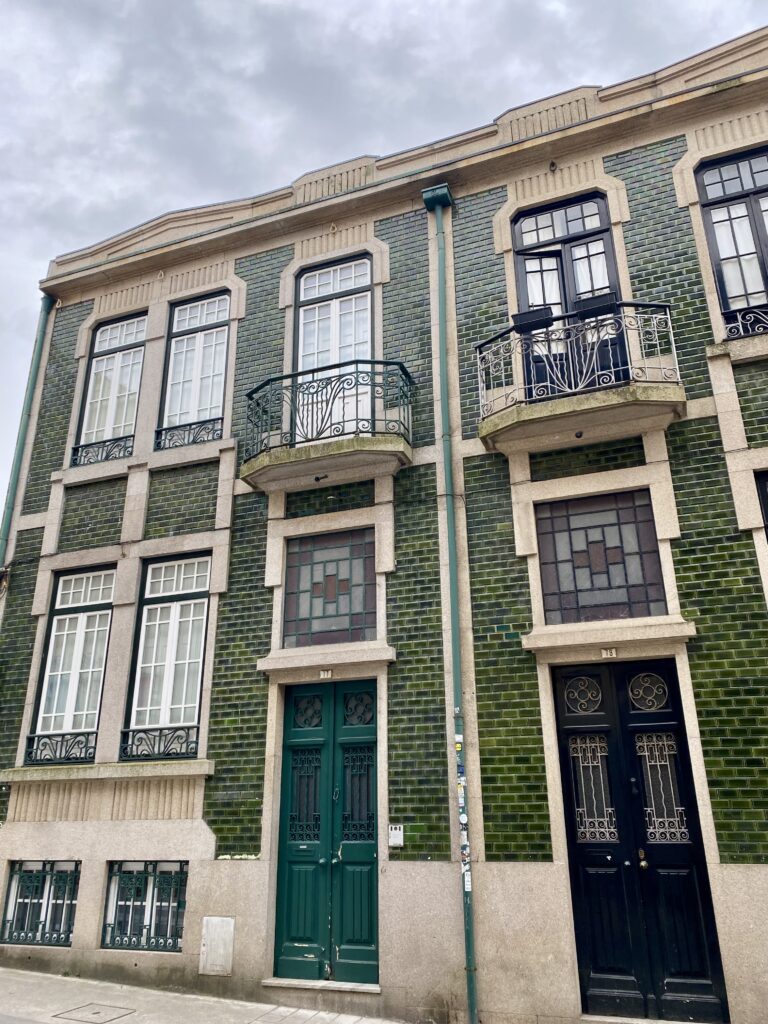 1 Striking, balconied architecture along the 'Ribeira' or waterfront in Porto's old town. 2, 3 & 4 Tile details from building facades across the city range from Moorish-inspired, relief patterns to Art Deco-inspired glazed tiles from the Beaux Arts era. Classic blue and white painted 'Azulejos' tiles commonly associated with Porto are in evidence almost everywhere you look in the old town (see picture panels below).
Design Details & Delicious Eats
Eating and drinking in Porto is a joy. As major fans of French, Spanish and Italian cooking and, having never visited Portugal before, we were keen to explore regional specialities and taste as many local dishes as we could.
Given its nautical, sea-faring heritage, Porto is famed for its sardines and 'Bacalhau' or dried and salted cod – a staple of generations of sailors & explorers. Consequently, lunches and dinners were invariably of the seafood variety. During our time in Porto, we ate delicious Bacalhau croquettes – salted cod and potato cakes teamed with melting Serra Da Estrela cheese from Portugal's highest mountain range; baked octopus rice; all manner of seafood 'Pestiscos' – the Portuguese version of tapas – and all frequently finished off with a Port digestif (us not the kids obvs!). The young Porto-born owner of our guest house recommended we try a 10 year old tawny port from the Ferreira winery – which we did that evening – and it was delicious. Much to my twelve year old son's amusement, my husband quipped that the 'L.B.V.' label on the bottle brought to our table, clearly stood for 'lovely, bloody vino' after we'd both tasted the truly delicious nectar (it actually stands for 'Late, bottled, vintage' and, of course, it should have been 'Vinho' – given we were in Portugal).
For lunch or dinner, our tip would be to bag a table at one of the restaurants along the upper level terraces of the Ribeira for sunny, waterfront views. Come nightfall there are plenty of inviting, candlelit eateries in and around the passageways and streets of Porto's old town to choose from. Alternatively, to take some of Porto's delectable fruits of the sea home with you, head to the quirky and colourful O Mundo Fantastico Da Sardinha Portuguesa, Comur at Casa Oriental or Loja Das Conservas for tinned sardines & seafoods of every imaginable variety. If you've more time, a number of locals recommended a trip out to Matosinhos on the coast for the best fish restaurants near the seafront at Rua Heróis Da França. Simply jump on the metro at Trinidade and take the blue line.
Turning our attention from the sea to the land, there was one other local delicacy we simply had to try – Francesinha. A list of the ingredients alone might make your arteries contract but, trust me, as one who rarely opts for hearty, rich dishes – this one was a winner. You wouldn't eat it on a daily basis. You might opt to share. For sure, my snaps of it weren't the prettiest (hence excluded from this post!). However, this sandwich concoction of wet-cured ham, spicy, cured Portuguese sausages, fresh chipolata sausages and steak between toasted white bread slices topped with a layer of melted cheese, an egg and a hot and thick spicy tomato and beer sauce, typically served with fries…somehow gained four fans! Make sure you're ravenously hungry before you arrive – Café Santiago on Rua Passos Manuel is the place to order it – and plan on a post-prandial stroll and a very light supper!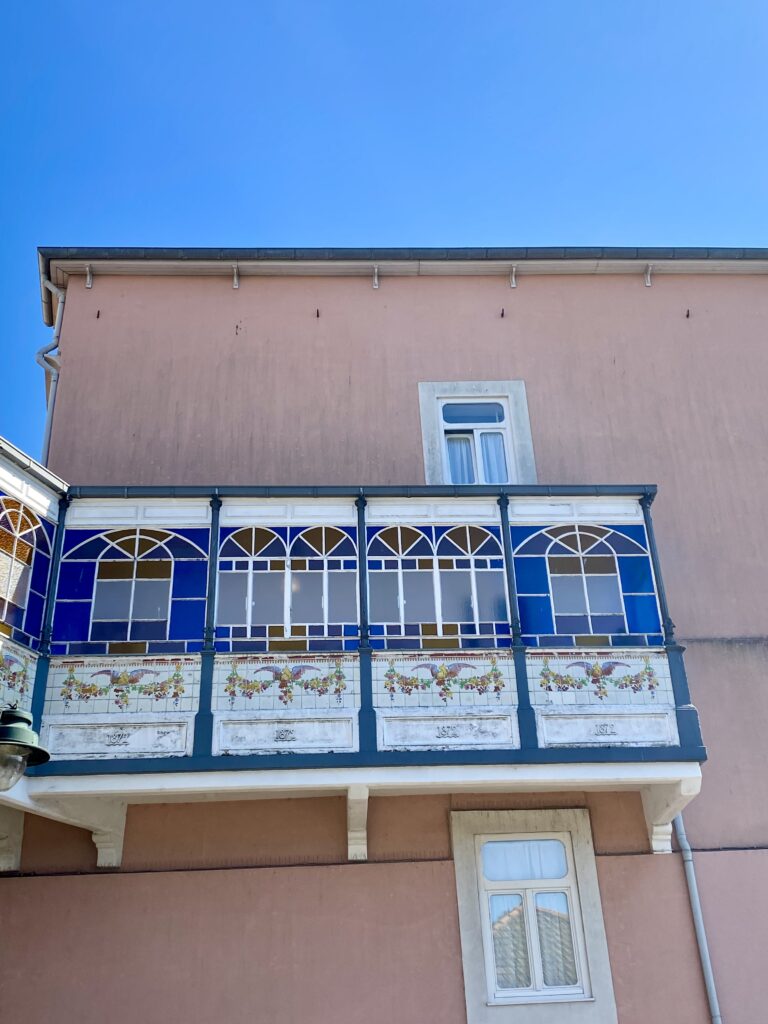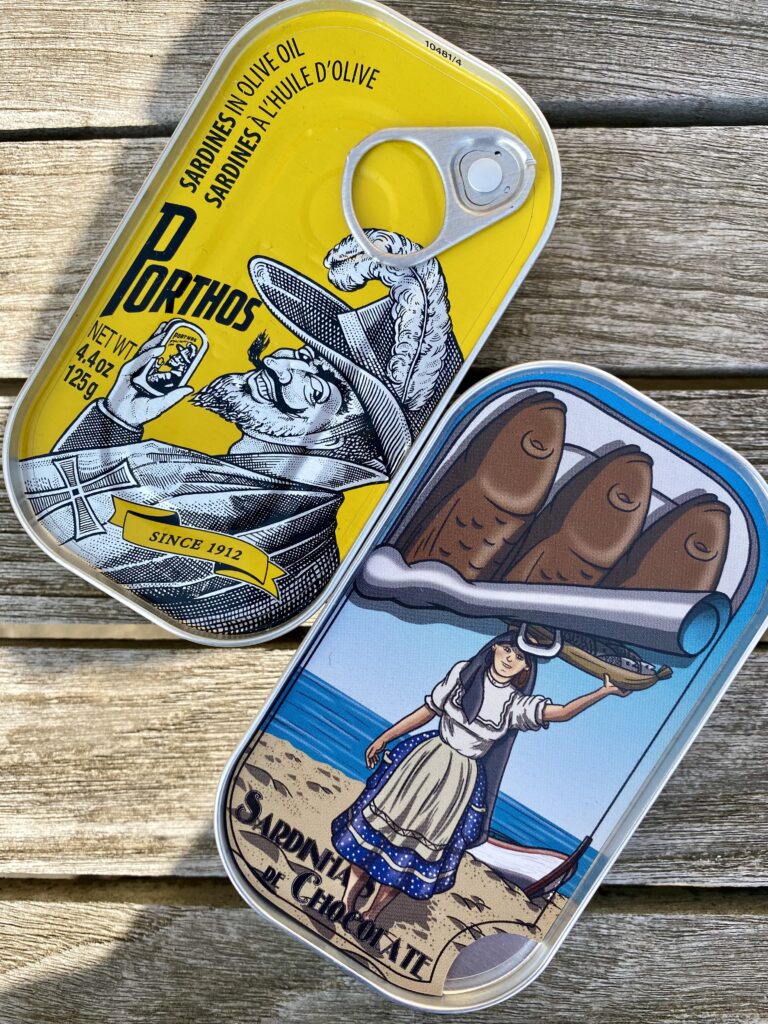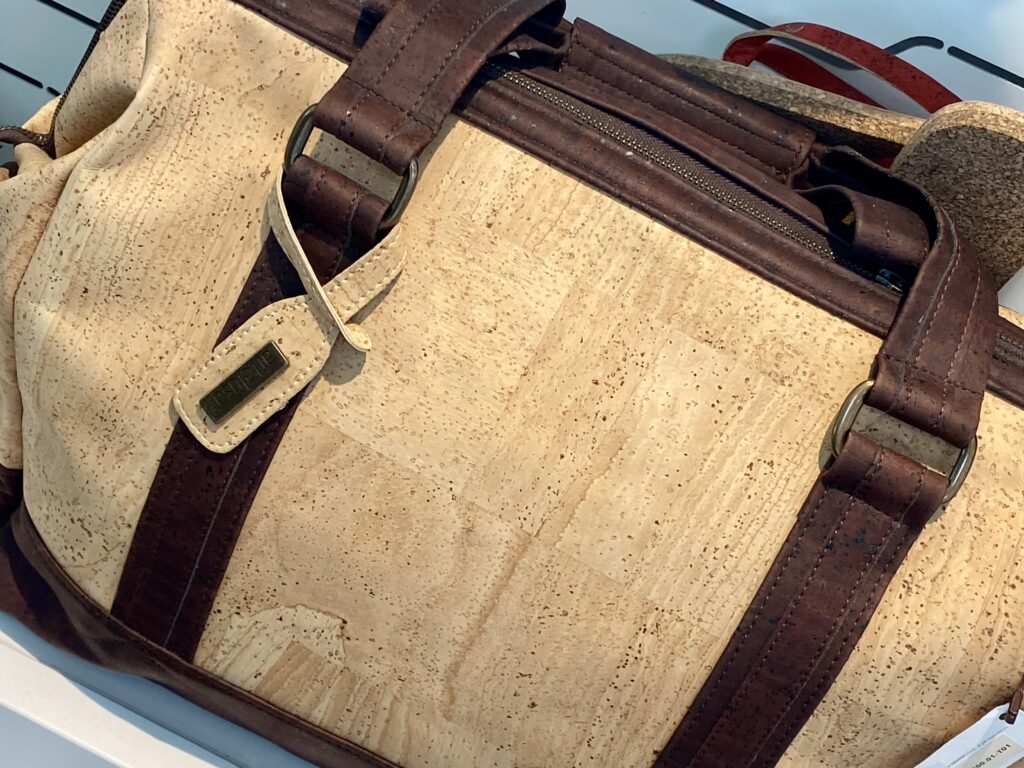 1 A romantic balcony with coloured glass and floral tile décor against soft pink render caught my eye as we strolled towards the waterfront one morning. We took a different route through the winding, narrow lanes each time we went down to the Ribeira as there was so much to take in. 2 Tinned sardines, a speciality of this historic, sea-faring city, purchased for granddad and chocolate (!) sardines for granny! 3 Cork goods are sold throughout the city as Portugal is a major producer of this sustainable product.
Azulejos All Around
As I've already mentioned, it's Porto's architecture that captures your imagination at every turn and none more so than the blue and white facades of the 'azulejos' tiled churches with their pretty bell towers that are dotted throughout the city. The Capela Das Almas on Rua Santa Caterina won hands down for me (see below) with its ornate stonework, decorative swags and soaring historic vignettes and pictorials.
By way of complete contrast, a building we didn't get to visit but that would be at the top of my list on a return trip, is the Casa Da Música to the north of the city. This striking, asymmetrical concert hall, designed by the architect Rem Koolhaas and opened in 2005, offers a modern take on the Portuguese tile tradition throughout its interiors with soaring, angled ceilings and walls – presumably all designed with acoustics in mind. You can take a tour at various times of the day and in various languages or, alternatively, buy tickets for a music event in the Grand Auditorium.
Our kids are surprisingly keen city breakers but there are limits and only so many 'old houses' we can go mooching around in a day. The kids loved Porto but I have a hunch we'd definitely go back 'á deux' as it's also quite a romantic spot and there are so many places we'd love to visit (sans kids). Other buildings of note we'd skip back to are the Museu De Serralves – an Art Deco mansion with sprawling grounds now operating as a contemporary art gallery and sculpture garden; the Bolsa Palace in the centre of the city and, if we were feeling particularly energetic, we'd attempt the Ponte D'Arrabida bridge climb. Our smalls were not old enough to participate this time but the views afforded across the city would be well worth the trek to a height of 65 metres above the river. Book in advance and hop on the charming, old-fashioned tram at Infante to get there.
Further afield there are a number of places to see on a future trip back to the region. Not least the ancient city of Braga with its imposing cathedral and iconic Santuário Do Bom Jesus Do Monte church – with no less than 161 metres of ornate, tiered staircases lead up to its Baroque edifice.
Coastal spots just south of the city that we'd love to explore include Praia Da Costa Nova, which boasts endless sandy beaches and is fronted by rows of charming, striped fisherman's houses; and, Aveiro, the 'Venice' of northern Portugal with its extensive canal network and gondolas bobbing along the waterfront. The kids would definitely approve of these two. Perhaps not though the 8 km hike along the Paiva Walkways in the Arouca area to the south east of the city. Wooden pathways zig-zag up and down rocky hillsides through untouched wilderness, completely immersing you in nature as you traverse rocky outcrops following the course of the Paiva river in the valley below. My kind of summer workout.
Our final thought on returning to Porto, as we sat on the Ribeira enjoying a last al fresco lunch and awaiting our airport taxi, was that the idea of a two or three night Douro river cruise might be a winning way to grab some instant sunshine on a European weekend break. Not usually a fan of cruises, the attraction of exploring the culture and cuisine of this sparkling city (once again) and combining this with time spent relaxing on a sun deck with a pool as your boat ambles its way up the Douro river, is undeniable. An ever-changing backdrop as you glide past the dramatic scenery of the Douro Valley wine-growing region, the inevitable peace and serenity and wine-tastings en route….I confess, I might just be a (short) cruise convert!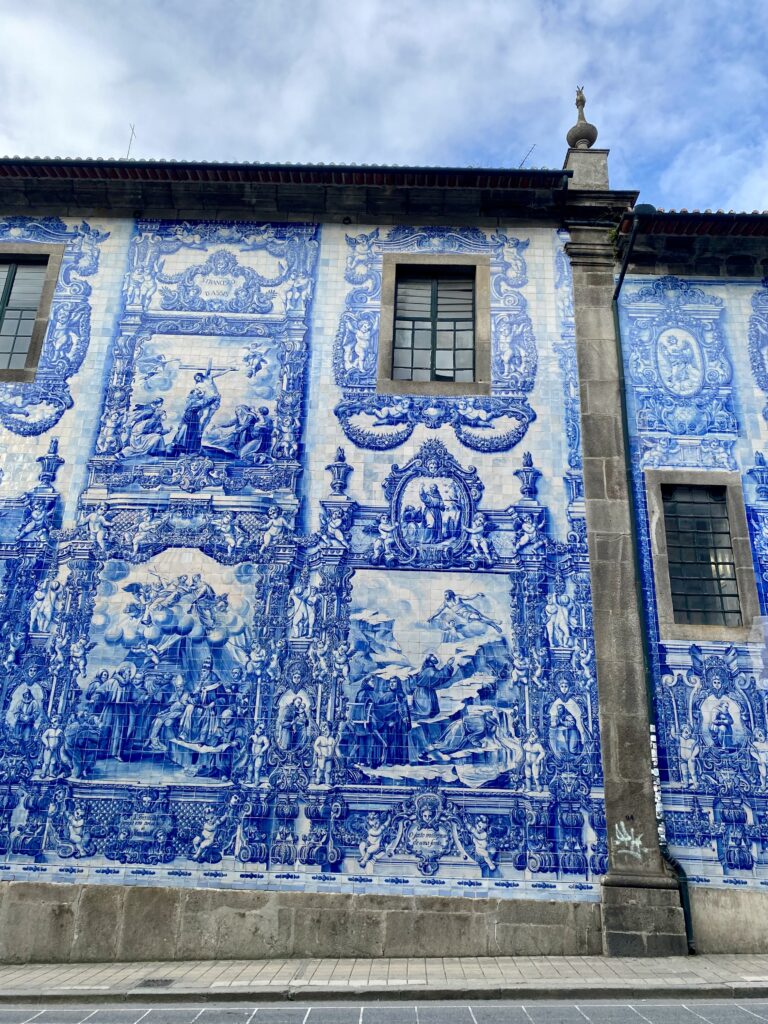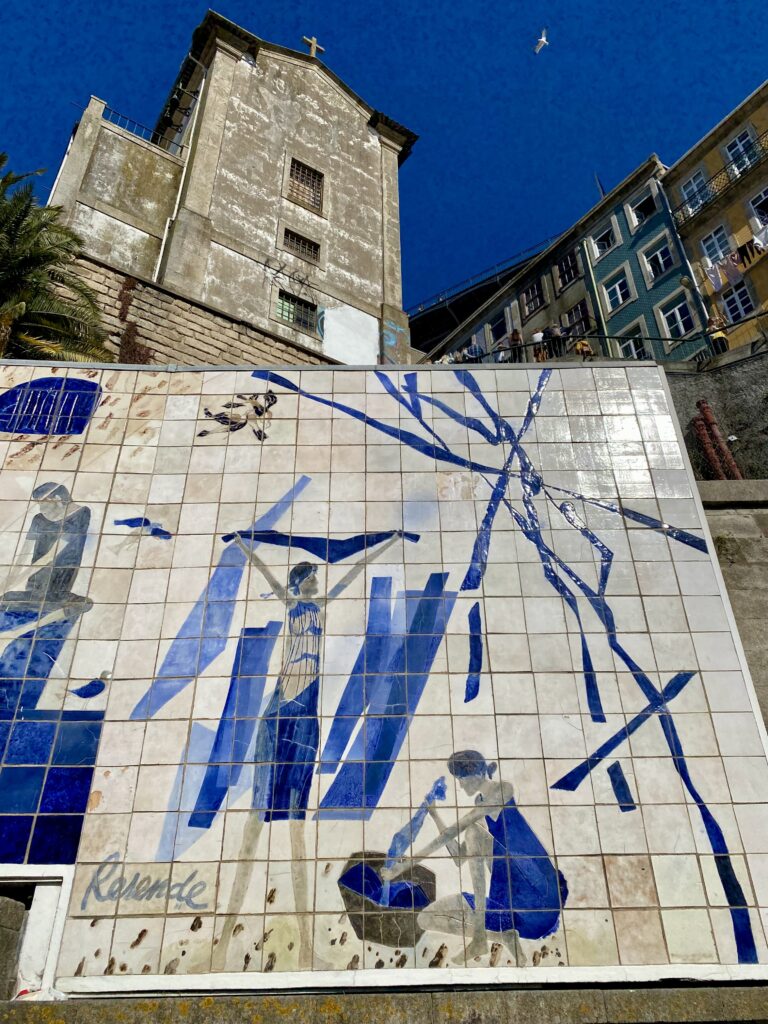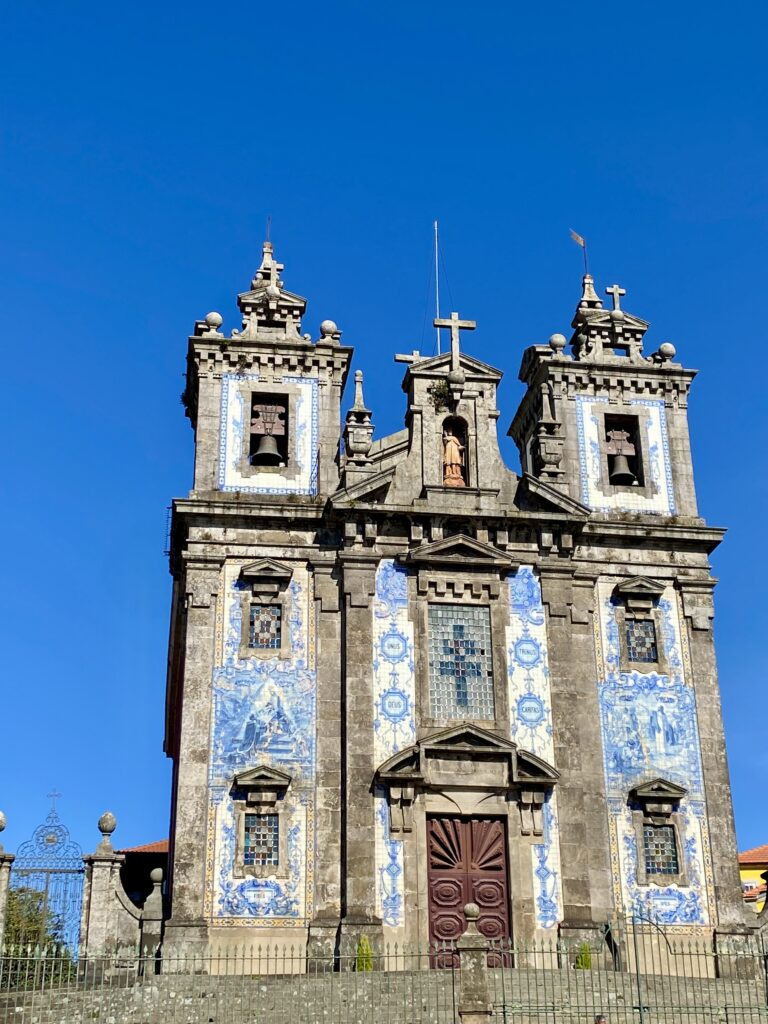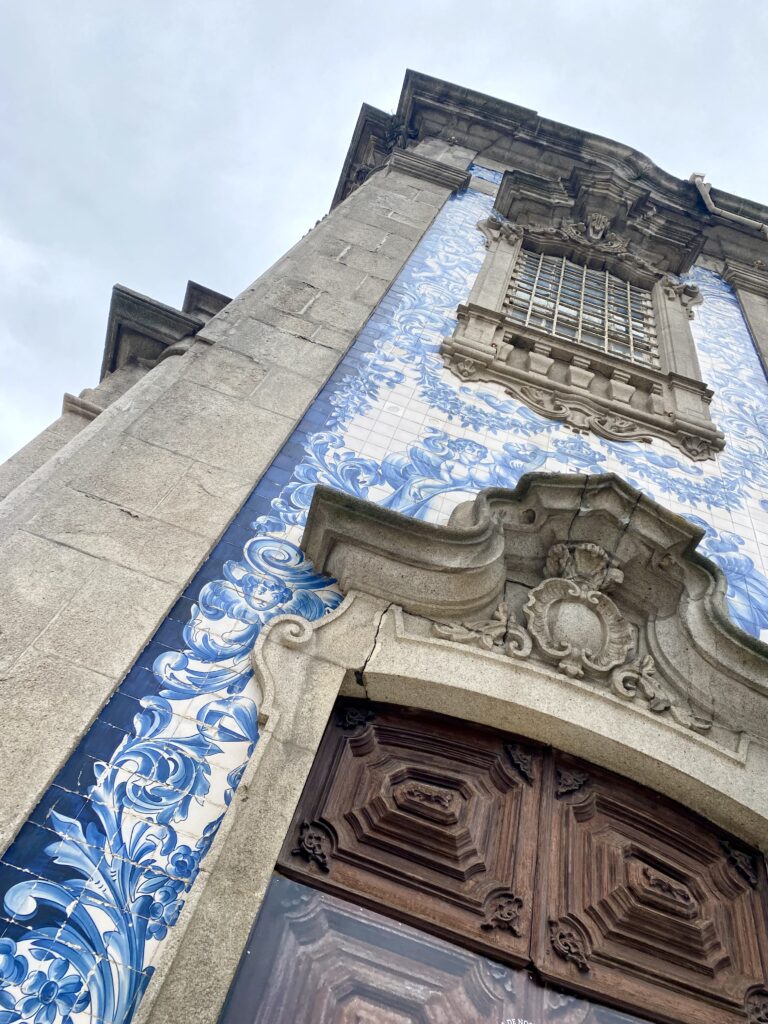 Breath-taking blue and white 'azulejos' tile décor in its many forms. 1 & 4 The beautiful facade of the Capela Das Almas on Rua Santa Caterina. 2 Contemporary azulejos near the tunnel entrance by the Luis I bridge on the Ribeira. 3 The twin bell towers of the Igreja De Santo Ildefonso.
In conclusion
In short, this circular trip taking in the jewels of both Galicia and northern Portugal was a joy and a wonder. Both Spanish Santiago De Compostela and Portugal's second city, Porto, are spell-binding places in which to explore and unwind and kid-friendly to boot. Cuisine and architecture undoubtedly come to the fore in this dual city break but there are so many places to visit in the surrounding areas – think pretty hilltop towns; nature; adventure; castles; seaside towns; beaches; and, water sports. Our week long sojourn could easily have turned into a fortnight's family holiday – most definitely in the heat of the summer season. Porto, especially, stole a bit of my culture-loving heart and without doubt, we will be back. 
Sign up below to be notified when our Portugal edit of beautiful, handmade designs for modern living goes live…
A note about the author.
Our focus is and will always be travel infused interiors and 'destination-inspired design'. However, generic blog features relating to cultural travel experiences are relevant to all. My creative head, background as an interiors magazine journalist (read more here) and obsession with cultural aesthetics the world over leads me to shout about places I have lived, loved and travelled and how these might inspire your own, future travel plans…I hope you find our travel blogs of interest. Sign up below for more of the same!
Annabel Smith, Designs By Origin
FOLLOW US/GET IN TOUCH!