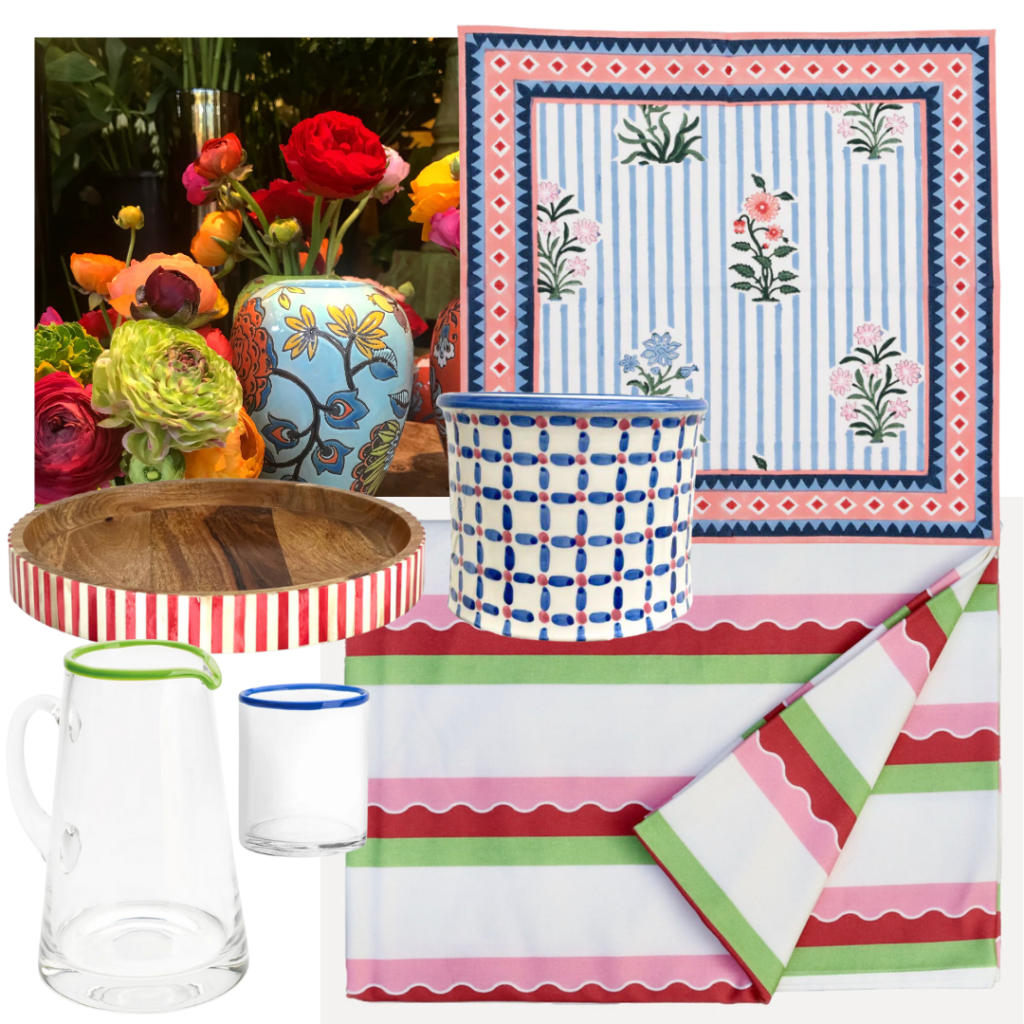 Clockwise, from top left: Ranunculus are in season! Fill an eclectic mix of low-level, patterned pots with blooms in a riot of colours for conversation-starting style. Indian block-printed cotton napkin set in blue Jodphur stripe, £55, Daydress; hand-painted, Spanish flower pots, from £54, The Mews Fabrics + Furnishings; Kefalonia scallop tablecloth, from £65, Artemis Deco; Ledbury green-tipped jug, £39 and, Idbury low ball blue rim tumbler, £9, in mouth-blown, recycled glass, Daylesford Organic; and, red and white striped Indian bone-inlay tray, £74, Tooka. Add white plates, plain cutlery and simple, elegant wine glasses and lunch is – almost – served!
Travel-inspired table style FOR SUMMER ENTERTAINING…
Up your table styling game for summer with a colourful, inviting display full of global crafts and motifs! Here's how:
1. choose your palette
Found a hero piece to inspire your inner table stylist? A vintage tablecloth perhaps or hand-decorated salad bowl in a glorious colour? Take your lead from that single item and choose other tabletop items in colours that tone or sit well with it. Don't be too 'matchy'. A little colour clash is always good. If you're not sure where to start, decide which colours you love. Colours you consider summery and upbeat. Then shop for tabletop décor with those in mind…
2. CREATE YOUR CANVAS
The quickest and easiest way to lay a summer table setting with real wow factor is to opt for pattern. Indian block-print tablecloths provide intricate, all-over pattern in vibrant brights or elegant darks on lightweight cotton and are perfect for both indoor and outdoor entertaining. Alternatively, go for a bold motif that is more modern in feel, such as the wavy stripes on this Kefalonia-inspired tablecloth.
3. LAYER UP WITH COMPLEMENTARY PATTERN
Source decorative serve ware such as platters, serving bowls or trays in much smaller or much bigger patterns than your tablecloth print to create pleasing contrasts. Runners or napkins also provide an opportunity to layer up pattern e.g. stripes against a bold floral tablecloth or vice versa, as shown in this scheme: a lovely combination of stripes, geometrics and florals.
4. COMBINE TEXTURES & MATERIALS
Similarly, layer up textures and materials too for visual interest. This is pretty straightforward when table styling as you're already combining ceramics with table linens and glassware for sparkle. The blowsy blooms add another dimension as does the woodgrain and bone inlaid tray, and the colour-pop detailing on the jug and tumblers.
5. ADD FLOWERS
Ranunculus rule in this scheme as they're in season now. For a profusion of colour and shape down the middle of your table, consider colour-clash roses in full bloom, pretty peonies or mop-head hydrangeas. Nothing worse than not being able to see fellow lunch partners across the table so stick to low-level display to keep the chat flowing.
Your SUMMER TABLE SOURCING LIST…
Pictured on our global summer table scheme above plus other spots to shop for eclectic summer tabletop!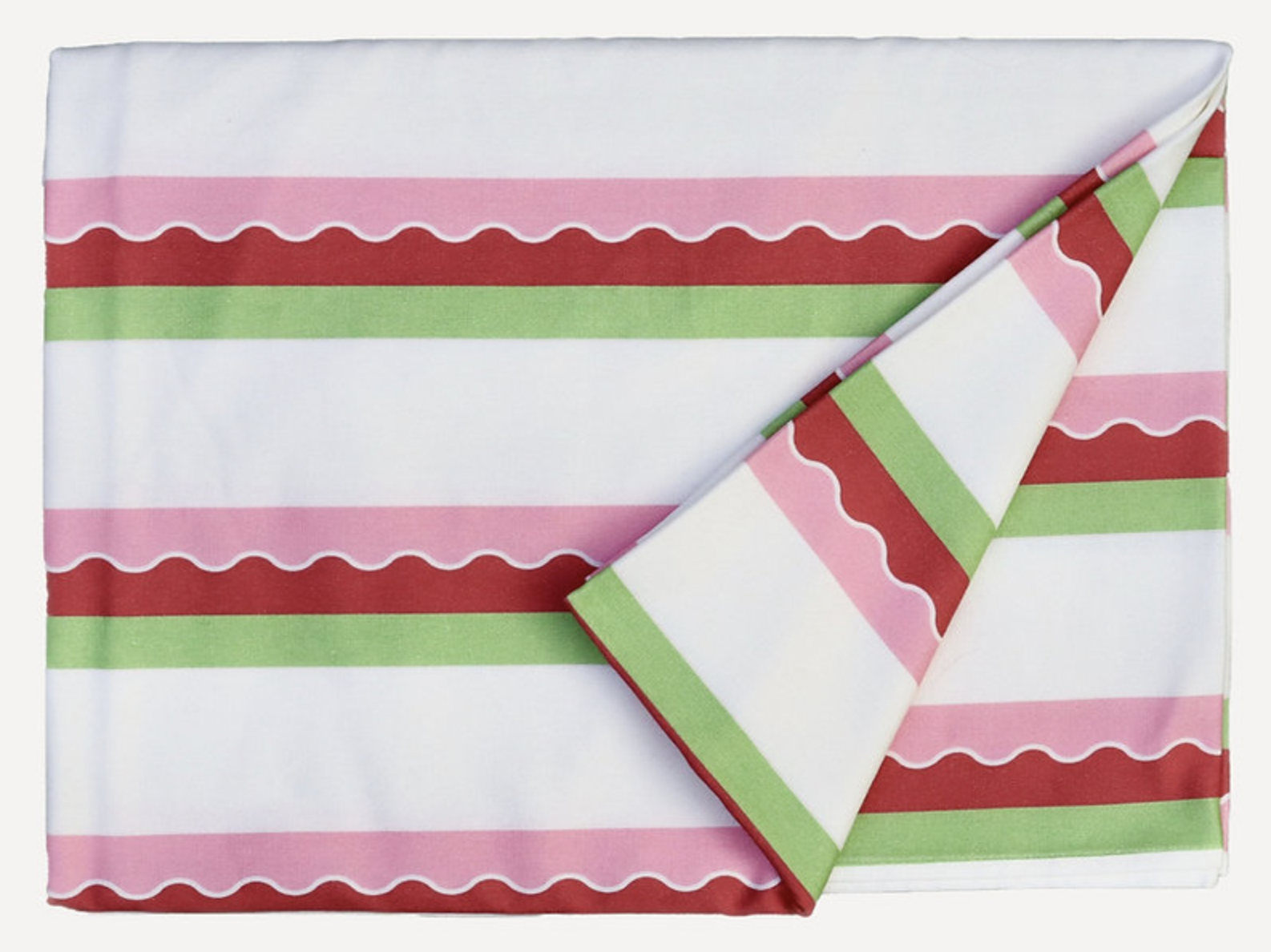 …this tablecloth, also available in other, equally lovely colour ways, costing from £65 from Artemis Deco. This online shop is a brilliant spot to browse modern rustic Spanish and Sicilian ceramics, colourful Bohemian glass jugs and tumblers and this rather fabulous range of Greek-inspired tablecloths and napkins, amongst other things.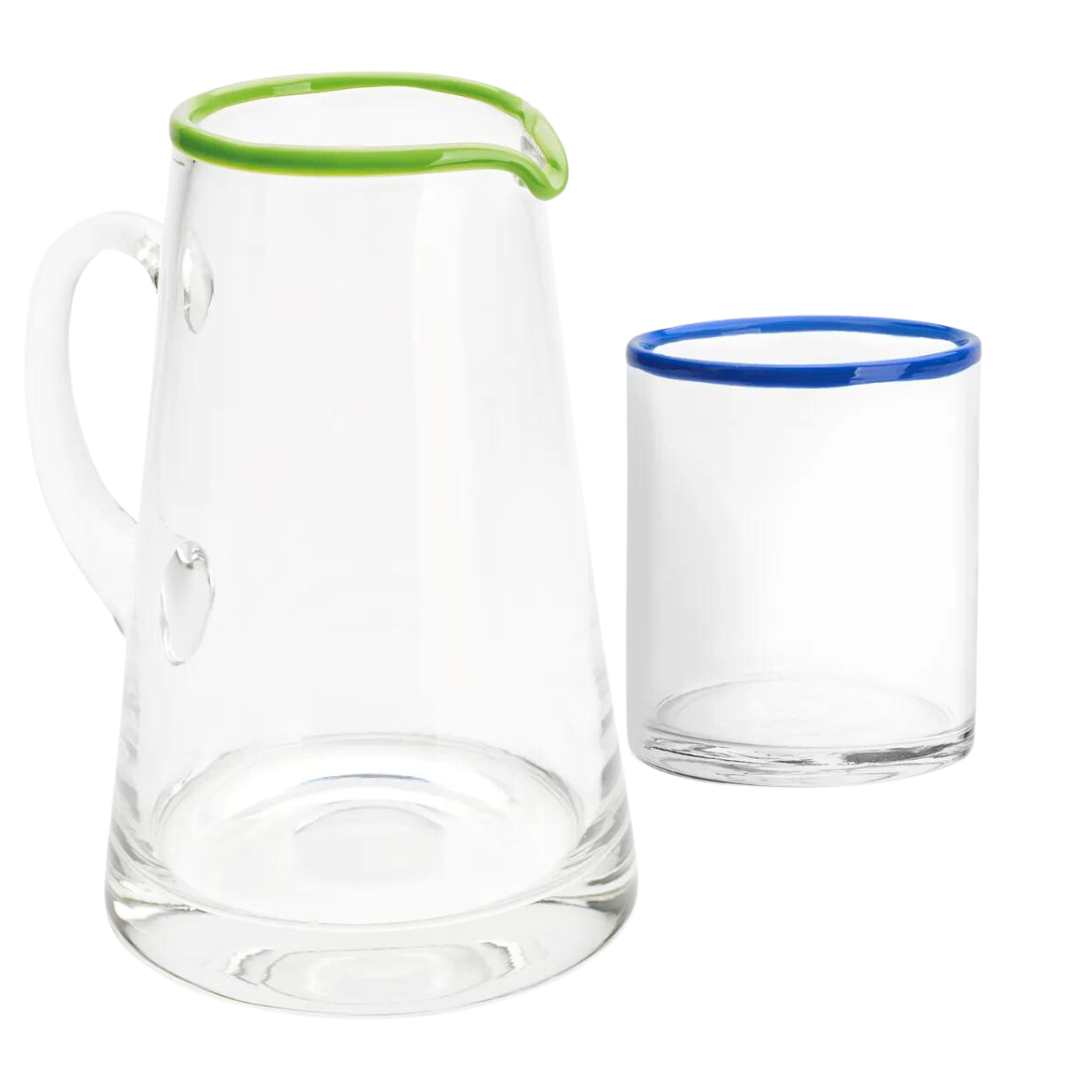 …this simple, elegant water jug and tumbler with bright pops of colour. Arbiter of chic, understated style for home & garden (not to mention fabulous foods), Daylesford Organic also do some rather lovely lines in boldly striped Murano glass from Italy and pretty block-print table linens. If the 'modern country house' mood appeals and the garden is beckoning, gather your cuttings in one of their charming chestnut and willow trugs, hand-crafted in the UK.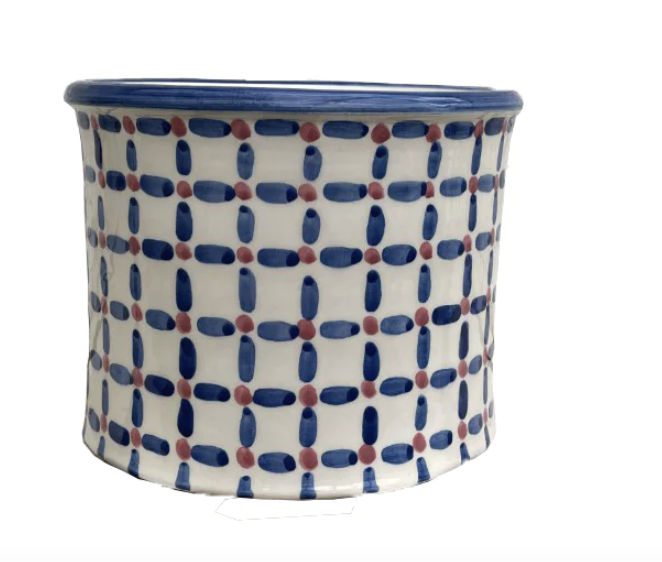 THE MEWS FABRICS + FURNISHINGS
…this chic, hand-painted, Spanish 'flower pot' (which gives the terracotta versions we all know and love something of an upgrade!). They cost from £54 each and are available in two sizes, from The Mews Fabrics + Furnishings. An eclectic cachepot to dot down your table and fill with pretty, potted plants. While you're there, take a look at their wonderful parasols, quilts and cushions in cotton block prints, woven Ikats and don't miss the fabulous range of Spanish ceramics!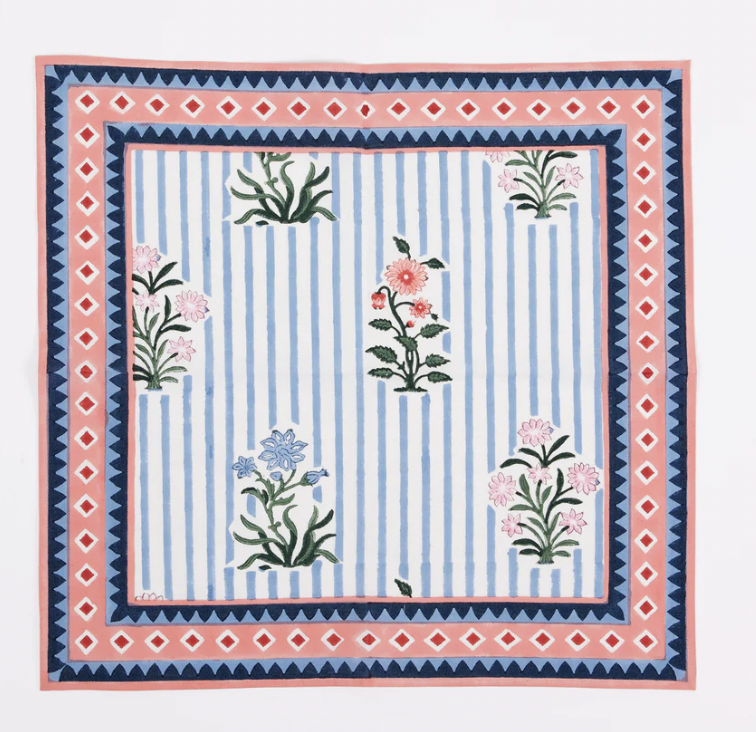 …this super-pretty, Indian floral napkin in block printed-cotton, £55 for a set, from Daydress. Exquisite, original block-print designs, designed in the UK and handmade in India, are the trademark of this wonderful fashion brand, who have recently branched out into homewares. Don't miss their pretty pots, trays and photograph frames handmade using marbled paper with blue pottery embellishments from Jaipur. And don't forget to browse the glorious frocks!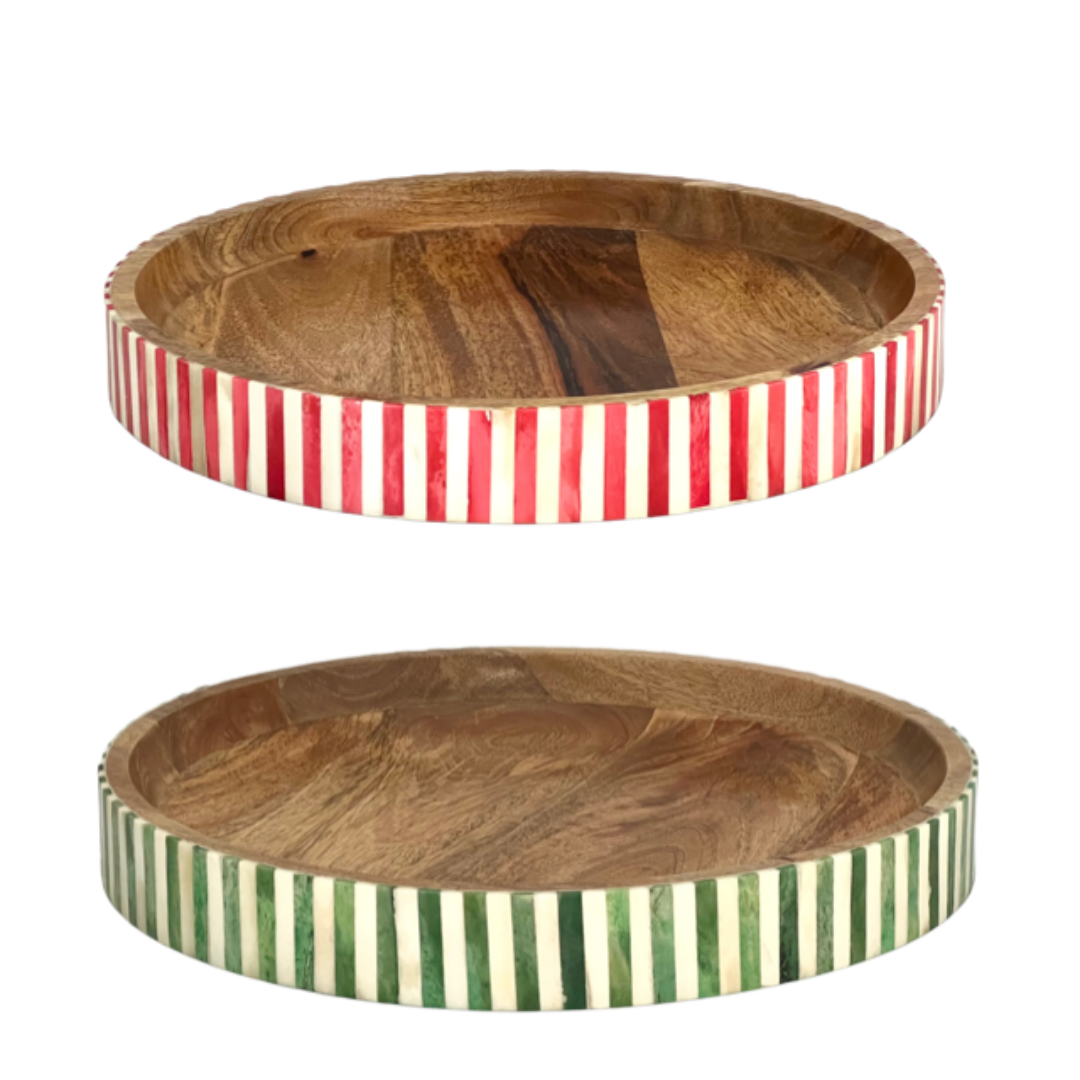 …this inlaid bone and mango wood tray in a jaunty red stripe from Tooka (also showcasing the green version as it's too lovely not to!). They also sell pretty mirrors and photograph frames in this same style alongside, hand-painted iron planters and a fabulous range of Ugandan woven wall baskets.
BEST OF THE REST…
More fabulous brands and retailers for eclectic and artisanal tabletop finds from across the globe:
AND US, OF COURSE! DESIGNS BY ORIGIN
If this feature has been helpful or has inspired you – we'd LOVE you to share the link with any interiors-loving pals via your social channels below. We'd love it EVEN MORE if you signed up to our newsletter below for modern eclectic room scheme inspiration, new-in products to our curated edit and subscriber-only discounts! Thanks for reading and have a lovely day.