YOUR Antiques Fair Buying Guide For A Globally-Inspired Home
WHAT TO know before you go!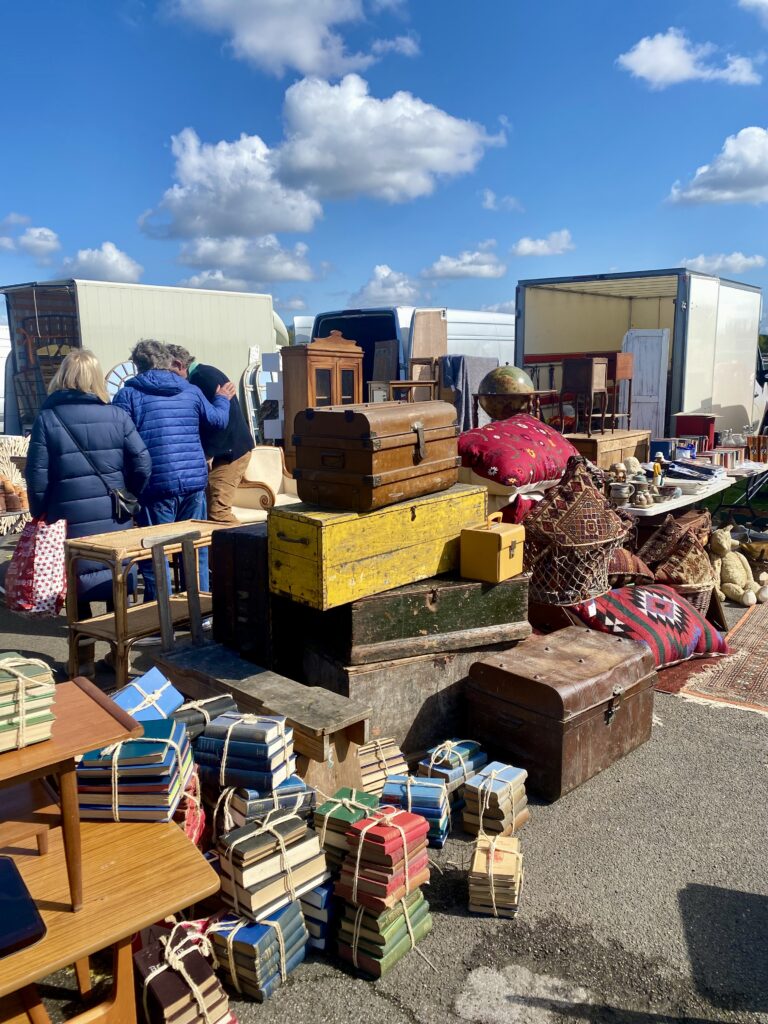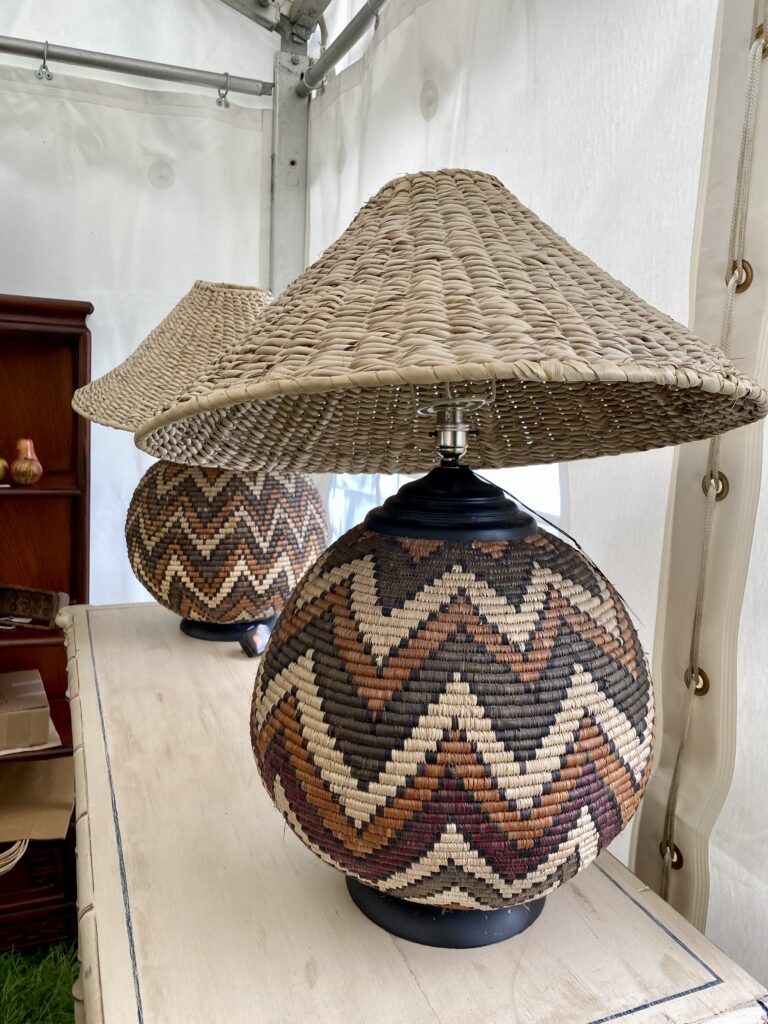 From left: A Spring morning at Sunbury Antiques – a bi-monthly event held at Kempton Park race course in south west London. A pair of zig-zag stripe, woven, African baskets re-purposed as chic lamp bases.
Antiques Fair Dos…
A morning to myself, wandering around an antiques fair in the sunshine is my idea of heaven. The snippets of interesting conversations. The creative sorts and quirky dressers. The fun, upbeat banter of the dealers (and the occasional grumpy eccentric with a sense of humour failure). Did I mention coffee and bacon sandwiches? And, of course, the merch itself.
Eagle-eyed scanning, spying some lovely item no-one else has spotted and the good-natured bartering that follows is a thrill. The sheer joy of sorting through your finds when you get back home, a total pleasure. All balm for my creative (and interior-design-obsessed) soul.
What I really need though is stock to sell on my website. Globally-inspired treasures for you and your home – browse them here btw. Otherwise, antiques fairs are a great place to source your own loot. Circular economy box ticked! Read on for top tips on visiting antiques fairs and how to think out-of-the-box deco and styling-wise…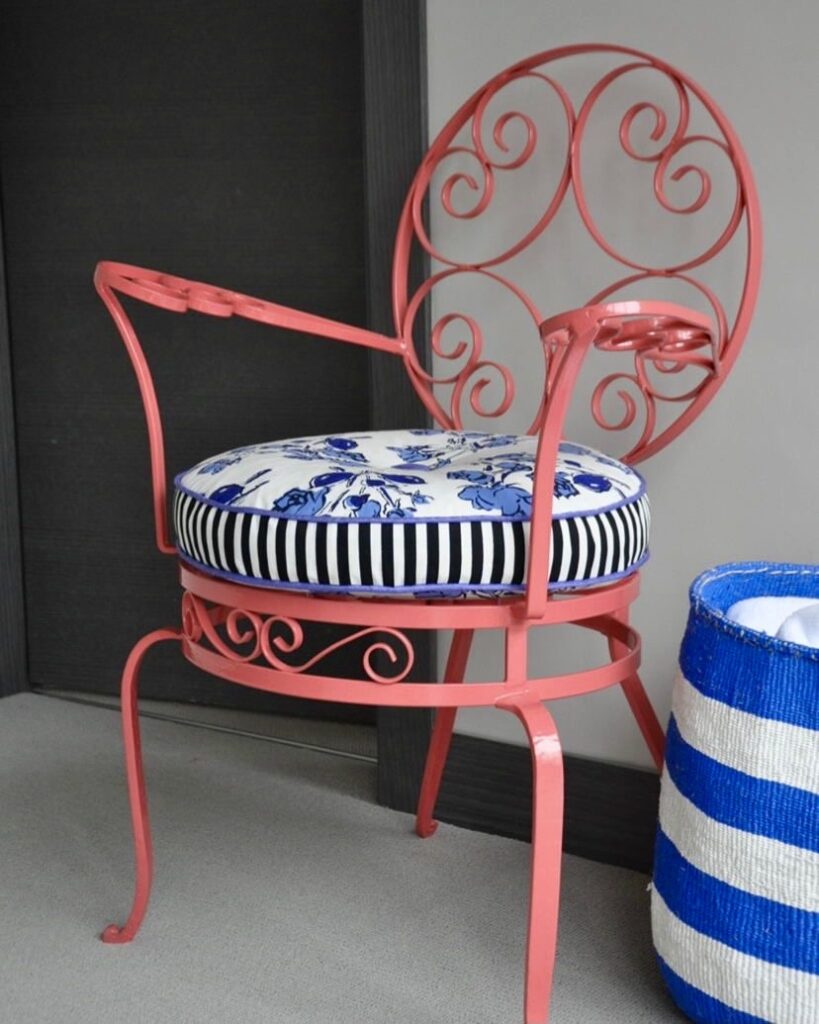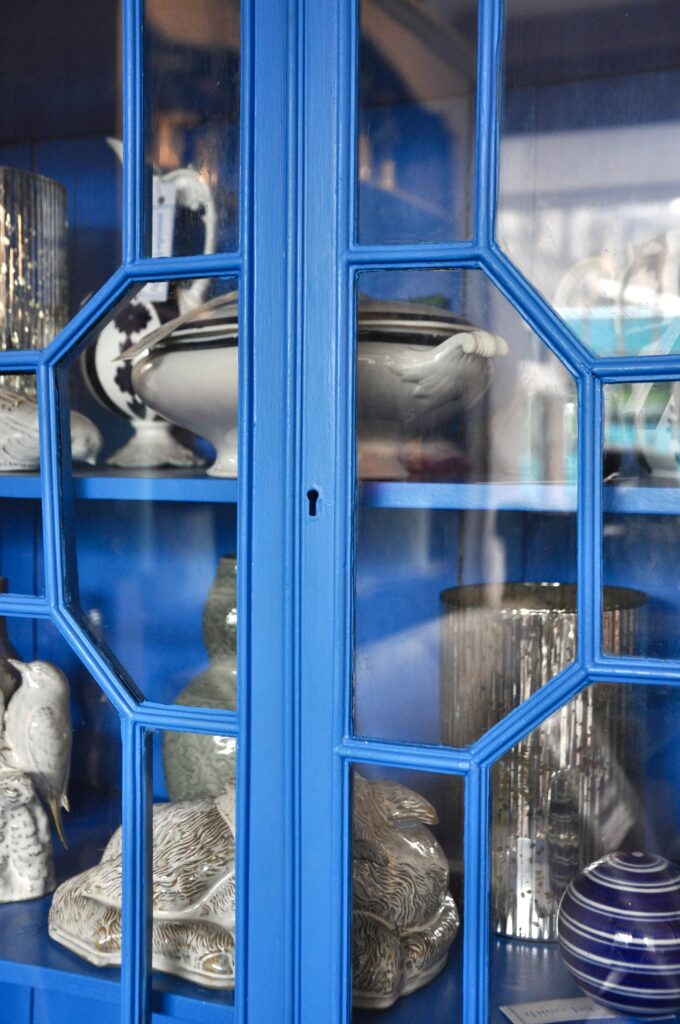 Clockwise from left: Painting old, astragal glazed cabinets that have seen better days can be fiddly and time-consuming but absolutely worth the effort, especially if you opt for bold colours. A vintage 1930s wrought iron chair was given a new lease of life after being rubbed down, stripped and re-sprayed in a pretty, coral pink.
Antiques Fair Furniture Finds
The practical benefits of buying vintage or antique furniture are three-fold. No long lead times. It has the edge over flat-pack, 'fast' furniture given its likely solid construction with traditional joinery built to last. Plus, it's the sustainable option. The key, at a large antiques fair bustling with keen buyers and dealers, is to be decisive when you spot a winning piece so you can pounce before someone else does! Things to think about beforehand:
Consider how you'll get big ticket items home. There are sometimes couriers on site but check online in advance about the services offered. Alternatively, if you're really on a buying mission, share the cost of a van rental with a like-minded friend. Be sure to factor in delivery or transportation costs.

If you're looking for a particular piece of furniture, know its ideal or minimum and maximum possible dimensions in advance. Always, take a tape measure!

For furniture that will sit within a niche, consider skirtings as this may mean the width is more limited.

If you're looking for shelves or a display unit to house a particular ornament – a sculpture or books for example – check the shelf height will be sufficient.

Think shape and functionality first. The finish can be altered later. Stripping and p

ainting or re-spraying a piece of furniture is always an option. Time-consuming and often fiddly, yes. But the finished piece can look incredible, especially in an eye-catching, unexpected colour. And you can always task a spray studio or skilled decorator to do the job for you. As always, factor these costs in when you make your purchasing decision at a fair.

Repurpose if needed. For example, a French armoire is not always practical as a bedroom wardrobe; often the depth is too shallow for coat hangers or just not big enough to hold all your clothes. However, they look great as linen cupboards on landings or even as a quirky crockery cupboard in an eclectic kitchen. Similarly, consider vintage 'mash-ups'. If you love a table for its gorgeous, cabriole legs but the top is less appealing, consider replacing this at a later date. Or vice versa!
Brown-wood furniture, when the patina is truly old, honed and glowing (not orangey 80s repro), offers is a soulful addition to any interior. Think burr walnut, glossy, aged mahogany and other vintage hardwoods that you can rightly no longer buy new. They look especially good teamed with with modern upholstery shapes or set against striking, contemporary wallpaper.
Small wall shelves are a practical buy and often in plentiful supply at large antiques fairs. They make make a useful addition to a bathroom, for example, when it comes to small storage and indoor plants. It goes without saying that the variety of styles available makes them wonderful decorative additions to a room scheme too. If the faded paintwork is not quite right, wall shelf units are great candidates for quick and easy re-painting.
When it comes to upholstery, there may be significant further costs to keep in mind. Early upholstery was made from natural fibres and materials and is inherently less flammable or noxious when burned that some of the synthetic materials and fillings used in the furniture industry later on in the 20th century. To bring a vintage upholstered item up to modern safety and fire retardancy standards you will need to take the advice of a professional upholsterer who will discuss re-covering with barrier cloths, pre-treated fabrics or the potential need to fully re-upholster i.e. strip a chair down to it's wooden frame. If you are intending to recover a Chesterfield sofa for example, you might also be surprised by the fabric meterage required to do so – often in excess of 12 metres.
Finally, always inspect any furniture item in great detail and gather as much information from the dealer as you can about age, provenance and how to ensure the item stays in great condition and in good working order.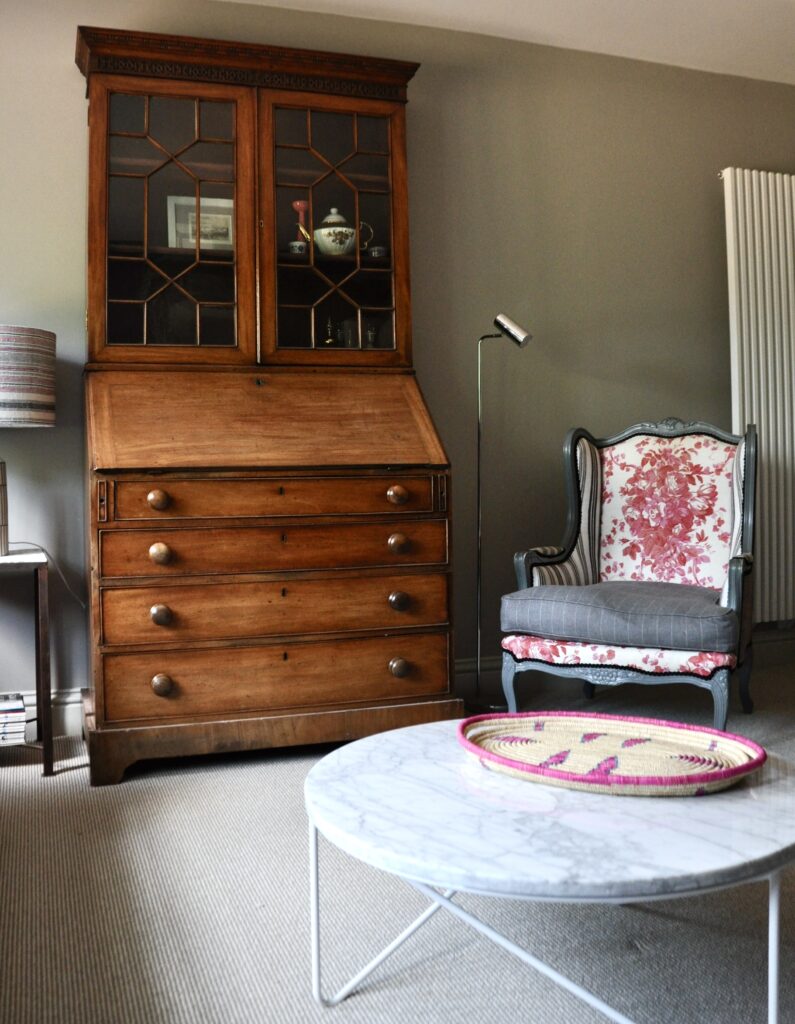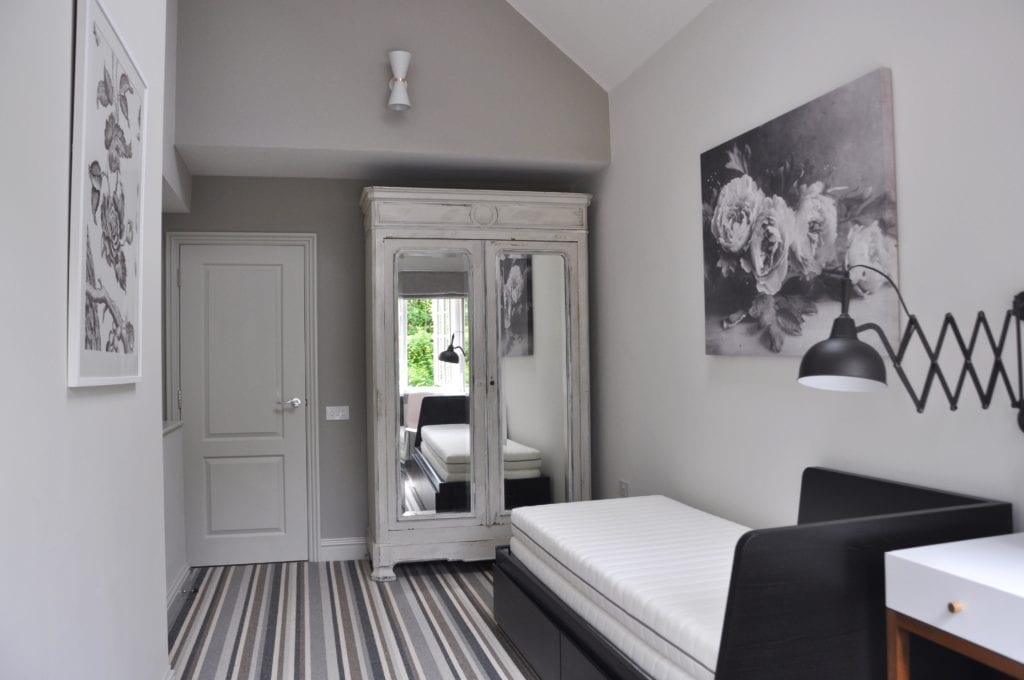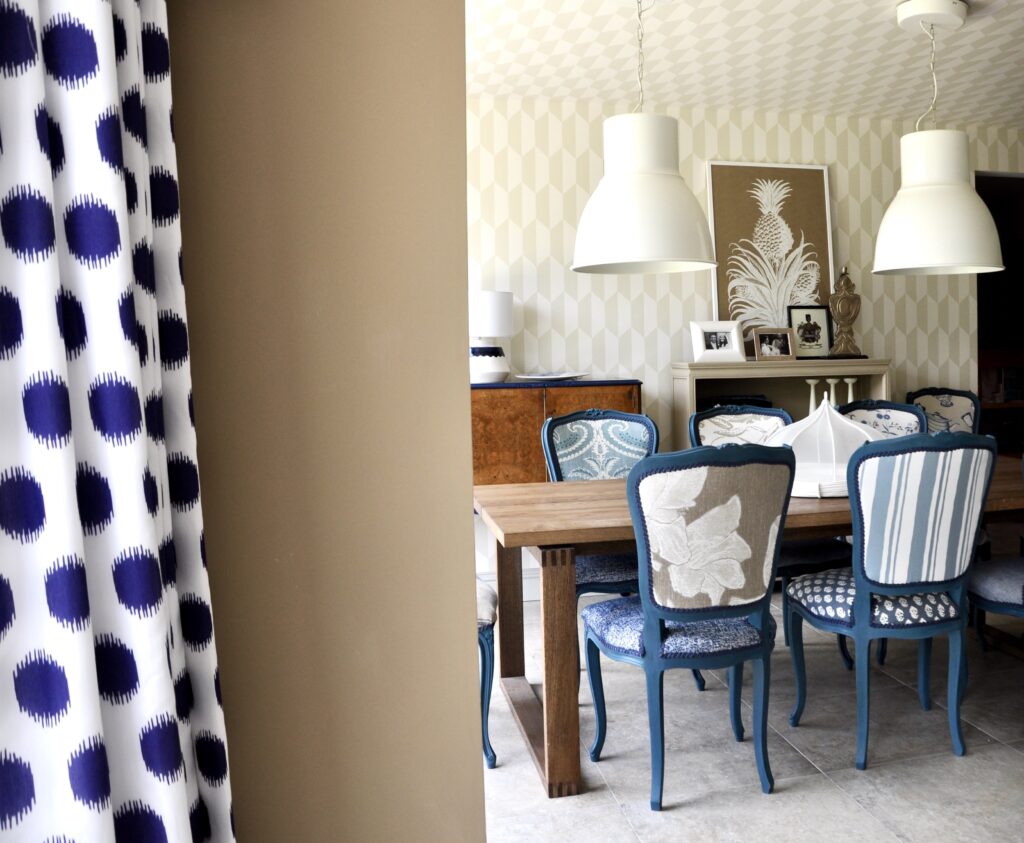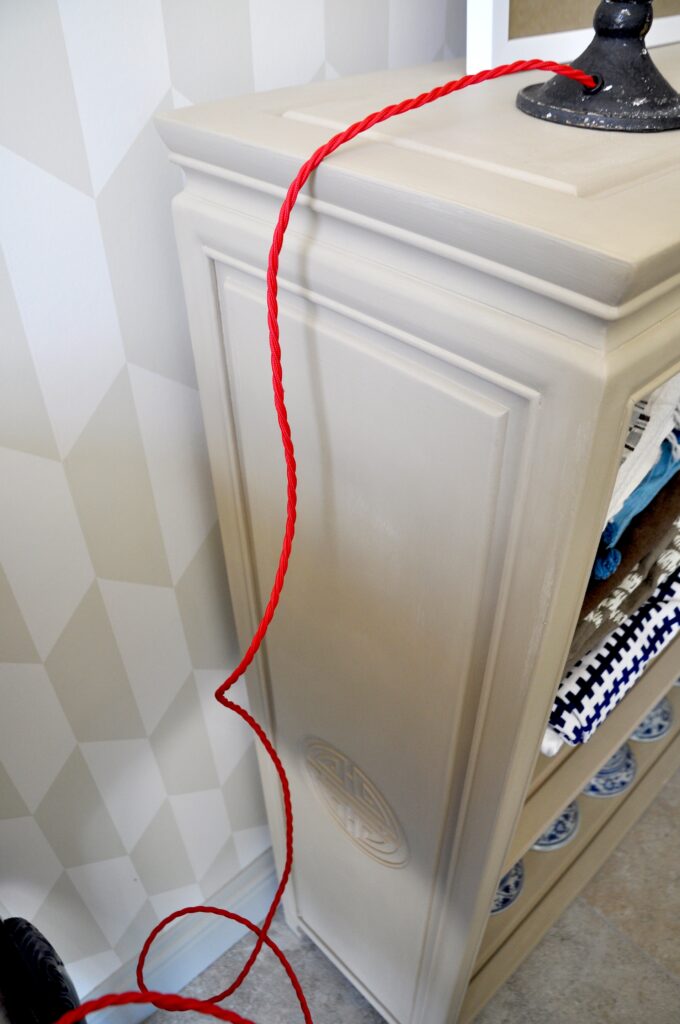 Clockwise, from left: An elegant bureau/cabinet with a warm, wood patina works well alongside a recovered French bergère chair and a modern, marble coffee table in an eclectic sitting room. A glossy Chinese bookshelf (see before and after) was reinvented in chic, matt, neutral-hued paint. A rustic, French armoire acts as the 'hero piece', bouncing light around this smart, contemporary guest bedroom.
Get Creative With Vintage Textiles
Easy to transport and with myriad uses, you can really get creative with vintage textiles. Create wallhangings, artwork, reupholster furniture, dress floors, tables or even make simple curtains. Vintage trims too, sourced from all over Europe and beyond, can add a final flourish to your soft furnishings.
There is often an abundance of flat woven rugs or thick, hardwearing, traditional textiles at antiques fairs, especially where dealers are sourcing from abroad. Think handmade Indian dhurries, old Persian kilims or vintage textiles designed to beat the chill such as Peruvian frazadas or traditional Welsh blankets. Each bring colour, pattern and a cultural heritage dimension. Why not use them to upholster the back of an armchair, create a statement pouffe or even cover a sofa.
If the floor is your focus, you'll frequently find vintage rugs and carpets given a new lease of life (and a modern twist) by being over-dyed in a bold colour. This preserves the intricate patterns in the weave to showcase the original handicraft whilst adding a little zip and vibrancy.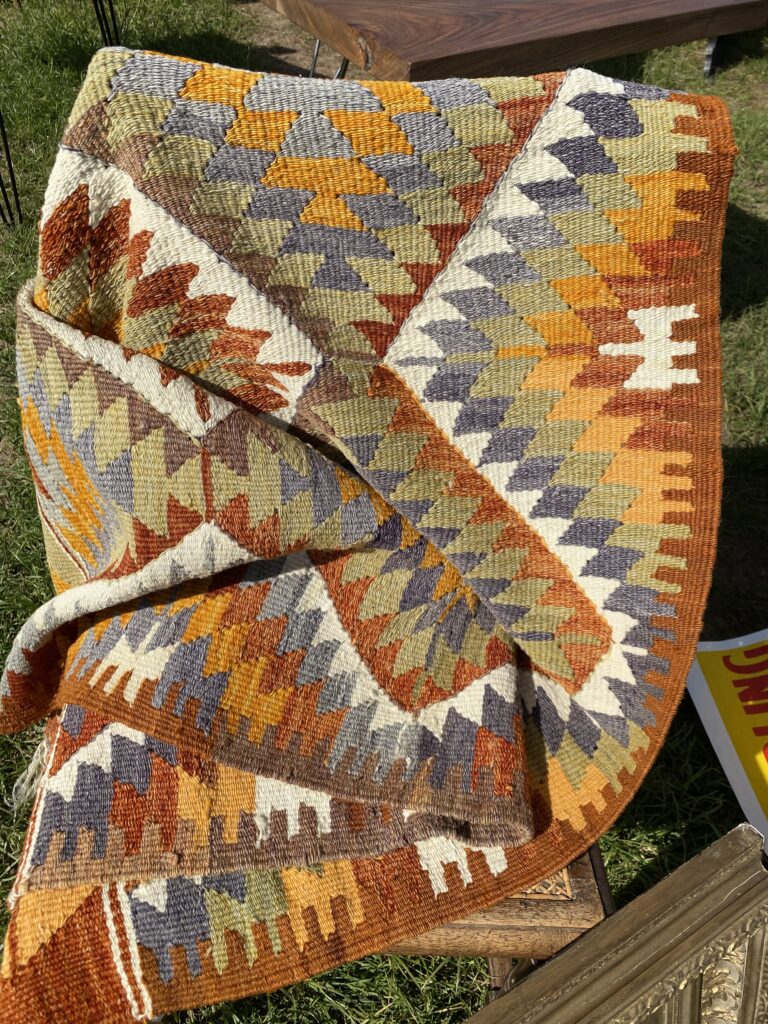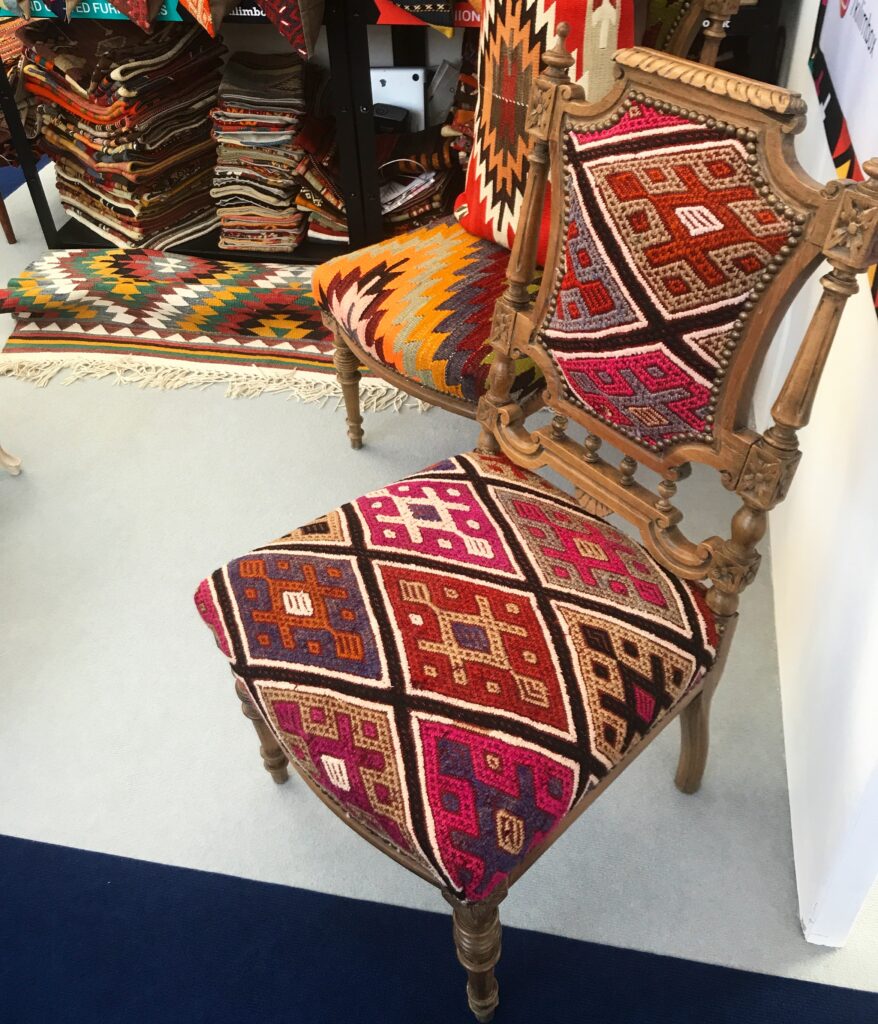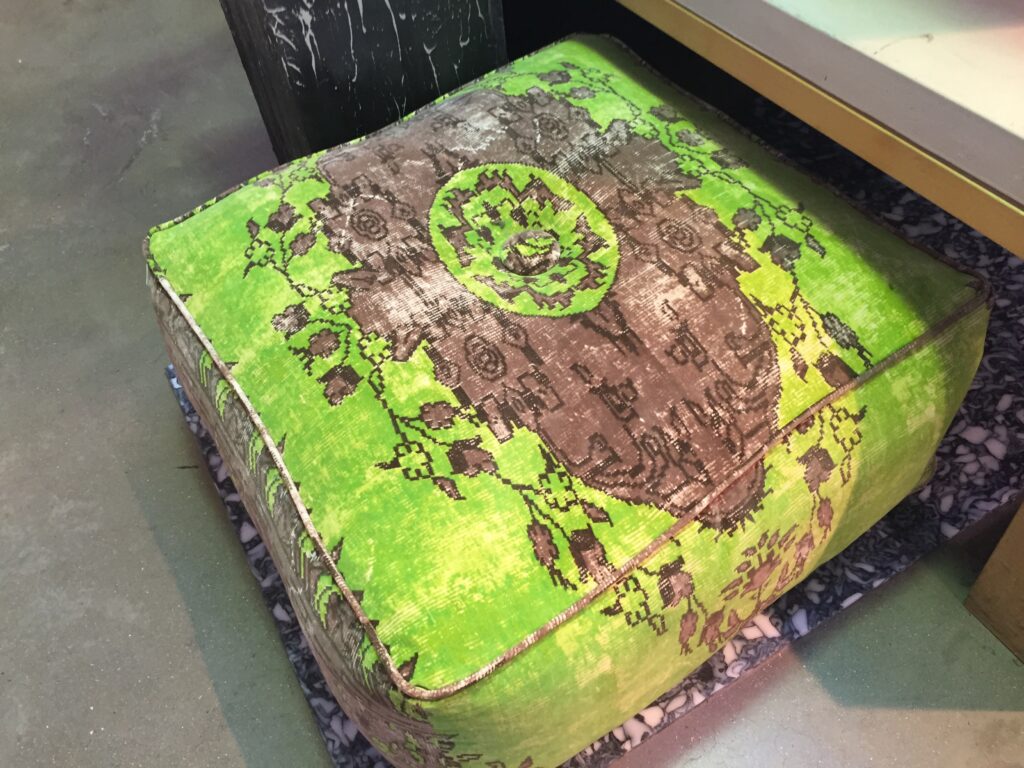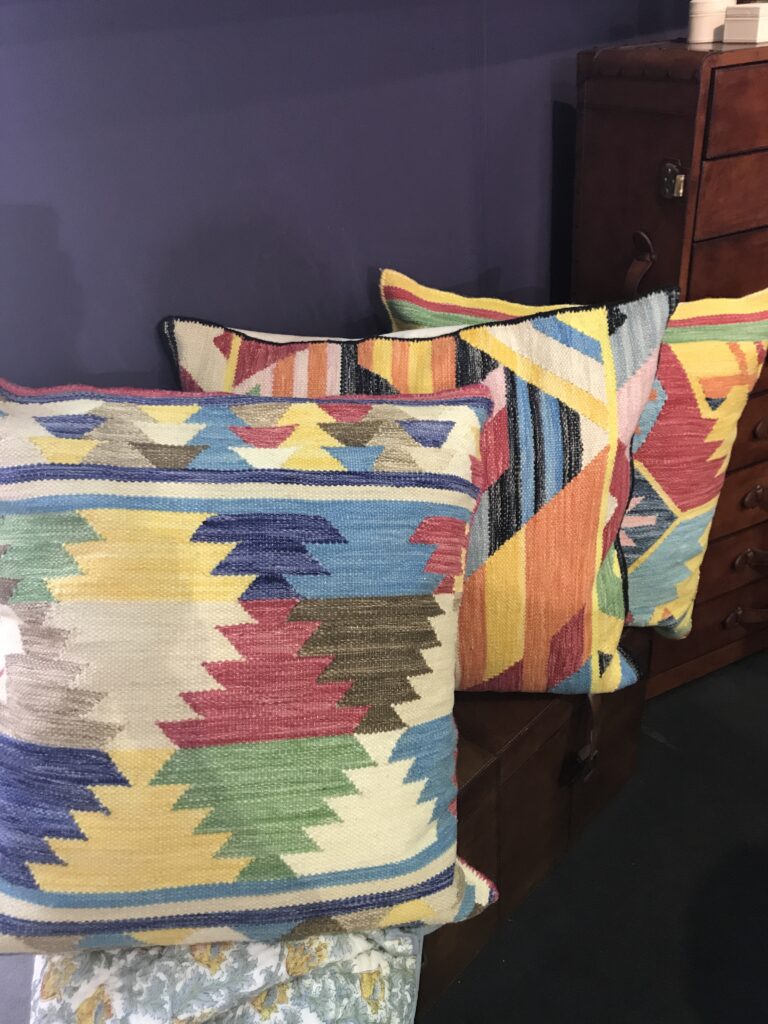 Clockwise from left: A vintage dhurrie in warm, autumnal shades; central Asian woven textiles used to upholster an antique fireside chair creates a pleasing clash of styles. Vintage woven carpets can look decidedly modern when over-dyed in a zingy colour way. Colourful flat woven textiles make for eye-catching, sturdy cushion covers.
Decorative vintage textile remnants from all corners of the globe can be used to make striking, one-of-a-kind lampshades be they straight-sided drums or gathered, tapered styles. Distinctive pattern by day or glowing colour come nightfall bestow your scheme with an appealing cultural aesthetic. Your lampshade maker can line drum shades with fire retardant materials: textiles bonded with a certified, fire retardant liner usually meet modern safety requirements. However, it's always best to stick to natural lampshade fabrics such as vintage cottons or linens for all types of lampshade.
Similarly, gather disparate but beautiful fragments of block-printed, batik-dyed, hand-woven, embroidered or hand-spun vintage textiles from as far afield as France, India, Australia, Thailand and Japan and layer them up to create unique, framed, wall art. Make up simple fabric canvases from travel-inspired textile remnants or showcase artisanal handicrafts such as vintage lace or embroidery. Antiques markets often feature a vintage and antique textiles dealers with a specialist country remit. If you need more inspiration, take a look at our ready-to-buy, travel-inspired framed textile art here.
Finally, vintage trims – think antique Irish lace, beaded Thai textiles, Indian cutwork cotton or striped French grosgrain are wonderful embellishments for cushions and other soft furnishings. You'll always find at least one haberdashery specialist at an antiques and vintage fair where you can get lost in a world of buttons and frills! Get creative and add to the leading edges of a pair of curtains, to lampshades, to bolsters, to upholstered headboards or to bed or sofa valances.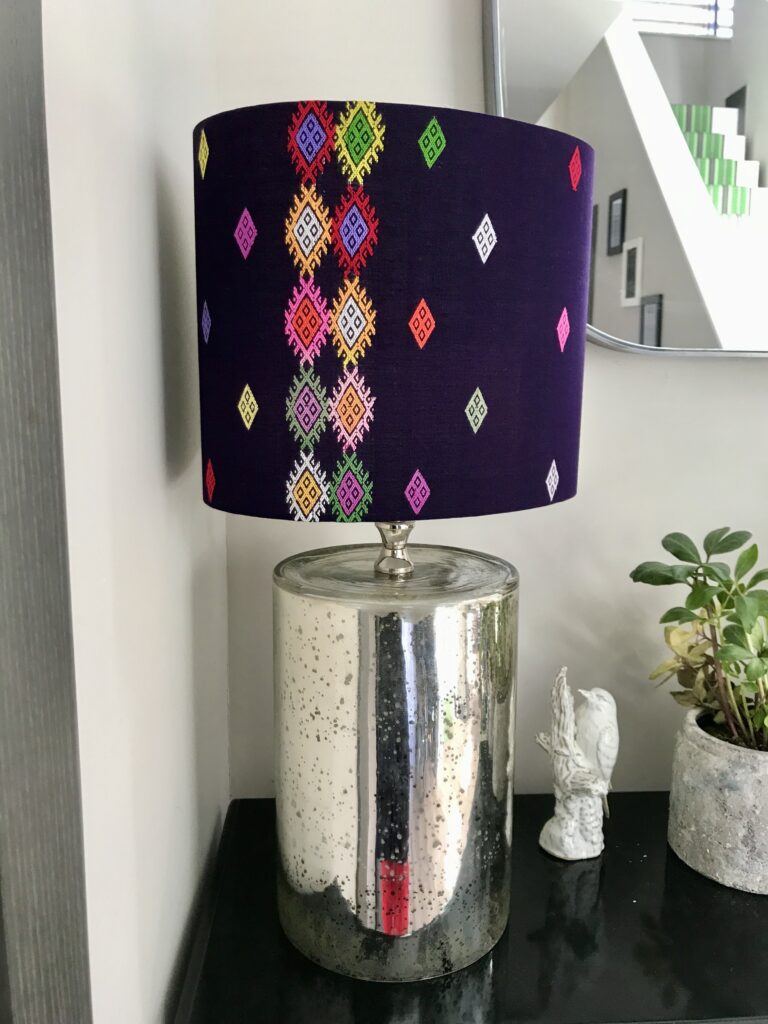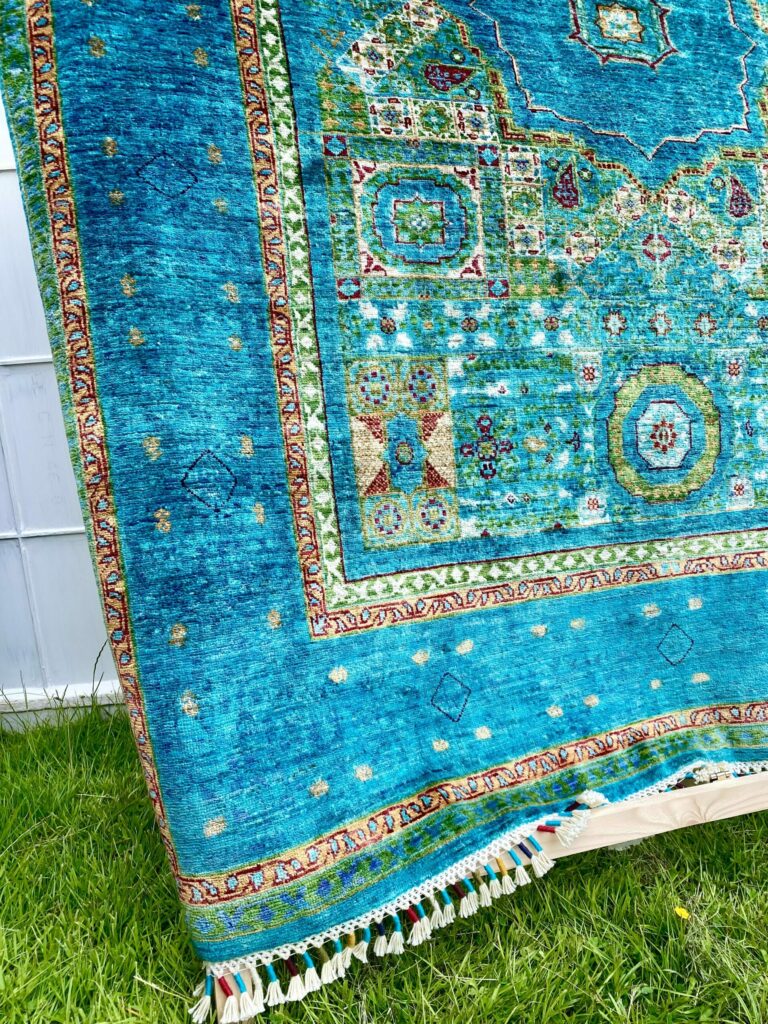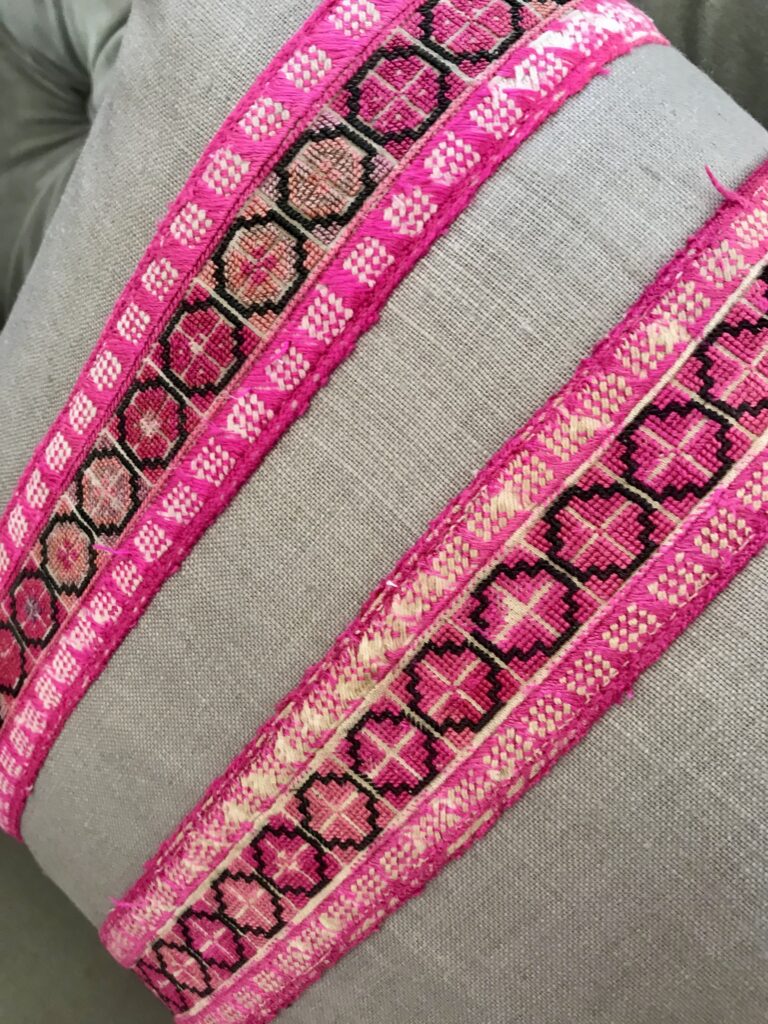 Clockwise from left: A colourful woven cotton embroidered textile, originally from Myanmar, makes for a striking drum shade when teamed with a reflective, silvered lamp base. This over-dyed Persian carpet shouts modernity with it's vibrant turquoise treatment! Hand-stitched, multi-coloured Mexican textiles from Chiapas, look wonderful in simple, colour-matched frames. Vintage garment trims from northern Thailand adorn a glazed linen cushion.
Re-Purpose For One-Of-A-Kind Lighting
Once you have the practical aspects of lighting a renovated room planned (think task lighting) and you know where and how you want to position any portable light fittings for mood and atmosphere (i.e. table or floor lamps), you can really start to have some fun. Your antiques fair shopping list will no doubt include a variety of fittings. The secret is to think that anything is possible!
Well, almost anything. Some specialist lighting suppliers are adept at creating table lamps, in particular, out of all sorts of weird and wonderful things: sports memorabilia, architectural salvage, giant seed pods to name but a few options. Often, antiques dealers have done the hard work for you. Create a talking point with unique lighting but, as always, factor in costs for re-wiring, designing and making a suitable base, stand support and shade, if required.
More obvious contenders for conversion to table lamps are traditional patterned ceramic pots or vases from Asia; woven African baskets or architectural elements such as French, decorative wrought-ironwork. Just add a jaunty coloured flex and an elegant, downlighter shade for soft pools of light come evening.
Vintage industrial or commercial lighting from long-closed shops, hotels and restaurants is another thing to look out for at antiques fairs. Think Art Deco style, milk-glass pendants from French bars or cafés – given many of the dealers at the larger UK fairs source from continental Europe, there is often a wealth of these kinds of retro fittings.
Similarly, Italian or French metal wall sconces or twinkly glass chandeliers have an enduring appeal. The pricing for these, more valuable, items is usually much keener at a fair than on a high street retail premises.
Lastly, keep a look out for chic, mid-century floor or pendant lamps from across Scandinavia. Multi-headed, multi-armed and often adjustable light fittings with shapely, retro metal shades. These counter busy schemes with simplicity of form, straight lines and timeless elegance.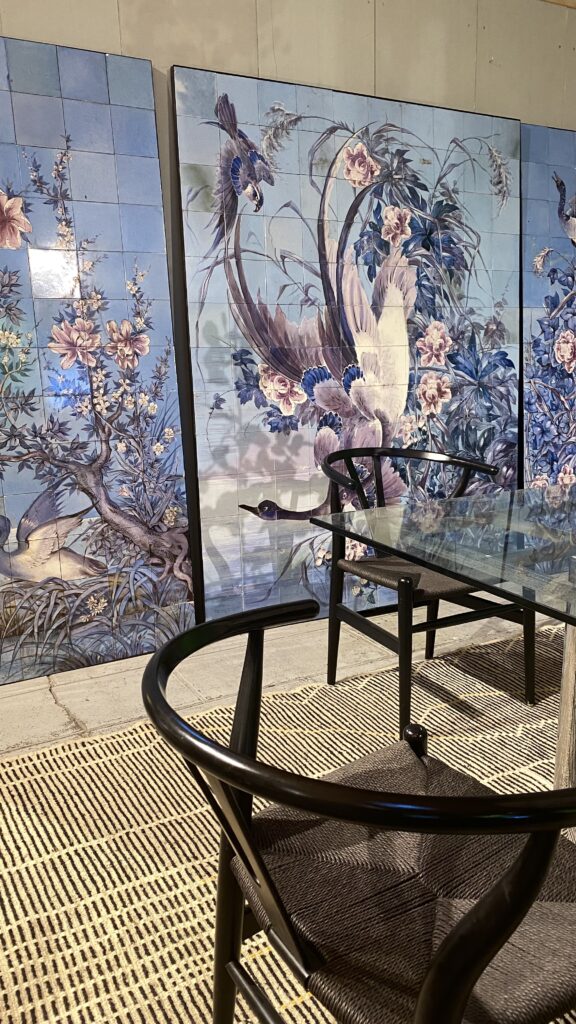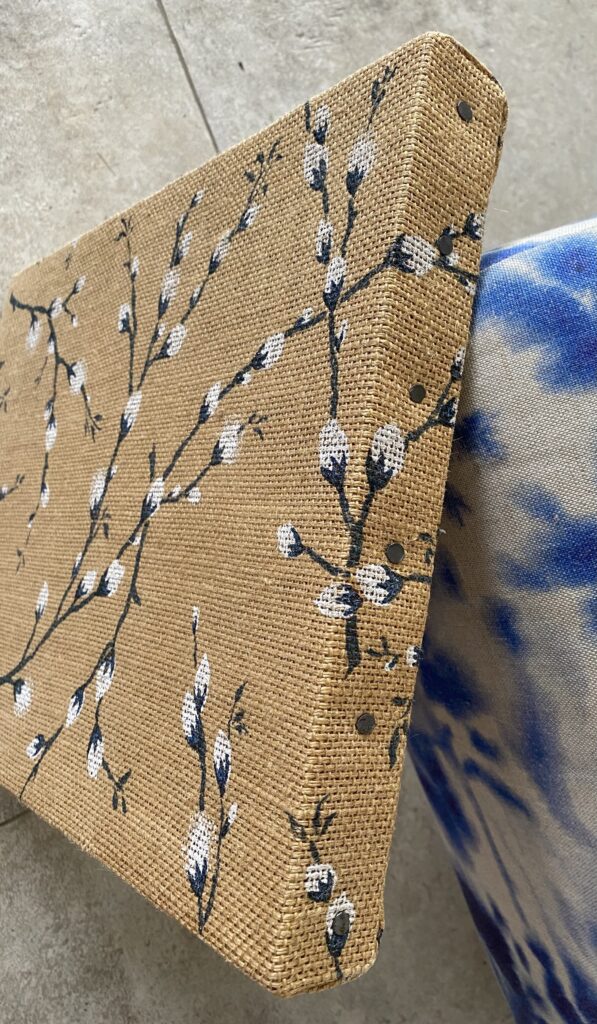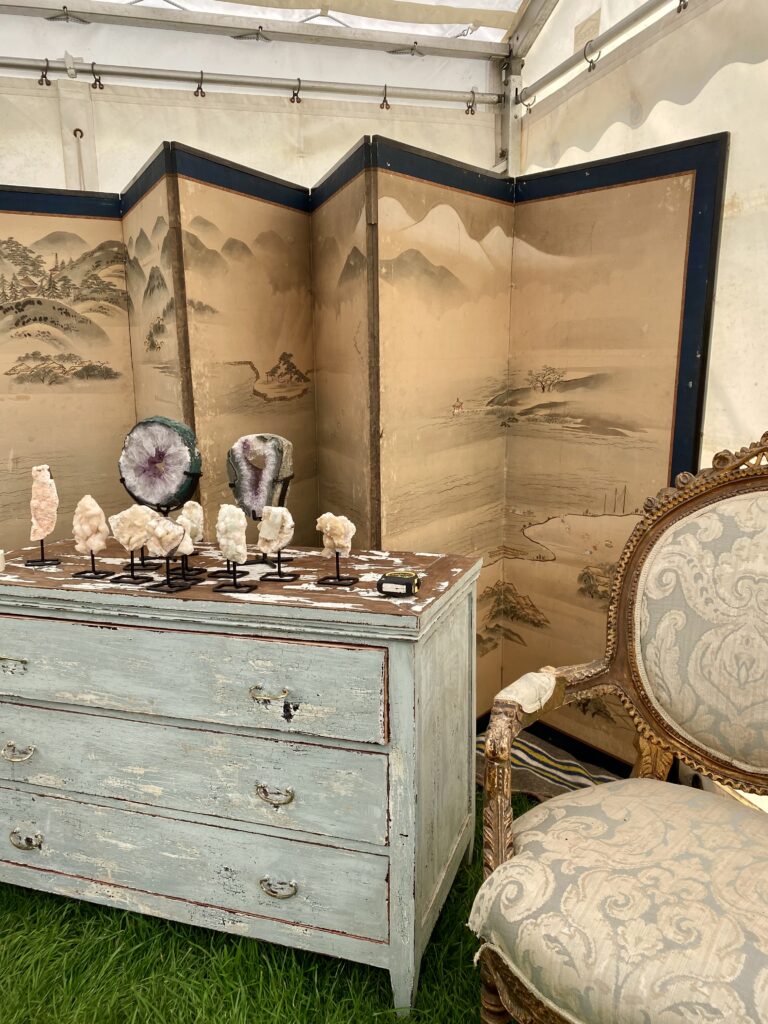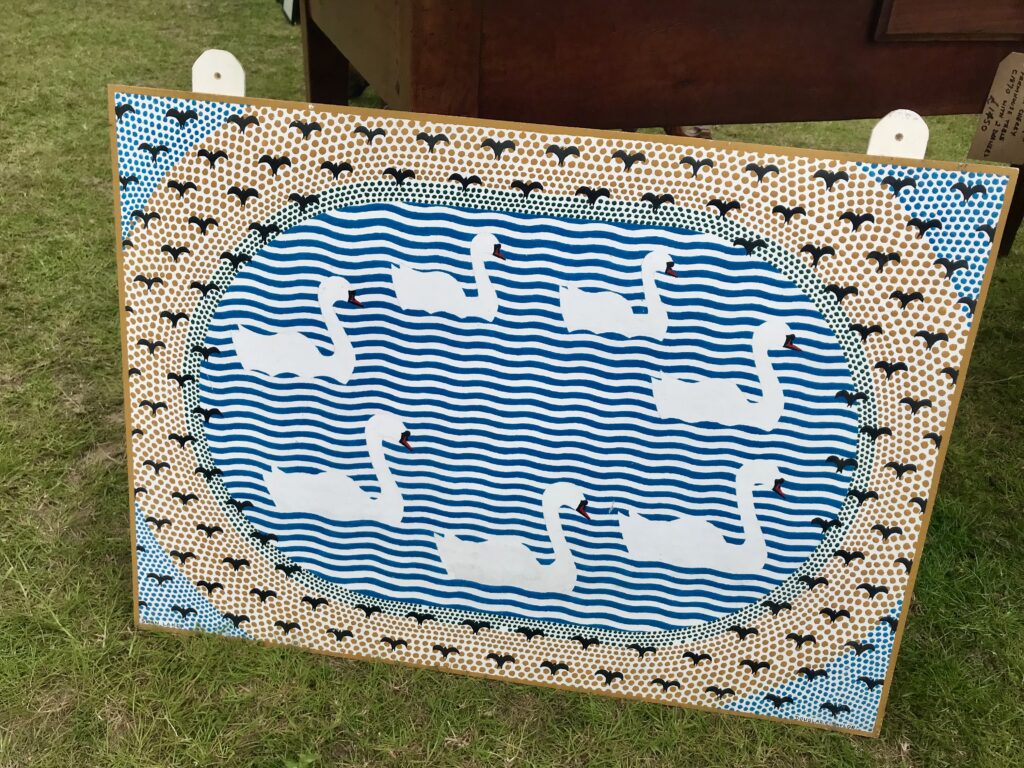 Clockwise, from left: Traditional patterned ceramic pots and vases can be easily converted into table lamps by a specialist. Mix up old and new styles with a simple, colour-block lampshade and a boldly-coloured flex. These lamps were created from vintage Delft pots by Amitabha studio. Zig zag woven baskets with wide, woven shades make a chic pair of eclectic table lamps. A plethora of vintage, milk-glass pendants – brilliant for lighting a breakfast bar area or dining snug.
Choose Unique Wall Art. Go Big. Go Bold.
The sheer array of art on display at antiques fairs – in all its forms, sizes, shapes and styles, from pocket miniatures to painted wall murals – means that the intensely personal nature of picking out a picture is always well catered for in this environment.
Go large! Consider tiled panels, giant posters, textile wall-hangings with rug-like proportions or tall, folding screens. These all help with textural layering by adding depth and detail to a scheme, while the latter can be used to close off an area of the room, as needed.
Seek out original paintings in every medium, on canvas or on board, framed or unframed: from French florals to quirky English portraiture; from dreamlike foreign landscapes to retro urban cityscapes; from ocean views in tropical paradises to familiar, pastoral scenes. Collate and curate as you go but only buy what makes your heart skip a beat.
Clockwise from left: Giant tiled panels depicting birds and flowers provide the decorative backdrop to this mocked up dining room vignette at an antiques fair. A botanical print on hessian sacking illustrates how easy it is to create a wall art canvas from vintage fabric remnants. All you need is a homemade wooden frame (ask your carpenter!), nails and a hammer. An elegant Japanese landscape adorns this wide folding screen. Quirky swans painted on board would be a fabulous art addition to a riverside home.
Look out for paintings or wall art that capture the essence of places special to you and your loved ones. This could be pictorial or even text-based (think vintage shop lettering!). Where you live now, perhaps? A memorable holiday destination? Family connections? Zero in on pieces that conjure up sentimental feelings.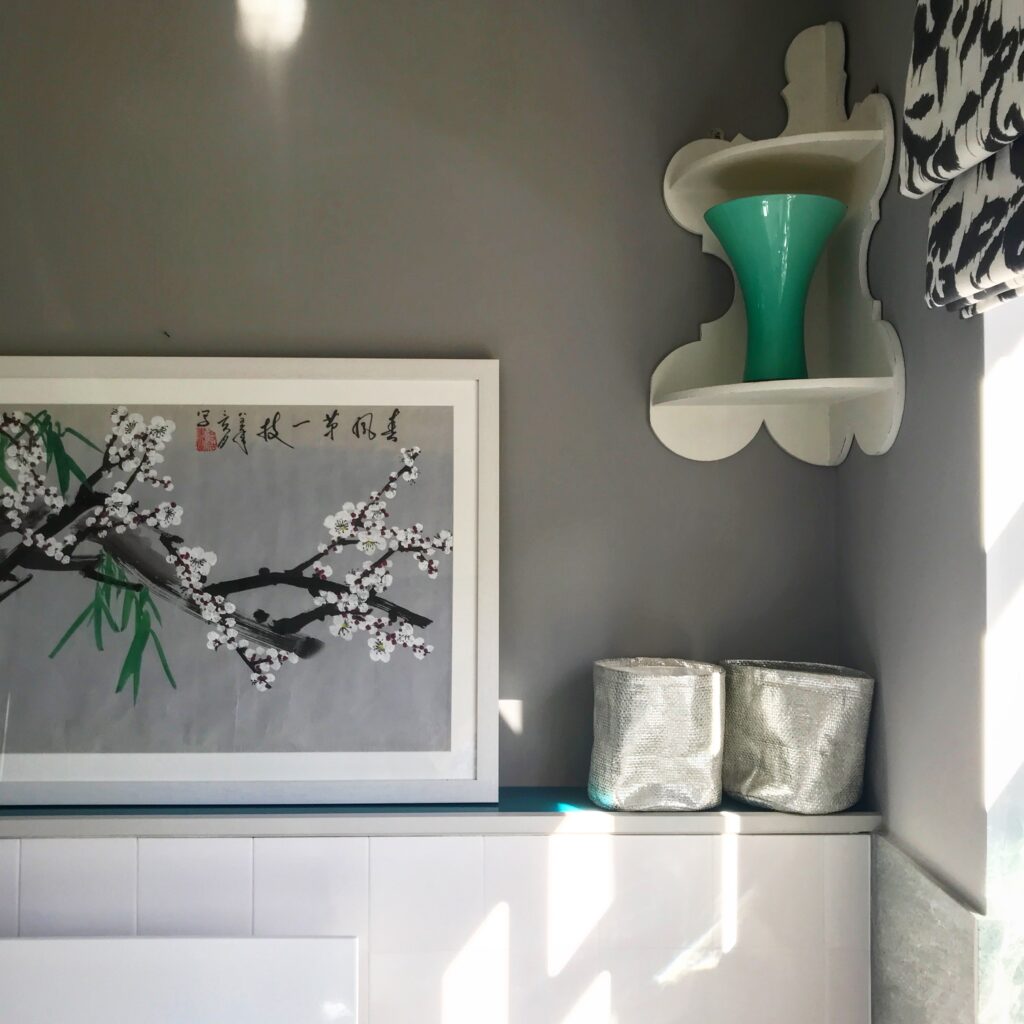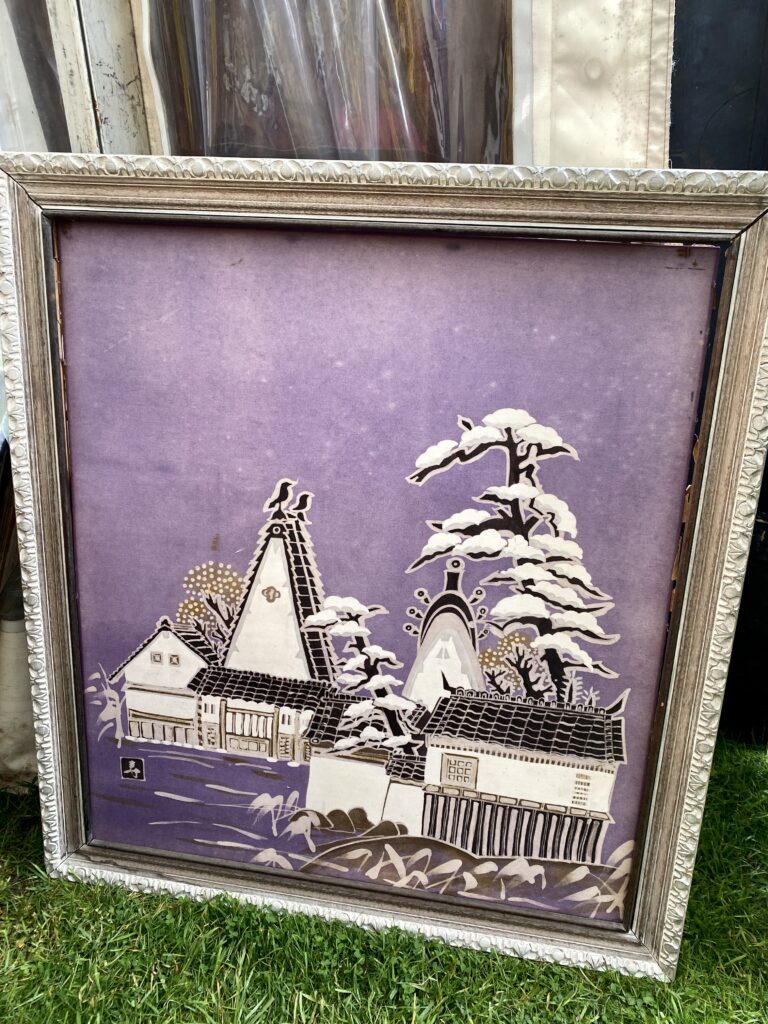 Clockwise from left: This bathroom showcases a number of vintage fair finds. From the re-painted corner bracket and retro glass vase to the delicate, hand-painted blossom scroll we framed simply in white to protect the artwork and lend a contemporary feel. Layered vintage beaded embroidery looks great under glass too. A magical landscape painting in the prettiest white-on-lilac speaks of far-flung landscapes. A traditional bobbin lace rose from Slovenia is framed on a remnant of hand-dyed Thai indigo to dramatic effect. You can order similar though the website.
Don't be afraid to swap pictures in and out of frames and definitely don't leave behind a picture you adore because you don't like the frame. Barring seriously valuable artworks in their original frames, switching up tired frames can give an artwork fresh relevance and help tie it in with your colour scheme – if you're bold enough to eschew repro gilt in favour of glossy colour!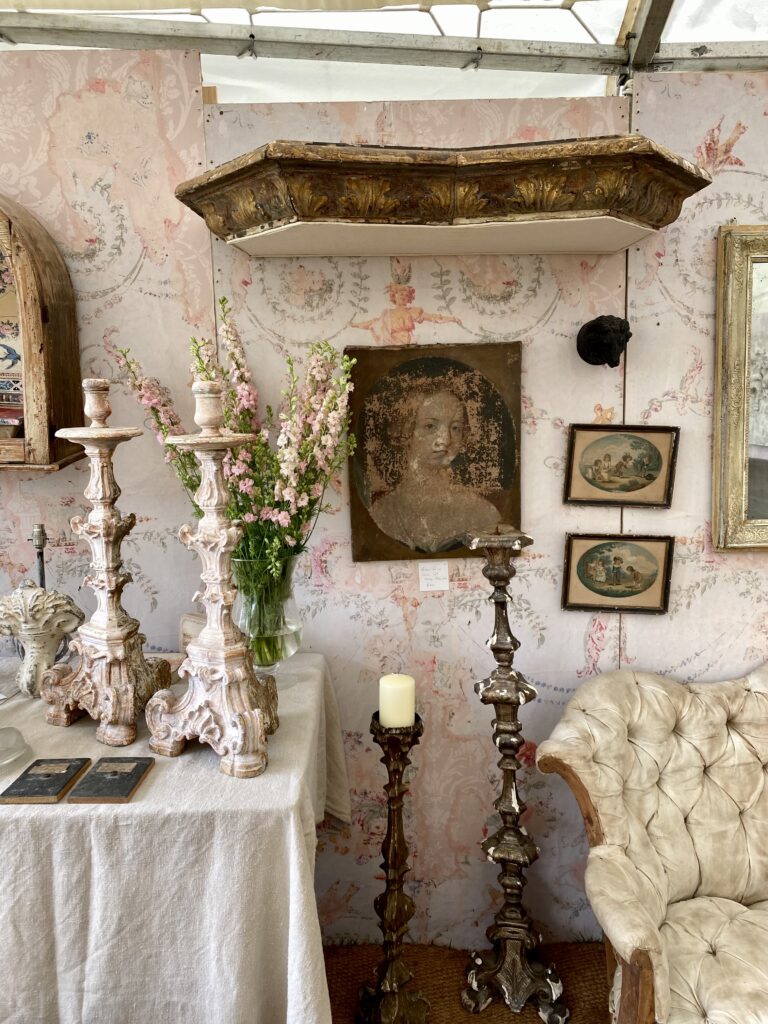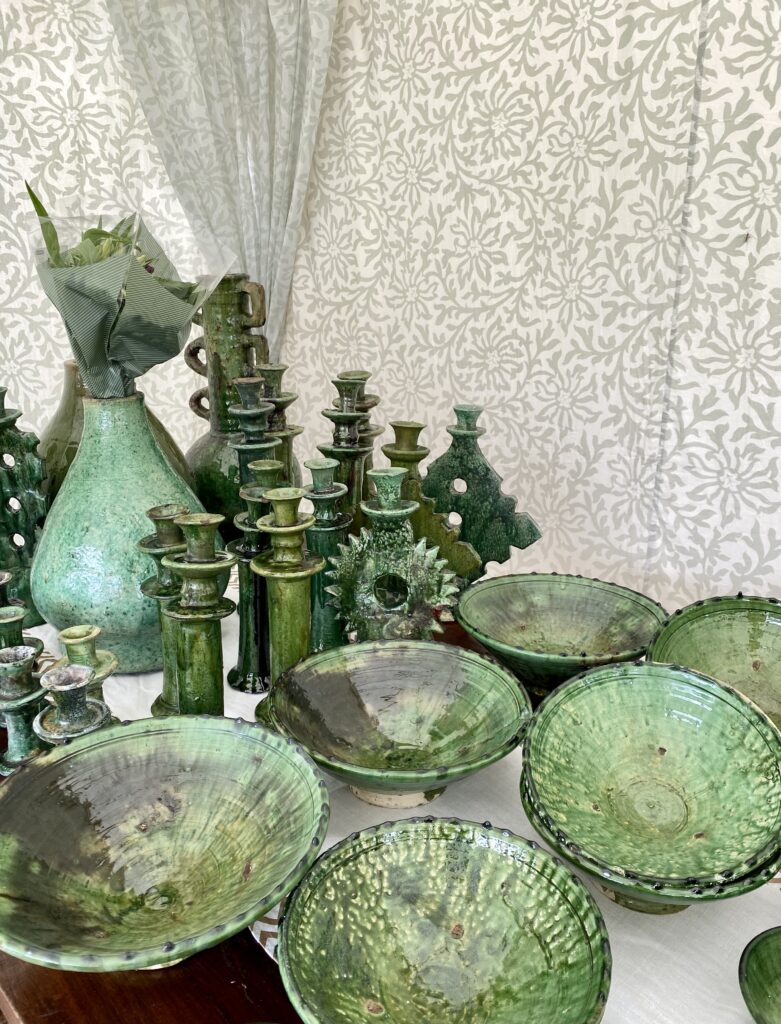 Antique Italian wall sconces, candlesticks, artworks and decorative items add soul to any home. Moroccan Tamegroute pottery with its distinctive green colouration.
Seek Out Eclectic Accessories & Tabletop
From completely unique table settings to quirky, eye-catching display on sideboards, console tables or on shelves – you can find the most wonderful things with which to style your home at a decorative antiques fair:
For tabletop, focus on candlesticks or candleholders, vases, vintage linens and – as long as you're sure they're food-safe – vintage crockery or serve ware such as large bowls or platters. I prefer to eat from white dinner plates so often source side plates or bowls for a decorative element.

Tabletop finds to look out for include vintage French crockery; heritage table linens from France, Belgium and Eastern Europe – historically, areas of major flax or linen production; Moroccan Tamegroute with its vivid green hue; Spanish or Portuguese pottery; antique Italian candlesticks and retro Murano glassware.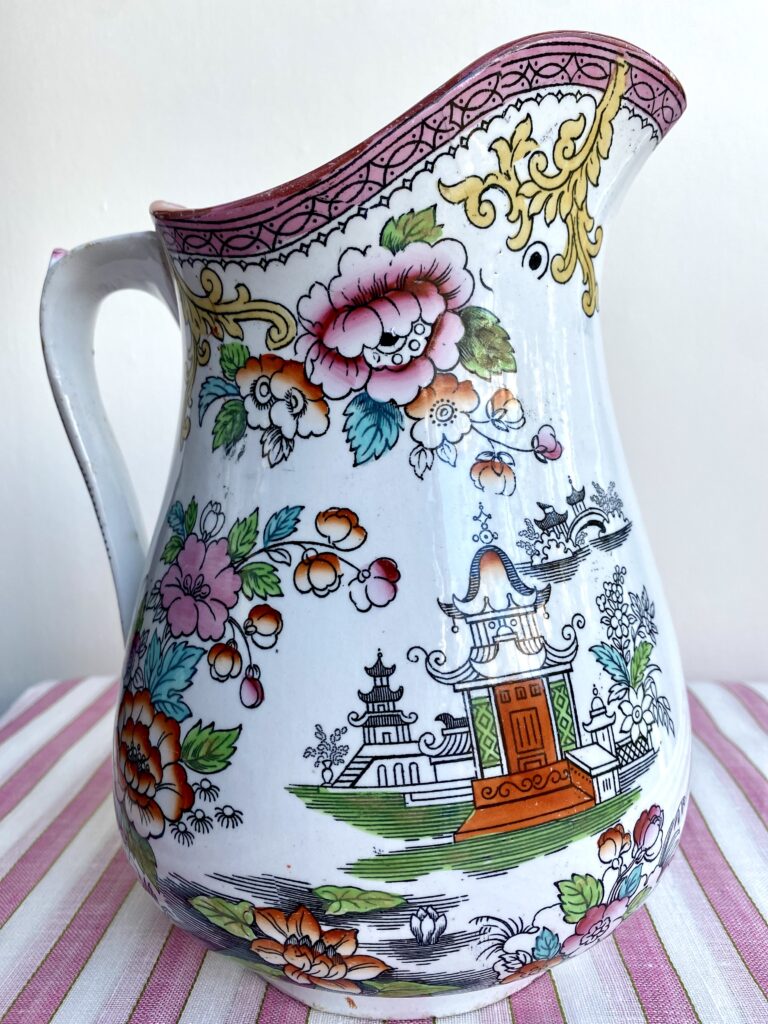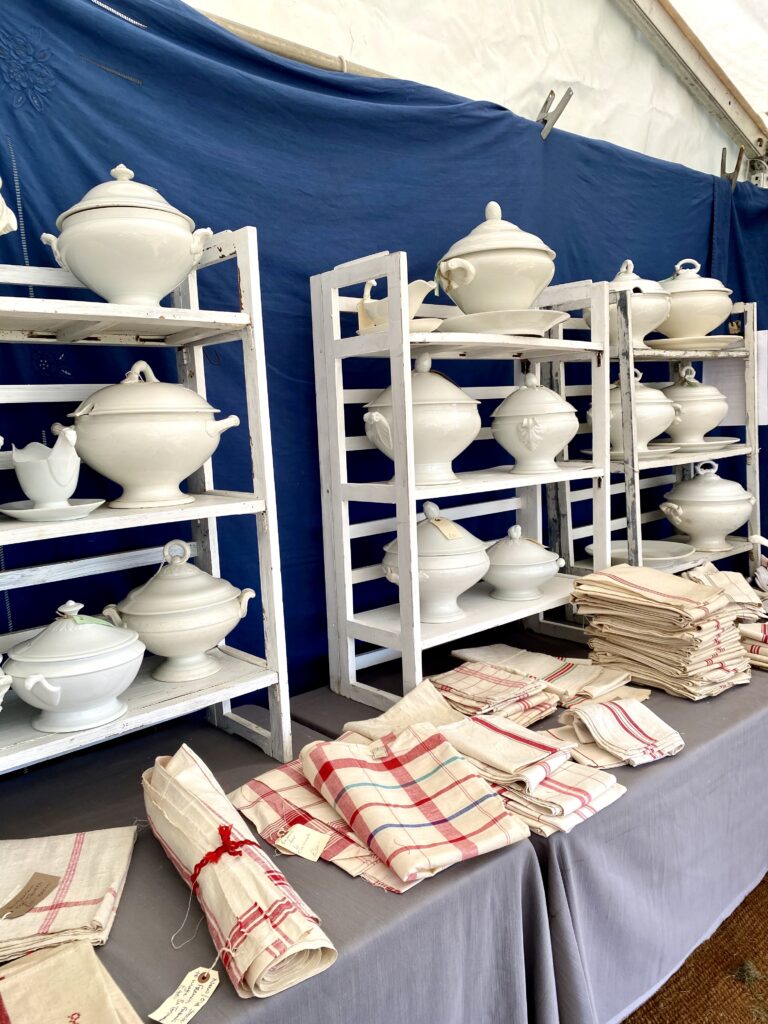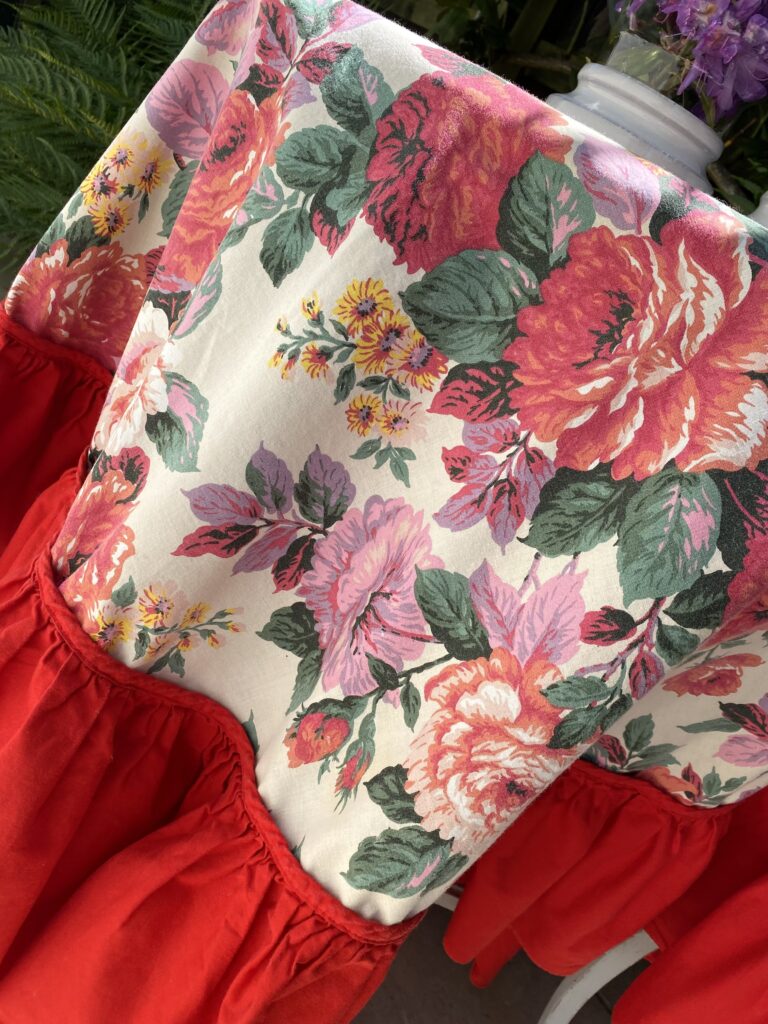 Clock-wise from left: Elegantly-drawn temple scenes and florals on a pitcher marked with the maker's mark Edwards & Son, Dale Hall – this pottery operated at Burslem in Stoke-on-Trent from 1842 to around 1882. Rows of vintage French tureens and table linens. Vintage French floral bowls and side plates look surprisingly contemporary styled with a boldly striped tablecloth. Try the wonderful Summerill & Bishop for the latter. A frilled, chintz floral tablecloth lends an English country house vibe to proceedings…
Apart from practical or functional items, sometimes a quirky curio or intriguing object will steal the show so keep an open mind and go with what captures you imagination! Sculptural, purely decorative finds that lend soul and personality to a space.
For still life display, group objects in your mind's eye to create little decorative vignettes back home. Choose items that will sit well together with pleasing contrasts of size, shape, finish and material. Your display might be a grand affair on an octagonal hall table in a high ceilinged room. It might be a 'shelfie' in a flat. Just keep it interesting and intriguing. Mix up antique and vintage fair finds you just love with meaningful, sentimental items.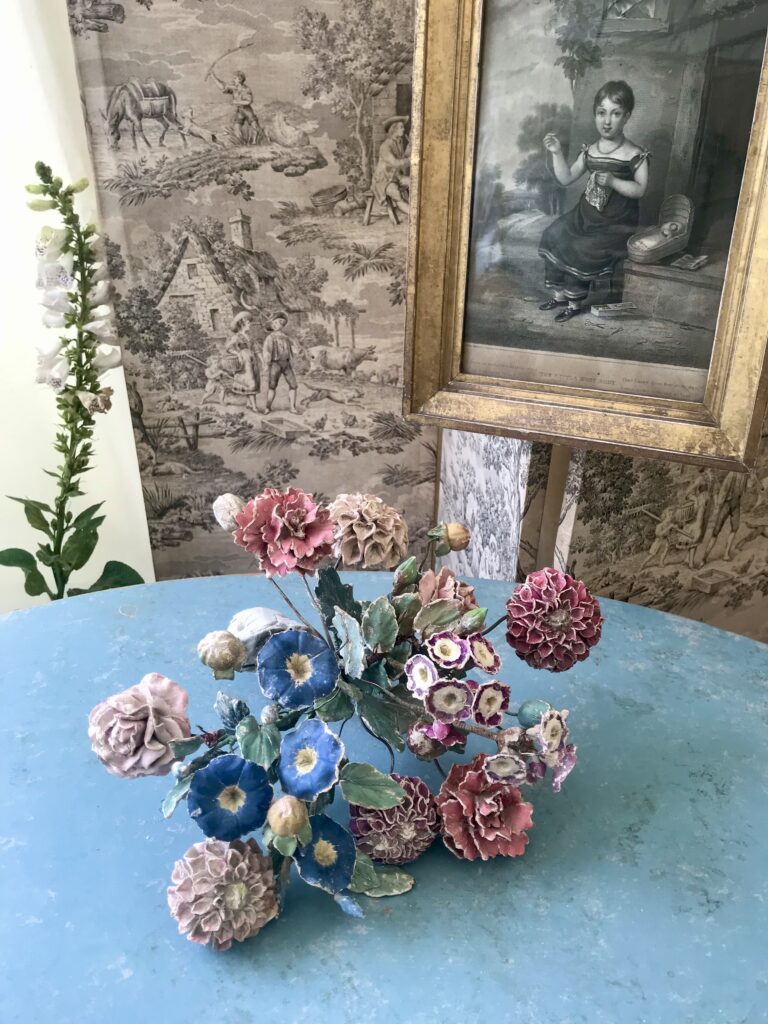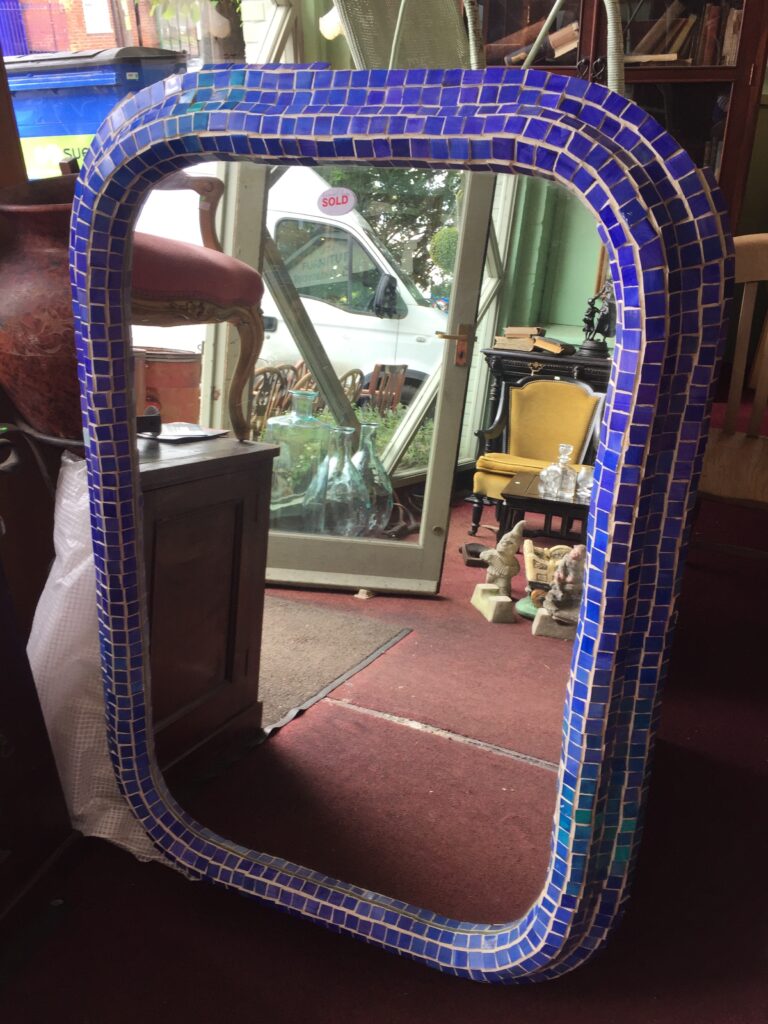 Clockwise from left: You won't have vintage, ceramic flowers from Italy on your shopping list, but you might well come home with them if you love them as much as I do! Cloisonné pots are particularly pretty in a decorative display. A mosaic mirror – no idea of its provenance – conjured up Mediterranean swimming pools and the colours of the Greek islands in my mind. We sourced this glorious Spanish picture frame in a fair in Valencia.
If Chinese or South East Asian patterns and styles appeal, vintage ceramics and decorative items, displaying the distinctive colour palettes and motifs, will be in abundance, especially if specialist dealers are present. This is largely due to the popularity of these 'borrowed' styles across western Europe during the 18th, 19th and 20th centuries and the sheer output of designs from potteries in the region at the time. I have been known to design a whole room scheme around the combination of colours on a particularly pretty Chinese pot.
Antique and vintage fairs are a treasure trove for wall mirrors. From carved wood mirrors to scrolling metalwork, mosaics to shells – keep your eyes peeled for unusual silhouettes and materials. Also, don't discount a mirror because the silvering has faded. A 'foxed' glass mirror can be magical, lit by candlelight at a dinner party, adding atmospheric other-worldliness.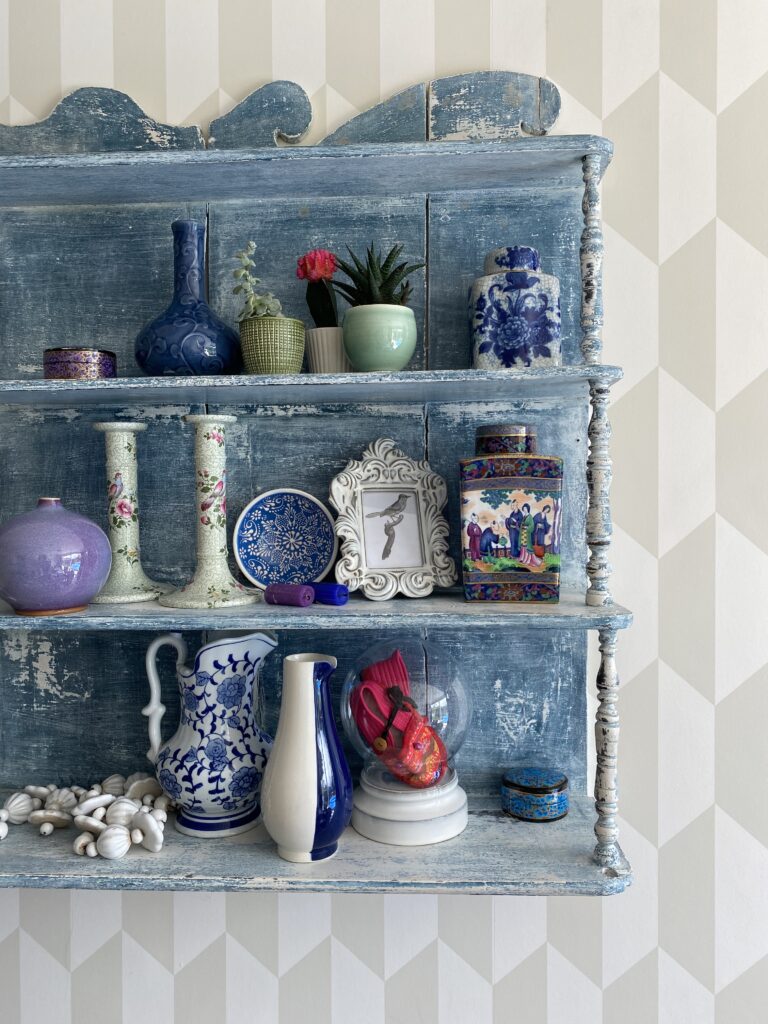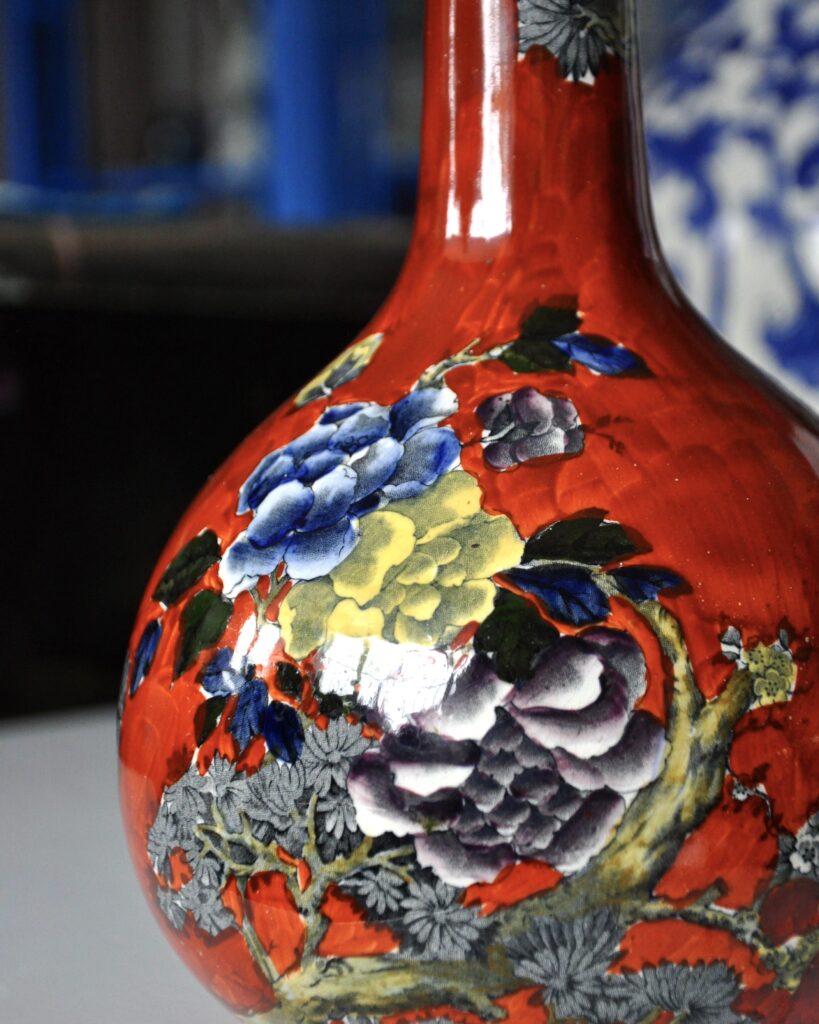 Clock-wise from left: A vintage, Swedish shelf houses an eclectic selection of trinkets and ceramics. Buy what you love and it will always find a home within yours! Mexican Talavera pottery. Portuguese hand-painted vases. The beautiful colour combinations often found on elegant, Chinese or Japanese ceramics or their European-made counterparts.
Consider Quirky Architectural Elements
Architectural salvage, used indoors or out, can add real scale, drama and romance to any space. Nothing wrong with a little bit of theatre to inject humour, irony and fun!
Vintage signage, is probably the most obvious manifestation of this, although be sparing with text and letters on walls to avoid overkill. In jokes, family memes or signs featuring the names of places close to you and yours lend unique personality to your home. Avoid repro versions of these though and opt for truly vintage shop lettering or signs so as not to lose the magic.
Using old window frames in an unexpected setting is another 'wow' move. Create a decorative tableau with a console table beneath and style up with flowers and decorative accessories. Turn them into mirrors by fitting new, or antiqued, mirror glass panels. You can also install vintage metal window mirrors in a garden to create symmetry, optical illusions and a magical 'secret garden' feel. Oftentimes, the dealers have done the hard work for you and fitted vintage over door fanlights or French casement windows with mirror already.

Consider old doors or panelling for their attractive, aged appearance, height or scale as a way of adding textural interest to an expanse of blank wall. Vintage French shutters for example. They can provide a pleasing backdrop to a room scheme. Similarly, salvaged wooden pillars add a little drama and help correct low ceilings by emphasising the vertical.

Vintage shop fittings such as extra tall cabinets or elongated sideboards are equally dramatic additions, if you have the floorspace and ceiling height to display them. Think gentleman's outfitters, old-fashioned chemists and even fitments from ecclesiastical settings no longer in use such as furniture from a church vestry.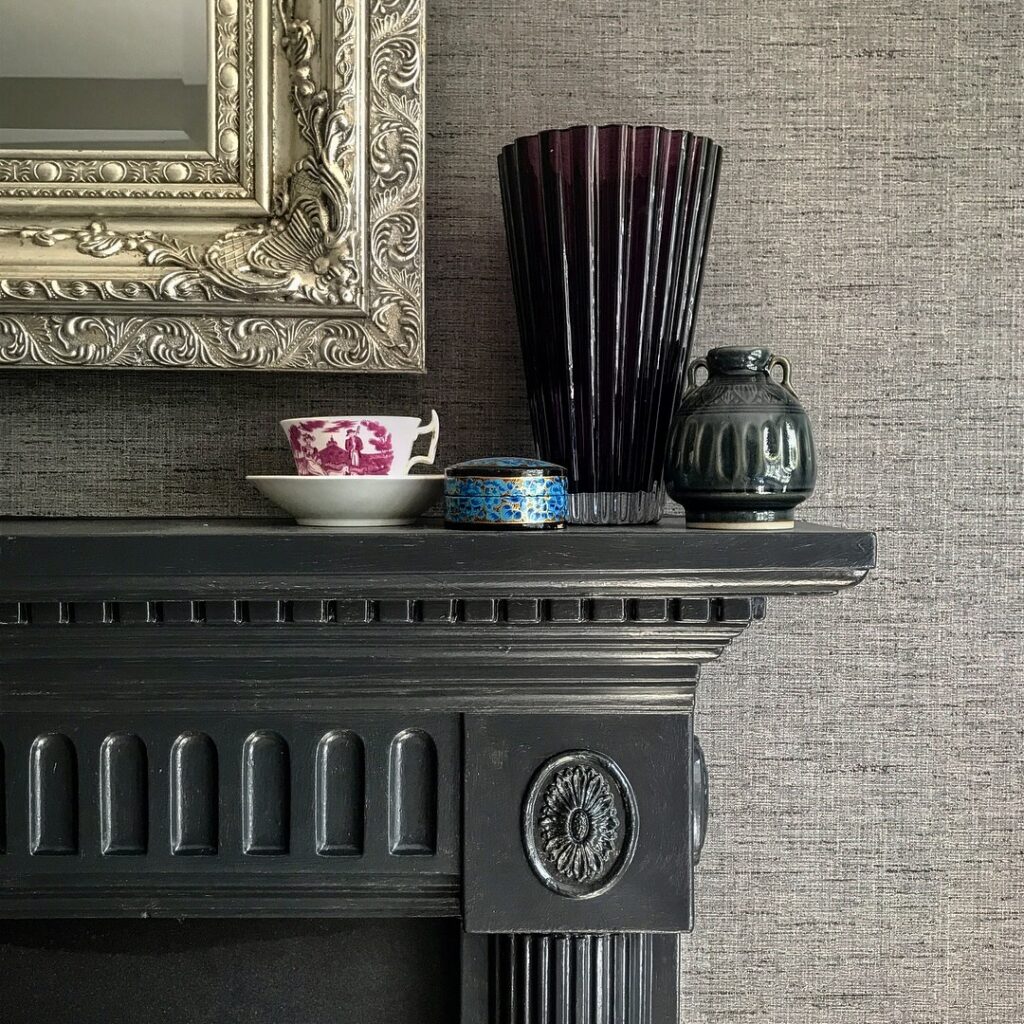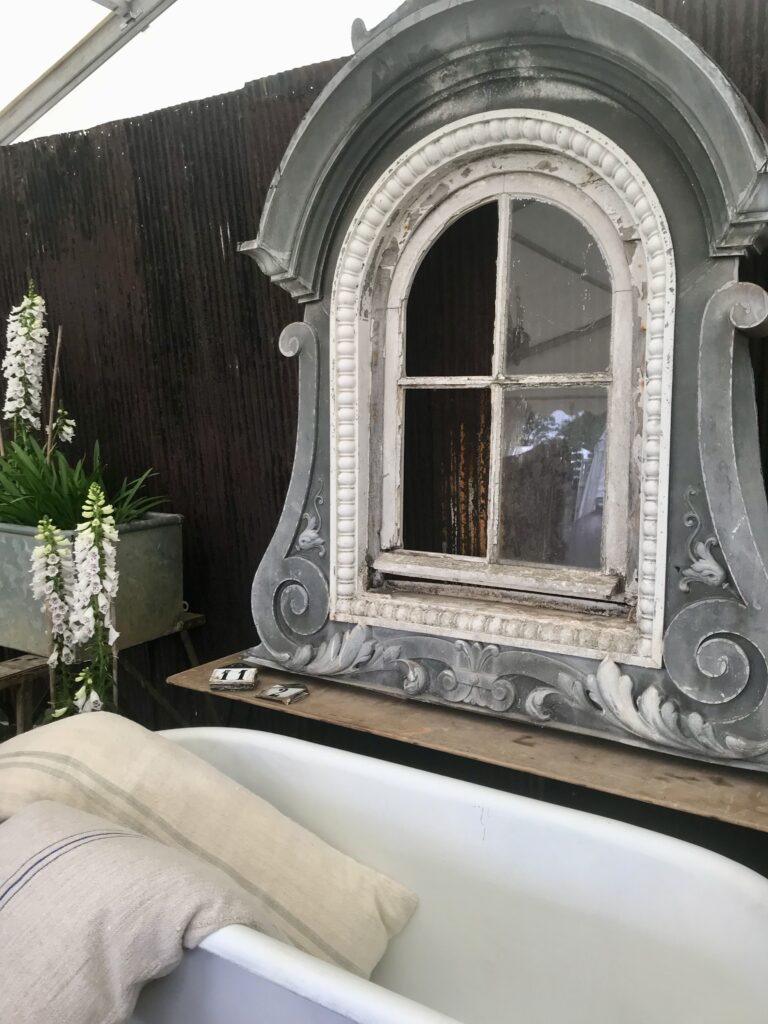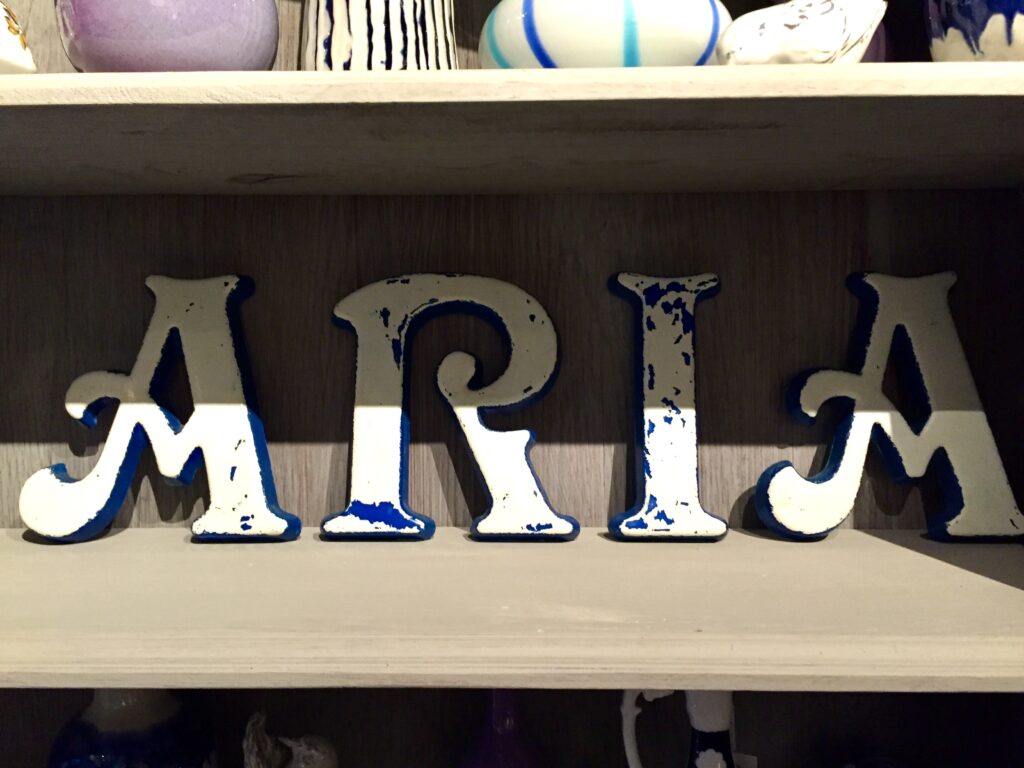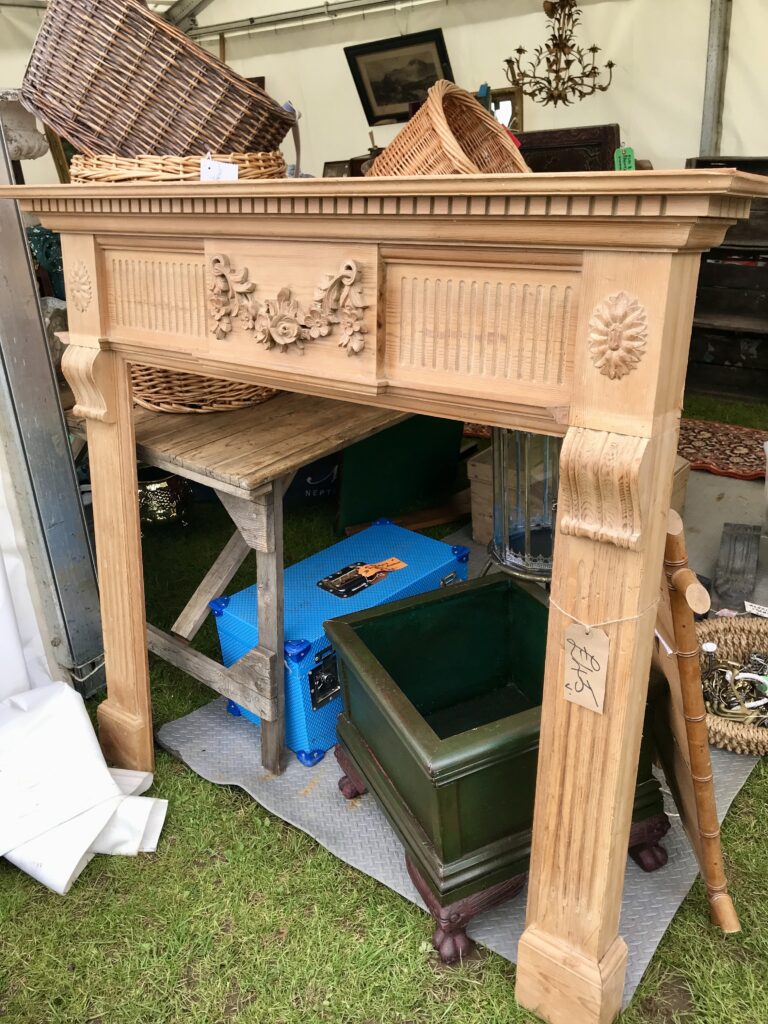 Clockwise, from left: An old pine fire surround has been updated and given a contemporary feel with gloss paint in graphite grey. This ornate, French metal window surround would make a real statement as part of a decorative tableau in a sitting or dining room. Attractively weathered, vintage lettering, originally from an aquarium in France, spells 'Aria' – a little girl's name. A pretty, wooden, fire surround would look pretty left as is. Alternatively it could be a candidate for a colourful lick of paint to twist things up a little.
More obvious and useful, but no less decorative, are mantlepieces and fire surrounds. Leave alone if the finish is attractively aged or transform with paint if prettily detailed but varnished orange or in workmanlike pine. Go elegant and understated with eggshell paint in a dark hue or bold and bright with a colourful gloss. French style or marble fire surrounds or traditional bolection moulded styles need no further adornment!
Think creatively when it comes to vintage wooden mouldings in a broader sense. Old wooden or plaster corbels can become shelf brackets. Carved screens or panels can be used to create symmetry. Vintage friezes, architraves and ceiling roses can be used unexpected ways, contrary to their original use, to great decorative effect.

Ironmongery such as door furniture, cupboard knobs, light pulls and traditional bathroom fittings are also great to source at decorative antiques and salvage fairs. Whether you're on the hunt for Georgian, Victorian, Art Nouveau, Art Deco or Mid-Century, Retro styles, you can sure of finding a wide range of options and often, in the kind of numbers needed to supply a whole house renovation.

Finally, don't discount sourcing salvaged floors. Spanish tiles, Italian terracotta floors, refurbished encaustic tiles or floor boards from London town houses – all of these can often be found and bought in enough square meterage to furnish large rooms.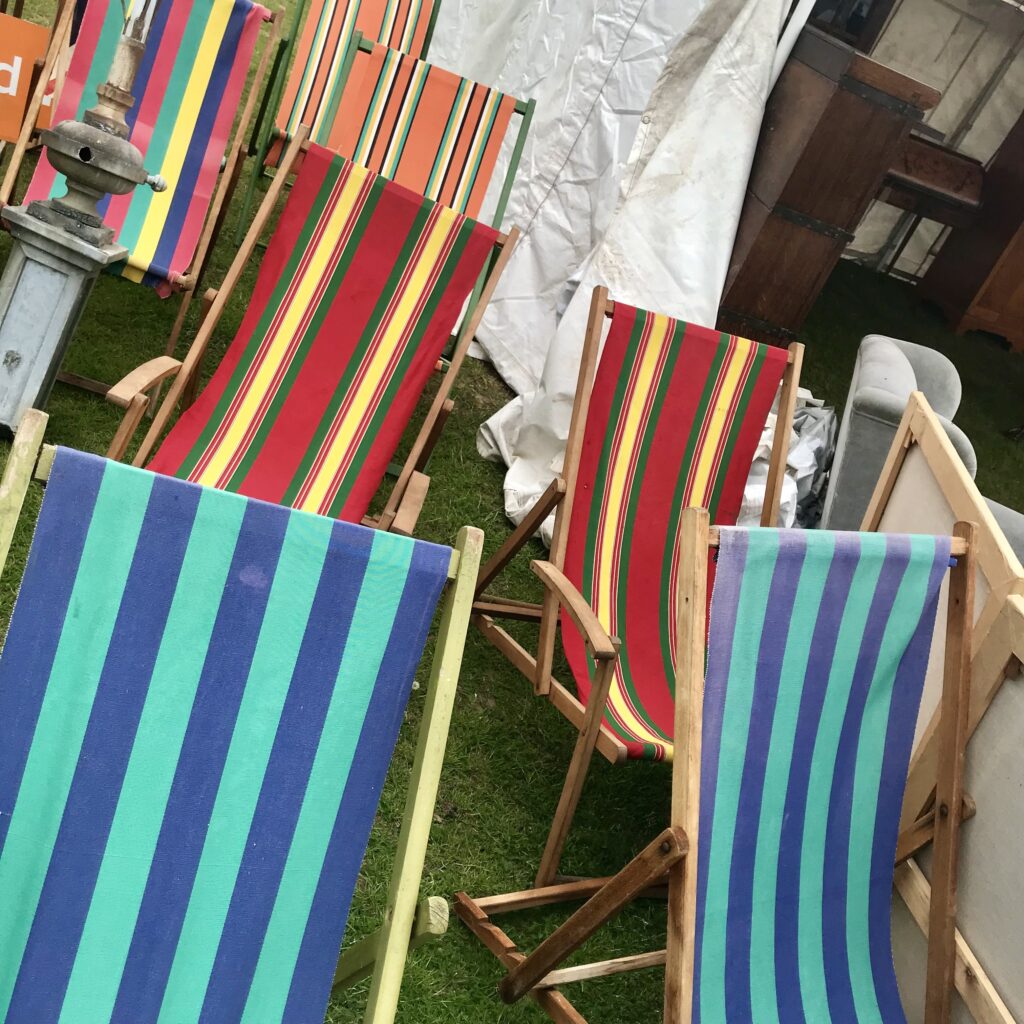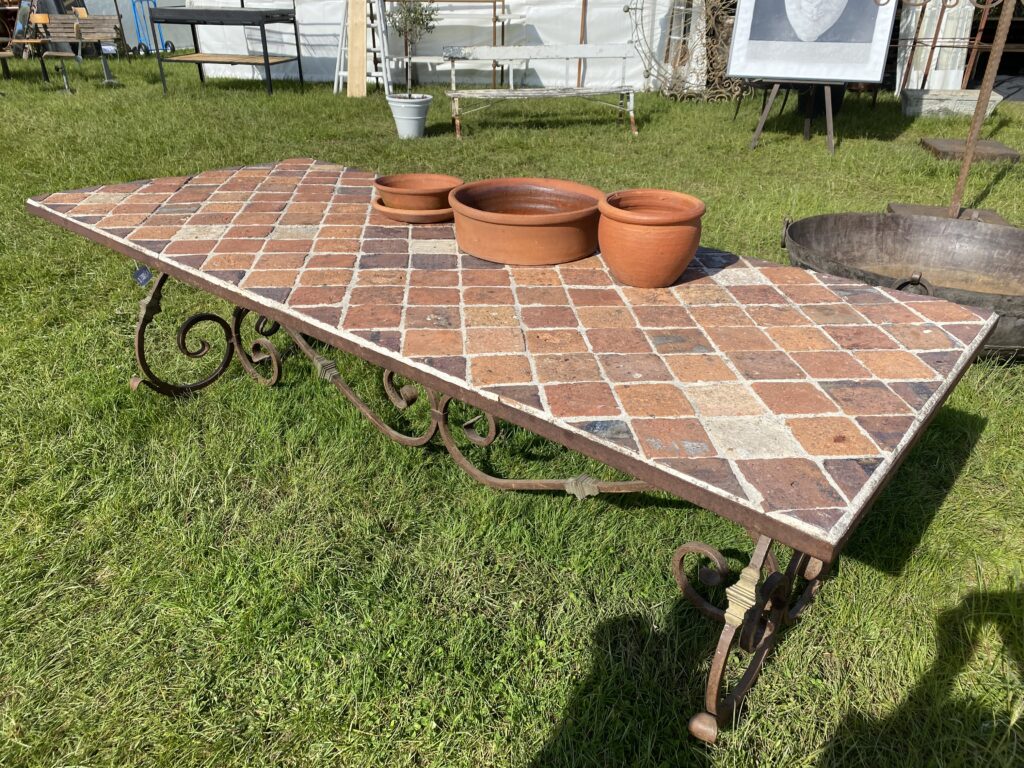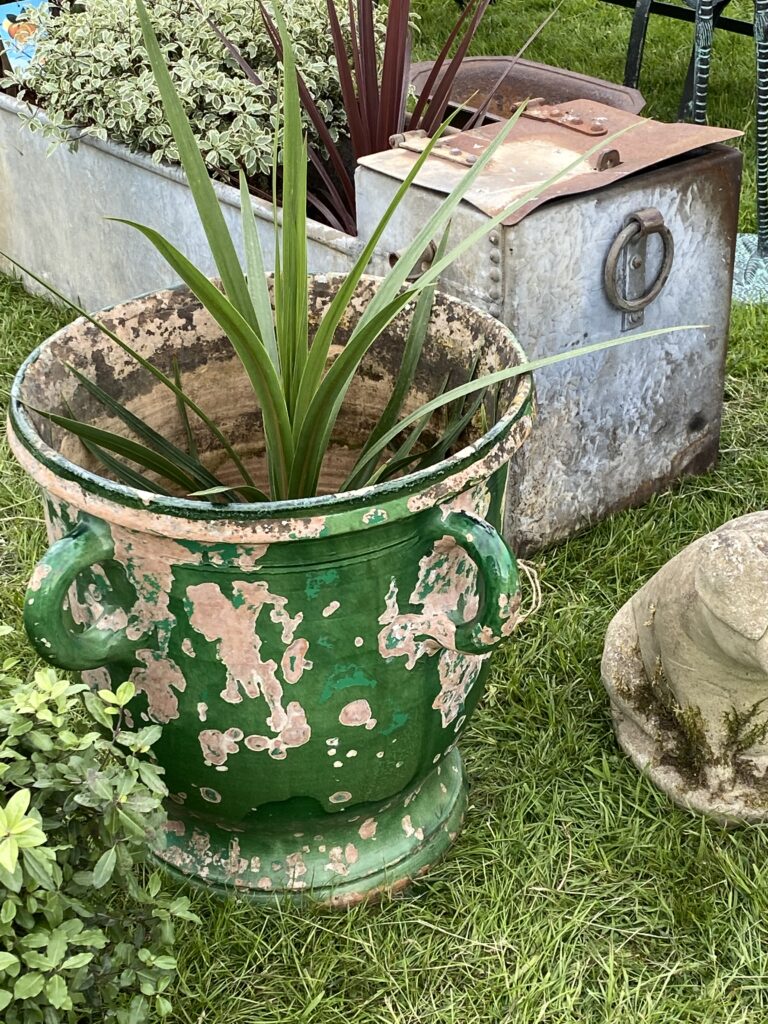 Clockwise from left: Cheerful vintage deckchairs steal the show. Who doesn't love a stripe?! This elegant, tiled and wrought iron outdoor table from Italy would take pride of place on an outdoor dining terrace. Elegantly weathered pots and urns are everywhere at summer salvage fairs. They help make a newly planted or landscaped garden feel a little more established.
Kit Out Your Garden…While Browsing Al Fresco!
Walking around an outdoor antiques fair can be so inspiring when planning a garden, especially when the sun is shining. Take inspiration from the vendors' often glorious displays of garden furniture, statuary, pots and planters dressed with towering delphiniums, hollyhocks, salvias and lavender. Again, be sure to have the necessary dimensions to hand, if you're on the hunt for a particular piece:
Garden furniture from different eras, in a multitude of materials and styles and with all sorts of provenances can be sourced at large, outdoor antiques fairs. Tables and chairs, benches, deckchairs, steamer chairs and daybeds (pile high with vintage linen cushions on balmy summer evenings!) are the obvious contenders. Be prepared to think out-of-the-box too and repurpose functional vintage items as planters or side tables.
Garden architecture can be a real feature in a garden, adding structure, interest and helping to create walkways, vistas and separate 'rooms' within a garden. You'll often find vintage metal archways, gazebos, benches, gates or fencing available to buy. Rusted iron plant stands and old pyramid plant supports for climbers are other items to look out for. These will add shape and height to your garden.
Similarly, garden statuary is everywhere at outdoor antiques fairs, especially during the Spring and Summer months. Go with a list of what you need to plant and where. An example might be a pair of outdoor planters for bay trees to flank a doorway or gate. Also look out for urns on plinths,

sundials, statues and any other large scale, weatherproof curiosity that is a charming, characterful

addition to your outdoor space.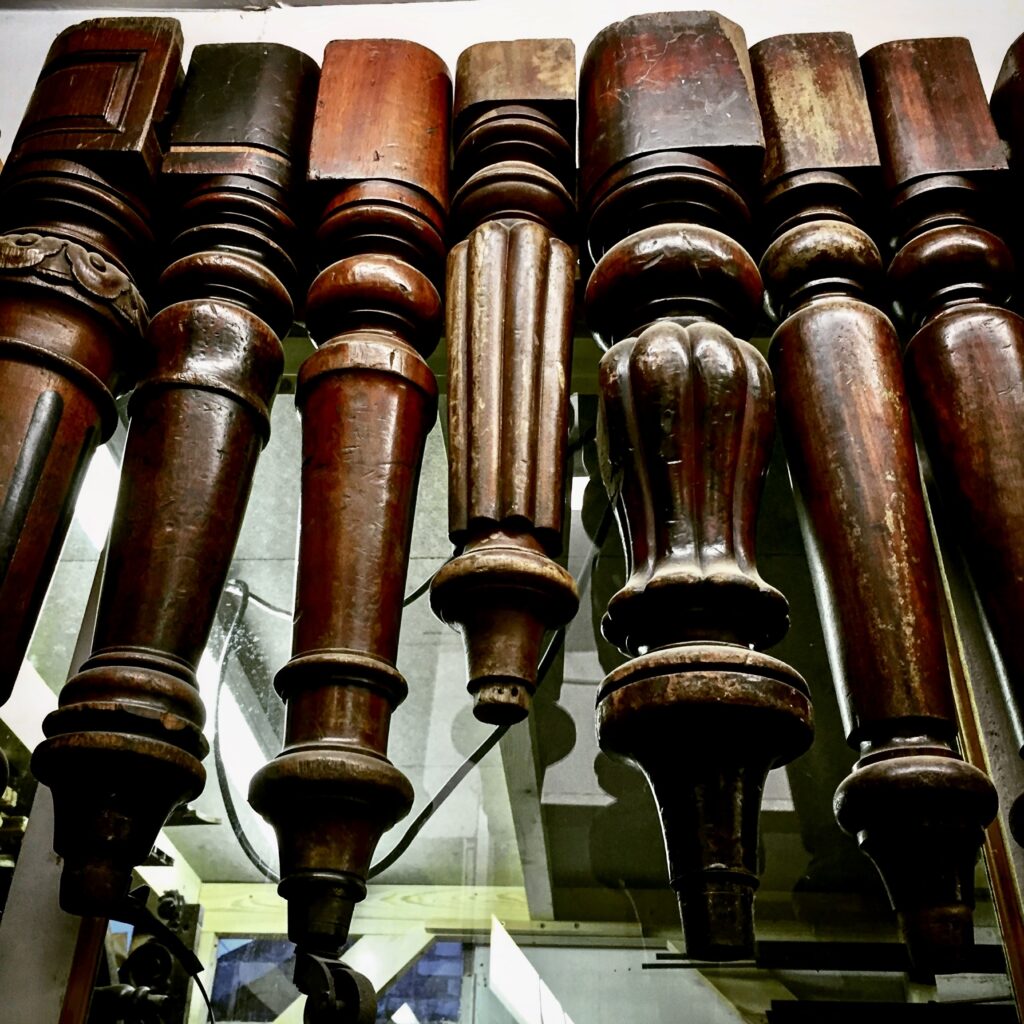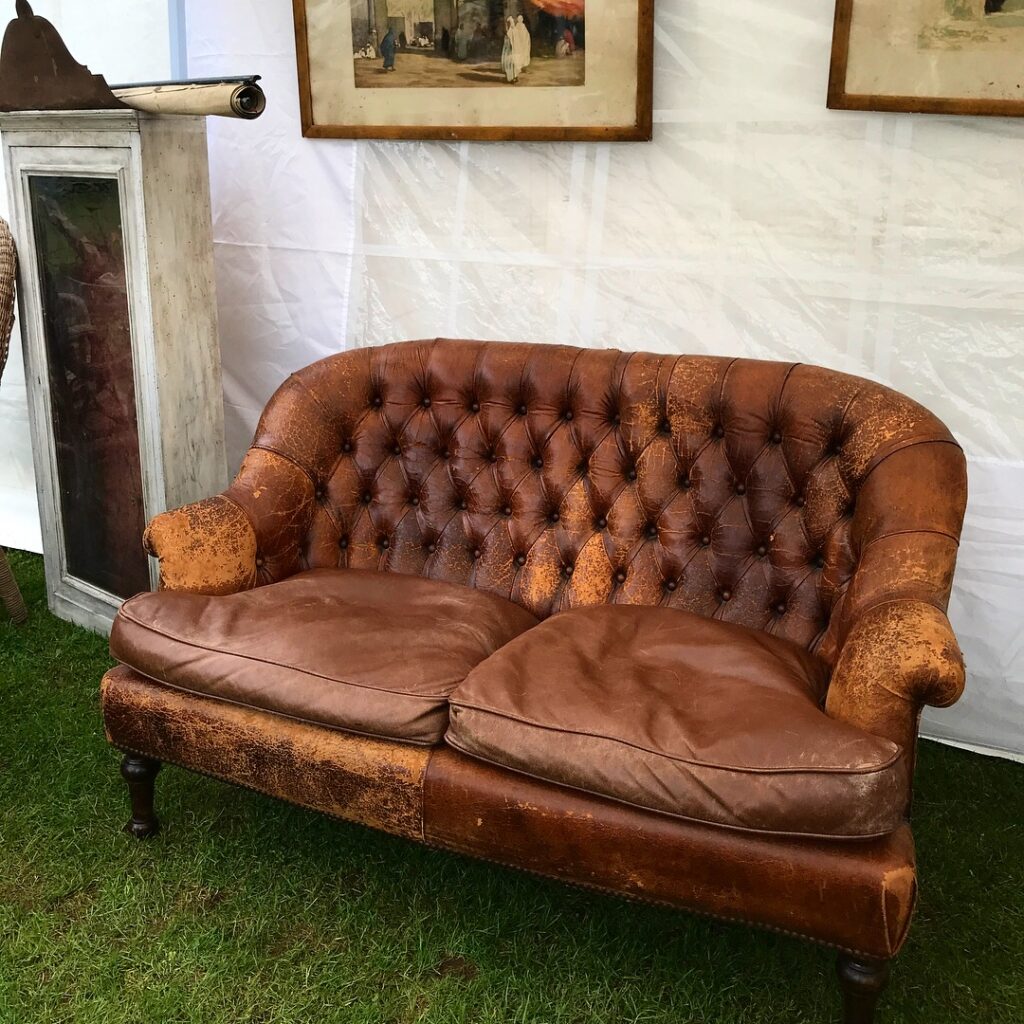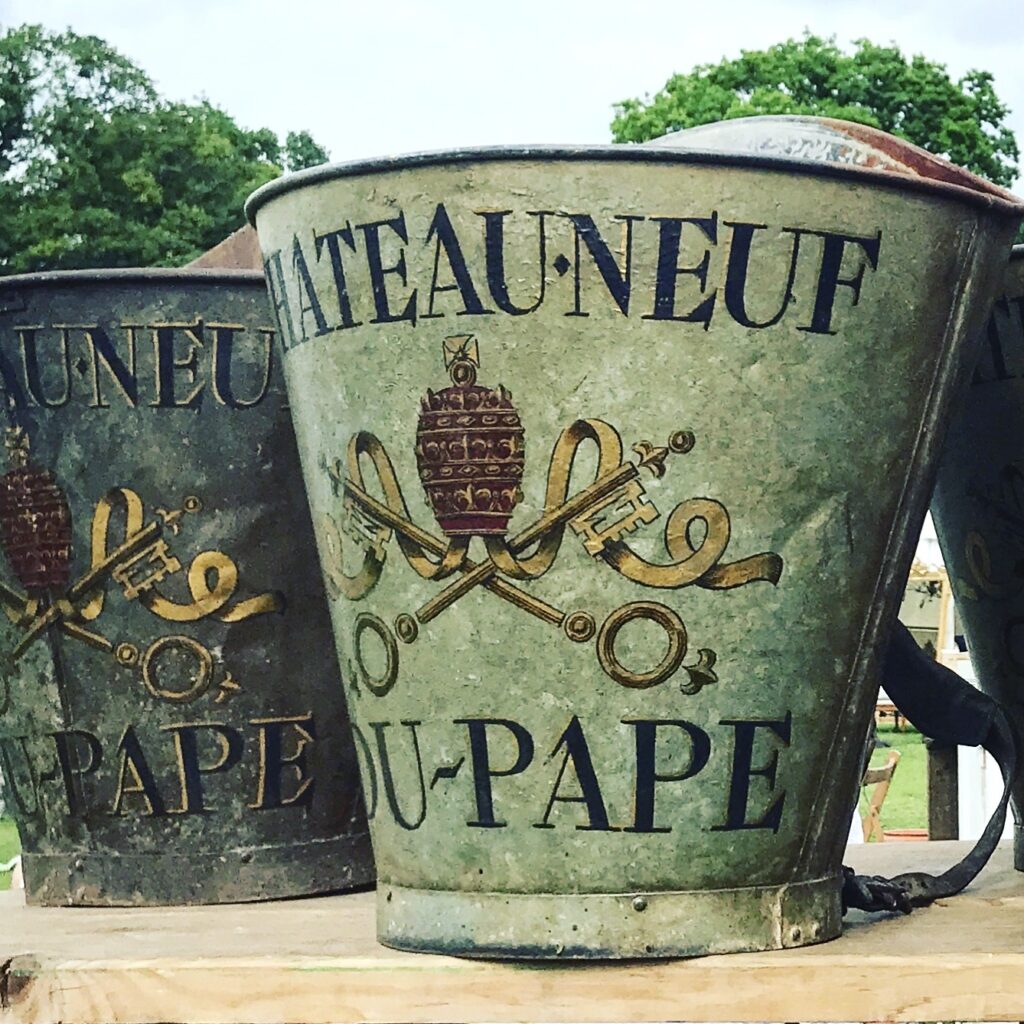 Clockwise from left: Old mahogany table legs ready for repurposing as table lamp bases perhaps or to team with a modern tabletop?? Vintage grape harvesting buckets would make great log baskets. A classic buttoned Chesterfield in suitably dishevelled tan leather.
In Conclusion…
My top tips for visiting antiques fairs? Make a day of it and go with friends. Hope for sunshine. Wear comfortable shoes and take a brolly! Take plenty of cash. Get there early to compete with eagle-eyed dealers. Be armed with dimensions and a tape measure if you're after a particular piece. Bring a foldable trolley and work out how you'll get items home.
When it comes to buying advice, stay safe and shop for the classics (think vintage buttoned Chesterfields with perfectly-dishevelled, tan leather upholstery, old Lutyens garden benches or French bergère armchairs). Or, get creative, think out-of-the-box and consider repurposing or re-inventing. Embrace the unexpected!
Whatever you set your heart on, don't be disheartened if you lose out on price or due to indecision. Only buy what you absolutely love. If in doubt, simply walk away. If you feel overwhelmed by choice, grab a coffee (or a Pimms!) and take time out to to reflect. You'll know when something is perfect. The more you visit these fairs, the sooner you will discover your own personal taste and décor style. And if all this seems too much like hard work, take a look at our 'bijou' but ever-expanding online edit of vintage decorative accessories sourced from all over here.
A note about the author.
Designs By Origin's focus is and will always be travel infused interiors and 'destination-inspired design'. However, generic blog features relating to cultural travel experiences are relevant to all. My creative head, background as an interiors magazine journalist (read more here) and obsession with cultural aesthetics the world over leads me to shout about places I have lived, loved and travelled and how these might inspire your own, future travel plans…I hope you find our blogs of interest. Sign up below for more of the same!
Annabel Smith, Designs By Origin
FOLLOW US/GET IN TOUCH!