An Introduction to India…
'You've got to love India or we simply don't have a future!' was the frank retort from then-girlfriend, now wife, Mary-Anne Denison-Pender, chuckles Michael Curtis Green of Indian homewares brand and dhurrie rug specialist, Mahout Lifestyle, as he recalls his first trip to the continent fourteen years ago. 'So that was really how it all began!' he adds, when we first asked him to explain what Indian dhurries were and how they differed from other flatweave floorcoverings!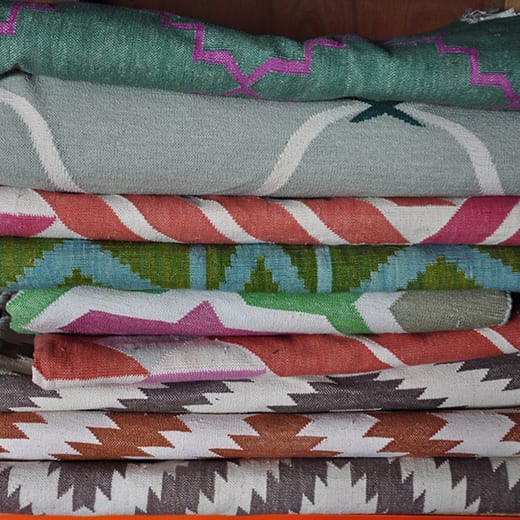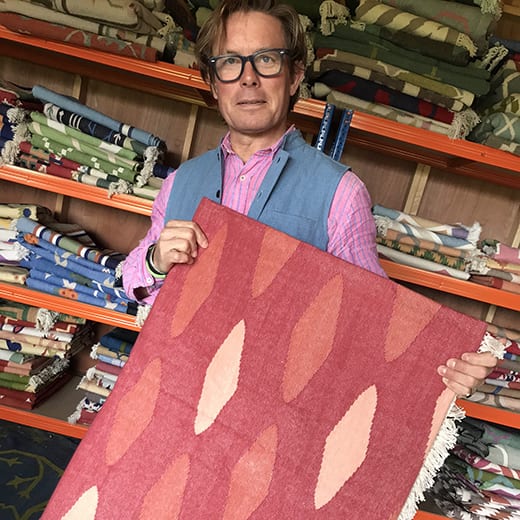 Left: An enticing pile of folded Indian dhurrie rugs in a deliciously pretty palette at the Mahout Lifestyle 'show shed' in rural, north Oxfordshire. Right: Founder, Michael Curtis Green, displaying a colourful, addition to the range.
Tell us a little about Indian dhurrie rugs and how you came to be involved in selling them?
A seasoned, India travel expert with a 30 year career in the business, Michael's wife Mary-Anne had previously set up boutique Indian travel firm Mahout UK. It followed that Michael, having been in the furniture business for many years, began exploring the creative potential of age-old, local, craft skills and production techniques. All with the aim of creating a colourful, characterful range of authentically produced Indian homewares for the UK market and beyond.
'Mary-Anne's extensive network of friends and contacts within the hotel industry gave us direct access to some incredibly talented artisans working for small, family-run enterprises – and more specifically rug makers – thereby effectively cutting out the middle man', Michael explains. 'We are proud to showcase one of the largest and most varied collections of Indian dhurrie rug designs in the UK'.
The Jali rugs in Wedgwood/navy/fuchsia (left) and Lawn green (right) recall the pierced, wooden, screens that are used in the decoration of palaces across India. The patterns have been up-scaled and coloured to striking effect. Both are available to order through Telescope Style. Click the pics to view.
Where do you source your rugs and can you tell us a little about the craftspeople who make them?
'From the beginning, we strove to build strong and loyal relationships with our suppliers', says Michael. 'We are hugely respectful of the talent and ancient skills our suppliers bring to the process. Alongside design input, we, in turn, bring comprehensive insight into the quality and style demanded by western markets.'
He continues, 'Currently, we work with four rug makers from villages across Rajasthan, who specialise in the creation of flatwoven dhurries. Production is centred around the cities of Jaipur and Jodhpur. More often than not, the villagers will work on the rugs on hand looms outside their own homes. We're always scouting for new suppliers though', adds Michael. 'One of our principal drivers has always been to support and help revive the dying art of dhurrie rug making in India. All of our rugs are woven in fair trade factories and communities'.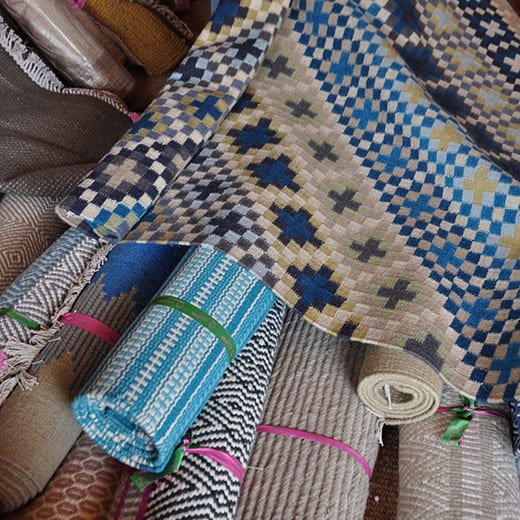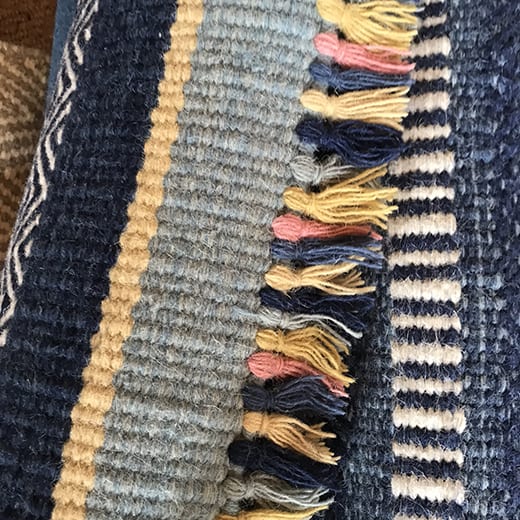 Left & Right: This bold & bright collection of modern, flatwoven rugs, also available through Mahout Lifestyle, displays some appealing design details, such as the multi-coloured, tassel fringe shown here.
What advice do you give to your clients about how to incorporate Indian dhurries into a room scheme?
'Dhurrie rugs have formed an integral part of traditional Indian decor in palaces, homes and camps for centuries. Indeed, one of the reasons we set up Mahout Lifestyle was to showcase the colours and crafts of India to a wider audience', Michael explains. 'Dhurrie rugs brighten up any environment with their vibrant colours and lively patterns. Furthermore, a patchwork of dhurries on a floor or terrace is a sight to behold!'
'The rugs sit happily in both contemporary and traditional interior schemes', suggests Michael. 'The geometric designs, in particular, lend themselves to more directional, modern rooms'. He goes on to explain how dhurrie rugs are also well-suited to relaxed, informal environments such as holiday homes. 'Many of our clients order them for coastal properties in Devon or Cornwall', he tells us.
From left to right: 'Flèche' flatweave rug in lime and sky blue; Jali lattice rug in sky blue, green & grey; 'Flèche' flatweave rug in scarlet and bubblegum; and, Jali lattice rug in orange, bubblegum and poppy, all available to order through Telescope Style. Click the pics to view.
Are dhurries a practical choice for UK interiors?
'Aside from the allure of colour and pattern, the fact that our handwoven dhurries are available in a variety of yarns ensures flexibility in terms of their application' says Michael. 'Broadly, Indian dhurries are a hardwearing, double-sided, dry-cleanable, fun and affordable floor covering choice. You can install them in almost any room of the house, depending on the desired decorative effect and functionality required. The different yarns: wool, cotton, jute or a combination of these, are more or less suited to different spaces and surfaces.'
He expands on this. 'Cotton-only dhurries are great for relaxed, informal spaces such as kids bedrooms, TV rooms or playrooms. You get a crisp, precise pattern with this type of weave'.
'The texture of wool/cotton mix dhurries lends itself to settings such as bedrooms, where you might want a floor covering that is softer underfoot'.
'Wool only dhurries provide the smartest finish and work well in large bedrooms or sitting rooms'.
Finally, he suggests, 'The wool/jute mix rugs have a more rustic appeal and work well in boot rooms, passageways or hallways – on flagstones for example'.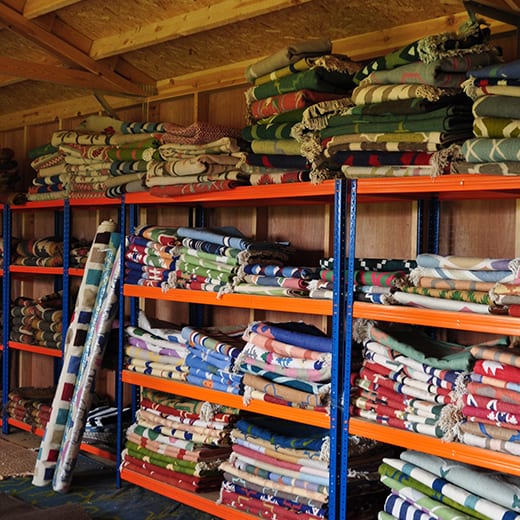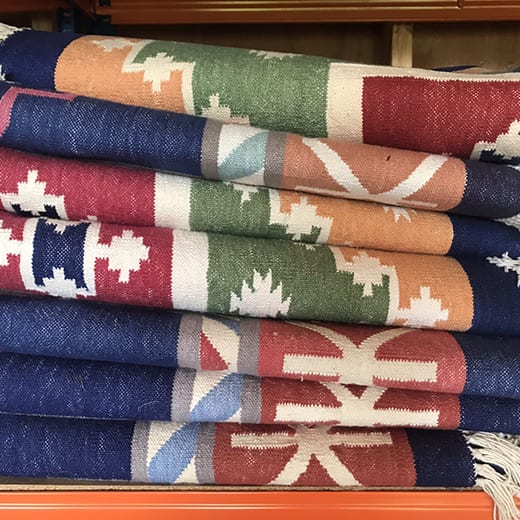 Left & right: Mahout Lifestyle's north Oxfordshire 'show shed', piled high with an extensive stock of Indian dhurrie rugs in a riot of colour and pattern. Available styles vary from Aztec-inspired motifs and colour palettes to pretty pastels in modern, geometric designs.
What bespoke options are available?
'Bespoke, rug design is an increasingly popular side of the business. Customers can either select an existing design or, with our assistance and expertise, create their very own rug in a yarn or yarn combination, colourway and size of their choosing. There are over 200 colours to peruse! We keep our pricing for bespoke options accessible and the lead time to delivery is 8-10 weeks', explains Michael.
Left to right: Diamond design multi-coloured rug; Aztec, geometric, red rug with blue border; Multi-coloured, flèche motif, Aztec rug; and, Aztec diamond motif rug with grid borders, all available to order through Telescope Style.
Other than Indian dhurrie rugs, do you carry any other Indian furniture or homewares?
'Yes, we stock an ever-changing selection of Indian home accessories and regularly receive new shipments', says Michael. 'Currently, we have a number of beautiful, bone-inlay mirrors in an eye-catching palette of pastels, also available through Telescope Style'.
'We also currently stock a collection of elegant, weathered teak outdoor seating. These are benches primarily. They're perfect for the garden as we experience this spectacular Spring weather. Especially as we are all staying at home more at the moment. In addition, our colourful, Indian 'charpoys' or day beds, handmade from re-purposed Indian saree fabrics, are great for lounging on, alfresco. Finally, we carry a number of wooden lamp bases and carved wooden mirrors, all available to buy online or view in person by appointment (post-lockdown!)'
Left to right: Pretty, bone inlay Indian mirrors in pink, blue or grey plus a pale turquoise version in mother-of-pearl inlay. All of which would look delightful in a pretty bedroom or hallway. Limited stock available online to order through Telescope Style.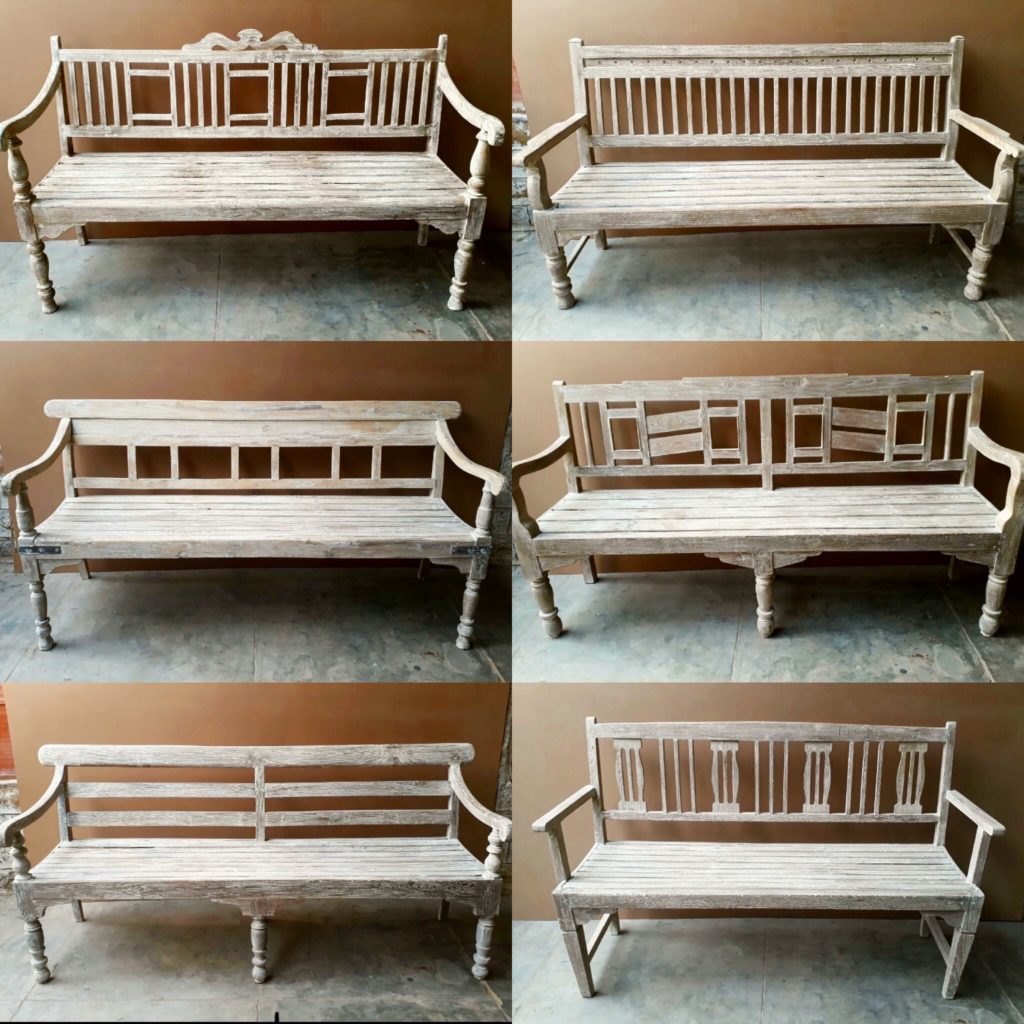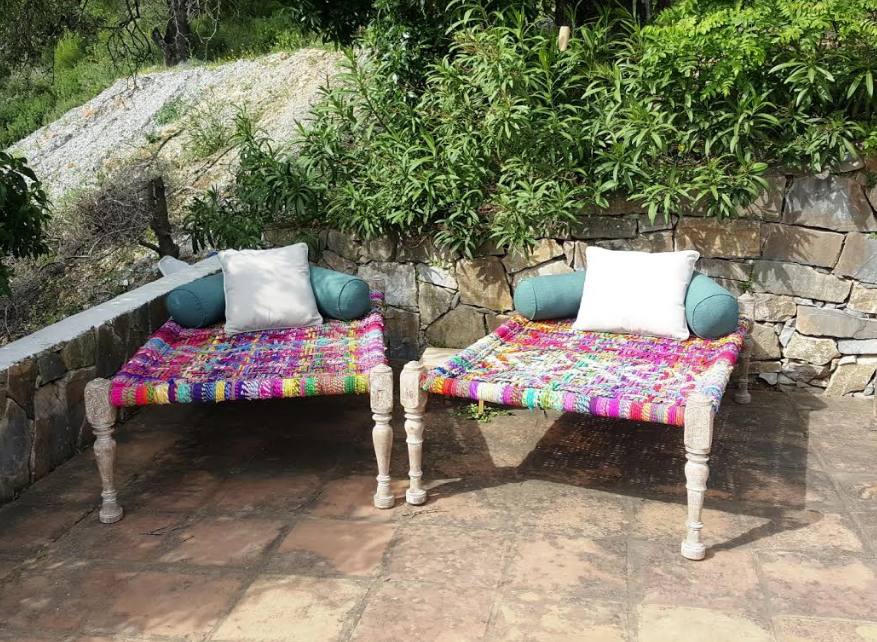 Left: Wonderfully characterful, weathered Indian benches provide the perfect alfresco perch for sunny days. Right: Re-purposed saree fabrics add colour and eclectic appeal to your terrace or 'garden room'. In stock and available online through Mahout Lifestyle direct.
Can potential customers see your rug, furniture and accessory ranges in person?
'Yes, absolutely' says Michael. 'By appointment (again, post-lockdown!), at our colourful 'show shed' near Banbury in the north Oxfordshire Cotswolds. We carry a wide range of dhurries within the UK at any one time. Regular sourcing trips ensure a continually evolving selection.
'We also regularly exhibit at trade shows and fairs including Decorex International, held in London annually,' he adds.
Left & right: We can imagine these smart, jali design flatweaves in a more formal setting – perhaps as area rugs for sitting rooms to anchor conversational seating areas. Both are available to order online through Telescope Style. Click the pics to view.
In conclusion…
Firstly, many thanks to Michael Curtis Green for giving us the lowdown on dhurries and their use, application and suitability for homes here in the UK. You can get in touch with him direct, via the contact details on his website, detailed below.
Alternatively, feel free to email us, here at Telescope Style, if you have any queries with regards to the Mahout Lifestyle range available through us and we will endeavour to assist. In the meantime, we hope our feature 'The Lowdown on Dhurries' has provided both colour and pattern inspiration for your own home, as well as a little insight into the production and practicalities of these glorious, handmade, heritage home furnishings.
By Annabel Smith, Telescope Style
FOLLOW US/GET IN TOUCH!