Artisan lampshades: diverse in colour, pattern and style
With so many different types of lampshades on the market these days, you'd be forgiven for feeling a little overwhelmed. The vogue for patterned, gathered lampshades continues apace. Adding an eclectic final flourish of colour or pattern to your room scheme has never been easier. Whether you're sourcing fabric lampshades for table lamps, small lampshades for wall sconces, clip-on lampshades for chandeliers or large lampshades for floor lamps, remember these key points. Always factor in:
Lampshade proportion – in relation to both the lamp base and the space.
Shade translucency – how much light is actually emitted after dark.
Pattern scale – a suitable contrast with other patterns in the room scheme.
Light spread/angle – task lighting requires a more directional beam than atmospheric mood lighting.
In fact 'atmospheric mood lighting' is a brilliant way to introduce our featured brand, Samarkand Design. We interviewed the brand's founder Hilly Grumbar, recently, to find out more about her beautiful and eclectic range of Silk Route sourced textiles and lighting.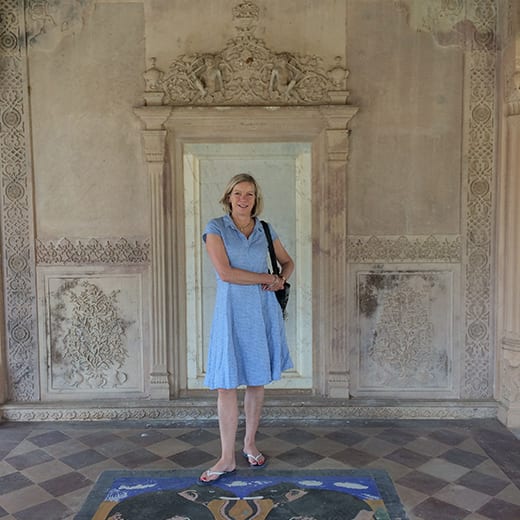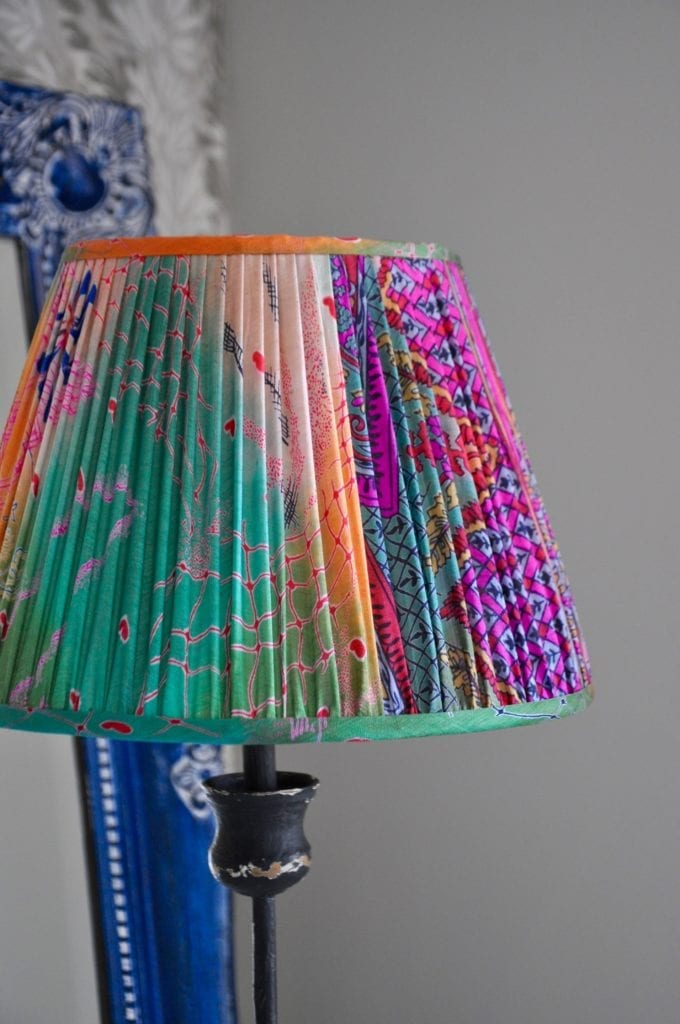 Left: Hilly Grumbar, founder of Samarkand Design, on one of her many sourcing trips to India. Right: The most vibrant lampshades in the Samarkand Design vintage, silk saree range positively glow! Even moreso, when illuminated at night. Gathered, silk lampshades for table lamps in these pink tones, create a warm, flattering light. They are perfect for creating soft, pools of mood lighting within a space.
Hilly, can you tell us how you came to source and sell Silk Route-inspired textiles & lighting?
'The original idea was entirely selfish as I wanted to indulge my lifelong love of textiles, both old and new! Throughout my life I have travelled extensively, both for work and pleasure. I started out as a commercials producer which took me abroad frequently. That led to making documentaries on corporate, social responsibility. In my 40s, I did a masters in international development, which led me to work in the charitable sector. Again, this took me all over the world. To the the Horn of Africa, Zimbabwe, Cambodia and ultimately to India. There, at close hand, I saw brilliant artisans using ancient techniques. I became interested in encouraging economic activity in disadvantaged communities.'
'When, I started my own business – actually quite late in life – I wanted to encompass everything I loved by combining my fascination with textiles with my knowledge and experience. I guess I had a 'light bulb moment' (excuse the pun!), when looking to source lampshades for my own home. At the time there were very few people offering the kind of products we sell through Samarkand Design, so I thought I would start in a very small way. Carrie, my great friend, came on board and here we are nearly six years later. Carrie has recently retired from the business but I still feel the passion and hope to continue for a good while yet!'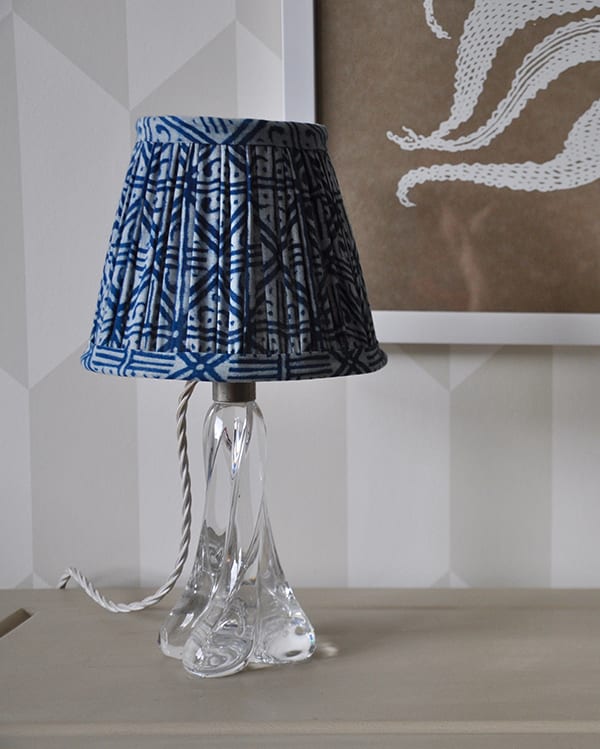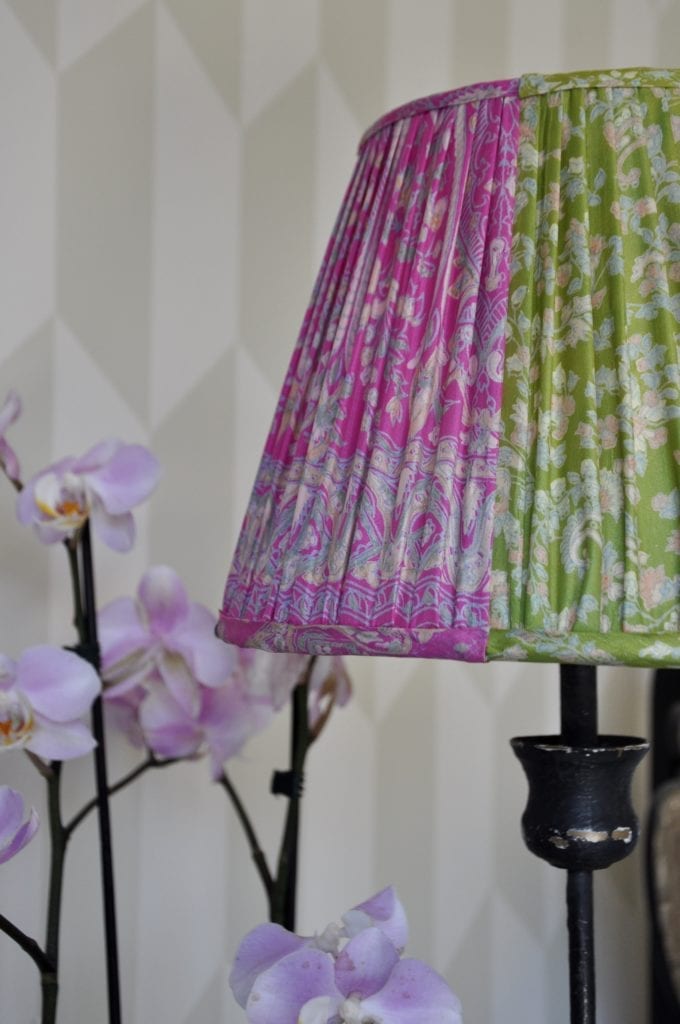 Left: The block print indigo grid lampshade is available in a variety of sizes. Shown here on a petite and dainty vintage glass base sourced at a French flea market. The vintage silk saree lampshade in pink & lime is available in limited numbers. Only a handful of lampshades can be made from each individual, vintage garment.
Why choose patterned, fabric lampshades for table lamps or floor lamps over an ordinary card shade?
'There are situations which require a neutral light source. However, I feel lampshades provide an opportunity to add interest, colour and texture to a room. The unique blend of colours and patterns you find in the vintage silk sarees used to make many of our lampshades, is just so pleasing. I am fond of the eclectic, layered look in interiors with pattern-on-pattern. Hence, gathered, patterned fabric lampshades such as those we sell, are very much part of my aesthetic. They also work really well in clean, contemporary spaces. The shape we most commonly supply – a straight Empire – offers a more traditional look. We can and do make lampshades for table lamps, wall or floor lamps in all sorts of shapes and sizes. However, we don't stock them all as the choice would be overwhelming! I think that the light given off by gathered silk or cotton shades is subtler, gentler and more suffused than that given off by a plain, cream, card shade. In the end though, it's a matter of personal taste.'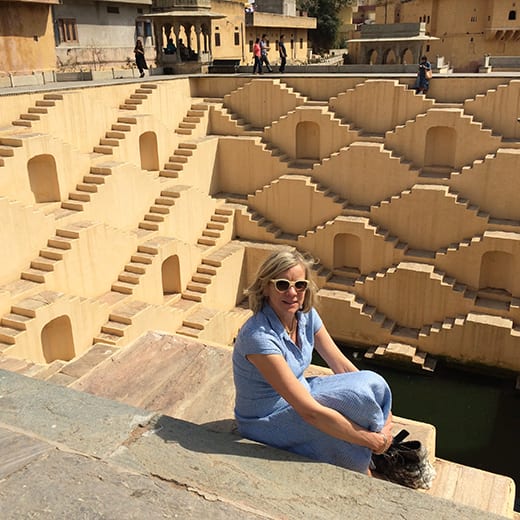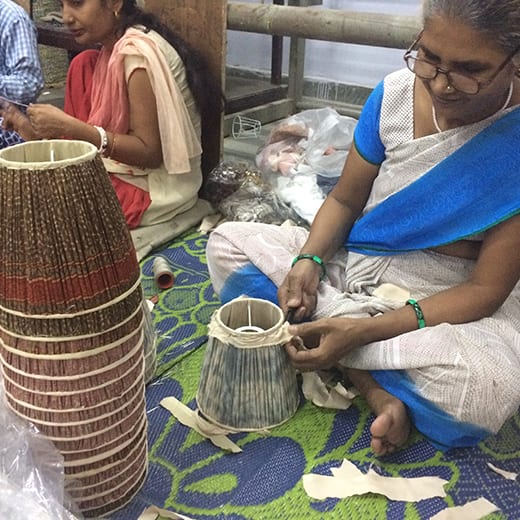 Left: Hilly, exploring incredible architecture, on one of her Asian buying trips. Right: Vintage saree silk lampshades being hand-finished at a supplier's workshop in northern India.
How do you decorate with these kinds of lampshades? In pairs? Singly? Which rooms do they work well in?
'Our lampshades work well in many different scenarios and you can decorate with our lampshades almost anywhere in the home. From small, clip on lampshades for chandeliers, to large scale, statement, table lamps in a drawing room. Choose a 'feature' lampshade for a room or install a elegant, symmetrical pair, as many of our clients do. We now sell quite an extensive selection of handblock-printed cotton lampshades. The cotton is sourced in Jaipur and one of the things I love about it, is the way the patterns display when the fabric is gathered. Hence, we try to source designs which lend themselves to this style of lampshade.'
What style of lamp base do you frequently pair with your lampshades? Modern or traditional? Materials?
'Our shades work surprisingly well with modern bases – especially glass. We sell an asymmetrical, tear-drop shaped, frosted-glass, lamp base called 'Akriti', meaning 'shape' in Sanskrit. These are actually made to order in the UK. We also carry a small selection of lamp bases – both vintage and new – which we have chosen to complement our shades. I am always on the look-out for for interesting pots or tins with a good patina, which we can convert into lamp bases. We recently added some beautiful, old, terracotta pots from Turkey to the range. These look fabulous with our largest lampshades. On the whole, I prefer to pair our shades with simple, organic bases made from natural materials to allow the lampshade to shine (quite literally!). Having said that, I am sometimes surprised at how good they can look on a patterned lamp base.'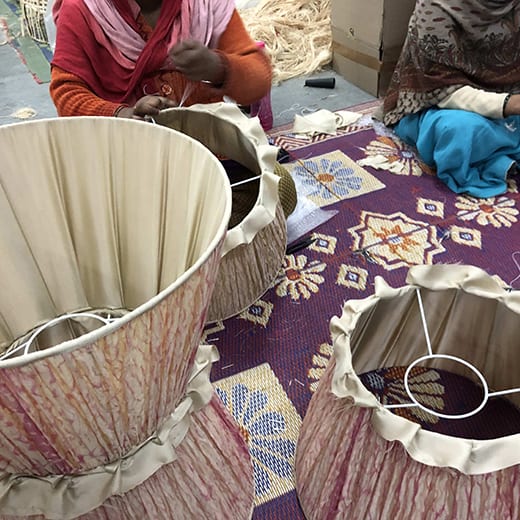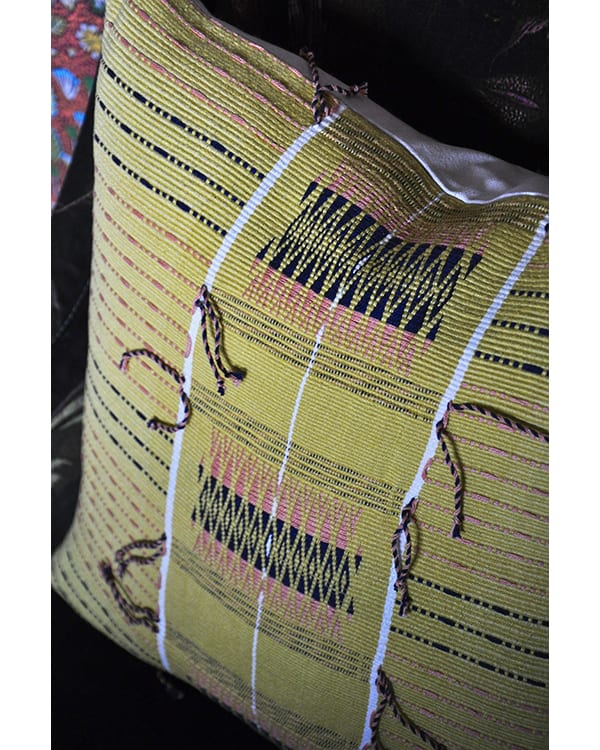 Left: Gathering and lining the silk lampshades is a skilful and time-consuming process but the result on the finished pattern repeat can be striking and often pleasingly unexpected! Right: One of the backstrap-woven cushions from Nagaland in acid yellow and coral, also available through Telescope Style.
What do your clients like/say about your lampshades?
'Fortunately we get some lovely feedback from our clients. I think the thing that people like most about our product range, is that much of what we sell is unique. You are unlikely to see the same lampshade in someone else's home. I also think people like to have a story associated with the items they source for their home. There is so much 'stuff' out there – too much really. I believe people want to know something about what they are buying. How it was made and where it has come from.'
How much of the Silk Route have you travelled? Where is next on the agenda to explore?
'The Silk Route is really many roads and although I have done stretches of it, there is still much to discover. The city of Samarkand, from which we take our name, is in present day Uzbekistan and stands at the crossroads of the main route. We have travelled there and also to Bokhara, Tashkent and Khiva – which were all trading hubs along the way.'
'I'd love to properly explore Istanbul again soon. Istanbul or Constantinople was the gateway to Europe along the Silk Road leading from Asia. I have always been drawn to places where histories and cultures intersect. Istanbul, straddling two continents, is high on my list. We are also planning on returning to Myanmar, to explore the southern reaches of the country, and hopefully pick up some textiles along the way.'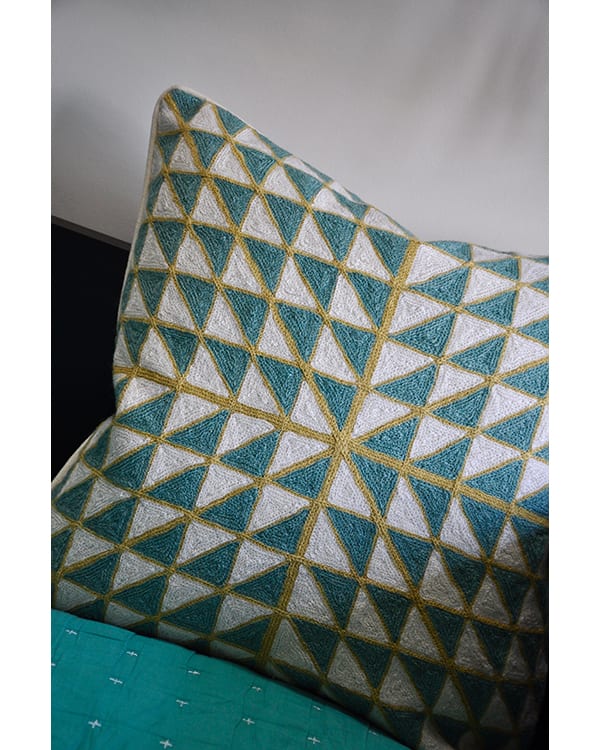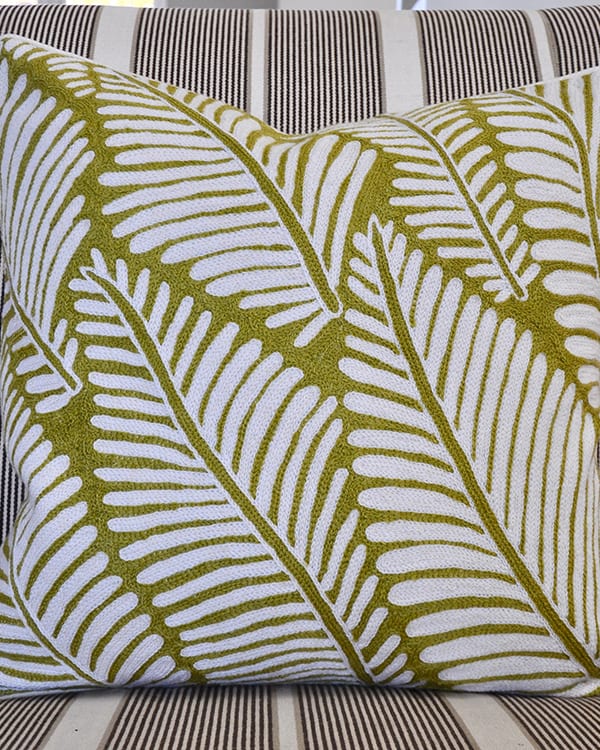 Elegant, hand-embroidered, crewel work cushions sourced in northern India. Left: Kashmiri crewelwork cushion in teal and lime. Right: A chartreuse design Kashmiri crewelwork cushion. Both available through Telescope Style.
Can you tell us a little about where you source your textiles, their craft heritage and the artisanal skills used to make them?
'We currently source most of our textiles – both for the lampshades and for our cushions and quilts – from India. Our Suzanis, however, come from Afghanistan or Pakistan. We also source Ikats in Uzbekistan and rugs in Morocco. Jaipur in Rajasthan is really the hub of the textiles business in India, so there is a lot of trade through there. Over recent years, I have explored other parts of India and often source textiles and artifacts wherever I come across something special. Our range of beautiful hand-stitched, Kashmiri, crewelwork cushions was inspired by a visit to Srinagar. More recently we launched a great range of cushions from Nagaland. These are handwoven on a back-strap loom. It thrills me to think about how these women, with the most basic tools are able to weave such dazzling, intricate patterns. We have also just commissioned some handwoven cotton from Assam, woven in the same way. The textiles of North East India are very special. Last year I took a party of textile enthusiasts to Assam and Nagaland to see how they were made.'
How do you address environmental considerations when it comes to sourcing your products?
'It goes without saying that we try to ensure as little negative impact on the environment as possible. This runs through all our decision-making. From where we source our new fabrics, how they are dyed and the working conditions of our suppliers in India, to how we transport our product and keep it safe from damage. Recycling is at the heart of our business. Our silk lampshades are made-up from old sarees. We send all the leftover remnants to a sewing group who use them to make patchwork and other crafted items. Inevitably we have to use some plastic to wrap our lampshades to protect them from marks. We haven't yet found a suitable substitute but our bulk packing comes from starch and is 100% biodegradable and compostable. You may also notice that we try to reuse cardboard boxes!'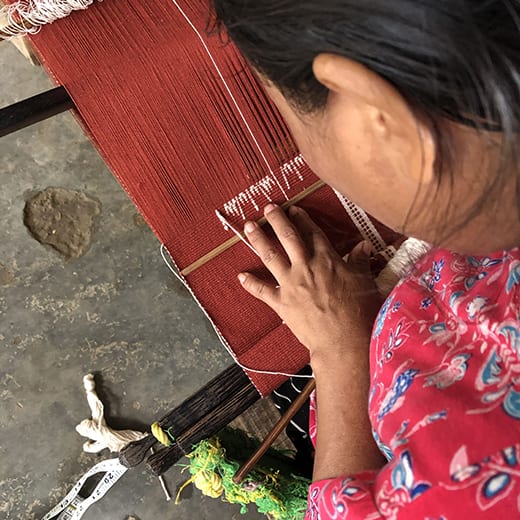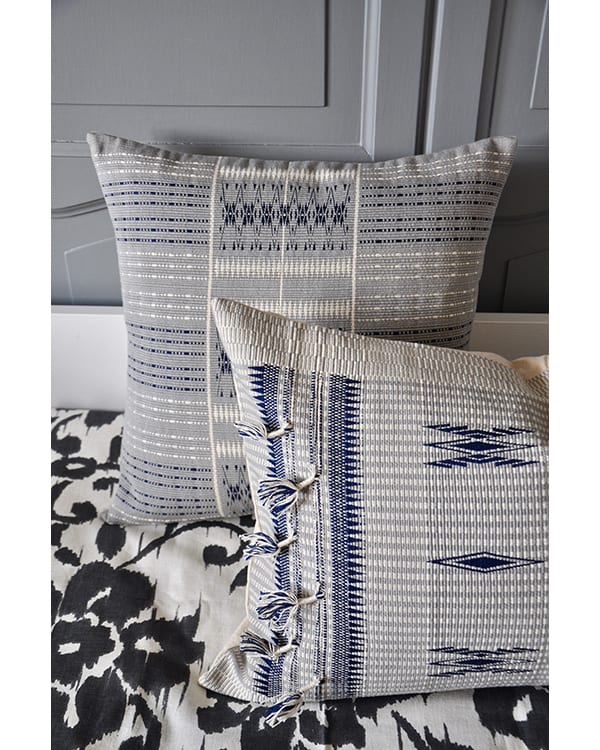 Left: The Nagaland cushions being woven using traditional methods on a backstrap loom. Right: Some of the finished articles in a chic blue grey palette with or without tassels, both available through Telescope Style.
Which other interiors brands do you love and why?
'I love Robert Kime – his wonderful eye as a collector and designer is really my biggest inspiration. I also love William Yeoward, may he rest in peace, Julian Chichester and Kit Kemp.'
Where is your dream home?
'We live in a lovely, old longhouse in North Devon, just on the edge of Exmoor. It's an ongoing, unfinished project. A source of both joy and frustration! Like most people, I never seem to have the time to do everything that needs doing. We are looking at buying a house in Morocco, but this won't happen for a while. My dream is an old, Berber house in the foothills of the Atlas mountains, that I can fill with beautiful things found on my travels…'
In conclusion…
If the Samarkand Design story has inspired you to add ethnic colour and pattern to your own home by way of cushions or lampshades for table or floor lamps, hop across to the Samarkand Design website below or click here for the Telescope Style edit. Share our interview with similarly interiors-loving pals and/or add your comments or thoughts via the icons below and the comments box at the bottom of this feature. If you'd like to hear more stories behind the brands, head to the TS Meets blog series here. Alternatively, follow us on Instagram or Facebook or sign up to our newsletter to hear when our destination-inspired design blogs go live and to download our free, generic, 20 page 'Room Renovation Guide.' Thanks for reading!
By Annabel Smith, Telescope Style