Holland in the Spring
Fields of flowers will bloom quietly in the Spring sunshine this year. The heady scent of hyacinths will perfume the breeze. Tulips of every hue imaginable will colour horizons across the Dutch landscape. Yet while nature and indeed we all take a pause, we hope these images cheer, uplift and inspire a visit to Holland in Spring 2022. After all, The Netherlands is one of our nearest European neighbours.
In Easter 2018 we decided on a cultural tour of the region known as Holland in The Netherlands. Part buying trip for TS, part family reunion and a chance to explore a country we knew little about (save hazy memories of trips to Amsterdam during our student years).
Fast-forward a few years, and these days we're fortunate our smalls-in-tow seem to quite like city breaks. My husband and I get to appreciate glorious architecture, cafe culture and cosmopolitan buzz while the kids are happy with ice-cream and a change of scene.
Family-friendly adventure
Of course we always factor in magical, kid-focused experiences. But in Holland in the Spring, you don't even have to try – they are all around. Like Oz, the whole set up is geared towards family friendly pastimes and healthy, outdoor lifestyles. Whether you're travelling with little ones or teenagers. Cycling is an obvious example. Not in charming but hectic Amsterdam – although there are plenty of impressive bucket bikes for hire (simply stow the kids in a giant tub by the handlebars). No, it's taking in the floral and canal side scenery while lazily peddling through vast tracts of gloriously flat countryside on the extensive network of cycle-super highways. This, plus the plethora of boat trips, things to do, see, eat and buy that kept the kids entertained, long after we returned home.
Thoughtful meanderings aside, I have divided this article up into useful sections to help you plan your visit. Our road trip lasted a just over a week, driving from the UK with a quick overnight stop in Belgium en route. We took a circular route starting from Dordrecht in the south of the province, taking in Gouda, Amsterdam, Alkmaar, Volendam, Haarlem, Delft and the Kinderdijk along the way, before finally landing with family near Rotterdam before heading home.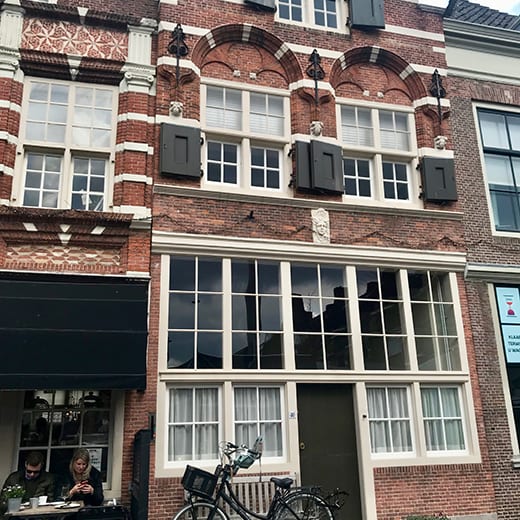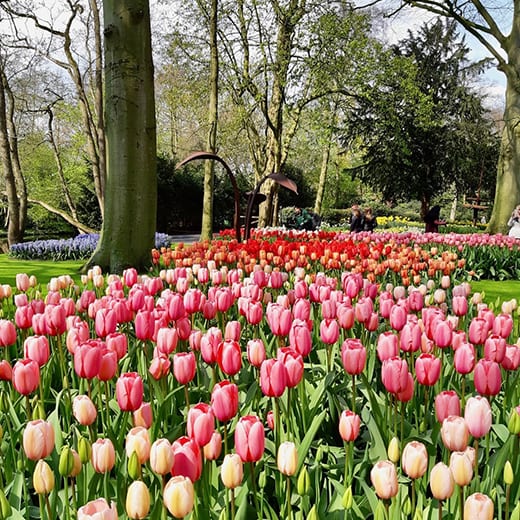 Left: Elegant architectural details abound – as shown by this charming snapshot of town houses in pretty Dordrecht. Right: Swathes of vibrantly-hued tulips populate the lawns of the breathtakingly pretty Keukenhof gardens near Lisse.
Flower Power
In a word, the Keukenhof. A main draw for us, for obvious reasons, only open to the public during the Spring season. The Keukenhof, near Lisse, is the largest bulb flower park in the world. It wows visitors annually with awe-inspiring displays of tulips, daffodils, hyacinths and other Spring flowering bulbs in a riot of colour. Blooms are showcased across a vast area, in a variety of settings, including rolling wooded hillsides, formal parks, wilderness landscapes and sculpture gardens. Get there early and plan a full day exploring at a leisurely pace. The big tip is to book your tickets well in advance.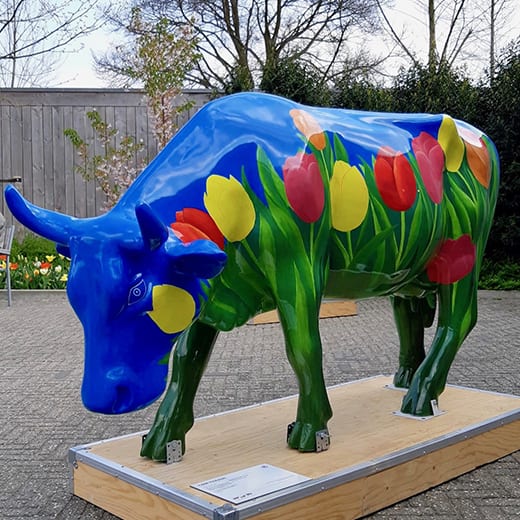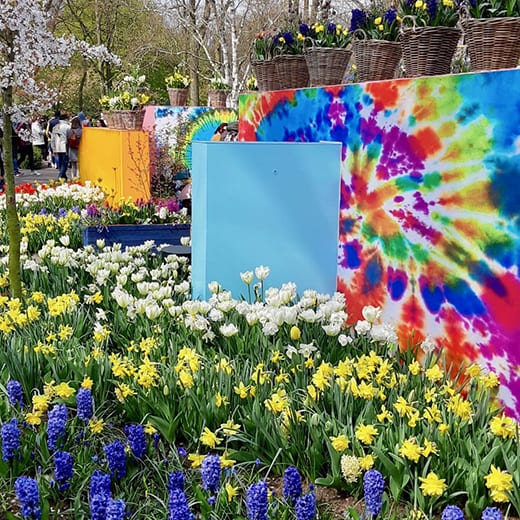 Left: Bold & bright was the order of the day within many of the distinct, colour-coded zones of the magical Keukenhof gardens. Right: This bright, uplifting display surrounded one of the many cafe gardens populated with picnicking families taking in the scenery…
More low key but no less charming is a trip to Hortus Bulborum nurseries near Limmen. I was keen to visit having read an article in House & Garden magazine a while back with captivating floral imagery. The nursery is located on a quiet lane near the village of Limmen, bounded by a pretty church and tea room. When we visited, the orchard trees were in full blossom as the kids darted about underneath, exploring the beds and sniffing the air for the scent of hyacinths. We also paused to enjoy a delicious slice of the local speciality, Dutch apple pie in the little café.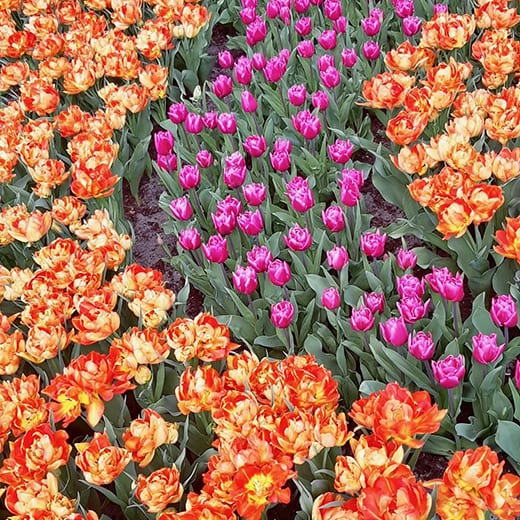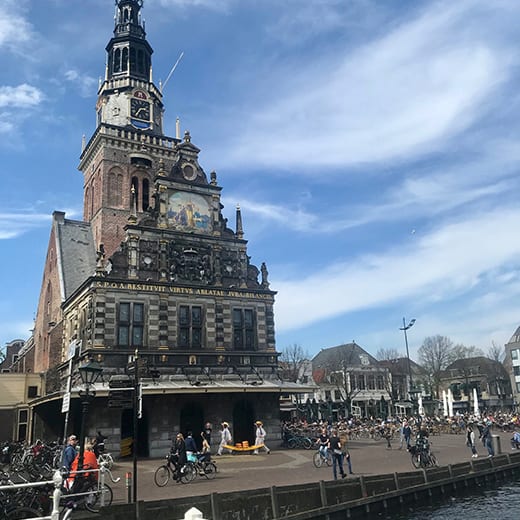 Left: A dazzling display of tulips in hot pinks and vibrant oranges at the Keukenhof gardens. Right: Alkmaar town hall populated with bicycles and (look closely!) two traditionally dressed cheese-sellers carrying vast cheese rounds on traditional wooden stretchers.
A road trip around the province will also give rise to many unique flower 'Wow!' moments. Bold stripes of blooms colour the horizon across a virtually flat landscape. We found ourselves pulling over on numerous occasions to take snaps and marvel at the scale and intensity of the vast flower fields – the peace, broken only by birdsong, the breeze and irrigation pumps spraying water from surrounding dykes and waterways.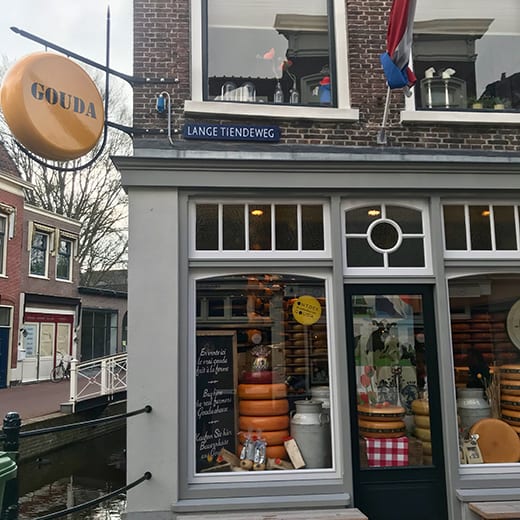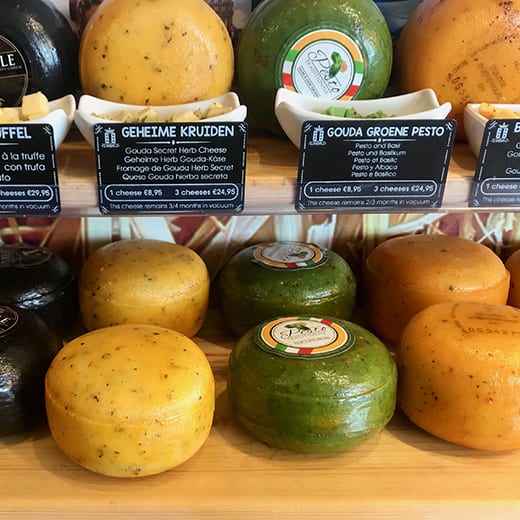 Above left & right: One of many fabulous cheese shops – t'Kaaswinkeltje in Gouda – we visited during our week-long trip. The truffle-flavoured Gouda was a particular hit with my husband, while, somewhat alamingly, my young son took a liking to the Heineken variety. These cheeses were on display at Gouds Kaashuis, also in Gouda.
Dutch Delicacies
Holland is known for it's delicious hard cheeses, which come in a surprising variety of flavours. Wonderful shops abound in most towns and particularly so in the namesake towns such as Gouda and Edam. Alkmaar, however, and the area to the north of the province is the centre of the cheese-making industry. The weekly spectacle of the cheese market, held in the town square. This involves locals in traditional costume carrying huge rounds of cheese – and the odd small child for fun – on traditional wooden stretchers, whilst buyers and sellers inspect the produce.
Another Dutch delicacy we tasted on our tour were decidedly moreish 'Siroopwaffels' or syrup waffles. The perfect accompaniment to a cup of coffee and a brilliant take home gift, we bought ours from Kamphuisen on the market square in Gouda, where you can also take a tour of the factory.
Dutch pancakes are another draw, especially for the kids. Our restaurant of choice – we visited two outposts during our trip – was Pancakes Amsterdam. The busy, bustling café style eateries offer cheerful service and a mouth-watering and inventive selection of sweet or savoury pancakes. Perfect for lunch or an afternoon, sweet treat.
In a similar vein delicious Dutch 'Poffertjes' or mini-pancakes are sold across the region from market stalls and cafés. these are especially moreish (and indulgent) with syrup and ice cream!
Lastly, traditional 'Kibbeling' (battered and fried fish nuggets), eel and soused herring eaten fresh from the quayside stalls were other culinary highlights, particularly for my husband and nine year old son, both avid tasters of foreign foods! The fish market stalls of Volendam did not disappoint. It's funny how seaside towns across northern Europe have so much in common, with their element of kitsch, seaside fayre and the sights and sounds – seagulls, seashore, salty air – common to all. And yet, this little fishing outpost, has a charm all of its own with its quaint rows of gabled houses exuding the Dutch vernacular. Definitely worth a wander.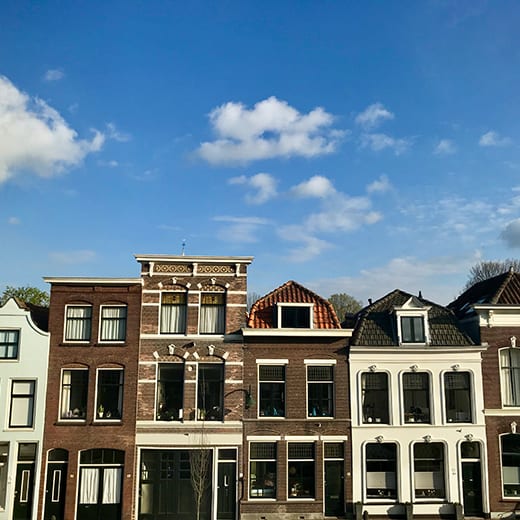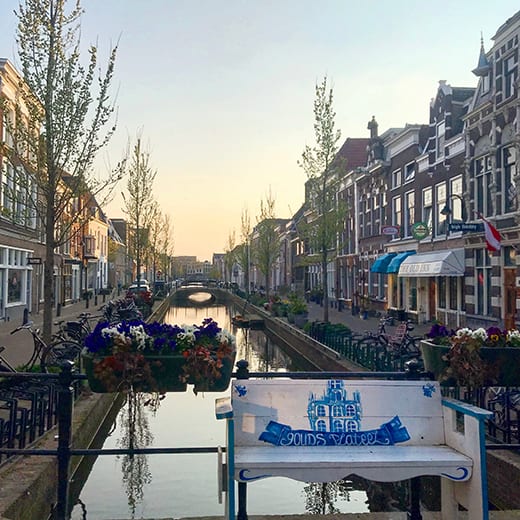 Left: The view across the canal from our Air Bn'B apartment in Gouda. Right: One of the many glorious waterways traversing the town.
Holland In The Spring – Towns & Cities
Alkmaar – the centre of the Dutch, cheese-making industry and worth a trip to see the Friday morning cheese market in full swing. On sunny, market days, the surrounding canal side streets are bustling with al fresco dining outside the numerous cafes and restaurants. There are some interesting shopping streets featuring pretty florists, quirky boutiques, design stores, antiques sellers and stylish, clothes outlets.
Amsterdam – the absolute highlight of my Dutch road trip. I decided I could quite happily move there. The exquisite architecture and the canal side setting is simply breathtaking. Elegance and cosmopolitanism abounds – I lost count of the number of enticing foreign eateries – and I just love the Dutch obsession with bicycles. Watch the kids carefully though, as hordes of cyclists rule the roads, rounding corners on their daily commute at break neck speed. Pedestrians come a distant second! Scroll down for more cultural and family-friendly activities in Amsterdam.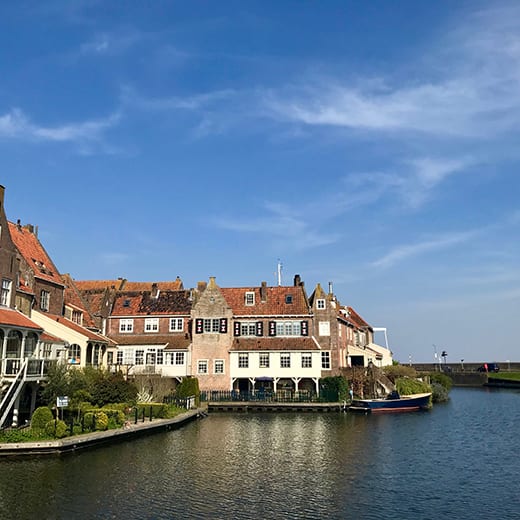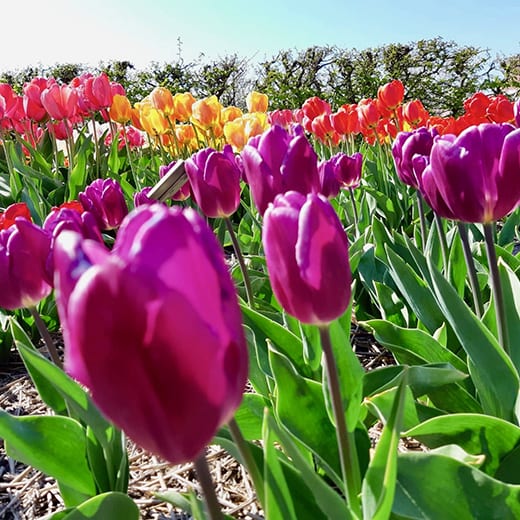 Left: The historic harbour town of Enkhuizen. Right: Tulips galore at Hortus Bulborum nurseries near Limmen.
Delft – The prettiest canal side town replete with a town centre windmill, a glorious market square and countless opportunities to buy the world-renowned blue and white porcelain. We visited during an antiques fair so were able to find some elegant examples at great prices. There is also a Vermeer museum, where I became a girl with not one but two, pearl earrings, courtesy of my husband!
Dordrecht – The first town we visited on our tour of Holland where explored waterside streets, roamed through the outdoor food market, dined in one of the many restaurant-lined squares and marvelled at the pretty residential streets with their elegant, gabled facades. Worth a lunch stop and a gentle stroll!
Enkhuizen – A picturesque harbour town and water sports centre, Enkhuizen has a rich history as a prosperous, trading town due to its former links with the Dutch East India Company. A stroll around its quiet, canals and residential streets reveals historic buildings, charming villas and pretty churches. Delve deeper into the town's past with a visit to the Zuiderzee folk and heritage museum. Alternatively, buy an ice cream, perch on the harbour wall and watch the comings and goings on the water.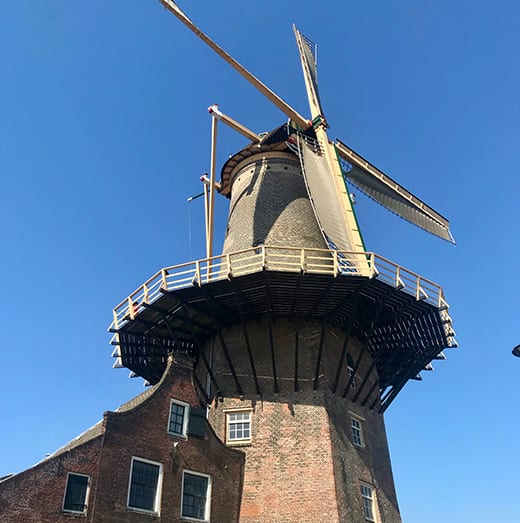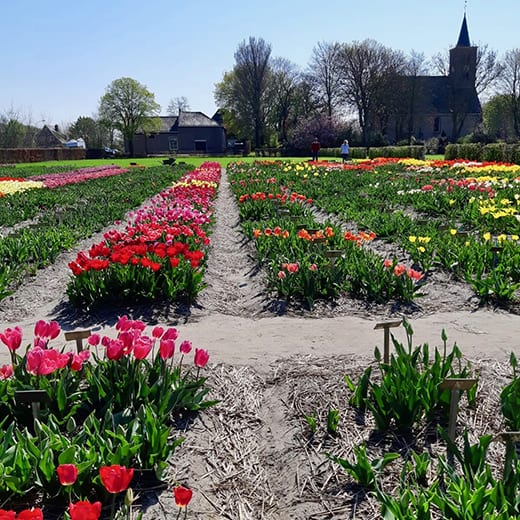 Left: A towering windmill in one of the squares surrounding the canal quarter of beautiful Delft. Right: Row upon row of glorious blooms at peaceful Hortus Bulborum nurseries near Limmen.
Gouda – We based ourselves here for a couple of nights in a charming Air Bn'B apartment. The town centre itself is relatively compact but with plenty of diversions – a delight to explore on foot. Visit cheese shops, take a coffee on the market square, wander around the perimeter on canal side streets or visit the museums and waffle factories.
Haarlem – My favourite town after Amsterdam. A brilliant place to shop for gifts and stylish souvenirs as well as fashion, homewares and local foods. The skyline is dominated by the imposing Grote Kerk or St.Bavokerk in the central market square. All the main squares and shopping streets lead off it. Suitably spent, drop your shopping bags and grab a coffee or lunch outside the stylish, centrally-located ML hotel to take in the scenery.
Volendam – A small fishing outpost near Edam on the Markermeer lake which runs into the Ijsselmeer lake beyond. Quaint, kitsch and a must for tasting fresh fish and Dutch mini-pancakes in the bracing sea air.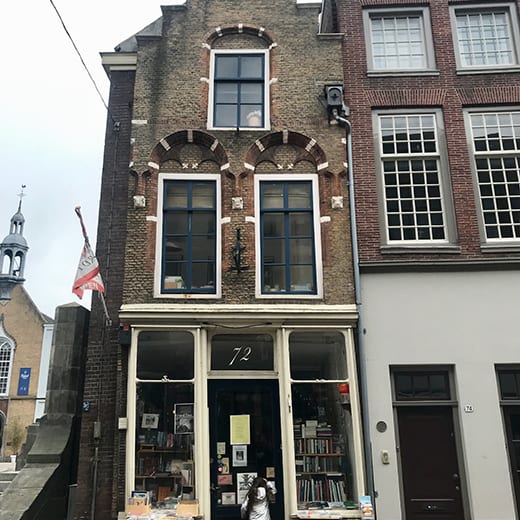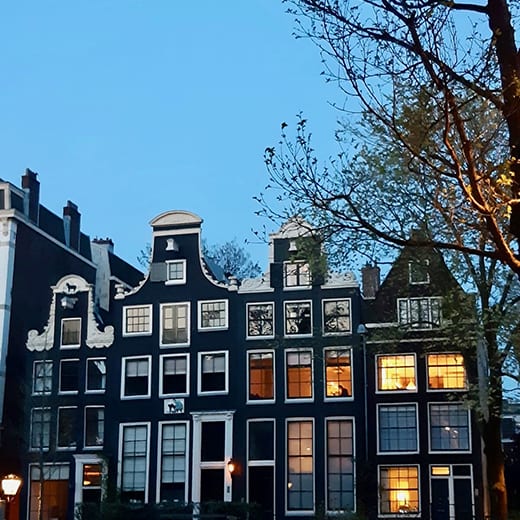 Left: A small in a silver coat – belonging to us – peers through the window of the narrowest, wonkiest bookshop we have ever seen. Right: The elegant silhouettes of Amsterdam's canal house facades at dusk.
Kid-Centric Culture
Activities abound, but our highlights, beyond what we have already mentioned, include:
A trip to Kinderdijk. We visited this incredible landscape with family who lived near Rotterdam. The area is dotted with nineteen iconic, 18th century windmills. These are all part of an extensive water management network that includes dykes and reservoirs to control flooding in the low-lying lands or 'polder'. Spread across the landscape are numerous waterways, footpaths and cycling trails with access to a visitor centre with shops and cafes nearby.
Exploring Amsterdam on foot was a visual feast for the kids. Ever-more inventive bicycles ridden by busy mums ferrying gaggles of kids to and fro; street entertainers on every corner; the bustling waterways; quirky toy shops; old fashioned sweet emporiums; and the raft of kid-friendly, boutique museums. At a safe distance from Amsterdam's red light district De Wallen, the streets to explore are Prinsengracht, Kerkstraat, Keizersgracht and Herengracht plus those fanning off to the left and right of these streets as you look at a map of the city. Don't forget to explore the quieter streets of the old Jewish quarter or 'Jordaan' district and look out for the charming 'Mouse Mansion' shop, which celebrates the children's books of the same name by the author Karina Schaapman.
A pleasant, informative open top boat trip around the canals of Amsterdam was another big hit. We picked a boat with an enthusiastic local guide (and an on board bar service!)
Described as an immersive 5D flight experience, 'This Is Holland' is a soaring indoor ride charting the cultural history of Holland through sound and visual effects projected onto screens within a huge domed space. Hop on a shuttle ferry from Amsterdam central station to reach this iconic, circular building.
There were some major omissions from our packed, week-long itinerary to Holland in the Spring. We plan to return soon to remedy this. First, our youngest was not quite up to riding her own bicycle this time around, so hiring individual bicycles in the countryside will be one of the first things we'll do on our next visit. The are numerous places to hire bicycles both in the towns and rural areas. Holland.com is a brilliant resource for cycle tours and where to hire, alongside everything else Holland has to offer. Second, a trip to Efteling in the south of the province. A fairytale theme park/resort which, by all accounts, entrances and delights kids and adults alike. In addition, the world-renowned Madurodam near The Hague – essentially Holland in miniature – would also feature. A visit to the Ann Frank Museum in Amsterdam, when the kids are a little older, is also on our list (essential to book this one well in advance of your trip). And, finally, exploring the coastal towns and regions of Holland especially Zeeland in the south and the wide, open beaches of the Wadden Sea islands in the north, which team with wildlife. Again, browse the imagery and information on Holland.com to get you started.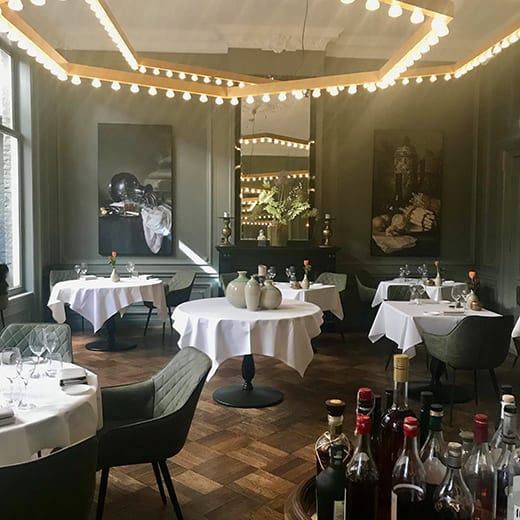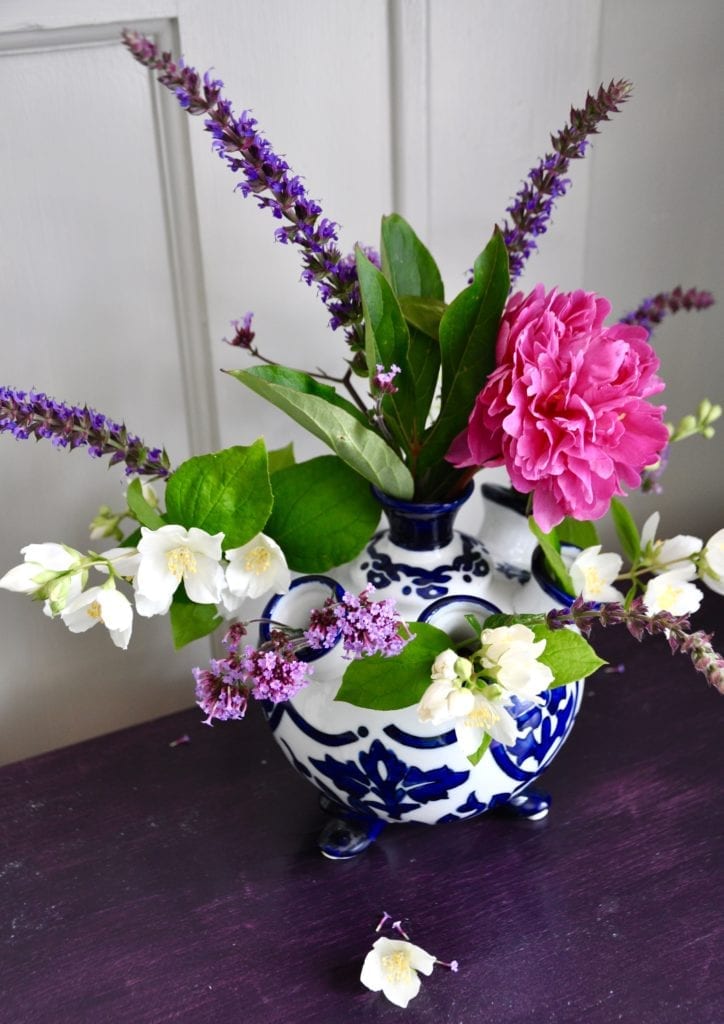 Left: The elegant dining room decor of the ML Hotel in Haarlem references the still life paintings of the Dutch Masters with a modern twist. Right: One of the pretty Dutch-inspired tulip vases we brought home from our trip.
Design Heritage
Think of The Netherlands from a culturally aesthetic point of view and three things spring to mind. Blue and white Delftware, still life paintings in the tradition of the Old Dutch Masters and the elegant architectural heritage of Amsterdam.
I've waxed lyrical about the captivating architecture of all the Dutch towns we visited, not least the imposing facades of Amsterdam's canal houses. We learned more about these supremely elegant buildings on our informative open top boat tour of the city, something we have already recommended.
Given we were exploring Holland in the Spring en famille, the chance to ponder and linger long in the great halls and corridors of the Rijksmuseum in Amsterdam or the Mauritshuis in The Hague were not an option – although I understand the former at least has some brilliant, interactive activities for children.
I was, however, able to indulge my love of blue and white ceramics. A delightful afternoon was had at the aforementioned antiques market lining the pretty canals of Delft – ice-cream in hand. Browsing hand-painted Delft Blue earthenware from the centuries old Royal Delft factory and hand-painted Delftware from De Delftse Pauw, now part of pottery brand Heinen Delfts Blauw, in ceramics boutiques across the region was a joy. I was particularly enamoured of their directional, modern ceramics ranges – often the result of collaborations with young Dutch designers.
Similarly, we've also long been fans of Dutch design brand Moooi. The brand's fresh, stylish take on Dutch blue and white ceramics caught our eye while exploring their vast and quirky design emporium in Amsterdam. Another design boutique for lovers of the avant-garde, showcasing the work of a number of Dutch designers and well worth a visit is The Frozen Fountain.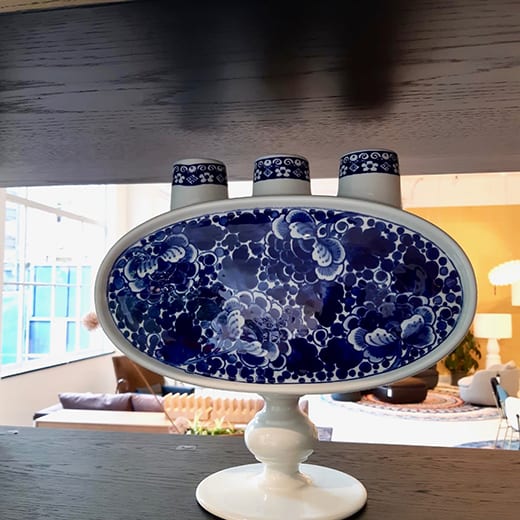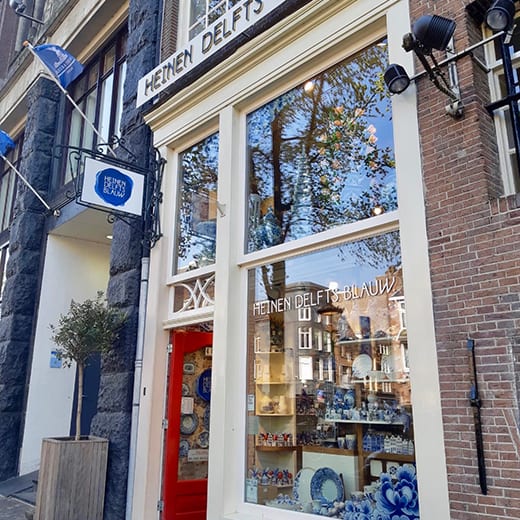 Left: Moooi's super-modern take on traditional Dutch tulip vases in their achingly cool Amsterdam furniture & accessories showroom. The Heinen Delft's Blauw shop in Amsterdam is one of the country's few flagship blue and white ceramics producers.
Holland In The Spring – In conclusion…
If you're looking for a cultural experience in tandem with activities for kids, Holland in the Spring is a brilliant choice. Head there in March, April or May post-pandemic to see the floral landscapes at their best. No flight required and easy access via the Channel Tunnel or by car ferry to Calais. The drive up to the Dutch border from France through Belgium is straightforward and quick. All you need to do is plan your itinerary and choose your accommodation. A little time on your hands is all you need. No excuses!
A note about the author.
Telescope Style's focus is and will always be travel infused interiors and 'destination-inspired design'. However, generic blog features relating to cultural travel experiences are relevant to all. My creative head, background as an interiors magazine journalist (read more here) and obsession with cultural aesthetics the world over leads me to shout about places I have lived, loved and travelled and how these might inspire your own, future travel plans…I hope you find our travel blogs of interest. Sign up below for more of the same!
Annabel Smith, Telescope Style
FOLLOW US/GET IN TOUCH!