Red Living Room Inspired By Painted Temple Gates
---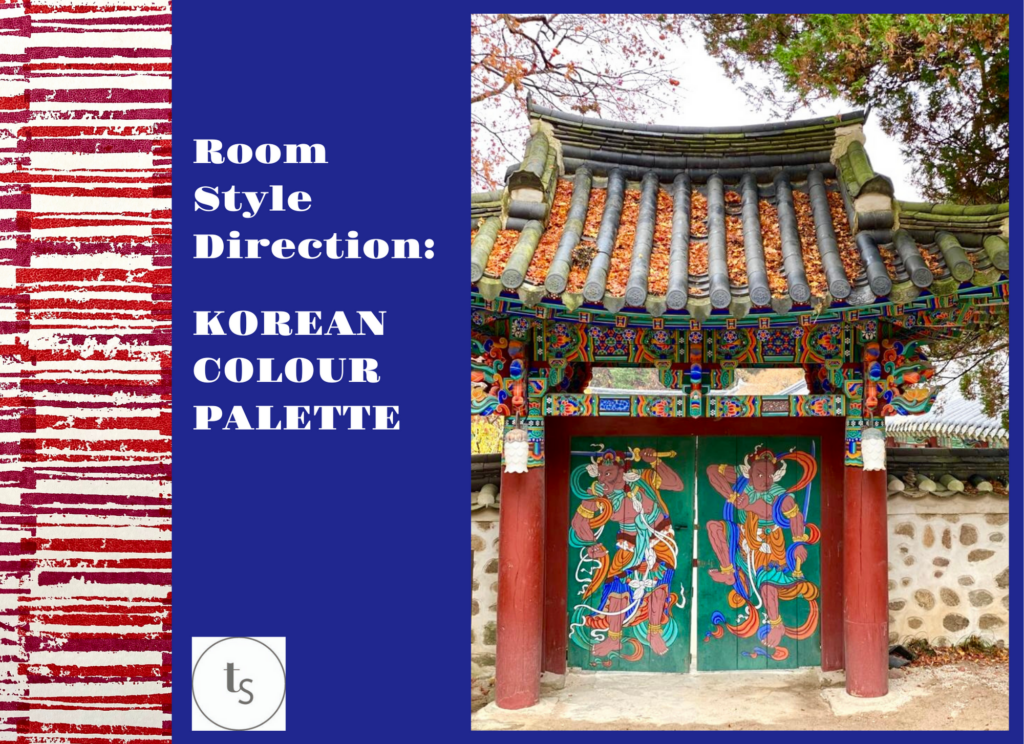 So, what are 'Room Style Directions?' Take your cue from any global style and juxtapose authentic elements of pattern, colour and form with sleek, modern shapes and materials. Whether your budget stretches to designer pieces or thrift shopping rules – take colour and style inspiration following the pointers below for a look that is directional, full of personality and won't date.
IDEAS FOR A Red Living Room SCHEME
Get The Look: 'Korean Colour Palette'
Snapped in South Korea, this glorious, painted temple gate inspired some striking and original red living room ideas. We assembled a vibrant, uplifting living space that zings with culturally-infused colour & pattern.
1. RED living room ideas. be confident with colour.
Unexpected colour combinations have impact. You know this will work – just take a look at your inspiration shot above! Don't be afraid to mix reds: brick with rust with scarlet. Cool down hot hues with the rule we regularly break – blue and green should never, no…ALWAYS be seen! Then add tonal shades for depth: sky and Royal blue; emerald and lime green.
2. design your backdrop
First, create a cocooning, richly-coloured 'shell' – the backdrop to your room scheme. Opt for dark, ebony-hued wooden flooring or, if you're lucky enough to have original parquet, create glow with a rich, warm-hued wood stain. Next, paint smart panelling to dado height in a dusky, brick-hued shade similar to that shown on the mood board above – something like Ashes Of Roses from Little Greene. Then, hang the Asian-inspired, red, duo-tone wallpaper above. The scale is perfect for colourful expanses of wall with depth and interest.
3. balance colour proportion
Having set the scene, focus on big ticket items such as upholstery and 'case' or storage furniture. Layering textures in a room scheme is always essential, so a tactile velvet that catches the light in an intense, rust colour way provides pleasing contrast on a sumptuous sofa. Stick to pale, neutral shades and natural materials for additional furniture such as armchairs, coffee tables, sideboards and shelving. These might include scrubbed or white-washed wood finishes, brass, cream wool or linen upholstery.
4. introduce patttern accents
Now it's time to accessorise your red living room ideas with cooler, fresher colours. Until now the intensity of the reds may have felt overwhelming, but hold your nerve! Decorative schemes always come together once the scene is set and the main elements are in place. Add in a rug. Large-scale pattern underfoot is a great way to anchor a scheme. We chose a lattice design Indian flatweave rug. Then, introduce blue and white Asian ceramics, hand-printed linen and silk Ikat cushions in red, green and blue. Thai silk photograph frames complete the look.
Red living room ideas pictured above, clockwise from top left:
Author: Annabel Smith
And finally…
If this feature has been helpful or has inspired you – we'd LOVE you to share the link with any interiors-loving pals via your social channels below. We'd love it EVEN MORE if you signed up to our newsletter below for modern eclectic room scheme inspiration, new-in products to our curated edit and subscriber-only discounts! Thanks for reading and have a lovely day.