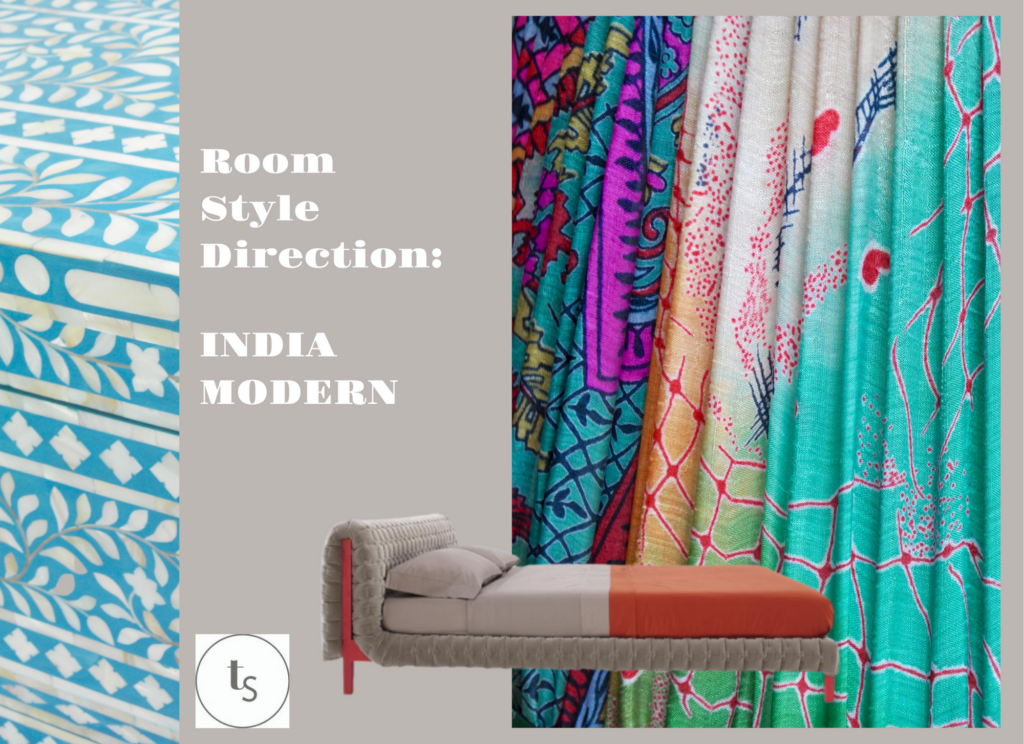 Take your cue from any global style and juxtapose authentic elements of pattern, colour and form with sleek, modern shapes and materials. Whether your budget stretches to designer pieces or thrift shopping rules – take colour and style inspiration following the pointers below for a look that is directional, full of personality and won't date.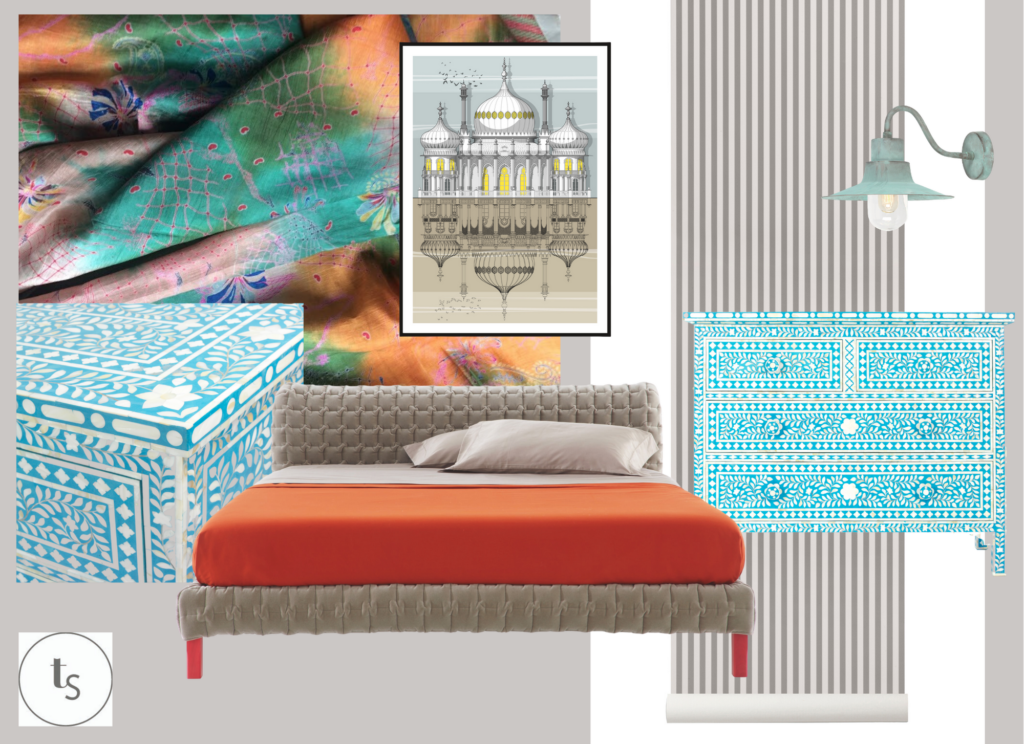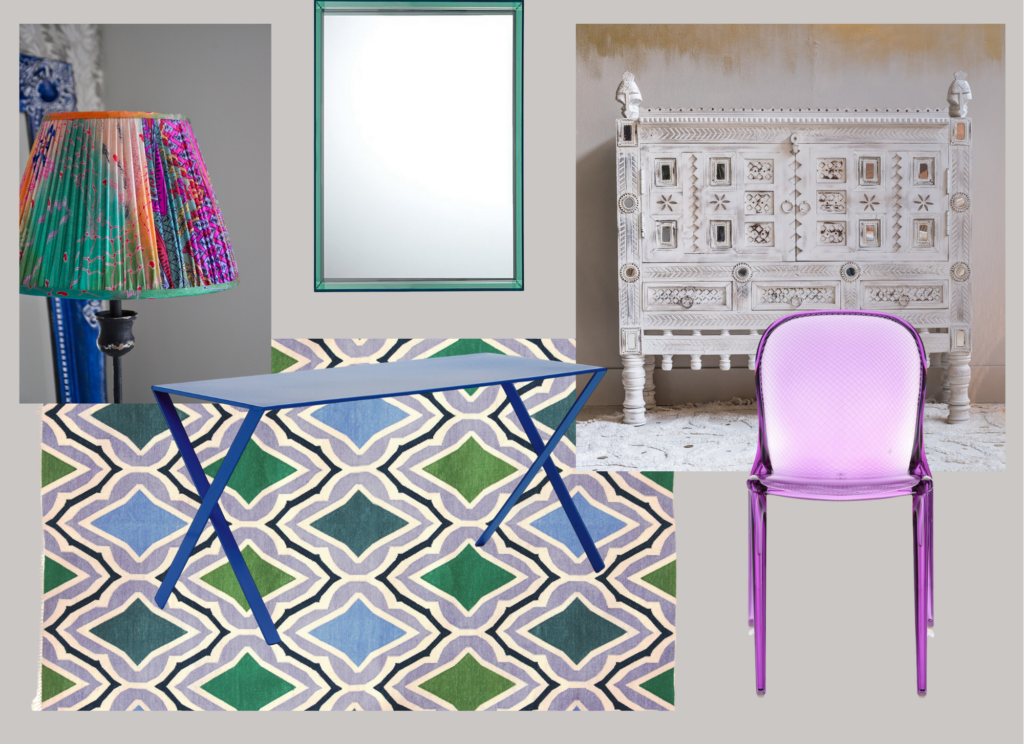 INDIA-INSPIRED BEDROOM SCHEME
Get The Look: 'India Modern'
Transport yourself to Rajasthan with this fresh, vibrant take on an Indian style bedroom. Plentiful pattern, colour that pops and an eclectic mix of rustic and modern furniture and accessories. An India-inspired scheme without the clichés…
1. take inspiration from textiles when choosing colours
The Indian continent is rich in colour and cultural heritage when it comes to picking a palette for your room scheme. Your starting point could be a favourite textile bought on your travels, or perhaps search online for the perfect colour combination by browsing printed silks, colour-blocked cottons, and woven dhurries. Our inspiration for this room scheme came from the vibrantly-hued, vintage, silk saree fabric used to create the pleated lampshade for the dressing table.
2. ADD textural contrast and authentic, rustic looks
There is always room for a suitably-aged item of Indian storage furniture, in any room scheme. Opt for a decorative whitewashed sideboard if neutrals are your thing or go bold with a colourful, painted cupboard. Etsy is a great source of vintage Indian furniture or search online for specialist dealers. The trick is to team with a super-modern mirror or sleek, modern lamp for that all-important style clash.
3. switch things up with clean-lined, modern designs for a fresh, directional feel
Here's where the look really comes into its own. Mix clean-lined, modern silhouettes with tactile, gathered silks; colourful transparent polycarbonate with craft-made, bone-inlay furniture; chic, neutral stripes with a riot of decorative pattern; and, finally, add architectural artwork depicting the vernacular style, but with a decidedly modern vibe.
4. have fun assembling your scheme. choose furniture and accessories you truly love.
The colour palette assembled here is direct from Rajasthan in northern India. A pretty, feminine take on Indian style bedroom with soft, blues and greens punctuated by hot pinks and orange: colours reminiscent of flowing sarees and spice markets, colourful festivals and vibrant architecture. But this eclectic. layered mix will translate into any colour scheme, even a palette of neutrals.
My top takeaways from this Indian style bedroom feature? Balance colours carefully so bold accents pop against neutral-hued backdrops. Remember that textural layering is king. And finally, add contrast wherever you can in terms of style, form and material. Go forth and decorate!
Pictured on our Indian style bedroom mood board above:
Author: Annabel Smith
And finally…
If this feature has been helpful or has inspired you – we'd LOVE you to share the link with any interiors-loving pals via your social channels below. We'd love it EVEN MORE if you signed up to our newsletter below for modern eclectic room scheme inspiration, new-in products to our curated edit and subscriber-only discounts! Thanks for reading and have a lovely day.