Introduction
British textile design studio Rapture & Wright has become known for its eclectic range of hand-printed wallpapers and home furnishing fabrics in a beautifully nuanced colour palette. We chatted to the creative duo behind the brand and visited (pre-lockdown!) their recently-built, wonderfully-rural and environmentally-responsible printworks and design studio.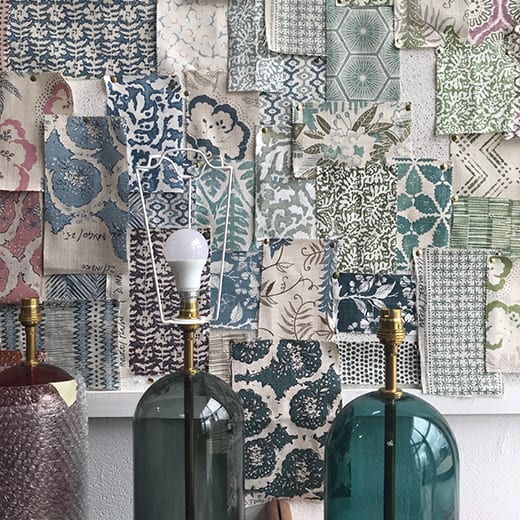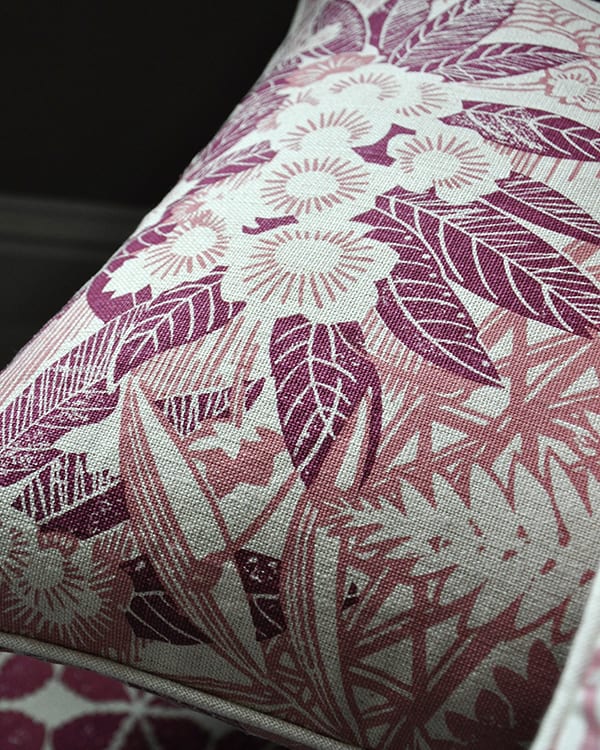 Left: A selection of hand-blown, glass lamp bases, available to order from the design studio, in front of an inspiring, colour-themed, cuttings board at the Rapture & Wright showroom in the Cotswolds. Right: A detail of 'Webb's Wonder' hand-printed linen, made up into a smart, piped cushion in the pretty 'Raspberry' colour way available to order here.
What was the motivation and ethos behind the Rapture & Wright brand and when was it set up?
The Rapture & Wright brand was founded in 2004 by Peter Thwaites & Rebecca Aird. One of a handful of British, artisan studios at the time still hand-printing original fabric and wallpaper designs. Its founders' principal motivation was to preserve and promote this age-old art, as well as explore their own unique design styles. Since that time, an elegant and expanding range of original prints – realised in a carefully-considered colour palette – have been inspired by pattern fragments, styles and aesthetics from across the globe as well as closer to home.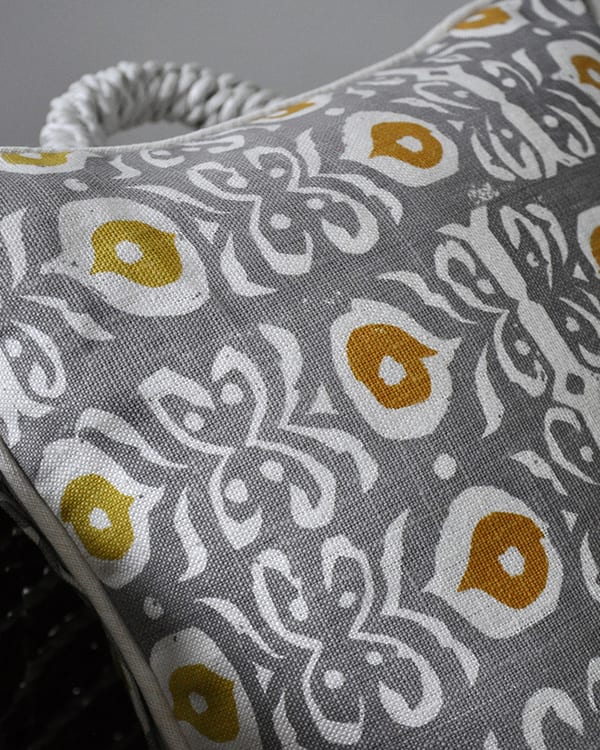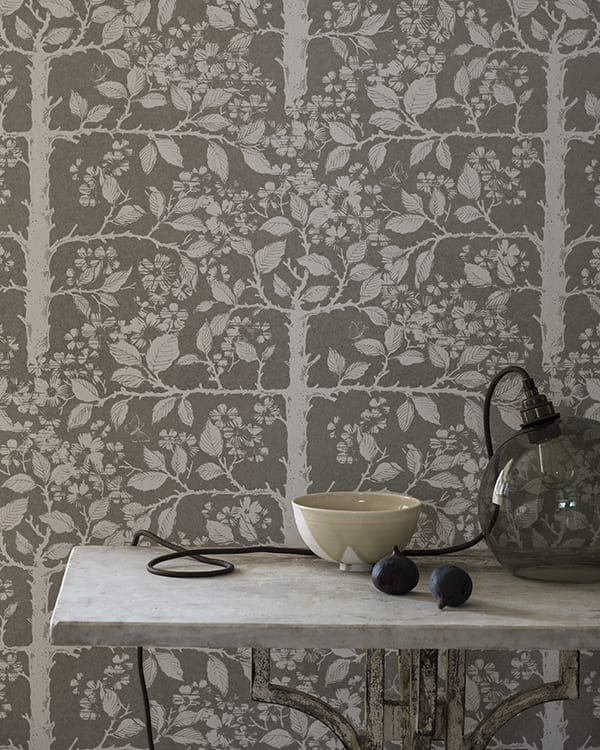 Left: Detail of the 'Iznik fabric in 'Smoke' grey, made up into an elegant, rectangular cushion, perfect for statement armchairs. Right: 'Walled Garden' wallpaper, shown here in 'Ash' grey, represents 'a playful riff on William Morris's well-known 'Trellis' design'. The wallpaper showcases the distinctive, graphic silhouettes of espaliered fruit trees in the gardens of a Sussex Arts & Crafts house, for which Rapture & Wright designed a collection of contemporary textiles. The wallpaper is available in a number of colour ways through us here and also as a fabric by the metre through the Rapture & Wright studio.
What makes hand-printed wallpapers and furnishing fabrics such a special addition to an interior scheme?
'Seeing 'the hand of the maker' in the finished product,' suggests Peter 'is one of the key reasons why the hand-printing process holds such great appeal, both for the creator but also for interior designers and, of course, the owner of the finished interior too.'
We couldn't agree more. The nuanced gradations of depth and colour and the subtle pattern variations, for us, represent the 'perfect in the imperfect'. Something that is not always possible to achieve with mass production techniques. Hand-printing also allows Rebecca and Peter to nimbly adapt age-old techniques in clever ways to create beautiful fabrics and wallpapers with a classic yet contemporary feel.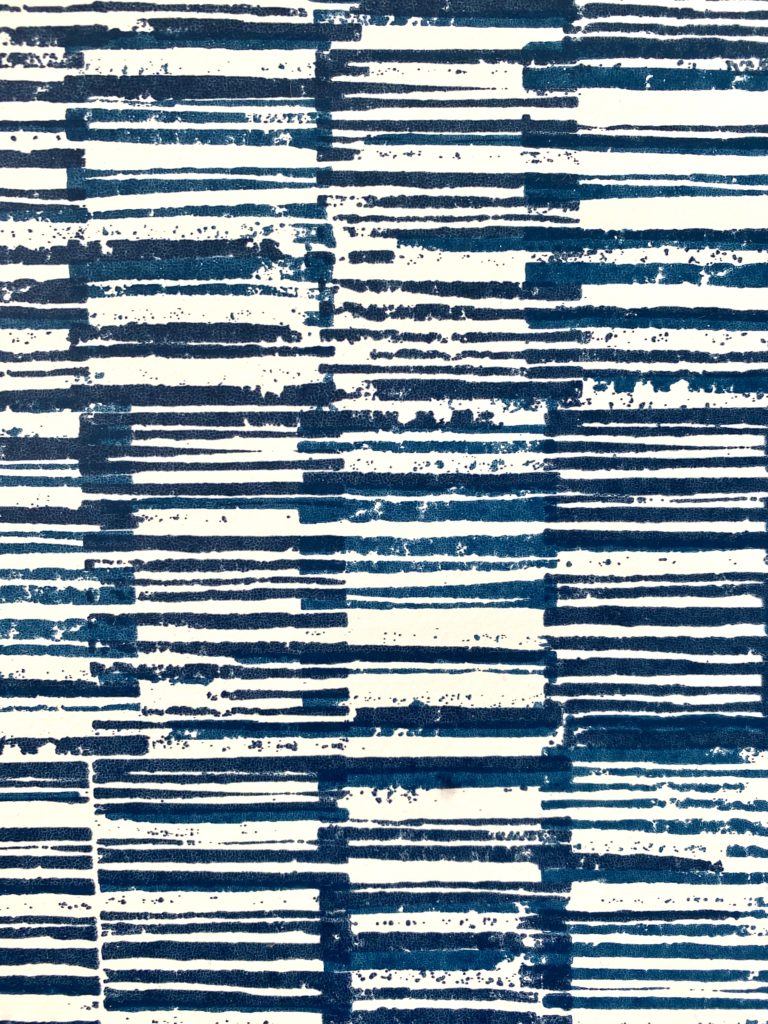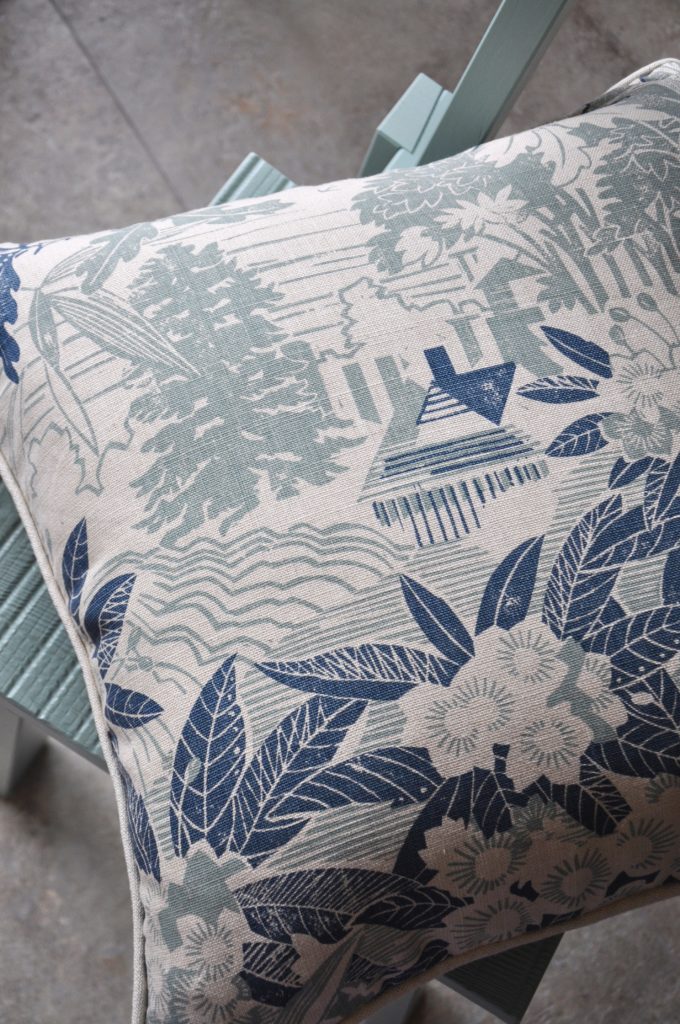 Left: A close-up shot of the 'Sakori' wallpaper in an 'Indigo' colour way. The design was inspired by an 18th century Japanese textile and translated from a simple lino cut made at the Rapture & Wright studio. Its subtle, two-tone design is realised in a very useful scale – neither too small nor too large – so adds all-over colour with interest and depth, without overwhelming (see the product page for styled shots illustrating pattern scale). The wallpaper is available in a number of colourways, as too are a selection of ready-made cushions here. Fabric by the metre is available from Rapture & Wright direct. Right: 'Webb's Wonder' in a soft blue colour way on hand-printed linen, made up into a cushion and available to buy online here.
Where do you draw your inspiration for new designs and collections?
'Although our design influences are wide-ranging,' says Peter 'I myself am particularly drawn to 1940s French interior style: the work of interior designer, Jean-Michel Frank for example and his luxe, minimalist look. The artworks of Jean Cocteau and Christian Bérard also hold great appeal. When I'm in London, the David Gill Gallery is an inspiring draw, amongst other influential galleries and design institutions. I would also happily while away hours at the National Art Library housed within the Victoria & Albert Museum's historic reading rooms.'
Undoubtedly, there is an element of the Arts & Crafts ethos within the brand's collections, mainly in terms of their artisanal approach and the importance of the 'hand of the maker' being evidenced with the finished textiles.
'Instagram is a useful research tool,' says Peter, 'but travel in particular, has always provided us with the greatest inspiration.'
Peter and Rebecca have visited Japan, North Africa and the Middle East together and re-worked motifs and influences from these regions can be found within their fabric and wallpaper ranges. As keen surfers, the Cornish landscape, the Scottish & French Atlantic coasts – especially around Biarritz – as well as California and Hawaii – are all destinations the pair enjoy visiting.
'The rural landscape and countryside surrounding our base in the Cotswolds,' adds Peter 'is another constant source of creative inspiration and delight.'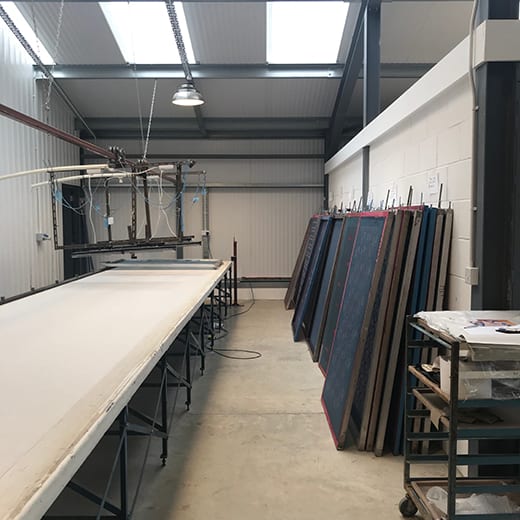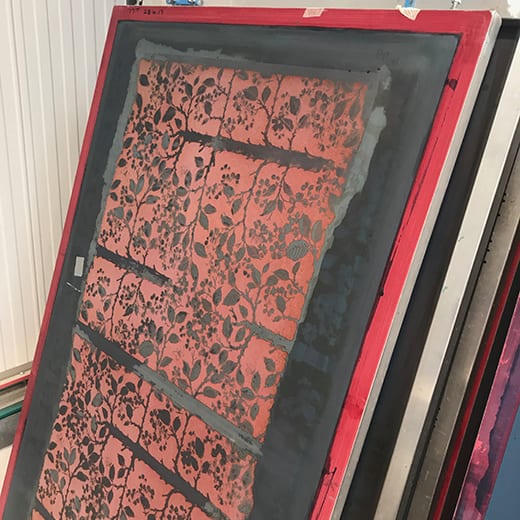 Left: Hand-printing screens ready for use and stacked up alongside the long, printing table at the newly-built Rapture & Wright printworks in the Cotswolds. Right: A close-up image of the printing screen used to create the 'Walled Garden' design.
Which have been some of your most exciting or intriguing projects to date?
'One of our most rewarding projects to date was the creation of a number of bespoke textile designs as part of a major refurbishment project at an Arts & Crafts house in rural Sussex,' Rebecca tells me. 'We have since integrated these designs into our collection both as hand-printed wallpapers and linens, in a variety of different colour ways.'
The Arts & Crafts house, with its distinctive gable ends, was originally designed in 1896 by the architect Philip Webb and sits in idyllic gardens and countryside. Stylistic cues were provided by the original interior decor, much of which was was undertaken by stalwarts of the Arts & Crafts era, including William Morris. The designs 'Gable End', 'Webb's Wonder' and 'Walled Garden' pay homage both to the architecture, the history of the house and its sylvan setting.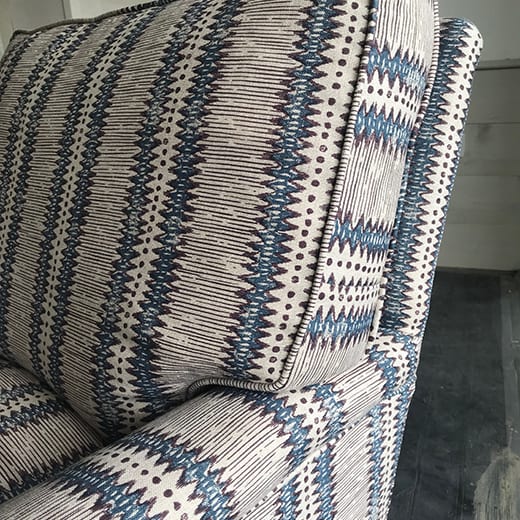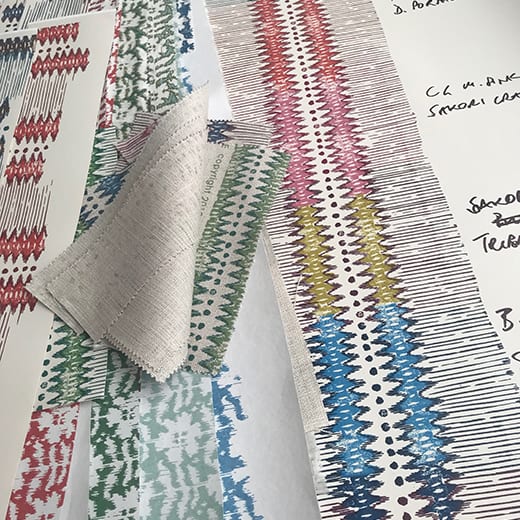 Left: One of the brand's more recent textile designs is 'Tribal Stripe' seen here on this smartly-upholstered armchair. The design is available both as a fabric, a wallpaper and as ready-made, piped cushions through us here. Right: As well as considering their practical applications, a great deal of time is spent experimenting with eye-catching, original colour combinations. These can be muted and quiet or striking and bold by turns.
What environmental considerations have you addressed with regards to the hand-printing process?
'With the construction of our new print works in the Cotswolds countryside,' explains Rebecca, 'environmental considerations were front and centre. Waste water from the various printing processes is purified using a tiered, natural system of planted water-beds. Plants grown in the pools that are used to slowly filter and purify the run off water, also contribute to the local eco-system by creating wildlife habitats and attracting a diverse range of insects.'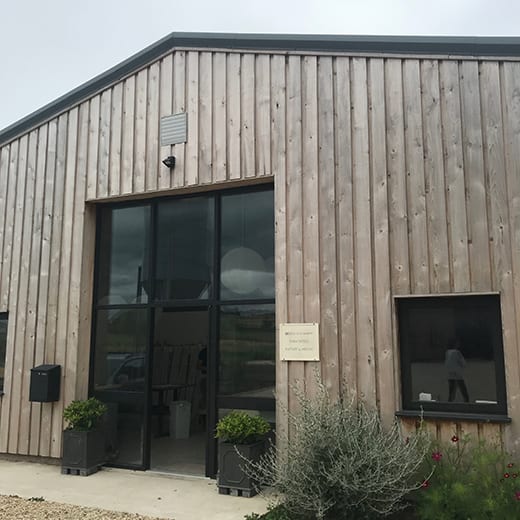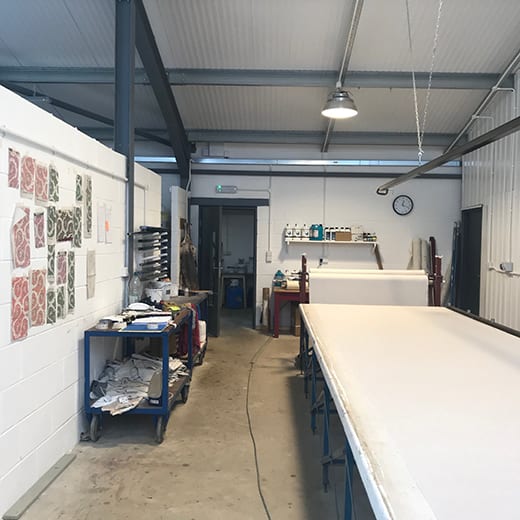 Left: The smart, new printing facility, showroom and studio in the Cotswolds countryside. Right: One of the long printing tables where the hand-screen-printng is carried out.
What about bespoke colour options?
'The beauty of the hand-screen-printing process is that we are able to offer our fabric designs in bespoke colour ways.' explains Peter. 'These are selected by customers from our extensive range of standard and neutral colours. We send out 'dab' samples so you can see how the colours will work on your chosen base cloth. We also offer custom colour mixing, which works particularly well for interior designers looking for something unique and ordering meterage in quantity, for residential or commercial projects.' he adds. 'For bespoke and custom colour fabrics and wallpapers, we also provide a 'strike off' sample service so you can see how the pattern reads in your chosen colours.'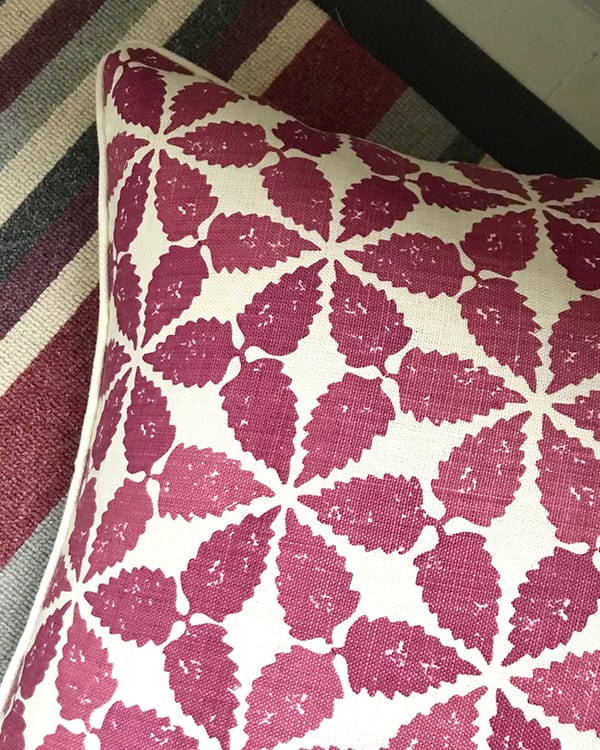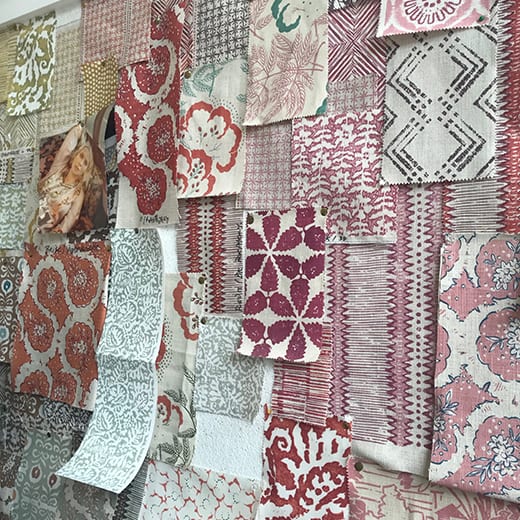 Left: A smartly-piped, handmade cushion in the 'Maroc' hand-printed linen in 'Cranberry' available here. The pattern takes its inspiration from tiled decoration in a Fez courtyard. Right: More colour palette and design scheme inspiration by way of cuttings boards at the Rapture & Wright studio.
Your brand is known for its elegant, nuanced colour palette? How do you arrive at your final colourways?
'Many of our prints are designed to work alongside others within the collection.' Rebecca explains. 'Therefore, as well as opting for what we feel are unique colour combinations that work well, we keep in mind their practical application too. How two designs might combine within a single room scheme, for example. A variety of pattern scales is key when thinking about how the fabrics and wallpapers might complement one another. We try to balance pictorial designs or all-over patterns with smaller scale designs, larger statement prints and stripes.'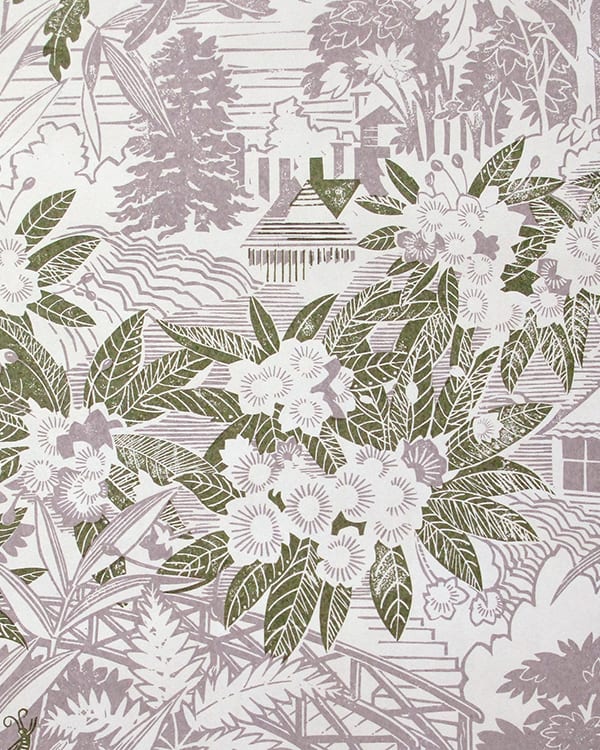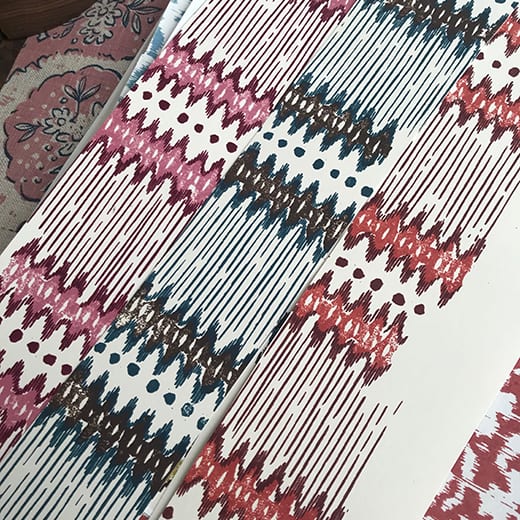 Left: Arts & Crafts inspired 'Webb's Wonder' wallpaper in 'Lilac grey'. Right: 'Tribal Stripe' wallpaper cuttings in a variety of colour ways.
Why are hand-printed fabrics and wallpapers sold by the metre? Do you sell ready-made cushions?
'We offer our fabrics and wallpapers by the metre, mainly due to the nature of the hand-printing process. The minimum order for fabrics in standard, house colour ways is 2 metres. Wallpapers are also sold by the metre with a minimum order of 2 x 5m lengths. After that, we are able to print exactly as little or as much as you need for your project.' explains Rebecca.
The brands sells a range of ready made cushions with pretty, decorative trims in some of their most popular designs on the Rapture & Wright website. Alternatively, you can order the cushions in two sizes with simple, piped trims through Telescope Style here.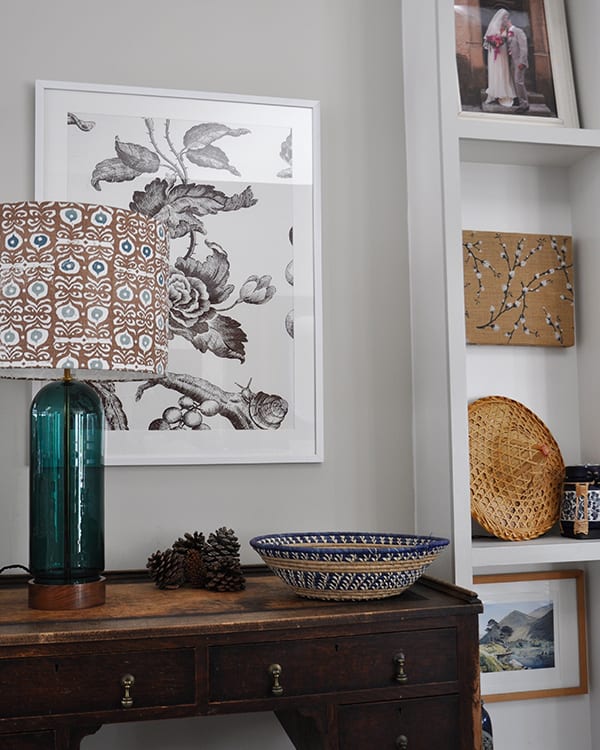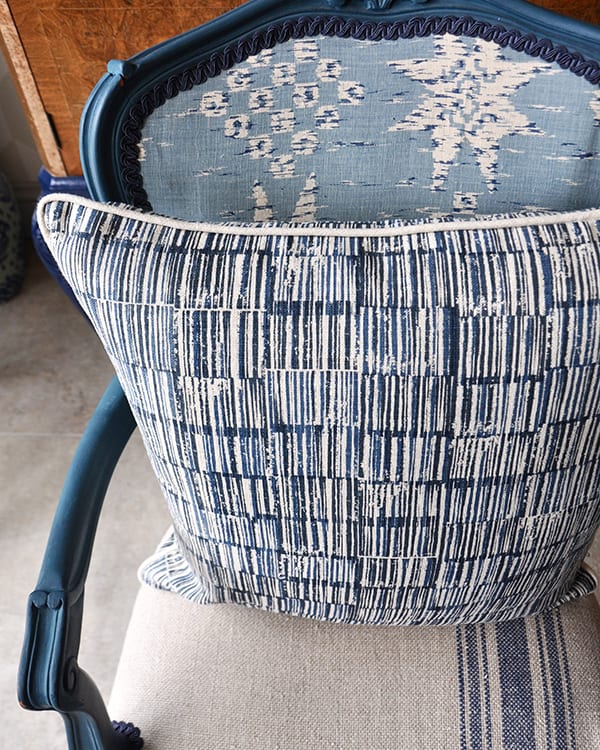 Left: The striking, 'Iznik' print in 'Cinnamon' used on a large, drum lampshade and available made-to-order through Telescope Style. Rapture & Wright also sell an elegant range of hand-blown, coloured-glass lighting, which includes this smart, teal and wood table lamp. Right: A close-up image of the piped 'Sakori' cushion in the 'Indigo' colour way. This Japanese-inspired print comes off the roll as a horizontal pattern, however here, the cushion has been styled to sit vertically.
Your hand-printed wallpapers are described as 'untrimmed' wallpapers. What does this mean and does this affect how they are hung?
'Yes, it does' says Rebecca. 'Untrimmed means that the wallpapers come with a plain paper margin either side of the wallpaper pattern which will need to be trimmed. For this reason, our wallpapers are best hung by experienced professional decorators in order to ensure the perfect result' suggests Rebecca. 'However, you should always check that you have enough wallpaper to paper the area required and that the wallpaper has come from the same batch for colour consistency, prior to your decorating professional commencing any wallpapering. As our hand-printed wallpapers are non-woven, the wallpaper paste is applied to the walls – not the paper – and care should be taken to avoid creases, prior to hanging. The wallpaper section on the Rapture & Wright website contains lots of useful advice as well as hanging instructions for your decorating professional to refer to as necessary.' adds Rebecca.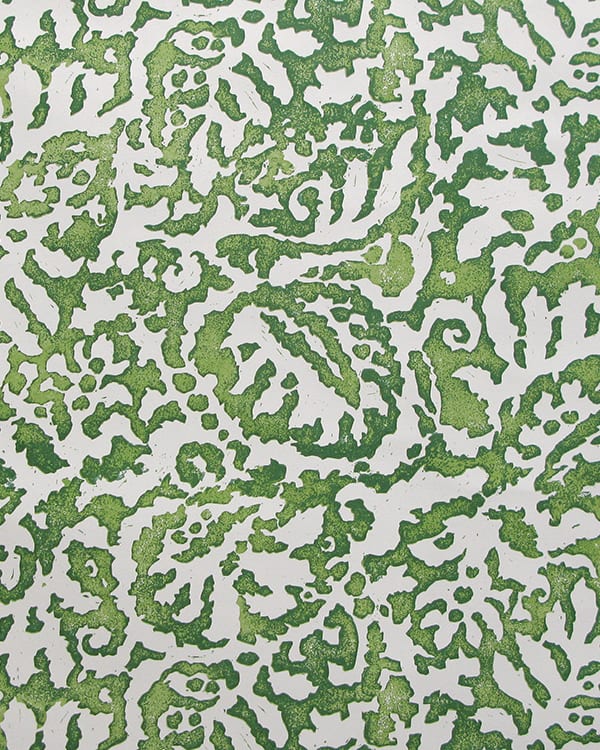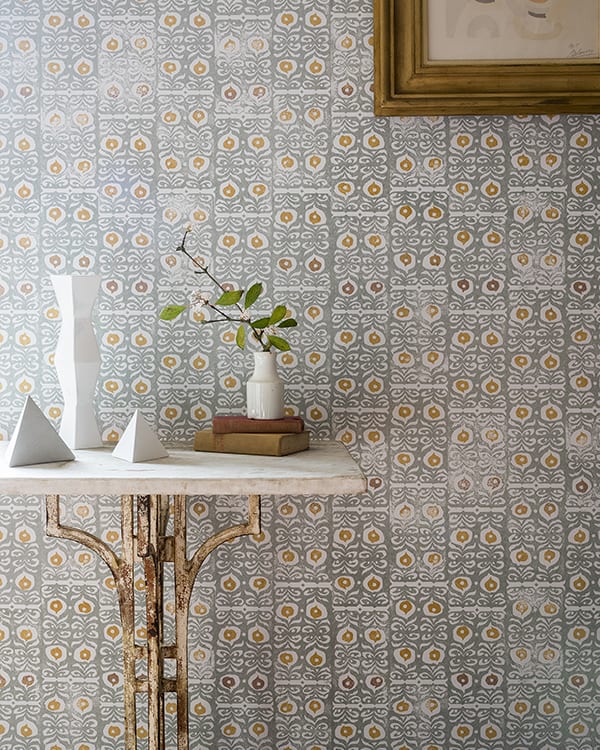 Left: 'Majolica' wallpaper in 'Palm' – a large-scale, block-print design inspired by naive decoration on 15th-century, tin-glazed pottery, hand-printed onto linen or non-woven paper in 10 standard colour ways. Right: 'Iznik' wallpaper in the cool, calm 'Celadon' colour way.
Are you able to provide fabric and wallpaper samples?
'Yes, absolutely.' answers Peter. 'We always recommend requesting a fabric cutting as colours sometimes render differently on different devices or monitors when viewing online. It's such a useful tool for assembling a room scheme and allows you to check for colour, scale and also suitability for the type of application you have in mind.'
'We send out standard cuttings of both our fabric and wallpaper ranges, as well as returnable samples so you can see a larger section of pattern. As mentioned previously, we can also send customers 'dab' samples and larger 'strike offs' for bespoke and custom colour ways or print orders using cuttings for approval, whereby we ensure the printed meterage is a close match to an approved cutting'.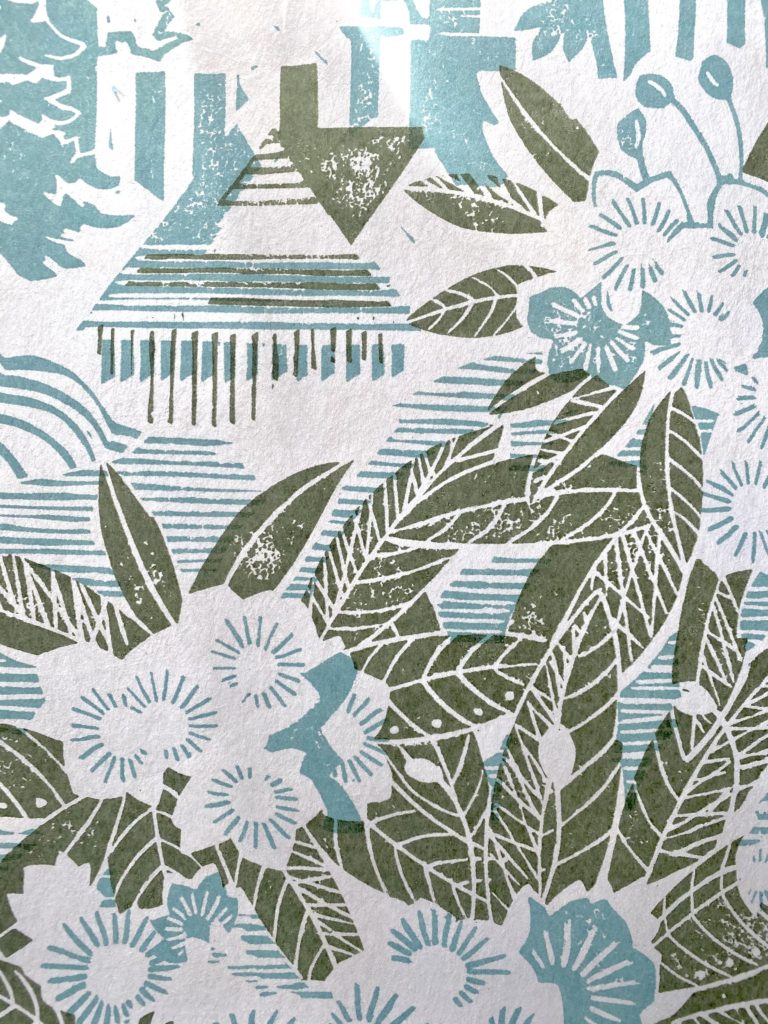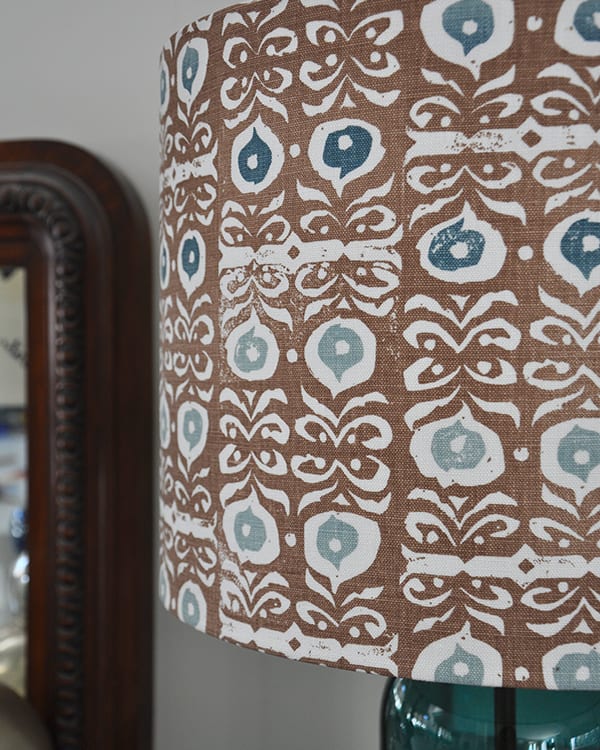 Left: Another detail of the gabled, Arts & Crafts Sussex house that inspired the 'Webb's Wonder' wallpaper design, this time in a soft blue and green colour way. Right: A close-up image of the Syrian-inspired 'Iznik' in 'Cinnamon' fabric used to create an eye-catching, drum lampshade.
Which other interiors brands do you admire and why?
'One fabric design house I really admire is Raoul Textiles', says Peter.
At Telescope Style we are also great admirers of the
Raoul Textiles
brand – their brilliantly innovative approach and often unexpected take on colour and pattern.
Turnell & Gigon
are their UK distributors.
What kinds of interiors do you envisage your textiles working well in?
'I think our textiles range is quite versatile and works well in both classic and modern settings' says Peter 'but essentially they are designed for the modern country house. In terms of upholstery, I do think our fabrics are particularly suited to simple, clean lines – be that on directional, modern upholstery or on more classic silhouettes, such as those of elegant, Georgian sofas, Edwardian armchairs or classically-inspired, Forties furniture.'
'I enjoy seeing our fabrics used together by interior designers, in a variety of different pattern scales' adds Rebecca. '…and – although we have realised this ambition in the past – we'd love to see more of our fabrics in National Trust properties!'
In Conclusion…
If the Rapture & Wright story has inspired you to add hand-printed colour and pattern to your own home by way of cushions, drapes, wallpaper or upholstery, hop across to the Rapture & Wright website below or click here for the Telescope Style edit. Share our interview with similarly interiors-loving pals and/or add your comments via the icons below or the comments box at the end of this feature. If you'd like to read more stories behind the brands, head to our interiors brands Journal entries here. Alternatively, follow us on Instagram or Facebook or sign up to our newsletter here to find out when our destination-inspired design blogs go live and receive a free download of our useful, 20-page 'Room Renovation Guide.' Thanks for reading!
By Annabel Smith, Telescope Style