African Inspired Interiors
---
Take your cue from any global style and juxtapose authentic elements of pattern, colour and form with sleek, modern shapes and materials. Whether your budget stretches to designer pieces or thrift shopping rules – take colour and style inspiration following the pointers below for a look that is directional, full of personality and won't date.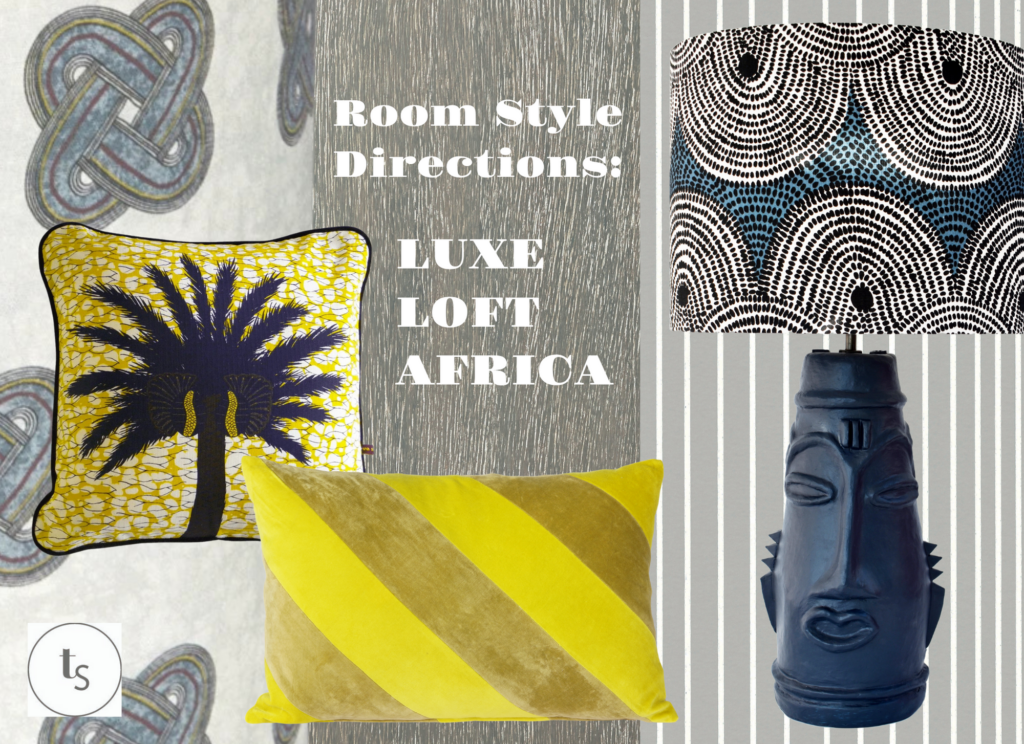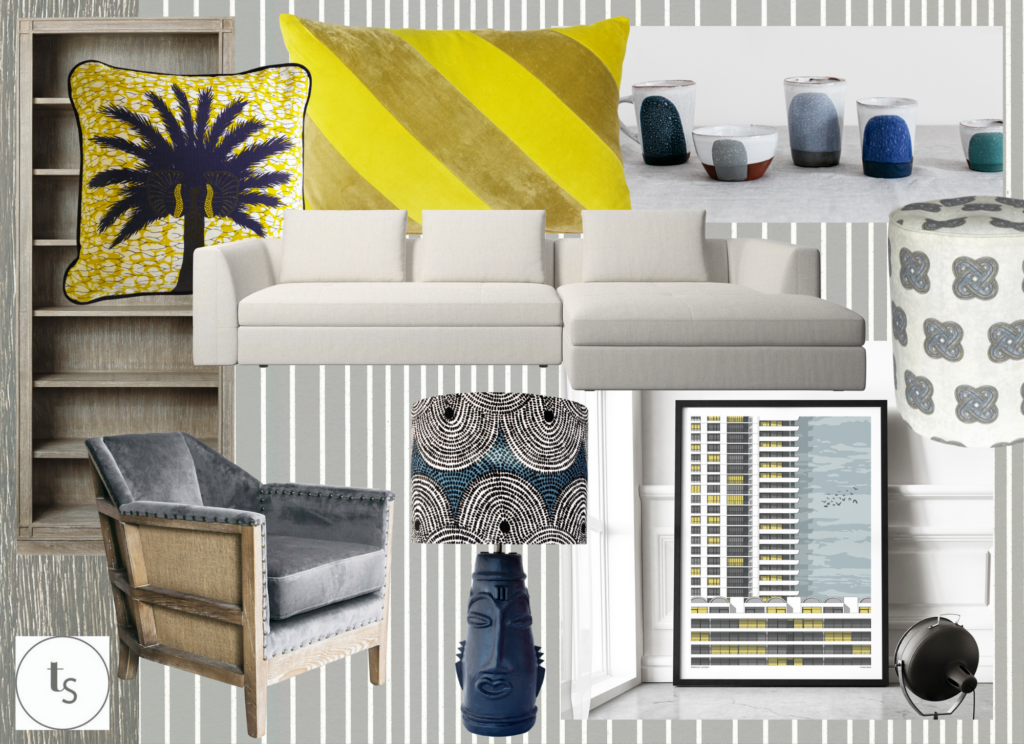 AFRICAN INSPIRED INTERIORS
Get The Look: 'Luxe Loft Africa'
1. Choose Your Hero Pieces
Africa is a vast and diverse continent with a wealth of different design styles that have emerged and developed through the ages. For imaginary, African inspired interiors, we focus on textiles from West Africa; the palm print cushion and Yoruba knot motif upholstered stool and, also, South Africa; the concentric-circle patterned lampshade inspired by farmed crop fields but also redolent of Zulu, ceremonial face patterning. The bold images of two Zulu warriors on either side of this sculptural lamp base is a key hero piece in the scheme. It was inspired by a collection of ceremonial face masks and artefacts from indigenous groups across Southern Africa and showcases the raised decoration known in Zulu as 'amasumpa' that was used to create the facial expressions.
2. balance your backdrop with bold accent colour
For the walls we opted for a muted, white-on-grey, pinstripe wallpaper that possesses a degree of 'movement': as you scan the space, the stripes appear to narrow and widen across the repeat. The scale of the pattern is visible enough that it provides background interest and detail, yet small enough so as not to overwhelm. The overall effect of the soft yet warm grey palette is to create a cool, contemporary space in which to place the livelier, more colourful decorative elements.
3. blend in big ticket items with textural appeal
Next we chose a deep, boxy and capacious modern chaise sofa upholstered in a nubbly, woollen fabric in ivory to anchor the scheme. The elegant, clean-lined bookcase provides storage and also textural interest by way of its grey-washed, woodgrain finish. The intriguing, angular armchair showcases a quirky mix of show-wood frame, hessian panels, nailing detail and an inviting, velvet interior.
4. add interesting accessories to the mix
Decorative details showcasing Africa design styles come in the form of print patterns and motifs on the statement cushion design, patterned lampshades and the petite – and surprisingly useful – upholstered stool. The iconic lamp, with its striking, warrior visage bolsters and strengthens the room scheme and celebrates the unparalleled fighting spirit of the Zulu peoples. Other decorative elements in the scheme draw their inspiration from entirely different sources. Hand-thrown ceramics – that might adorn shelving or a coffee table – speak of rustic, artisanal style and also pick up on the teal and midnight blues found elsewhere in the space. The framed, large scale, modern architectural line drawing depicts the iconic Barbican building in London, adding a sleek, urban dimension to this 'luxe loft' interior.
Pictured on our African-inspired interiors mood board above, clockwise from top left: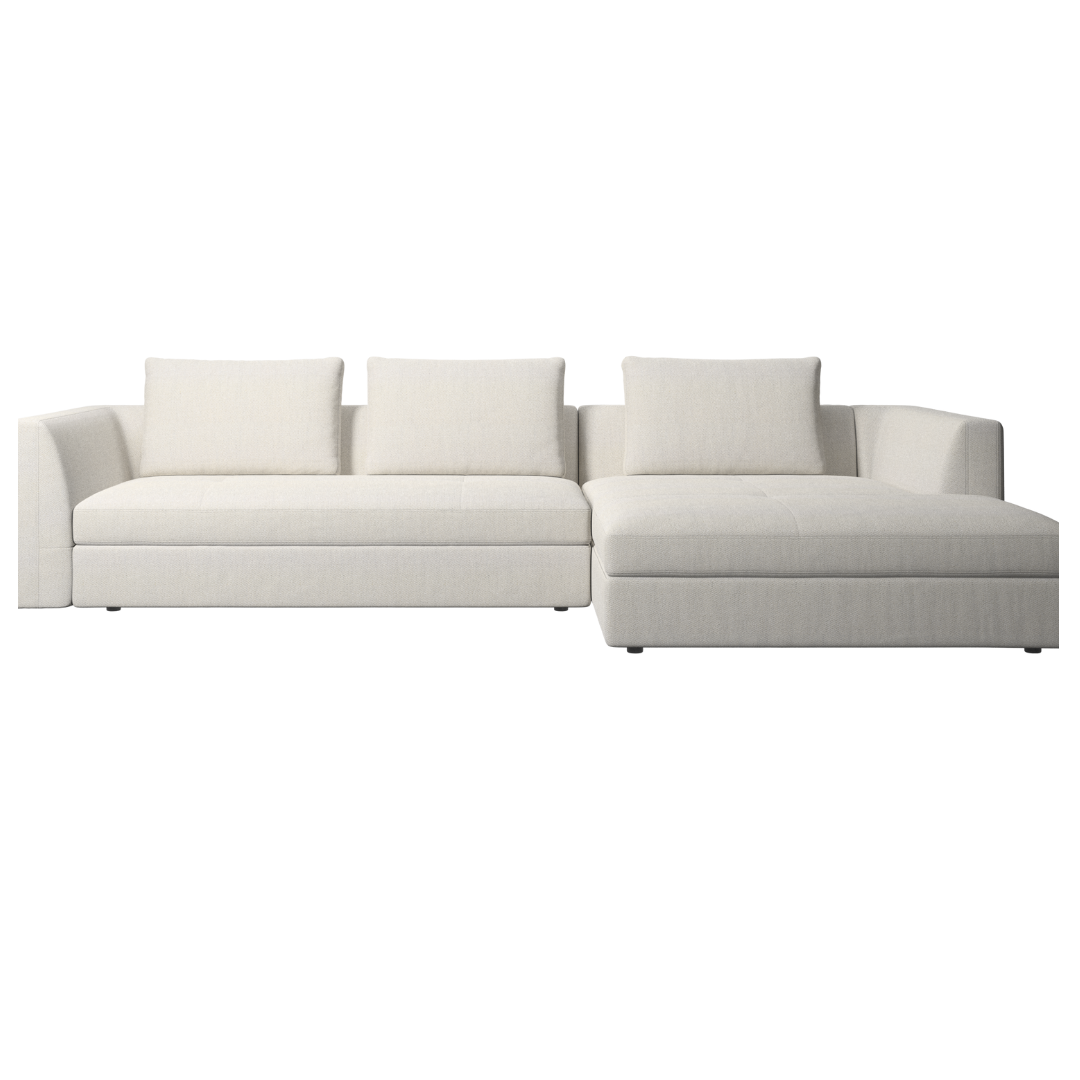 comfortable lounging
Bergamo sofa, approx. 83cm high x 320cm wide x 165cm deep, from £3959; shown here in white Lazio fabric, £6,541, at Bo Concept.
modern rustic
Handmade ceramic espresso cups, £17; beakers, from £28; and, cups, £32, all Silvia K Ceramics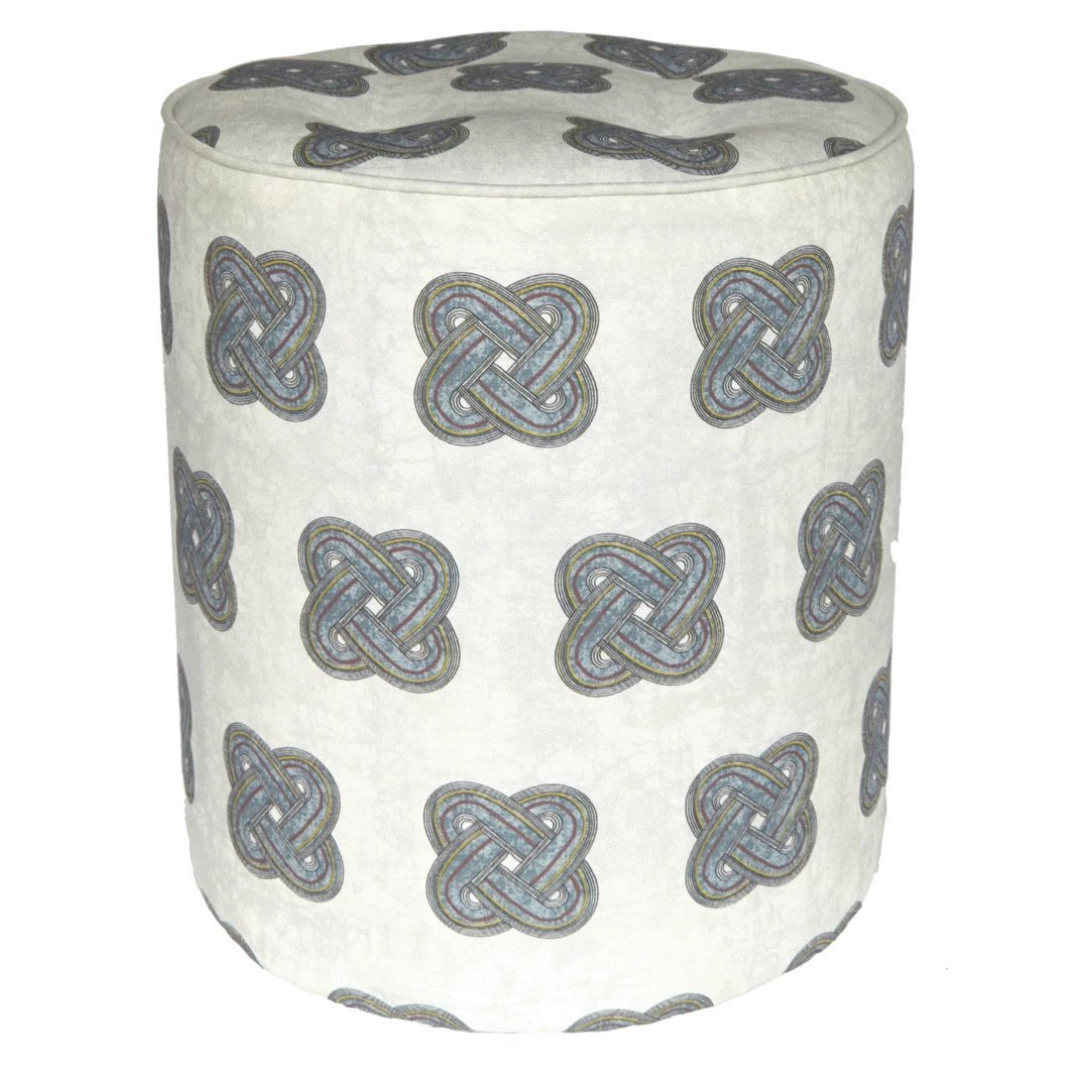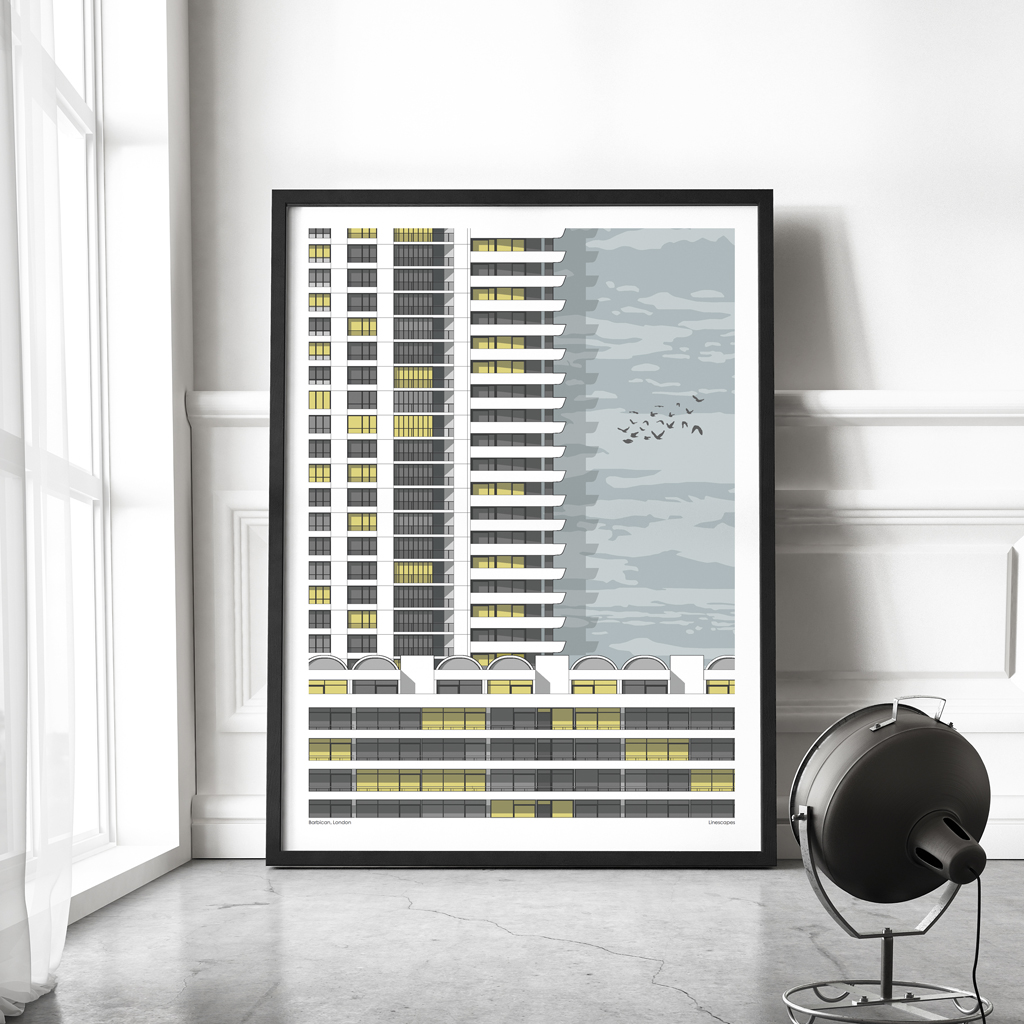 architectural lines
Barbican art prints architectural line drawings available in various sizes, from £80, by Linescapes at Telescope Style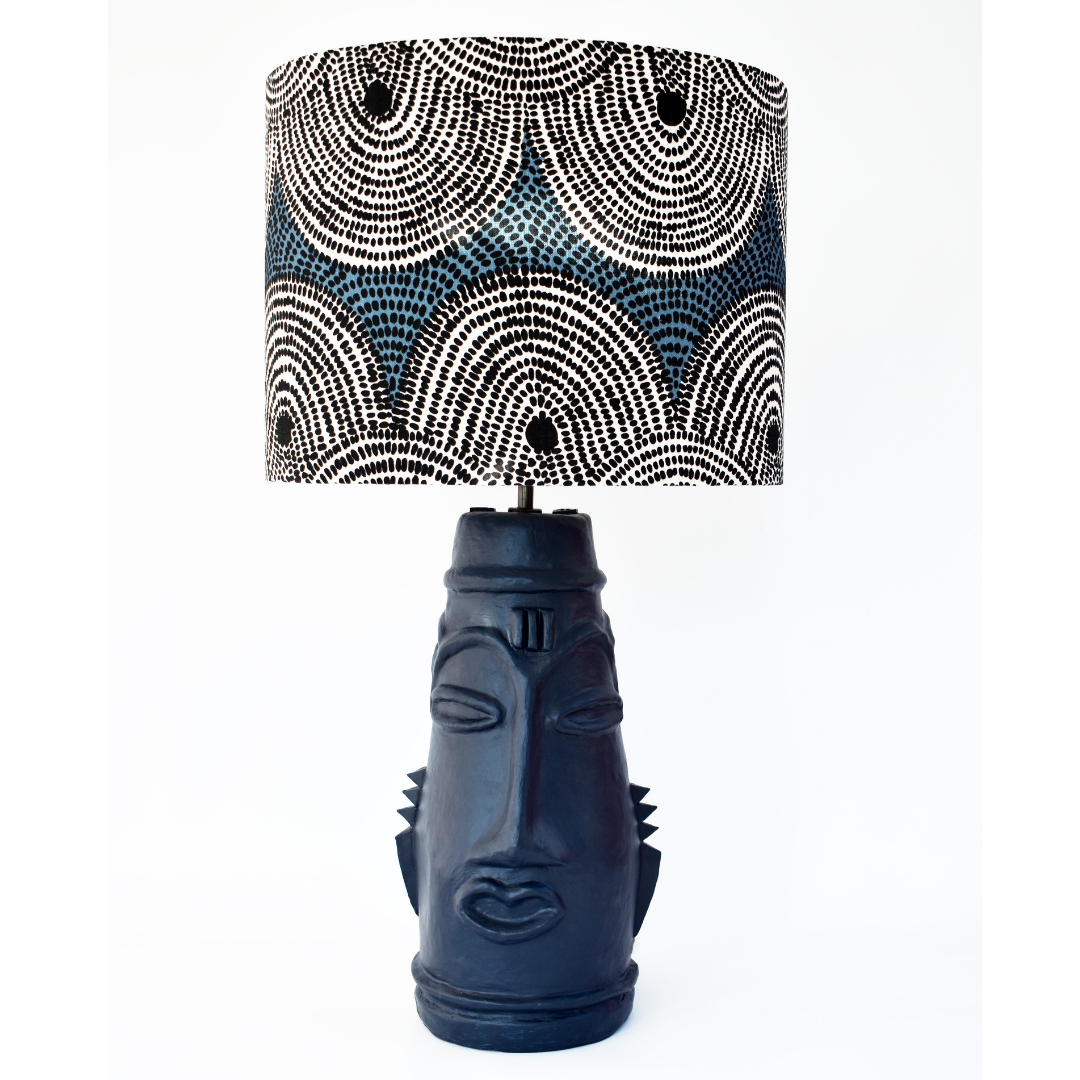 warrior pose
Hand-cast Jesmonite 'Warrior' lamp base and shade, 73cm tall (complete with shade) x 20cm wide (lamp base). Shade diameter 30cm, £1,450. Other fabric colourways available. Lamp base can be painted to order. Available through Kinkatou Studio and Porcupine Rocks.
And finally…
If this feature has been helpful or has inspired you – we'd LOVE you to share the link with any interiors-loving pals via your social channels below. We'd love it EVEN MORE if you signed up to our newsletter below for modern eclectic room scheme inspiration, new-in products to our curated edit and subscriber-only discounts! Thanks for reading and have a lovely day.