Aboriginal Art Inspired Scheme
---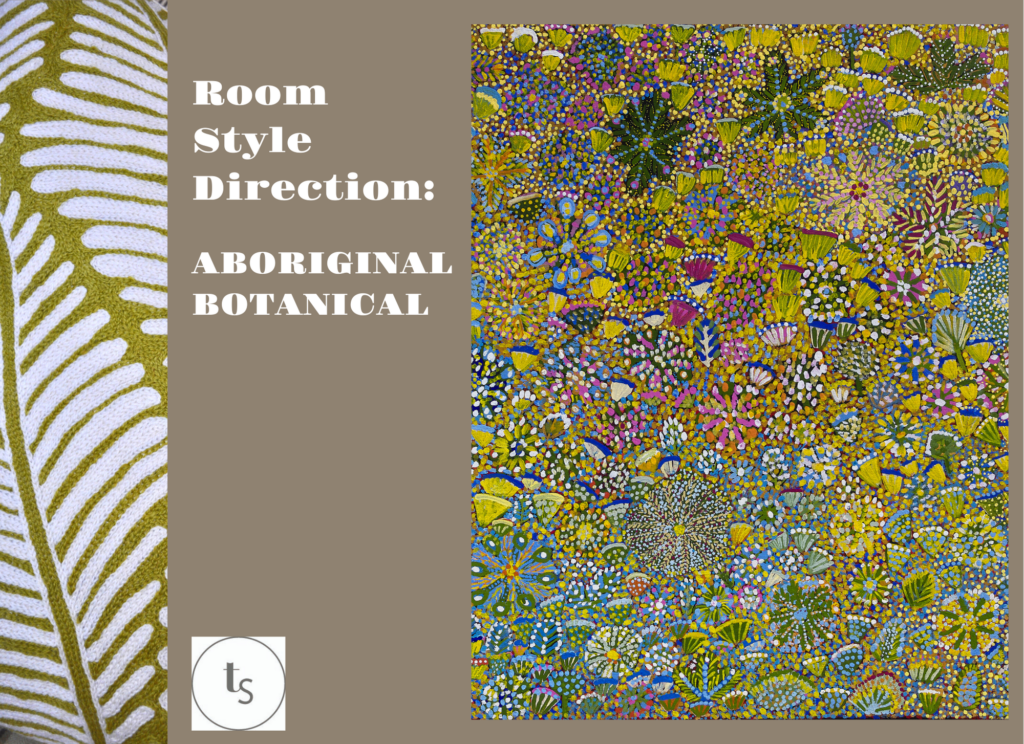 Take your cue from any global style and juxtapose authentic elements of pattern, colour and form with sleek, modern shapes and materials. Whether your budget stretches to designer pieces or thrift shopping rules – take colour and style inspiration following the pointers below for a look that is directional, full of personality and won't date.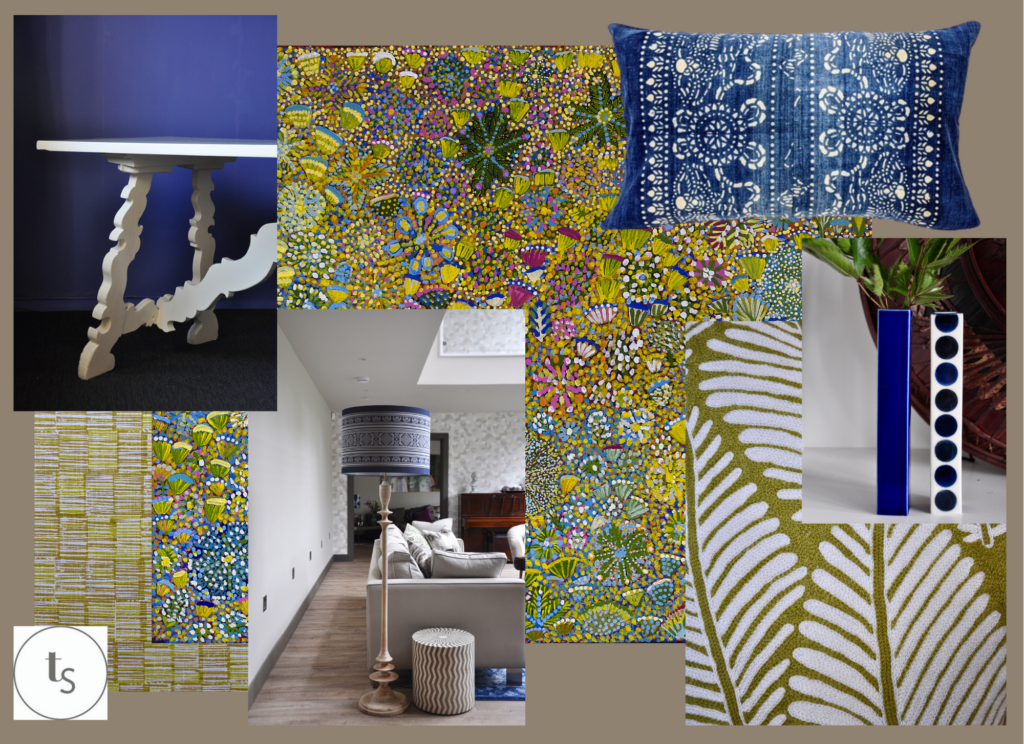 AUSTRALIAN ABORIGINAL ART INSPIRED SCHEME
Get The Look: 'Aboriginal Botanical'
A lush and verdant Australian Aboriginal art canvas provided the inspiration for this room scheme style direction. Blues and greens should ALWAYS be seen, especially against a restful, neutral backdrop with lively pink accents. Create a calm, pared back space with culturally-infused colour that zings!
1. start with the art
We fell in love with this large scale, original, Australian, Aboriginal art canvas sold amongst many other canvases, by one of our suppliers, Bay Gallery Home. We decided to use it as the starting point for a room scheme. What appealed most was the combination of lush botanical detailing (up close the brushwork on these artworks is just breathtaking) with a lively, verdant colour palette. Vibrant limes, jungle greens, sky blue and pretty shades of pink all accented by electric blue convey the colours of the native Australian flora as seen through indigenous Aboriginal eyes.
2. build your backdrop in a palette of neutrals
Allow the colourful canvas to become the star of the space by displaying it against a calm, restful backdrop of pale neutrals. The shades that come to mind are just the right side of warm – not too cool and not too grey. You need to complement the yellow hue in the lime greens of the canvas. Think fawn, ecru, biscuit, buff, sand and café-au-lait. Apply these colours to your shell, namely the ceilings, walls and floors, but also larger furniture items such as a rug or the sofa upholstery. As always, depth and contrast are key, so remember to layer up textures, teaming rough with smooth and matt with gloss. In this sitting room mood board, you'll notice whitewashed, wood finishes next to linen upholstery, a patterned, bone inlay stool, a gloss-white painted sideboard and a darker neutral hue on sleek modern skirtings and architraves for crisp definition.
3. introduce accent colour – Take your cue from the artwork…
This is where you've got to be careful. Proportion – not too much of your accent colour – is key. Go overboard and it lessens the effect. The subtlety is lost if you add blue or green accents all over. You end up with an overly 'matchy' scheme without a clear focal point. So, be selective. Include only a handful of elements in toning shades of blue. Items such as decorative accessories, lighting or soft furnishings. Again, textural interest is key. The only exception to this rule is, ironically, the idea of introducing a bold, 'feature' wall in the strong, accent colour. And, before you ask, no! 'Feature' walls are not dead! As long as you balance the adjacent walls in a neutral colour of the same or greater 'weight' (by which I mean strength or intensity) then the inclusion of a feature wall never feels amateurish or passé.
4. Mix up styles, eras and global influences for a modern, eclectic look
Eclectic doesn't have to mean an explosion of bright colours, ethnic accessories, tassels and pom poms. I think this Australian indigenous Aboriginal art inspired mood board room scheme is decidedly eclectic. And yet it feels directional and original too. Note the combination of modern – the architecture, upholstery style and subtle, geometric, Cole & Son wallpaper on the back wall – with vintage elements. The mahogany piano, vintage indigo cushion and collected find Asian hat in warm wood tones add patina, rusticity and soul to the space. Note also that global influences abound. The painted white refectory sideboard table is European – Italianate or Germanic – with it's scrolling trestles. Intricately stitched crewel work cushions depicting palm leaves were handmade in India. The ceramic bud vases and lime printed linen textile are Japanese designs. The drum floor lamp shade is a Hungarian folk style pattern and the vintage lumbar cushion is made from an antique Chinese indigo textile.
Pictured on our Australian Aboriginal art-inspired interiors mood board above, clockwise from bottom left:
Author: Annabel Smith, Designs By Origin
And finally…
If this feature has been helpful or has inspired you – we'd LOVE you to share the link with any interiors-loving pals via your social channels below. We'd love it EVEN MORE if you signed up to our newsletter below for modern eclectic room scheme inspiration, new-in products to our curated edit and subscriber-only discounts! Thanks for reading and have a lovely day.