Introduction
Russian-born designer, Olga Shevchenko, is the founder of Olenka Design, a British textile brand specialising in folk art design wallpaper and fabrics that celebrate Olga's Russian heritage, while appealing to modern colour sensibilities. Designed and printed in the UK, Olga's fabrics and wallpapers are manufactured using materials and production techniques that minimise any environmental impact; from biodegradable, sustainable papers to the type of
inks used.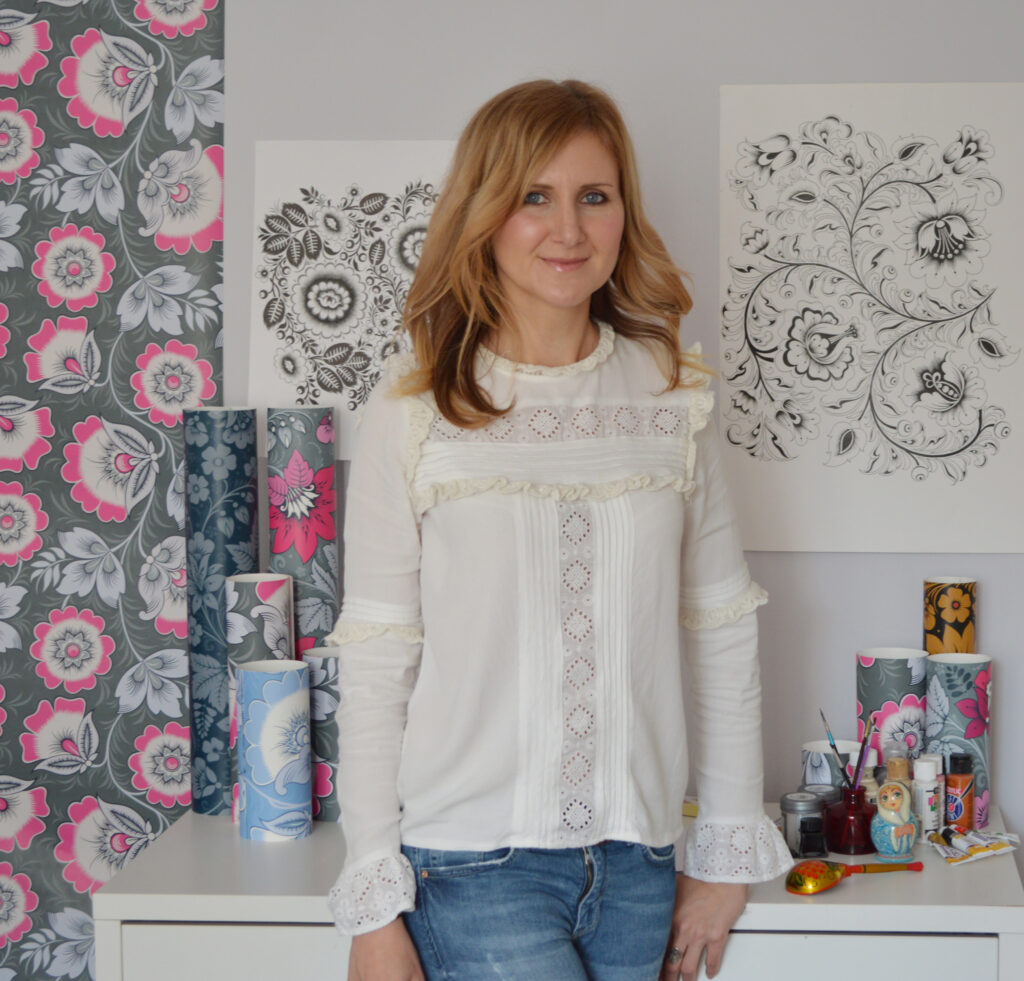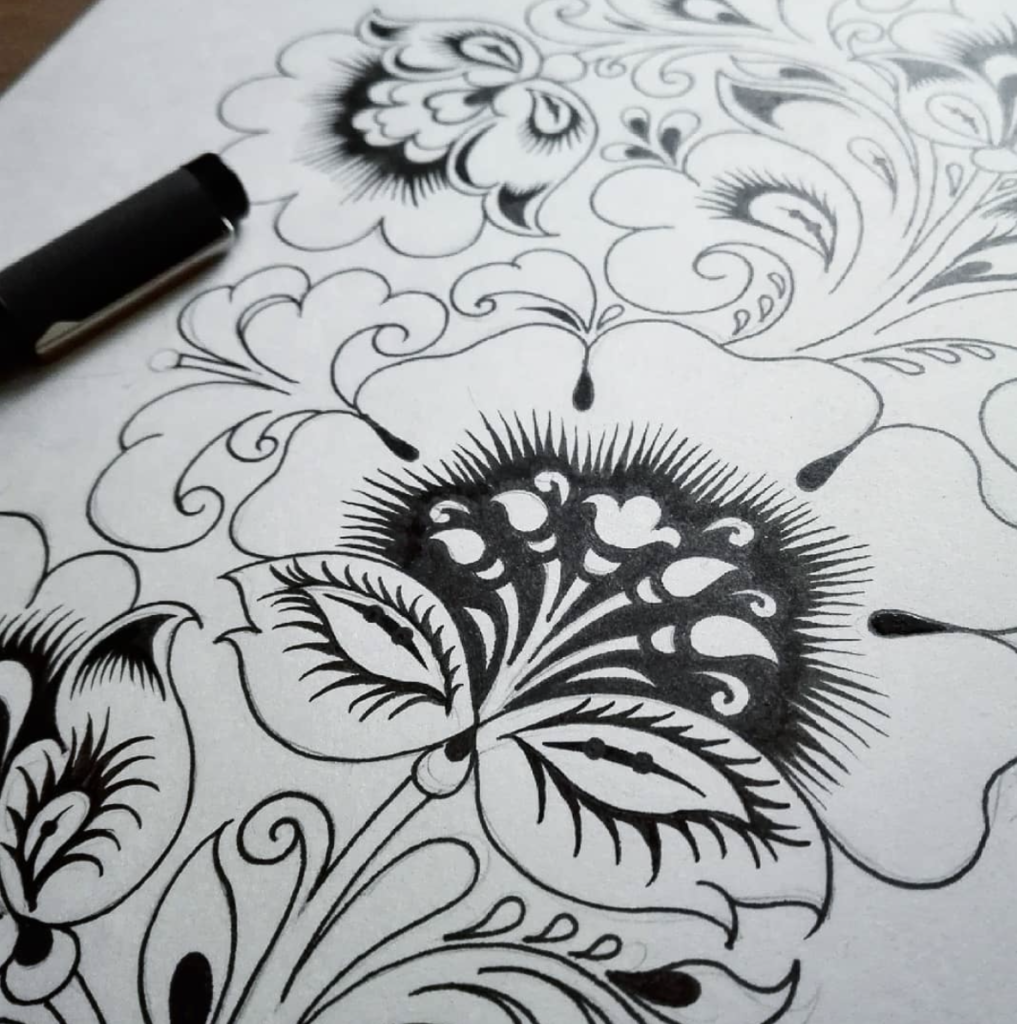 Left: Olga in her studio. Right: Close-up view of the hand-drawn Khokhloma designs that eventually become digitised and printed onto Olga's wallpapers and fabrics.

Tell us a little about what prompted you to set up folk art design brand Olenka Design?
Before starting Olenka Design, I'd been working as a surface pattern designer for a large flooring company. I loved my job. It was an amazing experience that taught me a great deal about the industry and allowed me to travel. However, after a few years I was keen to experiment by designing different products. As a surface pattern designer, you can't help noticing interesting patterns everywhere you go. You get inspiration from the things that surround you. It occurred to me that traditional Russian folk patterns – specifically those derived from the wooden-ware 'Khokhloma' painting tradition – would look amazing on wallpapers and textiles. Around the same time I started thinking about my professional development in the industry. The idea of creating my own range of homewares felt the right way to go. It was challenging but exciting. I began developing designs for a wallpaper range and launched Olenka Design in 2014. The timing was right with digital printing then newly available. This allowed independent designers to enter the market with their own wallpaper and textile ranges.
How are your folk art design florals created?
Because my designs are inspired by traditional handicraft and hand-painted pattern, it's important for me to stay as close to the traditional way of painting as I can. For this reason – and because I learned to paint in the style as a child – my original designs are all painted by hand initially. Traditionally, each Khokhloma painting is an improvisation. The artist paints with a brush and invents the pattern as they go. I, however, sketch in pencil first then paint the designs using a fine brush and black ink. Then, I scan my ink drawing onto my computer and use Adobe software to create a repeat. Finally, I add colour.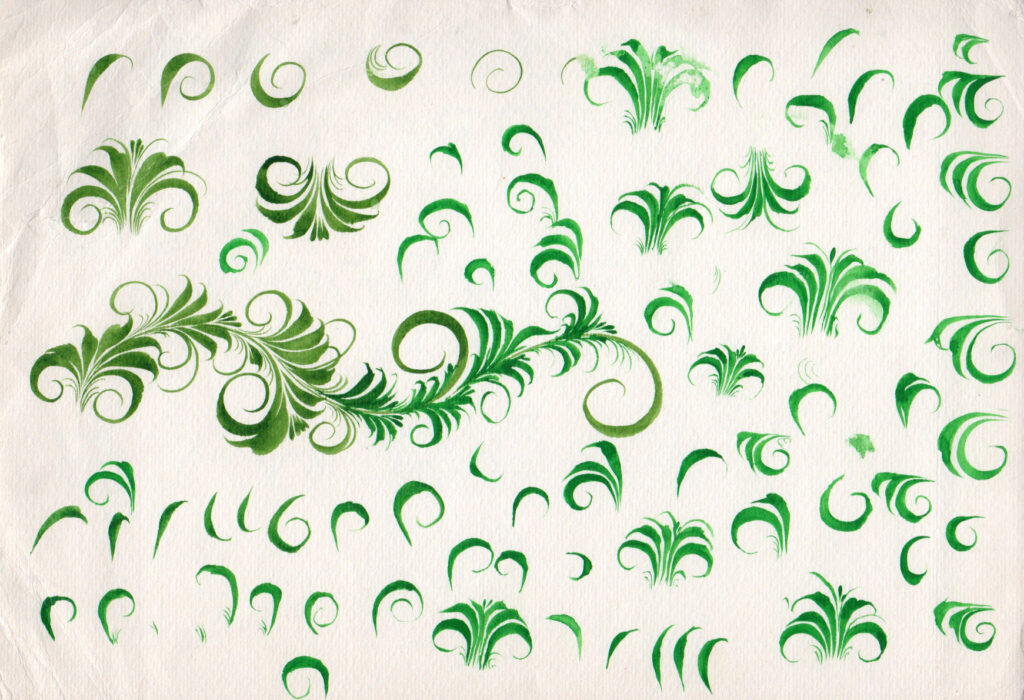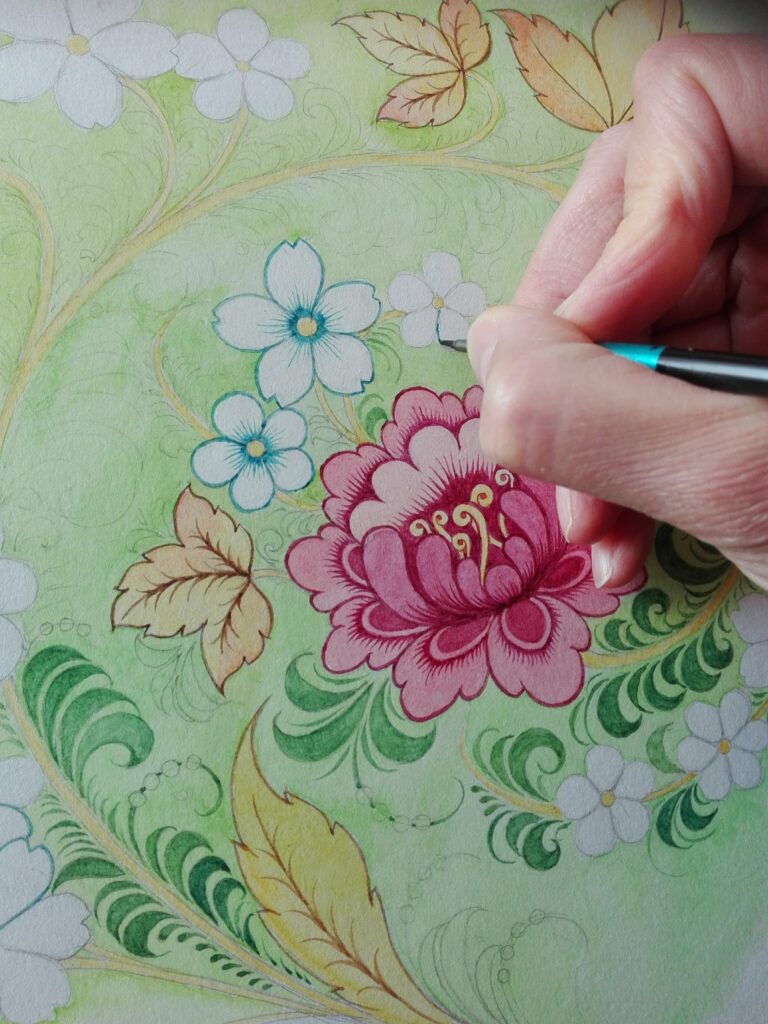 Left: Playing around with motifs and patterns in coloured inks. Right: Colouring a floral rose design with fine and delicate brushwork requires a steady hand!
Where do you find the inspiration for each new design?
All my designs are inspired by the Russian handicraft called Khokhloma. It has a fascinating story, first appearing in the 17th century in the Volga region and named after a trade settlement in the same area. The Russian craftsmen invented a technique, which allowed them to achieve a gold effect without using gold paint. This made wooden items look heavier and more expensive. The craft has a very distinctive painting style featuring stylised, botanical elements and birds. The signature colour palette is gold, red and black.
The beauty and uniqueness of Khokhloma folk art design provides an endless source of inspiration. I like mixing up the botanical elements and trying out different scales for my designs. It's also fun to add a modern twist by using fresh, contemporary colour palettes.
Choosing and balancing colours for interior schemes is tricky. How do you settle on final colours for your fabric and wallpaper designs? Do you offer a bespoke service?
I start by exploring the possibilities of each design. I try to achieve as many pleasing colour combinations as possible ranging from multicoloured to monochrome, in both dark, intense hues and delicate pastels. I always end up with dozens of options. After that it's a process of elimination until only the best edit of potential colour ways remains. I seek opinions from other industry professionals in my network, as well as social media followers and friends. Staying informed of the current market is always important. However, I try not to follow trends. Above all, I try hard to create something fresh, new and different.
I am very happy to offer a bespoke service, whether it's a custom colour way or an entirely new design. Currently I'm in the process of developing a custom colour way for a client who loves one of my folk art design wallpapers but would like it for a different colour scheme. I've also got an interesting commercial project coming up later this year. In fact, creating bespoke designs for trade customers is something I'd like to do more of.
Left: The Milana design in Graphite Blue, in situ. Right: A completed, hand-drawn design, ready for digitisation.

What do you think your customers appreciate most about your wallpapers and fabrics?
I think it's the intricately-beautiful, Russian, folk patterns. I've always admired Khokhloma with it's fascinating story and felt the striking patterns would look wonderful on homewares. I think my customers also appreciate the variety of colours I offer too.
What kind of interior design schemes do you imagine them being used in?
Eclectic schemes with layered pattern and colour; my designs work well in maximalist schemes.
How do you hope to expand your range in the future?
I'm currently promoting my new fabric range that was launched earlier this year. I've also been working on some new designs this summer. I would definitely like to add cushions to my collection as well as more wallpaper and fabric designs over the coming seasons.
Left: An early drawing in the Khokhloma style from Olenka's time at art school. Right: A detail of Milana Gold wallpaper, available to buy through Telescope Style.

How does your brand address environmental considerations in the design and manufacture of its home textile ranges?
I only work with carefully selected British printers and manufacturers. Olenka wallpapers are made in England, in Lancashire by a family-run manufacturer that takes environmental responsibility very seriously. Only water-based, non-toxic inks are used, which are environmentally safe and free from VOC's. Designs are printed on responsibly-sourced (FSC certified), recyclable non-woven bases. Most polyester fibres used are created from recycled plastic bottles. The factory is proud to be a 0% to landfill manufacturer, something that very few can claim. Any waste created during production is sent away and recycled to make energy.
Fabrics are printed in England by a young and innovative company, based in Kent. They source fabric responsibly from UK manufacturers and distributors.
Our cotton linen blend fabrics are printed using eco-friendly water-based pigment inks. Our velvet fabrics are printed using a dye-sublimation printing technique. The sublimation process uses heat and pressure to sublimate inks onto material. Sublimation doesn't require much, if any, water at all and yields minimum waste as no dye will get into the water system.
You live in Devon where your design studio is based. Where are your favourite places to visit in the county for either cultural & design inspiration or the great outdoors?
I live in North Devon, a very beautiful part of the country with many places that are well worth visiting. We love the outdoors the most. Walking the long coastal paths connecting coastal towns and villages has to be top of the list. Our favourite part is a three-mile Torrs walk from Ilfracombe to Lee village. The views are breathtaking. It is also child-friendly and safe as you are never too close to the cliff edge. There's lots of space too, so you won't be bumping into other people, which is important given the current climate! Lee village is lovely and the beach is great for rock pooling when the tide is low. There is an old pub with a pretty garden where you can stop for a drink, a meal, or a cream tea.
Morte Point near Mortehoe Woolacombe is another amazing walk. The beaches near Woolacombe are fantastic but they do get busy at peak times so traffic and parking can be problematic. Croyde and Saunton Sands beaches are also amazing and much loved by surfers.
Lynton & Lynmouth are well worth visiting. Take a riverside walk to Watersmeet and visit the valley of rocks. There is also a cliff railway, which children will love.
Castle Hill Gardens is a hidden gem. It's a beautiful estate with the most glorious gardens surrounding it. Many of the trees look hundreds of years old and are unbelievably tall. Climb to the top of the hill and you get an incredible view over Exmoor. In the summer, they often host outdoor theatre, which is a very special experience. Other places we love are RHS Rosemoor Gardens and National Trust Arlington Court. Both make for wonderful family days out.
There are also many art galleries in the seaside towns. We love Driftwood gallery in Ilfracombe and the Dartington Crystal factory is worth a visit, especially with children.
Left: Olga working on a design in its early stages. Right: Detail of Milana Graphite Blue, available now to buy at Telescope Style.
Where is your dream home? How would you decorate it?
I love North Devon with its great outdoors but sometimes I feel I'm too far from the design community, where the majority of design events happen. So, it would be good to be a little closer to London, perhaps a small town in the South East. In terms of how I'd decorate my dream home – there would be lots of colour and pattern in the décor, that's for sure!
What's top of your travel bucket list?
I normally go to Russia every August to spend time with my family but missed this last year due to the pandemic. Other than heading back home more frequently, I would love to go somewhere child-friendly, warm and sunny. Somewhere I can relax, swim in a warm sea and go snorkeling with my daughter. I'd love to visit the Maldives, that's the top of my travel bucket list.
What does 'destination-inspired design' mean to you?
To me, 'destination-inspired design' means celebrating cultural diversity and embracing design heritage.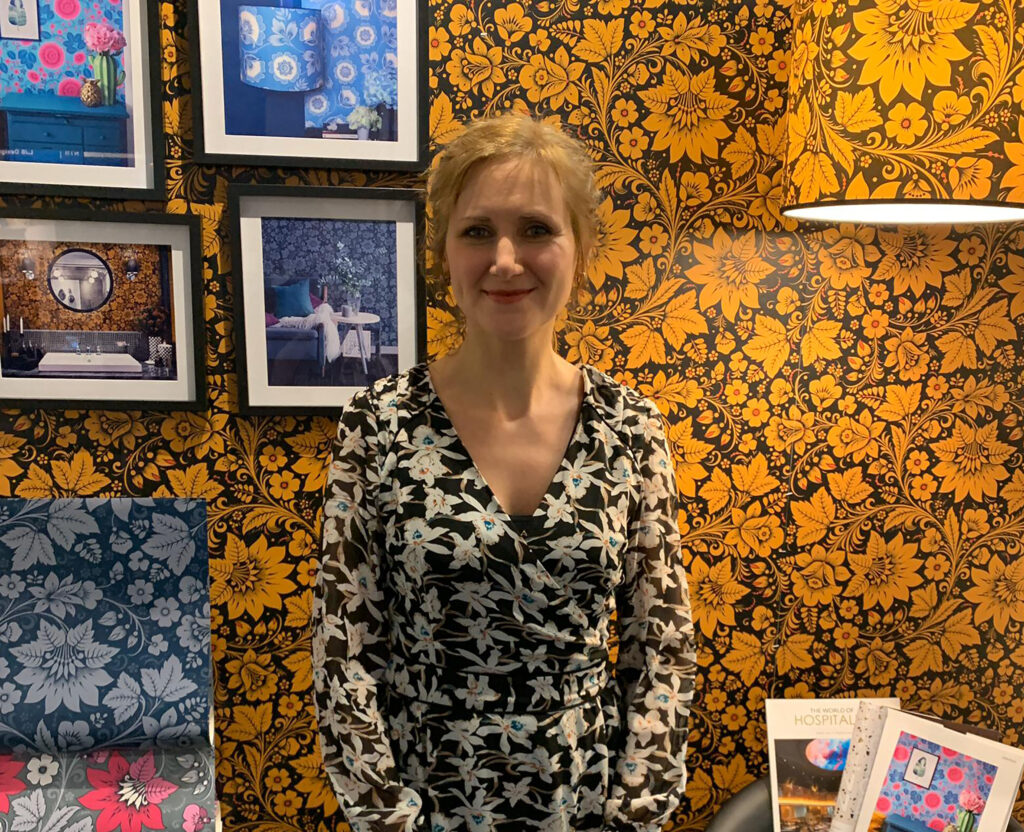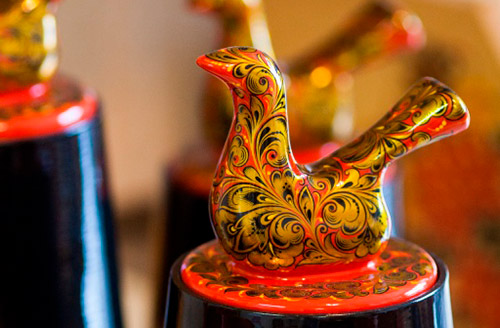 Left: Olga on her exhibition stand in front of her elegant Milana Gold wallpaper design. Right: A piece of traditional Khokhloma-ware, illustrating intricate, hand-painted craftsmanship.
Which other design or interiors brands do you admire and why?
There are so many! Here are a few of my favourites…
Hex & Hebane – Lucy is an incredibly talented designer and a great story teller. I admire Lucy's attention to detail in her designs and her sense of style.
The Monkey Puzzle Tree – Charlotte works with fine artists, who create designs for the unique homewares. I admire how the brand supports local artists and the creativity and a variety of design styles the brand has to offer.
Woodmancote Retro – An amazing family run furniture company based in Gloucestershire. I admire their sustainable ethos and design. The company sources local or reclaimed wood and recycled plastic. They also work with artisan manufacturers in the area thereby helping the local economy.
ATA Designs – The company is run by Annette Taylor, a wonderfully talented artist and designer, who creates beautiful wallpapers, fabrics and wall murals. I admire Annette's creativity, professionalism and productivity.
Becca Who – I love Becca's bold design style, her great use of colour in designs and her creativity.
Avalana Design – I admire the artistic skills of the designer Hazel, who creates stunning wall murals.
Left: Detail of Neva floral folk art wallpaper in Blue. Right: Neva in Blue, available through Telescope Style.

In Conclusion
If you're as enchanted by Olga's folk art designs as we are, follow her creative journey and keep abreast of new product launches via the Olenka Design Instagram account. You can also purchase fabrics, wallpapers, lampshades and samples directly from her website.
Do add your thoughts or share our blog with like-minded fans of heritage design via the social icons below! Alternatively, follow Telescope Style on Instagram, Facebook or sign up to our newsletter for more journal entries, new products and subscriber-only offers. You'll also receive a free, 20-page 'Room Renovation Guide.' Thanks so much for reading!