11 Eclectic Table Lamps For Your Living Room Right Now
The choices are dizzying when it comes to table lamps for your living room. This can make selecting the right one a bit of a challenge. To illuminate the way, we've put together a list of top table lamps that reflect the Telescope Style spirit of destination-inspired design. Moreover, the shape, pattern and style of these globally inspired lamps will brighten your living space and your life.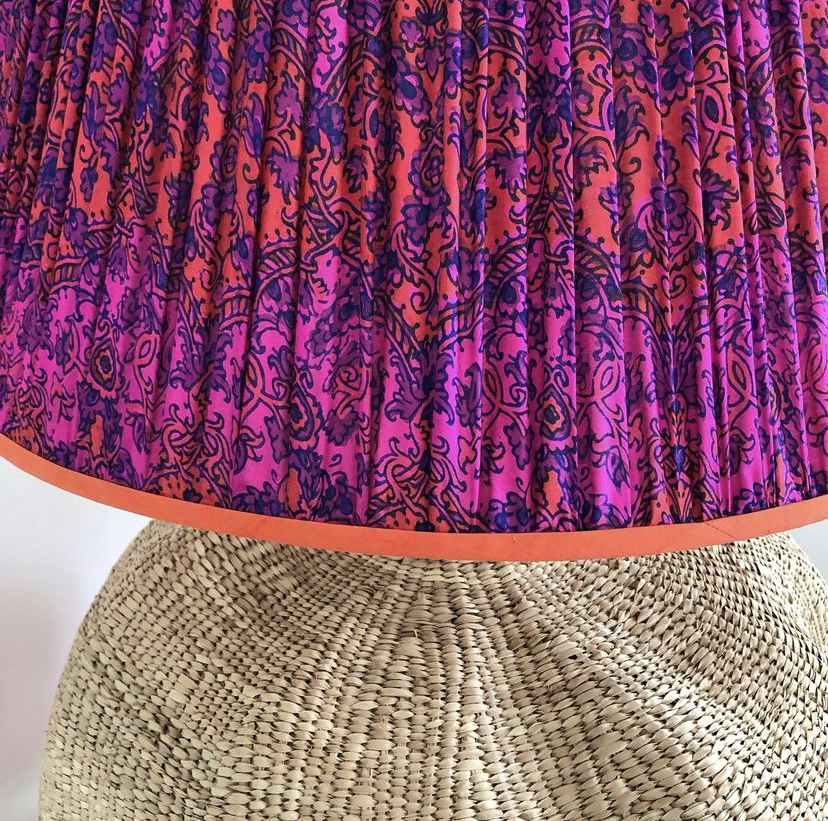 Wonky Wovens + Vibrant, Vintage Silk
There is a wonderful textural element to this Bulawayo 'garlic gourd' lamp base. Handmade in Africa by artisans from the Ilala palm, the neutral, go-anywhere colour looks particularly fetching topped with a vibrant, silk saree lampshade. The woven bases from Ilala come in a range of sizes, and prices start from £325 (base only). Vintage silk saree shades from Samarkand Design start at around £130 for a 25cm base diameter shade. Furthermore, a super-sized shade, measuring 65cm base diameter, such as the one shown here, costs around £300. Read more about this fabulous brand here.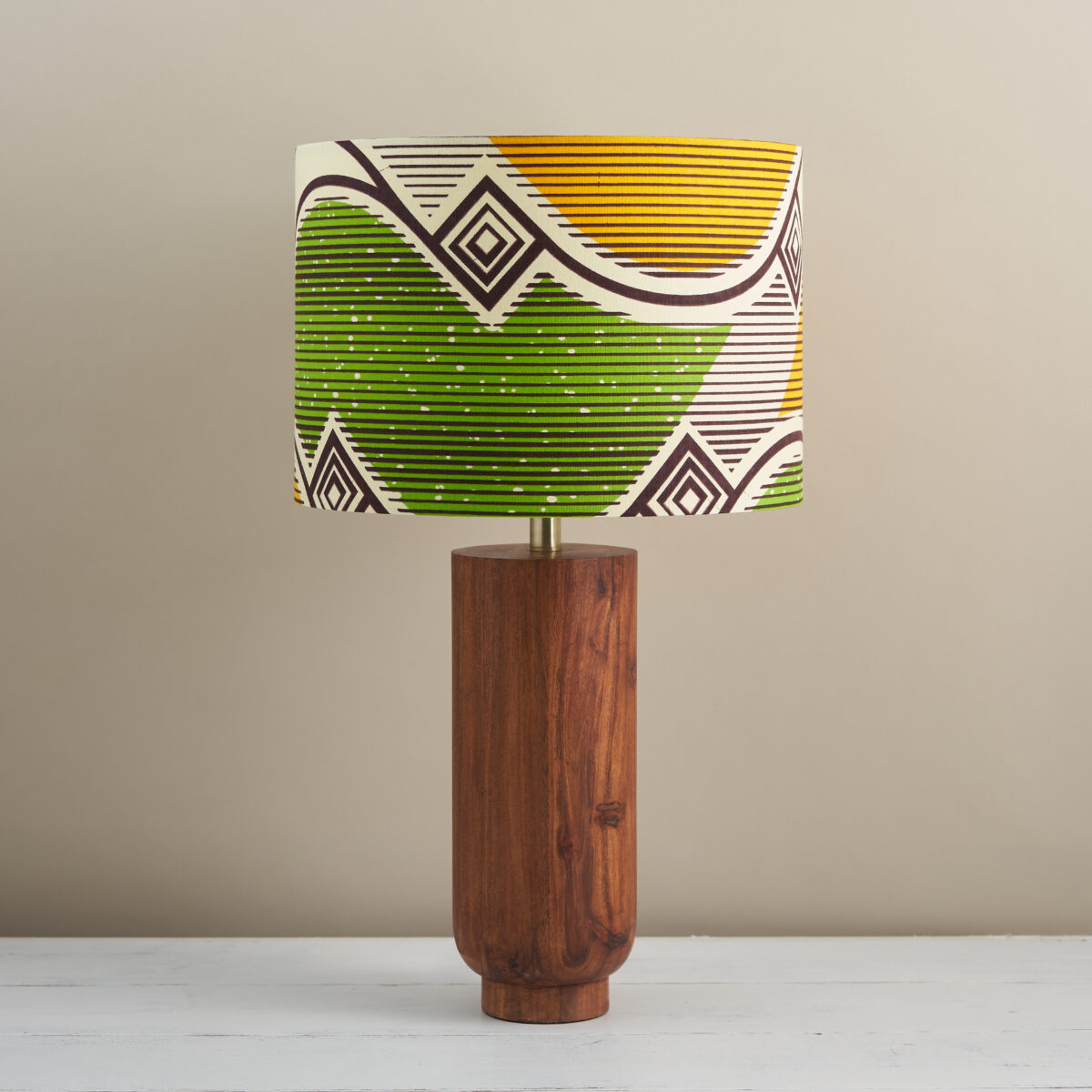 A Bold Print In Zingy Citrus Brights
The bold, graphic pattern and citrusy-brights of this African wax-print, drum lampshade (pictured on a contemporary wooden base) makes this Bespoke Binny table lamp a confident, statement piece. Suitable for table lamps, floor lamps or as a ceiling pendant, this lampshade is available in a choice of 40cm or 25cm base diameter. Prices start at £55.99 (shade only). Head online for similarly striking prints and patterns.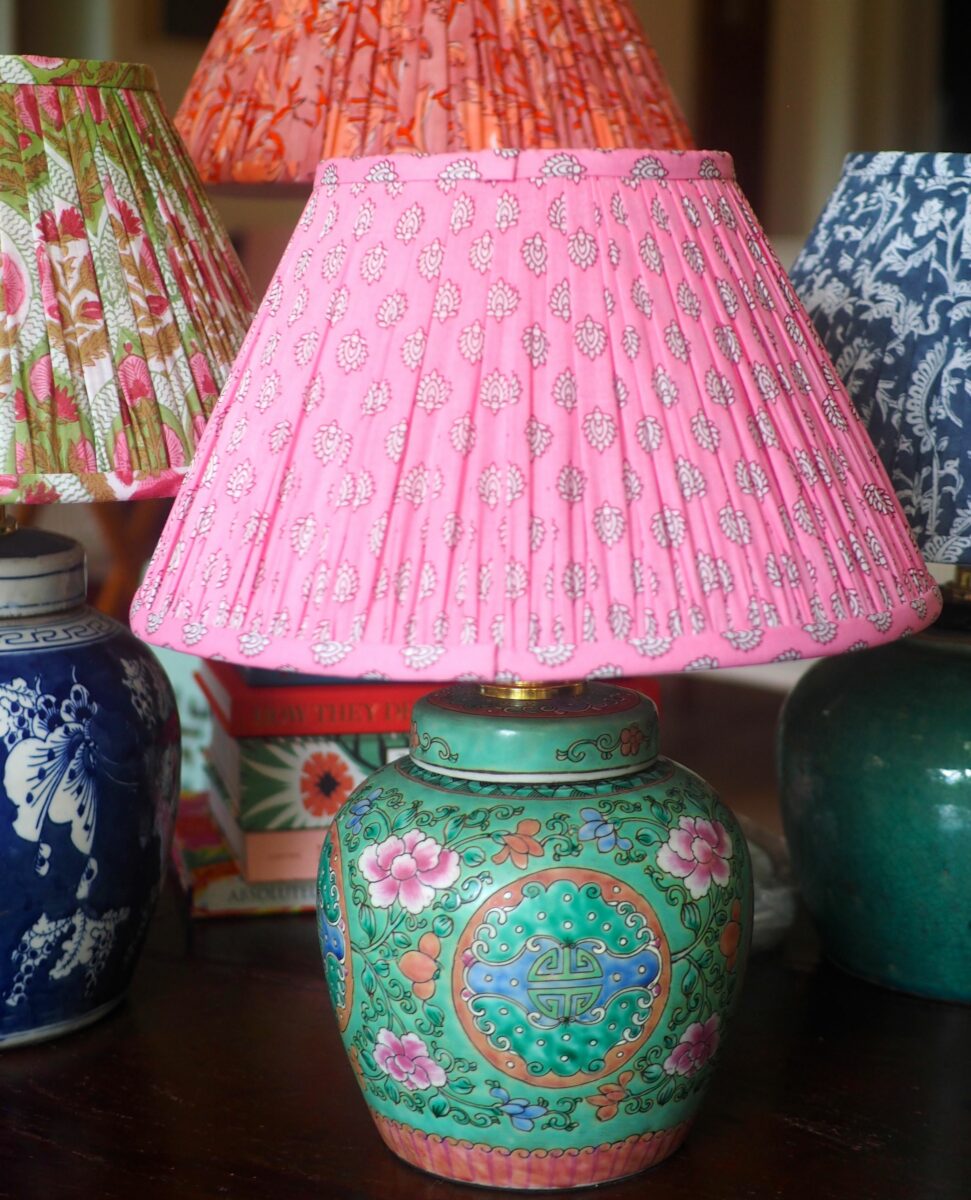 Jade Jars & Pretty-in-Pink
The properly-pretty, double-pattern-pop of this lamp/shade combination sets our hearts a flutter. 'Famille Rose' Chinese Porcelain, which came about in the 18th century, was originally known for its pale pink rose designs. More muted pastel colours were introduced over time to reflect European styles. Hong-Kong based The Ginger Jar Lamp Co. sells this design in yellow, green, blue, red & black colour ways amongst other designs from its vintage lamp base collection. The base pictured, pairs perfectly with this pretty, hand block-printed cotton lamp shade in 'Carnation'. Prices start at around £255 for bases and £91 for shades plus international delivery.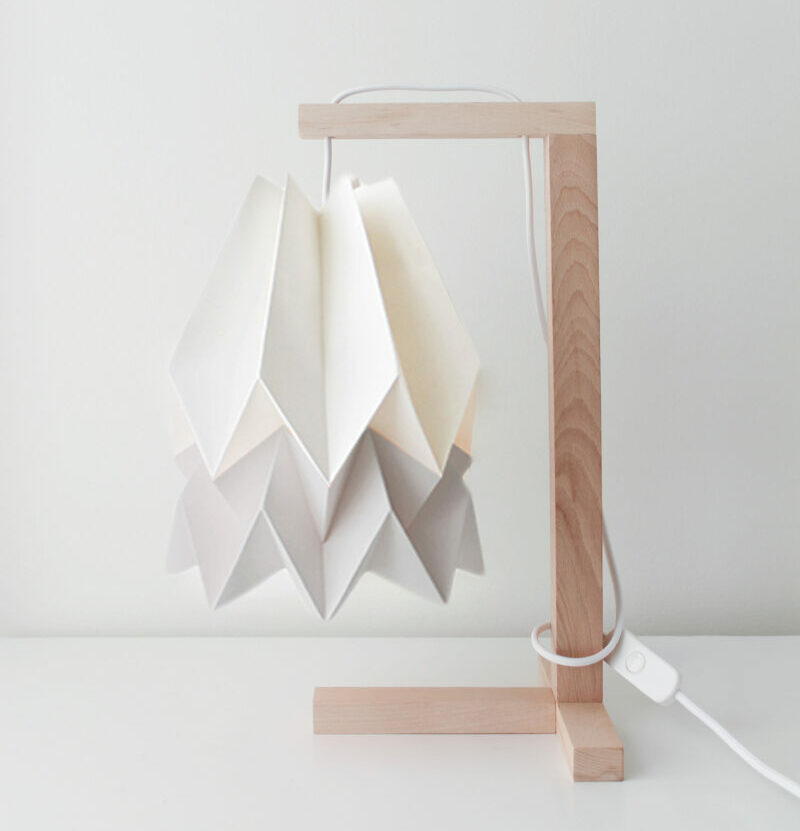 Origami-Inspired Angles
This eye-catching pendant desk lamp represents a modern interpretation of the Japanese origami, paper-folding tradition. Orikomi paper lamps are handcrafted in Lisbon, completely recyclable and come with eco-packaging and carbon-free shipping. Available, in addition, as ceiling pendants and wall lamps, this desk lamp comes in a range of colours, patterns and striped combinations. Prices start at £94.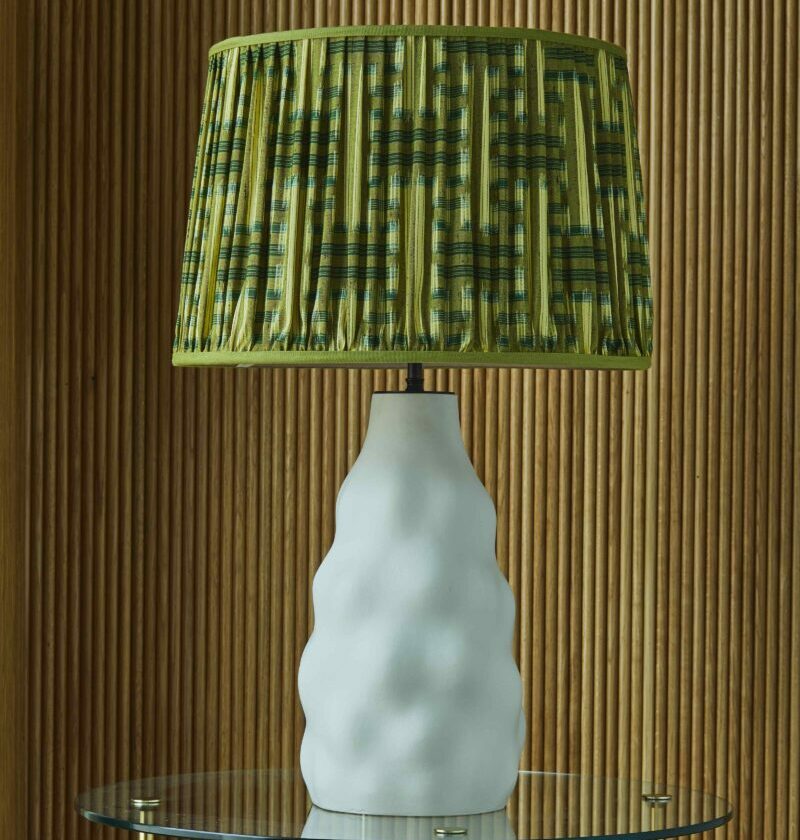 Organic Form Dressed With Kimono Silk
We love the sculptural, textured matt-white glaze of Samarkand Design's Iki lamp base (created in collaboration with Japanese ceramicist Ikuko Iwamoto). The intriguing, organic form provides a delightful juxtaposition to the decorative, almost-geometric weave of the kimono silk used to make this lampshade. The Iki table lamp measures 40cm high with an approximate diameter of 25cm. Handmade-to-order, the base costs £550 – contact Samarkand Design directly to enquire about lead times. A variety of vintage, kimono silk lampshades are available for immediate purchase through the brand's website and cost from £230.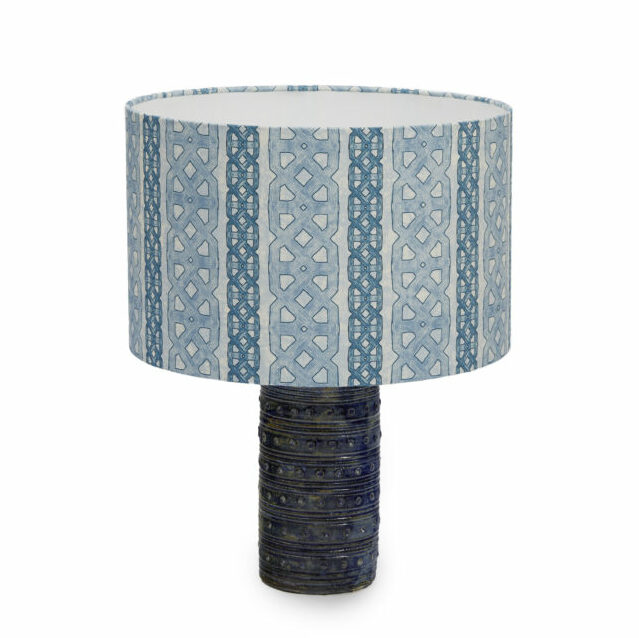 A Bold Indigo Print With West African Heritage
Innovative textiles designer Eva Sonaike creates striking, West African-inspired prints. Part of the Falomo collection and inspired by mid-century African architecture, the Ala design is shown in here in indigo. It features a geometric pattern reminiscent of fencing used in post-colonial building design. There are a number of indigo-hued designs in the lampshade collection as well as a variety of modern African prints in bolder and brighter colour ways too. The drum shades are handmade to order and cost from £125. Read more about this fabulous brand here.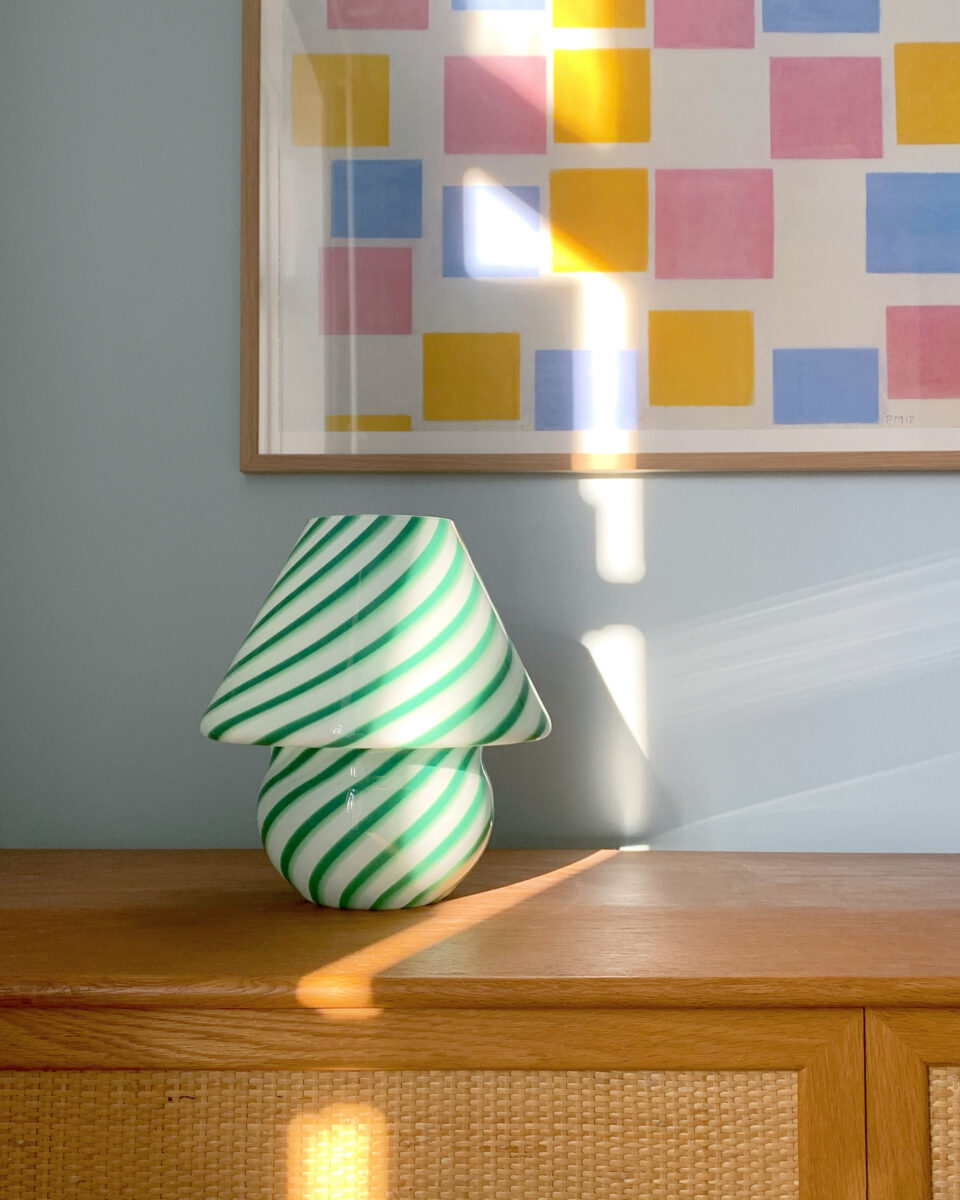 Sweet Swirls In Magnificent Murano
The petite dimensions and all-over swirl of this Mushroom table lamp in green and white are just so, so pretty! Perfect for a smaller table or corner story, the hand-blown glass of this Italian-made lamp are part of the Mushroom range from Danish company Millefiori Interior. Browse these candy-hued creations alongside some incredible pendant light fittings too. Available in a selection of pretty, pastel colours with either white or colour-on-colour swirls, these lamps sit at a height of around 26cm. Prices from around £350.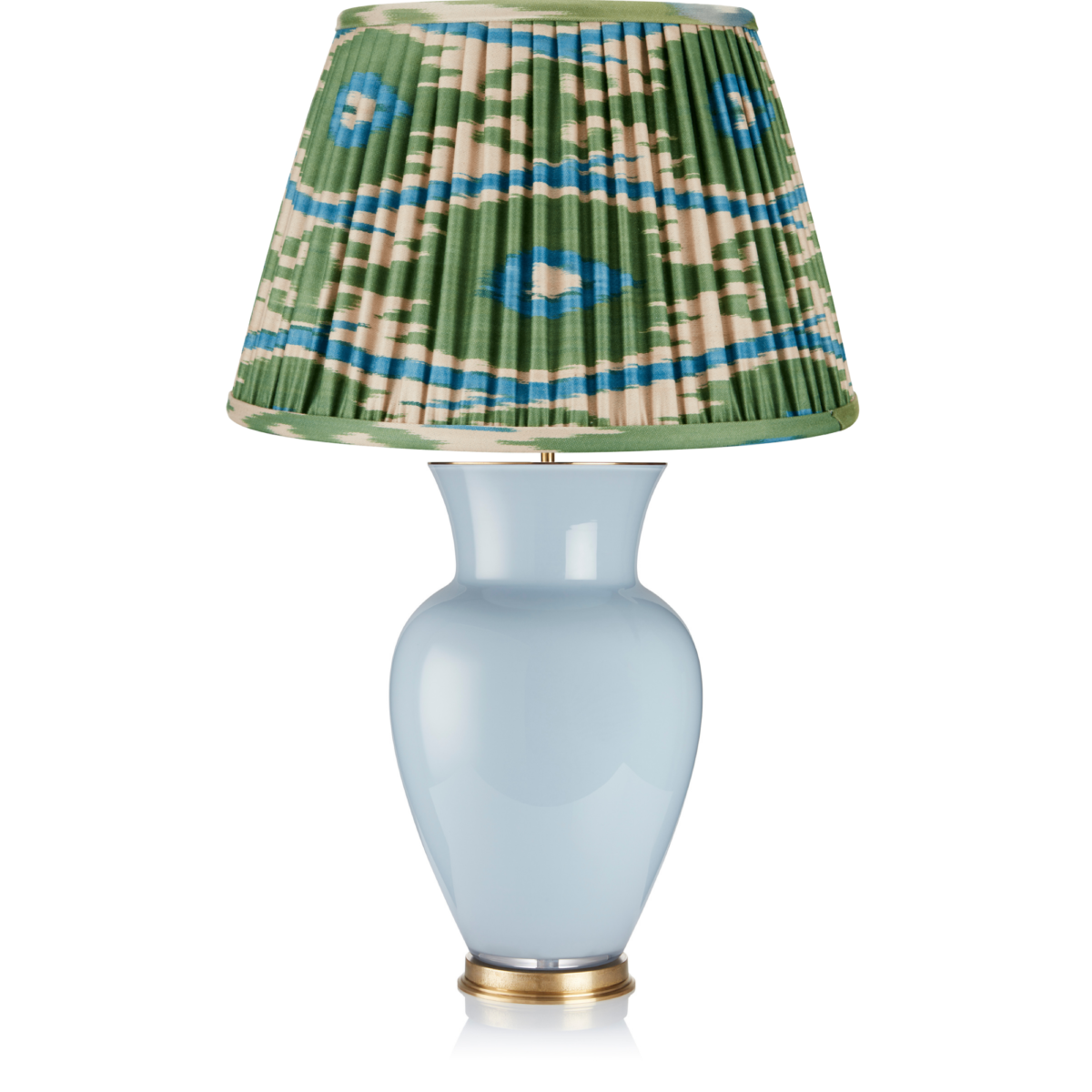 Hand-Painted Glass Topped With Elegant Ikats
Rosanna Lonsdale is renowned for her silk Ikat lampshades and cushions. This Green and Blue Ikat table lampshade is handwoven in Uzbekistan then hand-stitched and pleated in England. Available in the dreamiest and most unexpected of colour combinations, the gathered straight empire shape is both classic and contemporary. Pictured with a large, sculptural, hand-painted glass base – also made in-house by Rosanna – the shades and bases come in a wide range of colour combinations and sizes. Prices start at £160 for a 25cm base diameter lampshade. Hand-painted glass bases start at £375.
Artisanal Africa Meets Modern Monochrome
The unusual asymmetry and handcrafted appeal combined with a bold stripe lends modernity to the rustic, global vibe of this Hadeda Shadow table lamp. Woven by hand in Ghana using Veta Vera grass, the open weave creates whimsical patterns of light on your walls and ceiling. This lamp measures 35cm in diameter, 48cm in height, comes in two colours – Natural and Ginger – and is is priced at £510.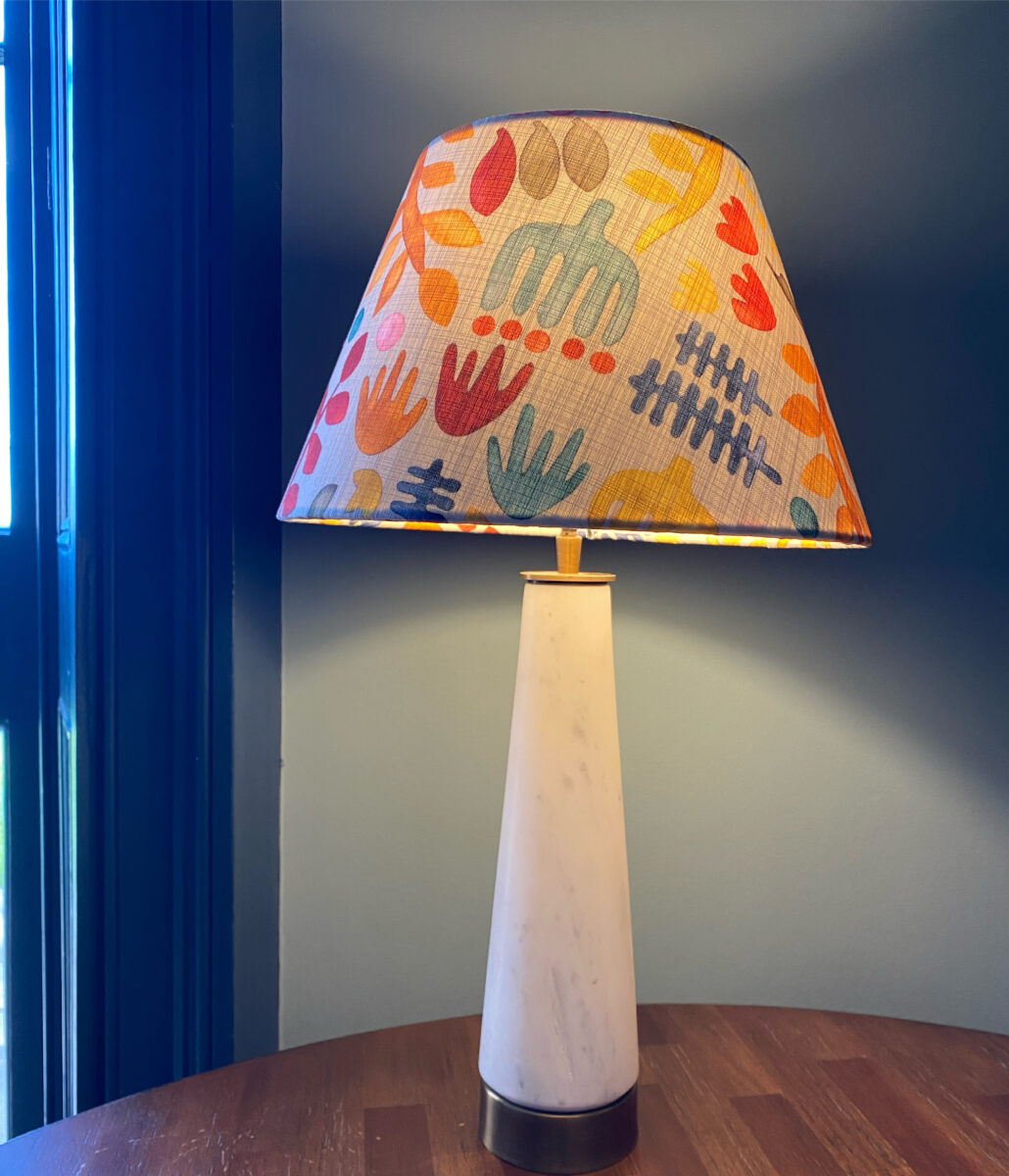 A Graphic Print In Primary Colours
West Sussex-based Porcupine Rocks is an interior design studio that celebrates modern African interiors and sells a comprehensive range of exclusive, South African fabric collections. Amongst other items – such as upholstered furniture and window dressings – the design firm also hand make bespoke lampshades, such as this bold and cheerful Kukua print coolie shade, teamed here with an elegant column base (try Pooky lighting for similar). Lampshades start at around £165.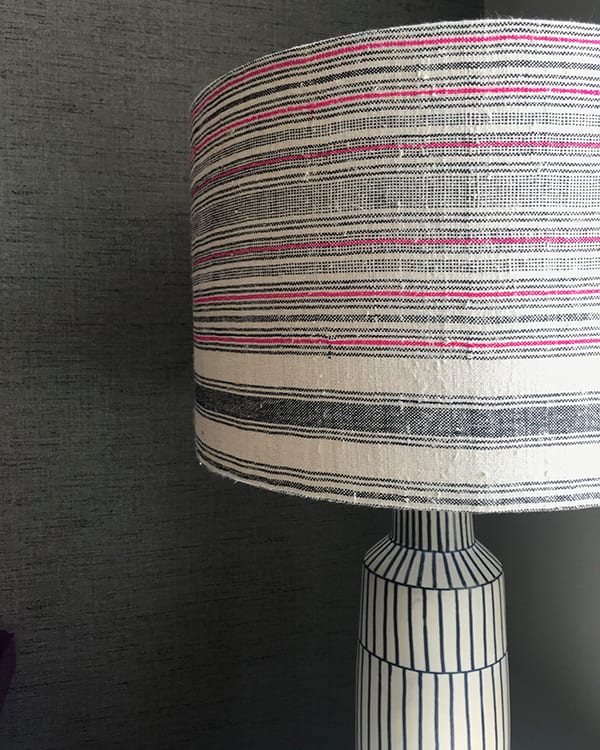 Thai Ticking & Slub Stripes
Of course we simply had to include one of our own Telescope Style designs in this top ten (make that eleven!) table lamps for your living room feature. Sourced in northern Thailand these chic, textural stripes in hand-woven hemp will add instant, artisanal charm to your home. We'd juxtapose this rustic shade with a simple ceramic base (the lamp base shown is coming soon to our online edit!) and display it on a slick sideboard in a chic, matt-colour finish, beside low, modern sofas. The Thai ticking drum shades are made to order in a variety of sizes and stripe styles. Order online or email us for further details.