Introduction
Talia Giles' striking wildlife wall art is underpinned by her obsession with colour and form. Breaking down her subjects to their simplest form and then rebuilding them into familiar yet transformative, animal portraits, Talia's work has become a favourite of animal-lovers and designers alike. Telescope Style caught up with the fine artist to talk creative inspiration, characterful creatures, digital techniques and interior design…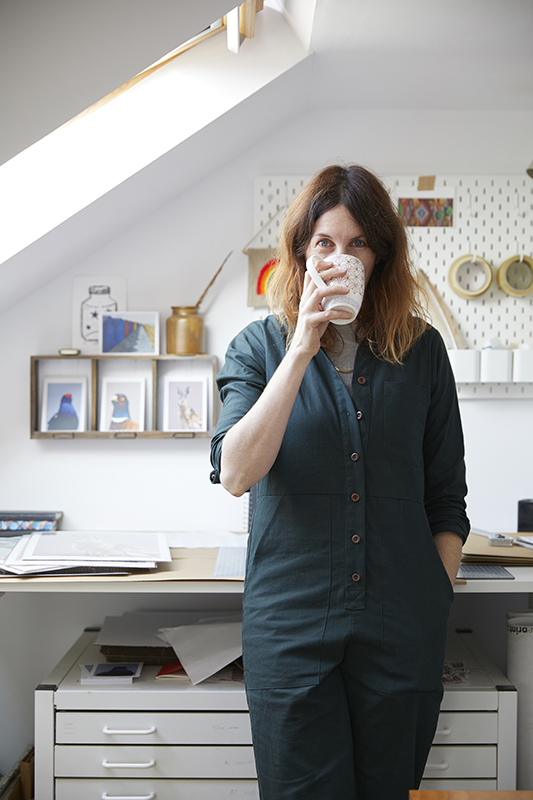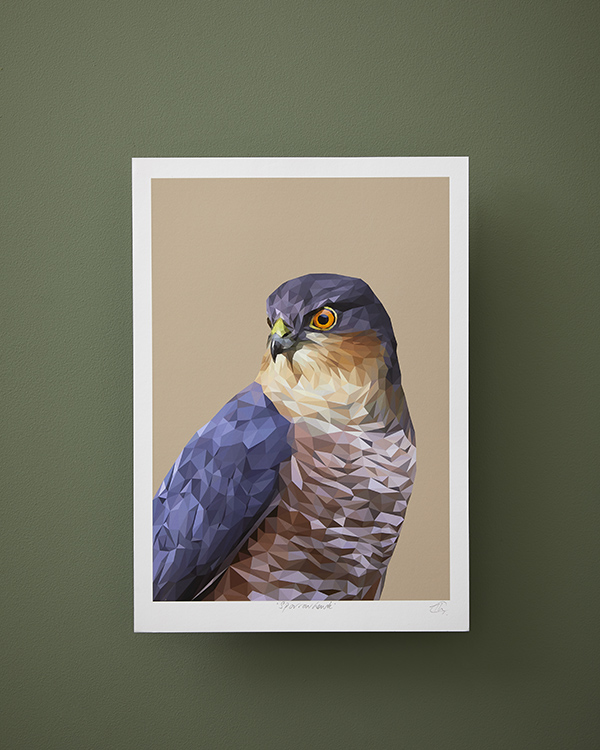 Left: Talia relaxing in her studio. Right: Sparrowhawk in Wheatsheaf in situ. Part of the growing Great British Birds series, this majestic creature displays well alongside the rest of the wildlife wall art collection and indeed all the prints are designed to mix and match. Sparrowhawk is also available on a Morning Dew ground.
Tell us how you came to set up your own design business. What prompted you to create digital wildlife wall art?
My husband and I had started up a catering business in the French Alps and it was a serious broken elbow injury that forced my change of direction. Our business was scuppered overnight. I couldn't cook or prepare food, let alone make deliveries and we couldn't afford to hire a chef. I wasn't even able to write or draw, but I could type and use a tablet. I used the time to retrain myself using the Adobe suite. After plenty of trial and error, I found solace in painting complex, net structures that once coloured, resulted in intricately constructed animal portraits.
We closed our business and moved back to the UK. Having been self-employed for three years I couldn't face working for anyone else again. It was make or break with the art. A chance to put all my years of art school and creative energy in to my work. A jewellery designer friend of mine, here in Bedford, has her own homewares shop. She saw some of my new artworks and persuaded me to print them for sale. After a couple of months of research and endless paper trials, I landed on Giclée prints, whipped up a logo, some packaging and readied my first three bird artworks. The animal portraits sold out in a week and the seed was well and truly sown.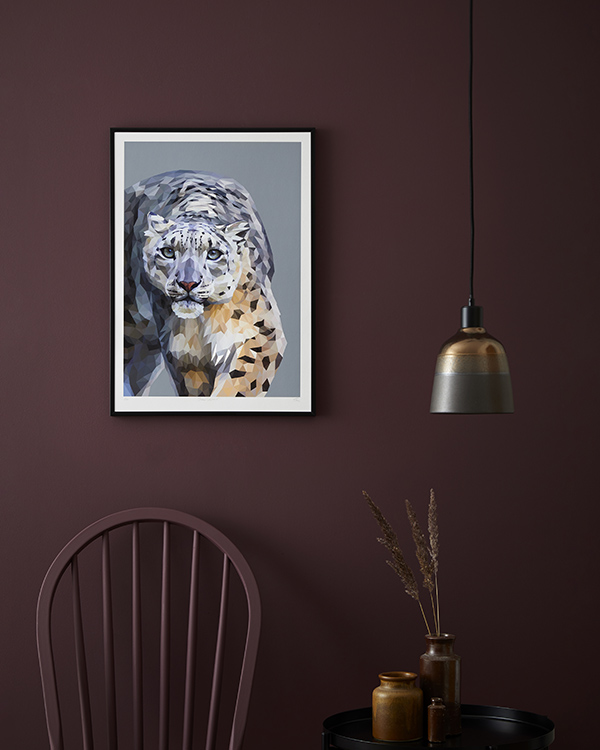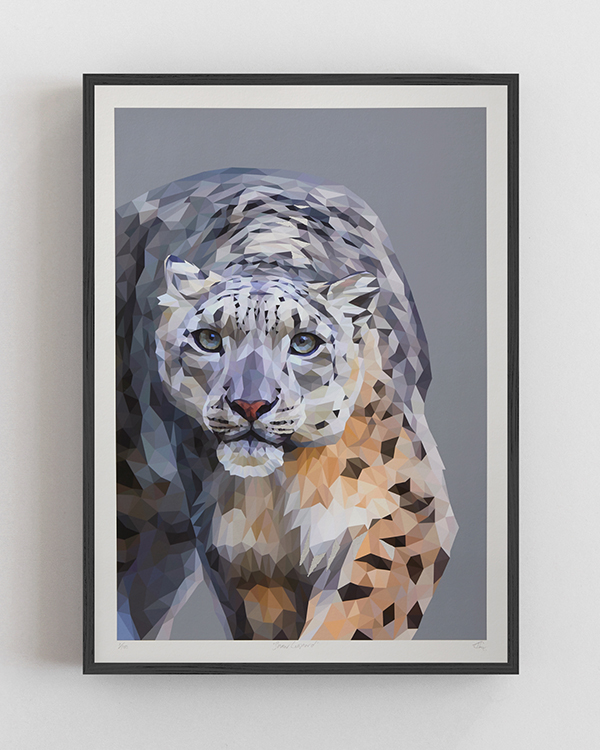 Left: Snow Leopard in situ, with a close-up on the right. Limited edition (1/100) Giclée print, hand finished in silver metal leaf and lacquer to prevent tarnishing. The Snow Leopard is part of the new Animals v Humans collection which is a growing catalogue of the world's endangered species whose future lies in the hands and decisions of humans. Each print is unique due to it being hand finished.
Are there ways in which the digital drawing process allows you to be even more creative than a traditional artist? Can you combine the two disciplines in any way?
Funnily enough, I've always thought there was a balance between the two in my work as the prints are thoughtfully constructed by mixing modern design practice with the more traditional concept of the posed portrait.
Painting is usually a very gestural thing and that's why I love challenging myself with these geometric artworks. It's pushing my knowledge of form to the limits. I have to create something that has soft, curvaceous form in real life and reimagine it in a restrained and mathematical way, with an outcome that is a sort of like a 3D sculpture using a 2D medium.
The advantage of working digitally is the ability to delete and go over mistakes without anyone knowing. Traditionalists would say this is cheating and the mistakes are what makes an artwork true to the artist. I wouldn't say either discipline is more creative than the other. Whichever medium you use, it's down to the artist to experiment and deepen their understanding of their tools! Creativity is a skill that needs training and hard work just like your memory (in fact, the two are very much intertwined).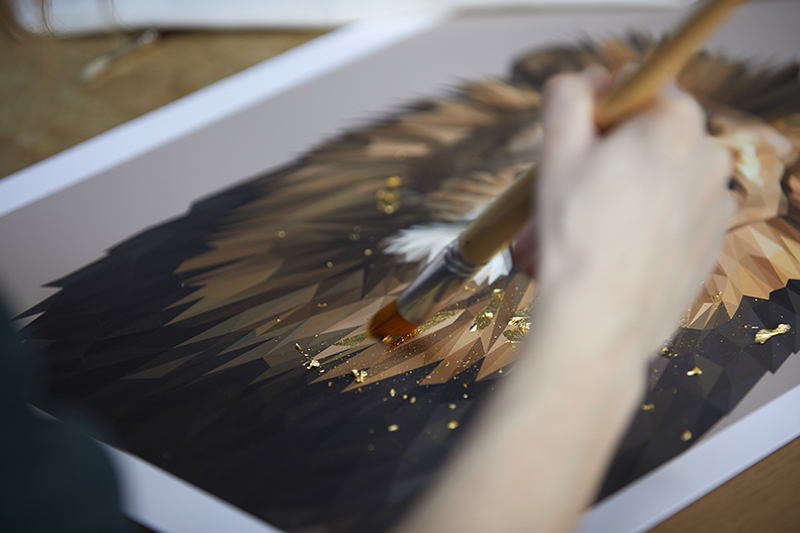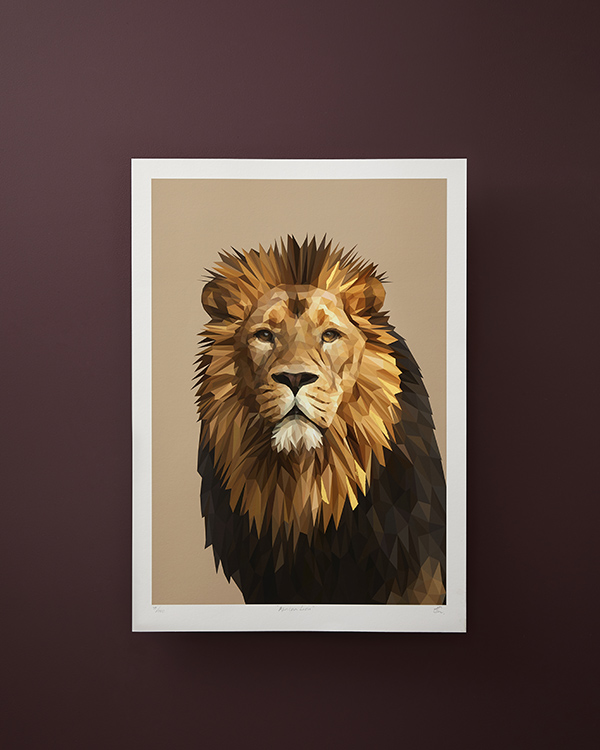 Left: A close-up shot of the artist applying the gold flake by hand to the African Lion archival quality Giclée print. Shown here with a Wheatsheaf ground, in a limited edition (1/100) and hand-finished in 23-carat gold leaf. The majestic male lion was slowly built up using 1000s of individually drawn triangles coloured in one by one. Part of the Animals v Humans collection which is a growing catalogue of the world's endangered species.
Describe your creative process…
This is the golden question. I've always been fascinated by artists' creative processes. I have quite a mathematical mind for an artist, which can sometimes be a hindrance. In the case of these 'low-poly' artworks (polygon meshes in 3D computer graphics where relatively few polygons are used), I feel like it's an advantage.
They say there are seven stages of creativity with the first one being 'intention'. For me, this is my subject matter. Once I've decided on a subject and have set up the composition, I start on a journey to find my creative rhythm. A succession of thoughts and actions that result in an original artwork being produced. Each and every triangle and individual colour selection are decisions that have to be made with confidence, while imagining the final picture as an animal that is recognised, and accurate to the eye. One of the stages is 'correction' and there is plenty of that throughout my process. Some days I end up deleting huge parts of the artwork and starting over. I love it all, even though it's an emotional rollercoaster every time!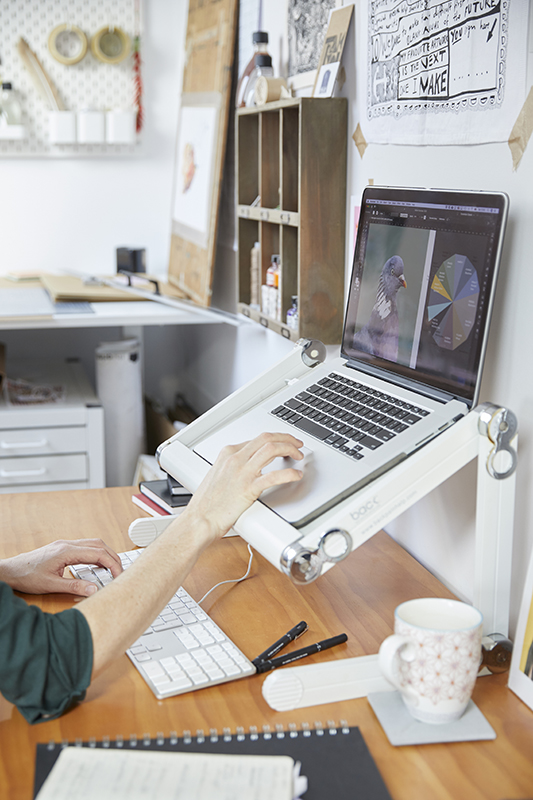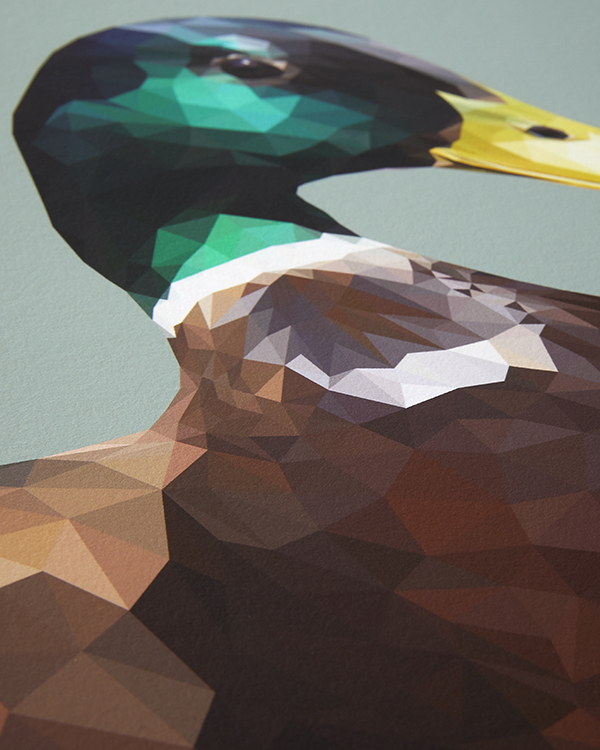 Left: Tania working on the digital side of her creations. Right: Detail of Mallard on Laurel archival quality Giclée print. This green-headed male Mallard is part of the Great British Birds series. While he holds his own on the wall, the background shades on all the animal portraits are designed to be mixed and matched. This striking chap is also available on an Elderberry ground.
How do you select each new 'sitter'? By which I mean your characterful, portrait subjects…
So far I've had a theme to my wildlife wall art collections which has narrowed down the options e.g. Woodland Creatures – there are only so many birds and mammals in the UK that are woodland inhabitants. Not only do I have to choose the animal, I also have to choose between male or female. In the bird world, males are usually the most magnificently coloured, so they often work best for my wildlife prints.
This year I'm adding to the Animals v Humans collection. This has led to the difficult task of selecting only a handful of animals from the far too many species placed on the endangered list, as a result of the actions of humankind.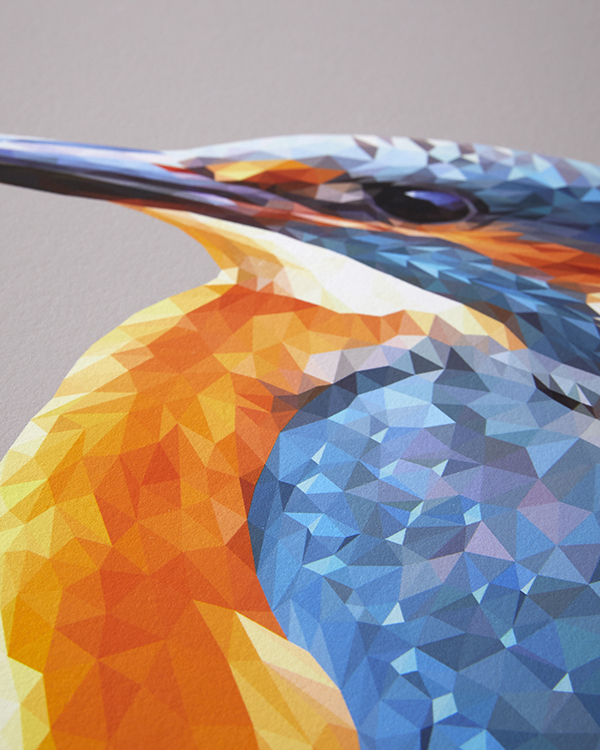 Left: Talia experimenting with various combinations for an exhibition. Right: Detail of Kingfisher on Feather, archival quality Giclée print. One of the most brightly coloured birds to be found along our rivers and streams here in the UK. The kingfisher looks brilliant in A2 size, to really show off all of the detail.
What do you think your customers appreciate most about your wildlife wall art? Their digital composition and unique, modern feel? Or do they just love the creatures you portray?
I'd say it's a combination of the colour palettes, a love of nature and the wow factor. There's always an optical illusion at play. From the far side of a room, the wildlife prints are high impact and look like paintings. As you step closer you see that the image is fragmented. I like to think of it as art for people who see the world differently. I've essentially reconstructed nature by playing with form. It's just a series of shapes made up in to something we recognise.
Of course, it helps if you love the subject matter too, and there are plenty of wildlife lovers out there who invest in my artworks.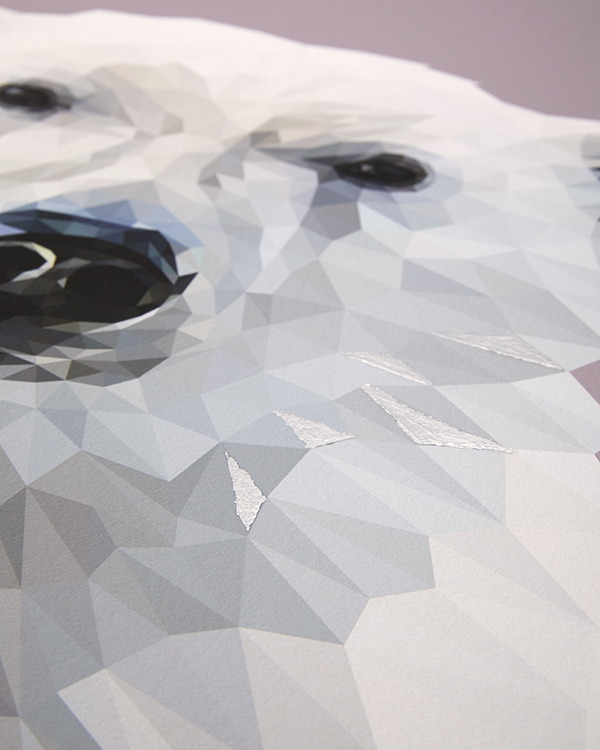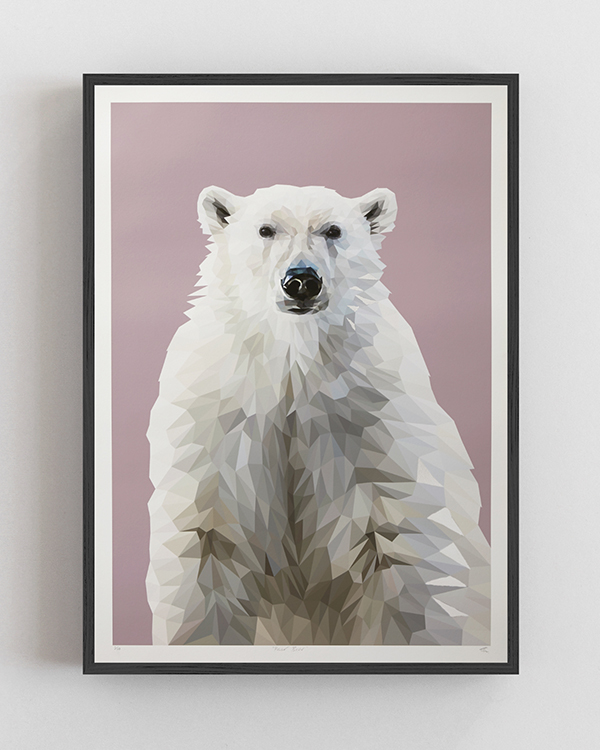 Left: Detail of the hand-finished silver flake on the Polar Bear print. Right: Polar Bear limited edition of just ten Giclée prints. Hand-finished in silver metal leaf and then lacquered to prevent tarnishing. The Polar Bear is also part of the Animals v Humans collection. Each print is unique due to it being hand finished.
What kind of interior design schemes do you imagine your artworks hanging in?
This is a difficult question as there are so many. When I first started out, I had a vision of my wildlife wall art appearing in industrial, warehouse apartments on huge exposed walls. However, what I've found is that the artworks really enhance a range of spaces: cute country cottages; decorative, maximalist interiors; new, modern builds and everything in between.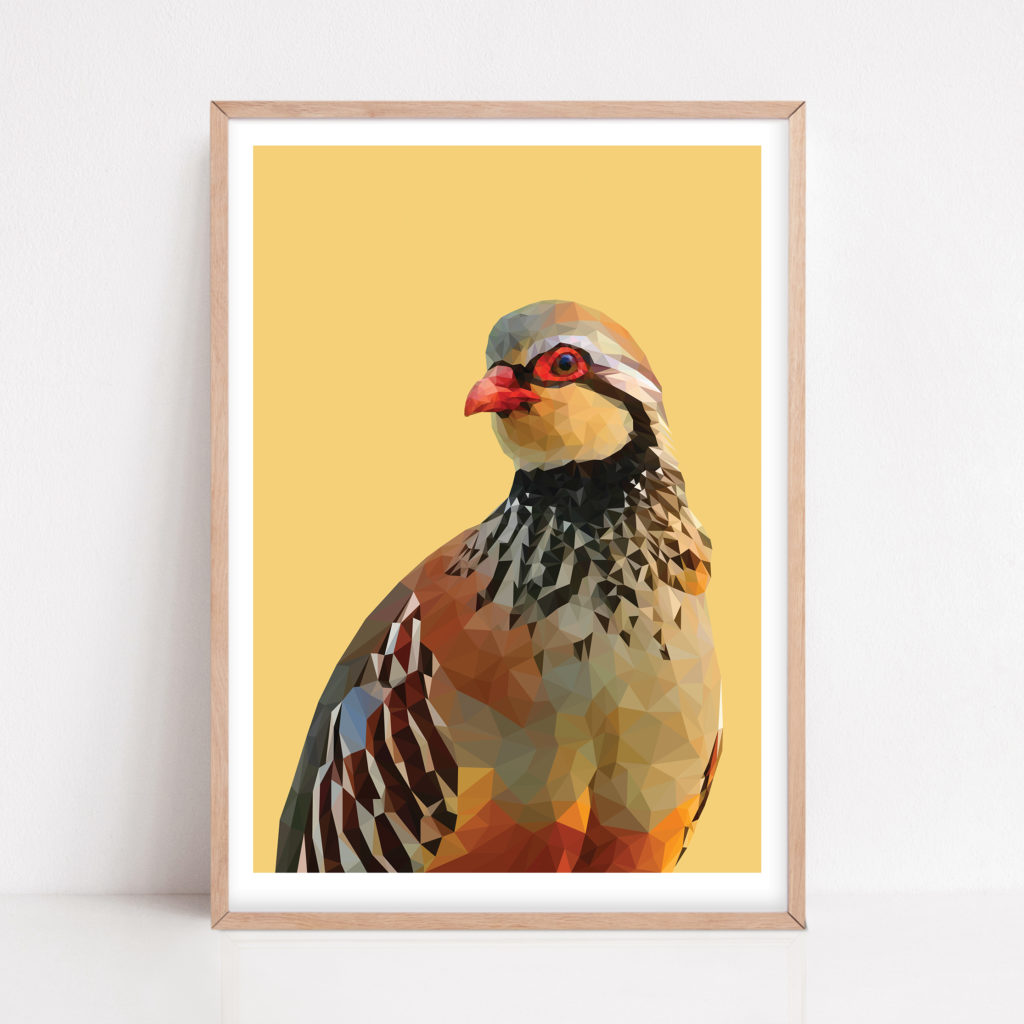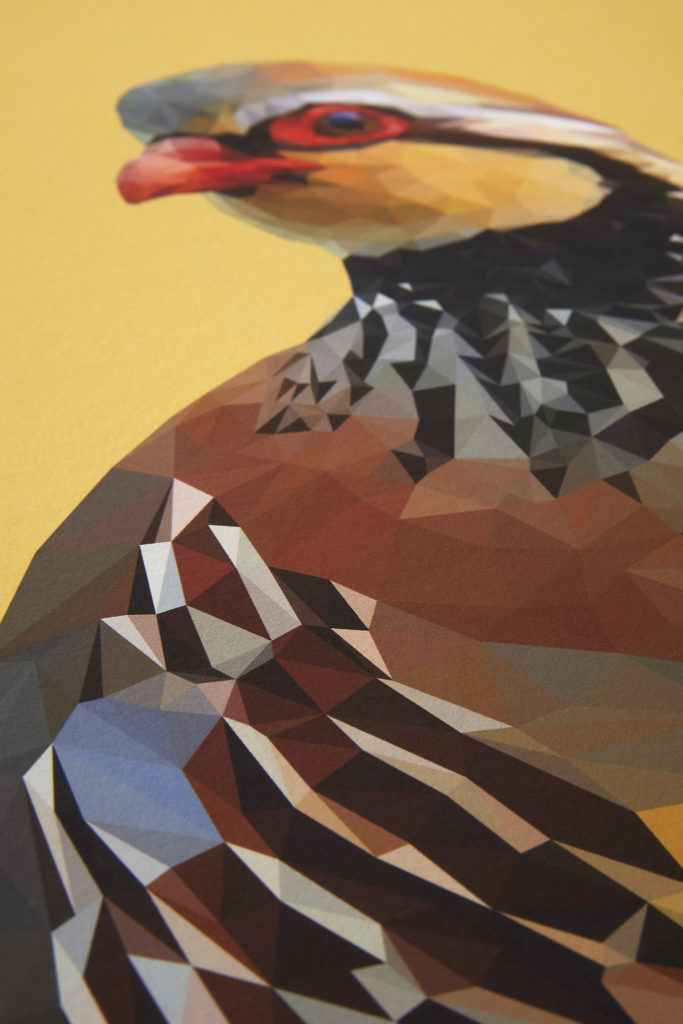 Left: Red-Legged Partridge on a Narcissus ground. Right: A detail of this archival quality Giclée print. The Red-Legged Partridge is part of the growing Great British Birds series and looks great alongside the Pheasant. Mix and match with other prints from the Woodland Creatures collection.
What/where is your dream home and how would you decorate it?
We have two! The first would be an eco-friendly, tiny, container style home in the Yorkshire Dales with biophilic design front and centre: full of books, local artist landscapes and hand-whittled furniture.
The second would be a semi-crumbling smallholding in the south of France with lots of outbuildings and land. We would spend the rest of our lives carefully rebuilding, and rejuvenating the brickwork and the interior. Each room would be painted a deep, rich hue and the house would be full of mad finds from flea markets: large scale, hefty, antique furniture; as many ceramics as is possible from local artists; textiles and of course, a dreamy light and airy studio space so I can paint to my heart's content. Oh, and a music studio (sound-proofed) for Andrew, can't forget him!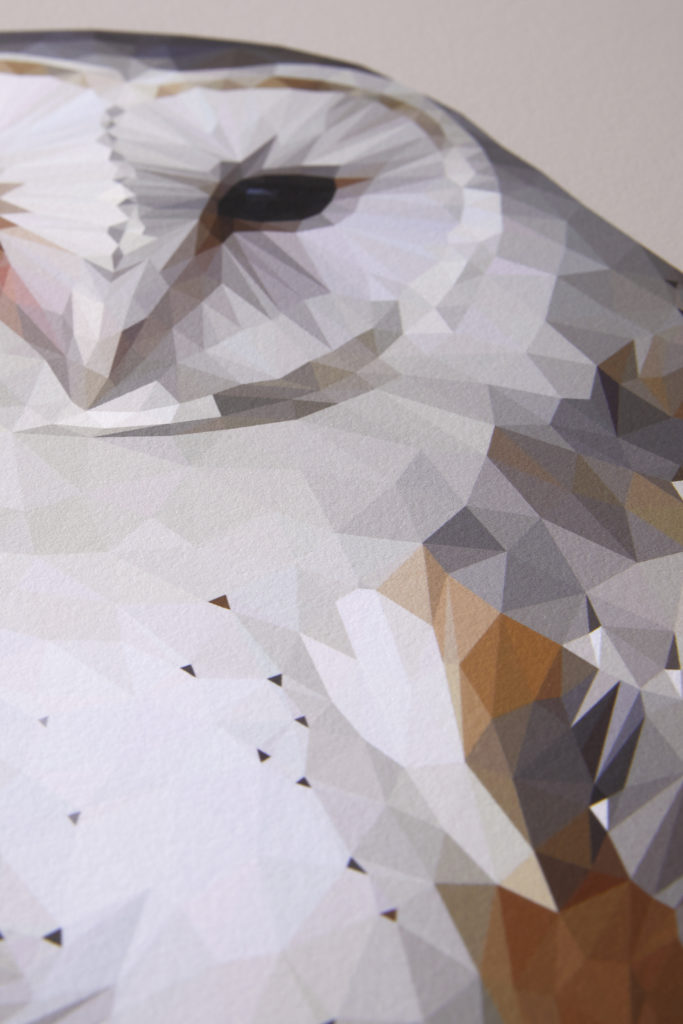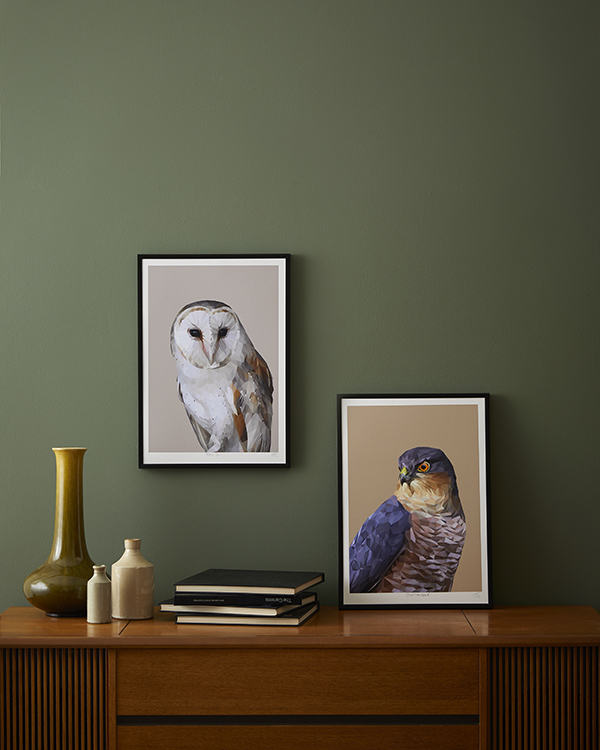 Left: Detail of Barn Owl archival quality Giclée print on Witching Hour ground. Right: This beautiful, elegant night-time flyer is part of the growing Great British Birds series. He looks great on the wall alongside the rest of the collection and is pictured here with the Sparrowhawk.
Choosing colours for interior design schemes is tricky. How do you select the right background options for your artwork. Do you offer a bespoke service?
My advice to people choosing their own backgrounds is to just let all your inhibitions go. Don't feel intimidated by the rule books, or 'rules' of colour. The first step is to go with what you love, no holds barred. But, if you want to make it look effortless, art is a fantastic way of creating a focal point in a room. It can also help create a transition between colour schemes in different rooms. For example, if you had a dusty rose sofa in your lounge, you could use the Elderberry background shade in the next room to help your rooms flow and continue the colour. Or, above the sofa, you could have the Jaguar on a Jungle Teal background which would be a bold, complementary colour to the dusty pink.
In my own home, I'm a fan of layering using the 'analogous' theory on the colour wheel: three shades that are next to each other on the colour wheel. So in one room for example, I have burnt oranges and pale pinks as accent colours but with a terracotta red as the dominant shade. An easier way is to go monochromatic so you are sticking to one colour but in different tones and tints (pale to dark).
The colour palette I use in my work is bold but muted, especially as the paper is textured and it comes out very painterly. I wanted high-impact, statement shades without them being sickly.
I do offer a bespoke background service and have worked with plenty of interior designers using this method. One customer, for example, ordered six wildlife wall art prints with the same background shade so there was a lot of work involved in finding the perfect hue that suited each animal in the chosen selection.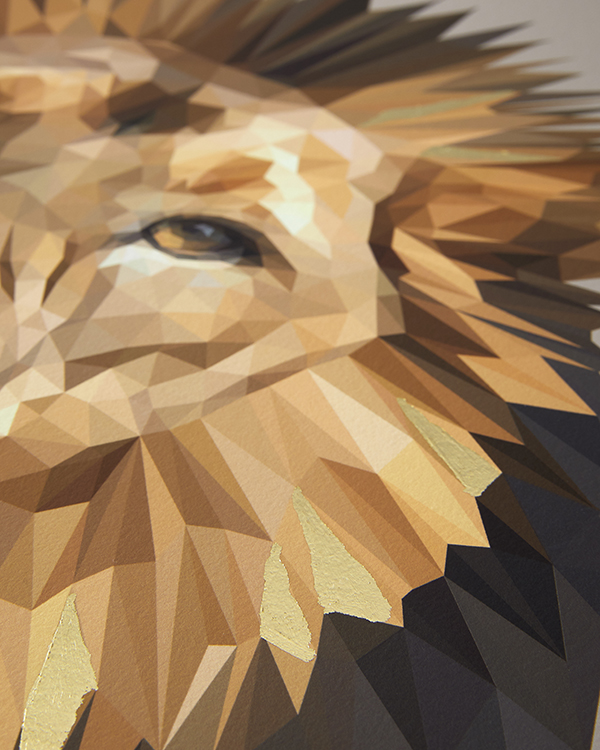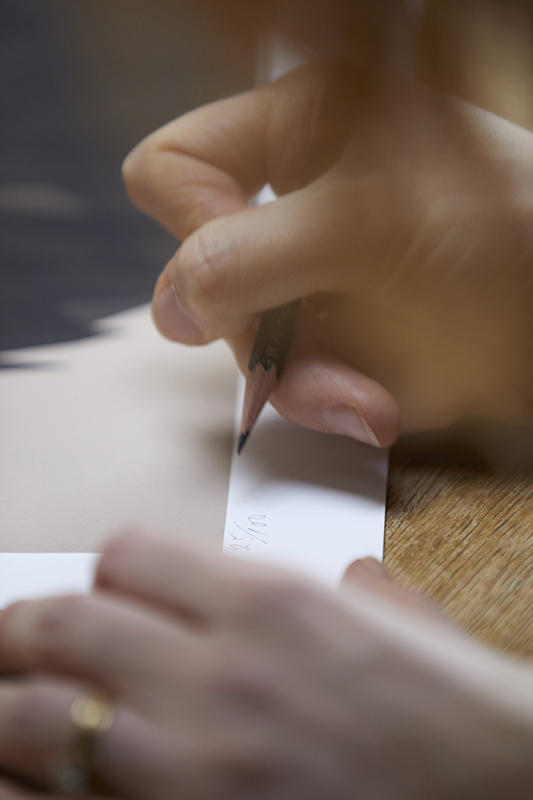 Left: Another close-up of the gilding on the African Lion. Right: Talia signing a limited edition print.

After your British Wildlife series and the more recent Endangered Species collection, which group of animals have you set your sights on next?
I'm currently in the middle of a heron – they are such incredible birds. They are so statuesque and prehistoric and such a pleasure to work on. In fact, birds seem to work seamlessly in this geometric style, I think it's because their feathers are constructed in one of nature's incredible repeat patterns.
You live Bedfordshire and your studio is based there – do you have any insider tips on where/how to see the best of what your home county has to offer? Design, culture and countryside-related places or events for example…

Absolutely! If I didn't know it before, I now know every footpath, rock, stone and secret hide-out since the start of lockdown. In the first instance head to the Higgins Gallery for culture, John Bunyan trail for nature-lovers and the Bedford Flea, Affordable Art & Local Produce market (that I run!) for the best of Bedford's small businesses. Next, my favourite dog walk is across Ampthill Great Park which was designed and landscaped by Lancelot 'Capability' Brown. It features undulating hills and woodland with magic copses and lakes. You get a great view of the Stewartby brickworks there too.
Finally, perhaps the most top secret, is Wrest House, Silsoe. They have three rooms of 18th Century, hand-painted Chinese wallpaper. They are exquisite and the only examples of their kind surviving in the UK. There are only a handful of visitors allowed once a month on a Sunday if you're even lucky enough to get a space!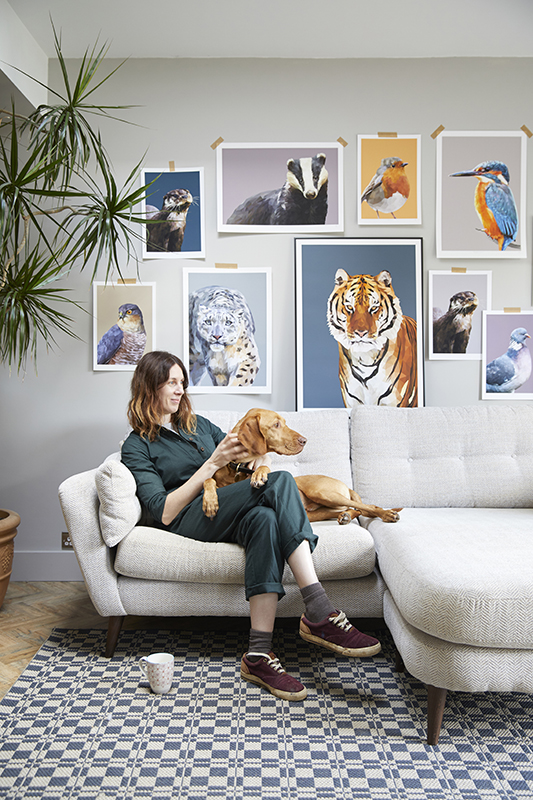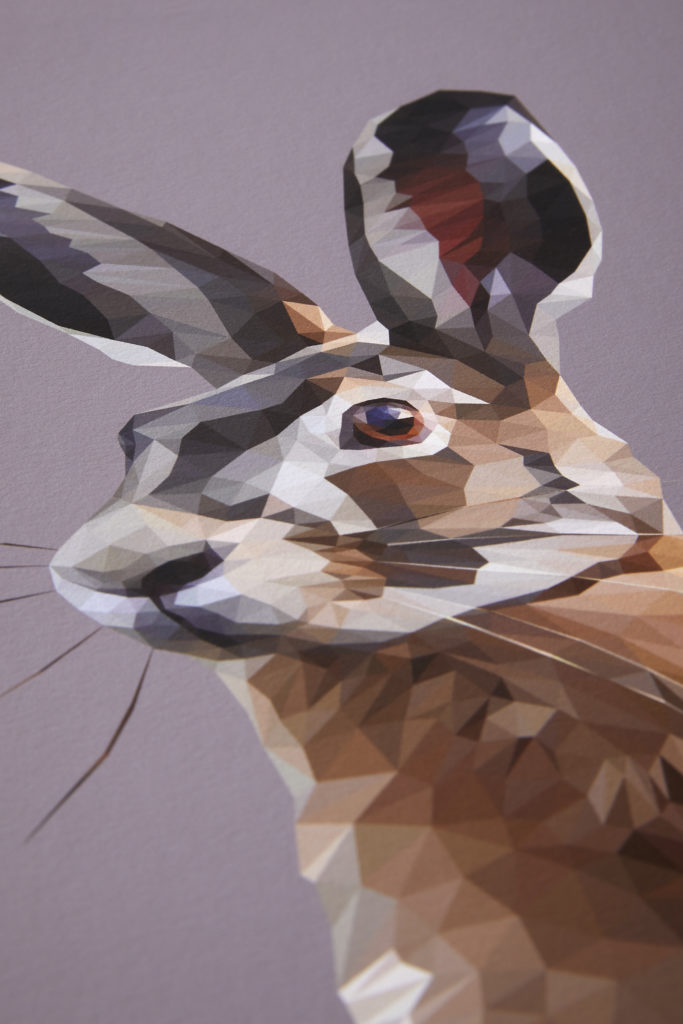 Left: Talia relaxing with her dog. Right: Close-up of the Brown Hare on the Elderberry background. With beautiful long ears and whiskers, this geometric hare portrait is part of the Woodland Creatures series. Also available with a Bluestone ground.
When we can all travel freely again – where will you head first? What's top of your travel bucket list?
Cuba for the explosion of colour; Japan for the design and food; the Scottish Highlands and Western Isles as my husband has never been over the border; then the South of France to our happy place (Ceret, Catalan).
What does destination-inspired design mean to you?
A space that ignites a desire for or memory of a place or culture you are transported to in that moment. It could be a location you haven't yet visited but are fascinated by!
We've recently renovated our ground floor an although it's open plan, each 'section' has a different feel. The lounge is a deep terracotta which reminds us of our travels around southern Spain, the tiles around the fireplace are a Moorish design and the furniture a mid-brown, earthy tone to tie it all in. But, on the walls we have multiple pictures and paintings of the rooftops of London where we both met (and I lived for 13 years). I love that a single object, painting or design feature can evoke such an emotional connection. Plus, they are unique memories. I don't know why more people don't start their whole design process off with destination in mind…
In Conclusion
If Talia's bold and evocative wildlife wall art has captured your imagination, visit her website for a complete inventory of available works including prints, cards and calendars or click here to browse the Telescope Style edit. Share our interview with art and animal enthusiasts or comment via the social icons or comments box below. For more behind-the-scenes interviews head here. Alternatively, follow on Instagram, Facebook or sign up to our newsletter here to find out when our journal entries go live. You'll also receive a free download of our useful, 20-page 'Room Renovation Guide.' Thanks for reading!