It's ALL in the planning…
Yep, you've heard it before, but I can't emphasize this enough when it comes to any kind of redecoration or renovation project. A coherent approach, with focused, logical steps taken in the right order, will result in a completed project that delivers on every level. Practical room design is key. It doesn't matter whether your project is to redecorate a single room or renovate a whole house. Planning based on functionality remains broadly the same.
Our first article in the series 'Renovation Essentials: The Project Concept Board' captured your overall project vision. It gave you a feel, a look, a benchmark. A visual aid to communicate your ideas to those around you. Family, architects, interiors professionals and tradesmen alike. Now, we turn our attention to practical room design and the functionality of each space. Our focus is sitting rooms, dining rooms and bedrooms. Kitchens and bathrooms require different and specific set of considerations, which we'll address in a subsequent Renovation Essentials feature.
Take your time.
If you're anything like me, you'll just want to dive straight into paint charts, gathering fabric swatches and picking up cushions and vases as you go. That's the fun bit right? However, designing a room scheme is never just about applying colour and pattern to a shell. Then adding fabric, furniture and decorative flourishes. Planning a room design should ALWAYS start with the needs of the people using the space and facilitate any activities that will take place there.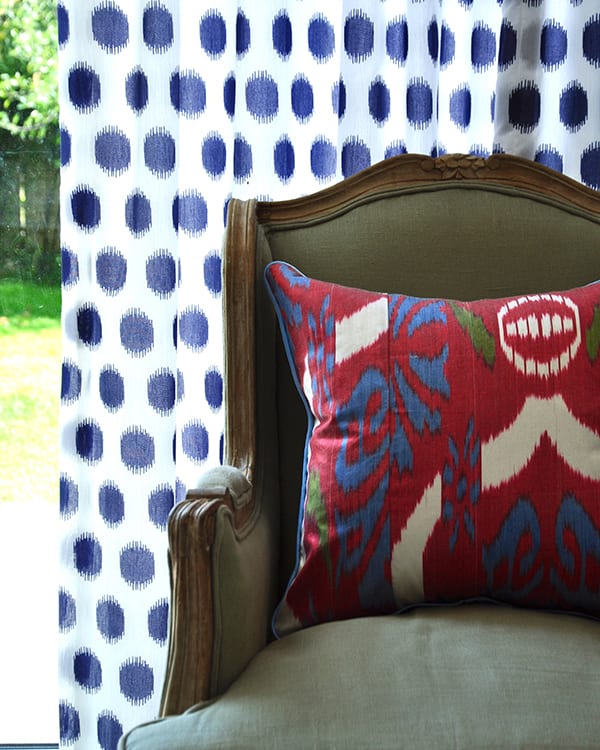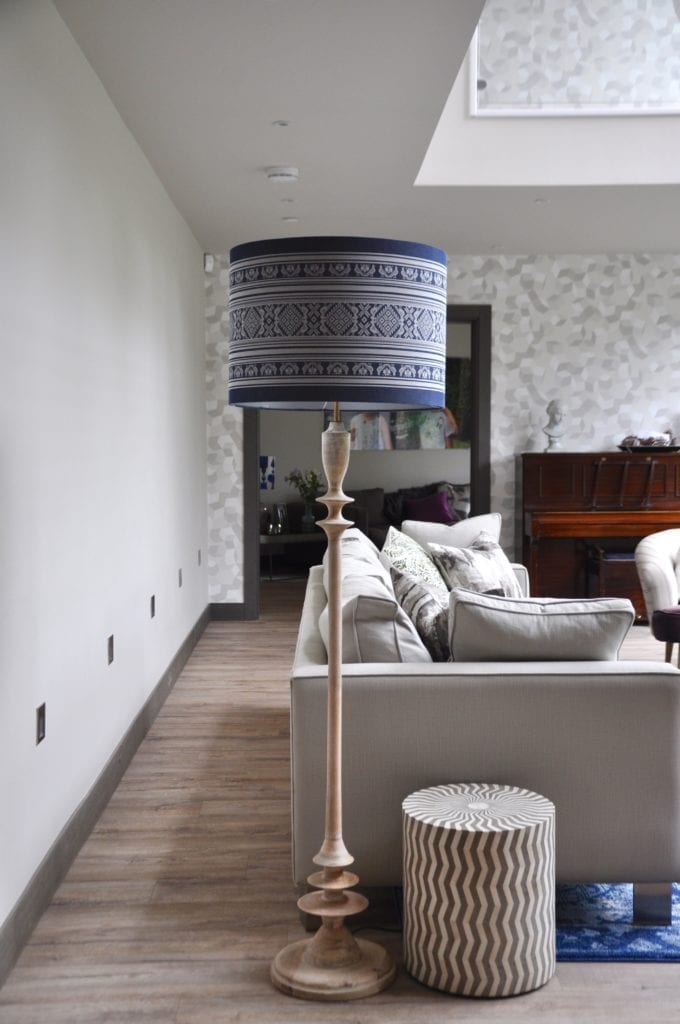 Left: The type of seating you include within a scheme should meets the needs of the occupants. Often supportive, high-backed wing chairs are more a comfortable option for elderly relatives to get in and out of. This French-inspired chair from Swoon is enlivened with a vibrant, silk ikat cushion by Rosanna Lonsdale available through us here. Right: Layout will be dictated by the number of people using a space and the activities that need to take place within it. This sofa is from Sofa Workshop ; the lamp in the foreground is from Pooky. The lampshade is available through us here and is made using fabric from the textile designer Julia Brendel.
First up, who will be using the space?
Are you a frequent dinner party hostess? If inviting friends over is a regular thing, you need to think about the maximum seated occupants at any one time. This dictates anything from the shape and size of your dining table, to the orientation and layout of your sofas (to promote conversation). Not least, the amount of upholstered seating required. There's nothing worse than having to sit uncomfortably close to a fellow dinner-party-goer you have just met!
Perhaps you're a home bird with a large family and a clutch of teenagers who simply want to 'chill' on the sofa? Again, the size and style of your sofa set up will come into play. Chaise sofas are often a good compromise if you haven't quite got room for an L-shape.
Is your living space open plan, adjacent to a kitchen or dining area? Or, are you fortunate enough to have dedicated entertaining space. If so, you have the luxury of being able to cater for all eventualities.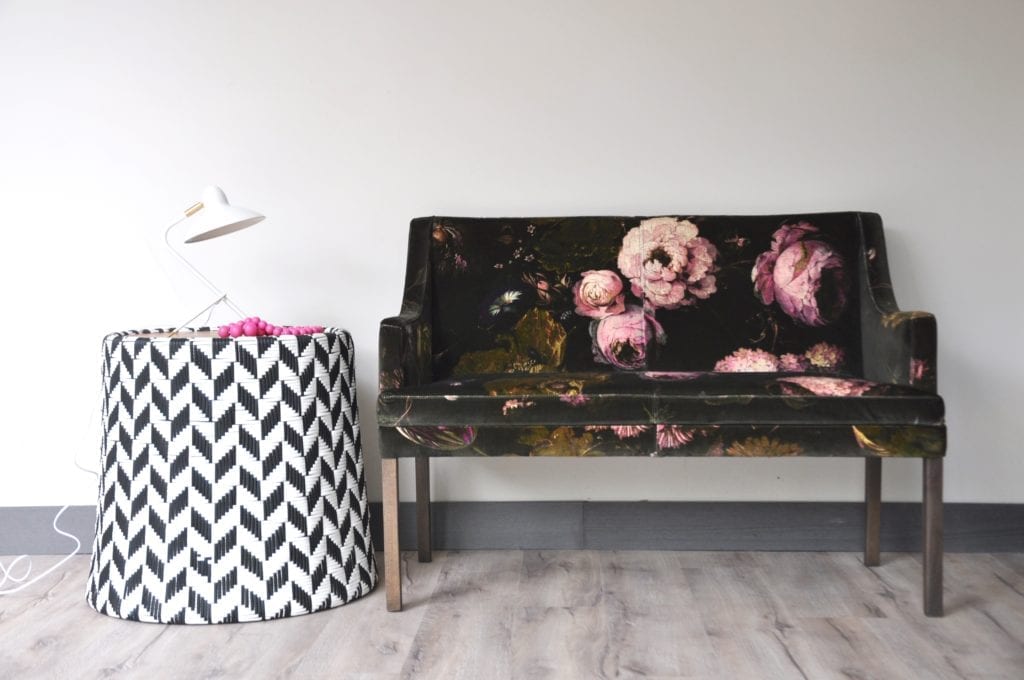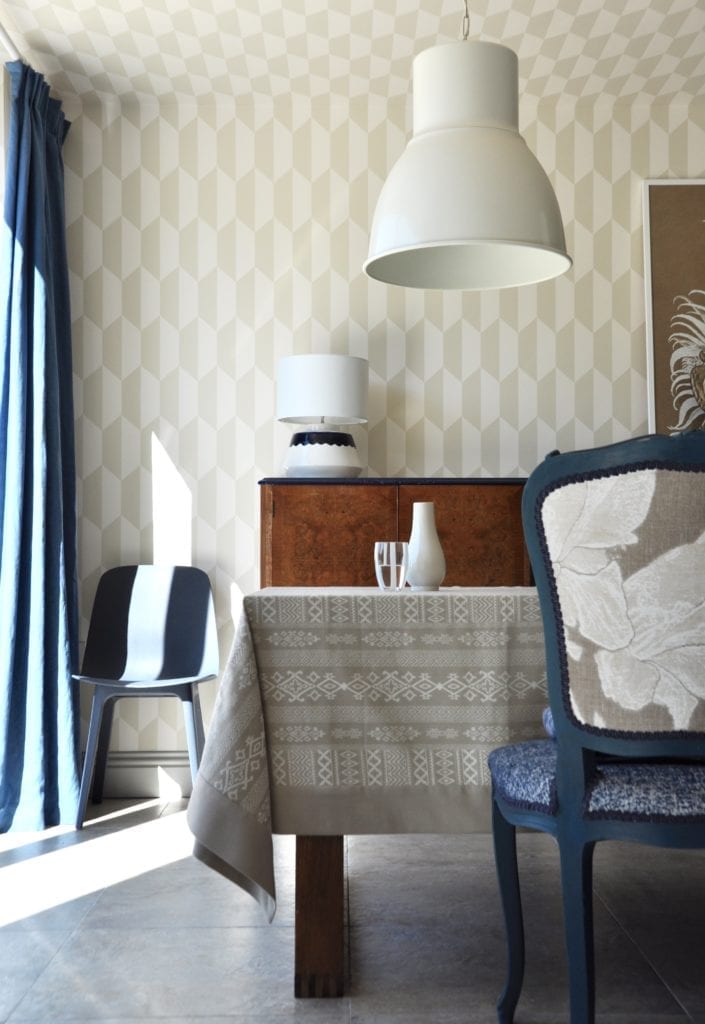 Left: Upholstered bench seating such as this glorious upholstered velvet bench from Angel & Boho is a thoughtful and welcome addition to hallways, landings and passing places. Right: Informal, open plan kitchen-diners are certainly conducive to relaxed, modern living. The luxury of an additional, dedicated dining space allows you to balance drama, mood and atmosphere with a comfortable and practical seating arrangement. The wallpaper here is Cole & Son, the lamps Ikea and the Middle Eastern inspired tablecloth, by textiles designer Julia Brendel, is available through us here.
Immediate/extended family.
Of course you need to think about 'bums-on-seats' whatever your house size, social bent or pastimes. Simply list your immediate family, visiting extended family and friends and prioritise seating and beds accordingly.
Elderly relatives might be better accomodated downstairs and will be glad of comfortable, supportive seating at the right height. Similarly, it might be helpful to include a comfortable bedroom chair or bench seating in hallways, landings or passing places, to enable rest stops and/or a place to perch while chatting/putting on outdoor shoes.
Kid/pet-proof!
Sticky fingers will always be an issue for young families. Ditto again for pets and muddy paws. Durable, stain proof upholstery fabric and perhaps wipe-clean rather than upholstered dining chairs might be wise choices! I'd also add tiling floors and walls to dado height throughout the downstairs (so you can practically power-hose them!) However, I'm now past that stage and this particular pearl of wisdom resides in my LBB of interior design 'things-I'd-do-differently-next-time'. Amongst other things, toddlers may 'demand' curved and cushioned edges to ameliorate the inevitable bumps and falls, when it comes to furniture choices for sitting, dining and sleeping areas. |f your kids regularly have friends staying over they might also want a trundle or sofa bed, in addition to their own.
Practical room design with its people-focused considerations will of course be governed by the workable scope and dimensions of each space in your project.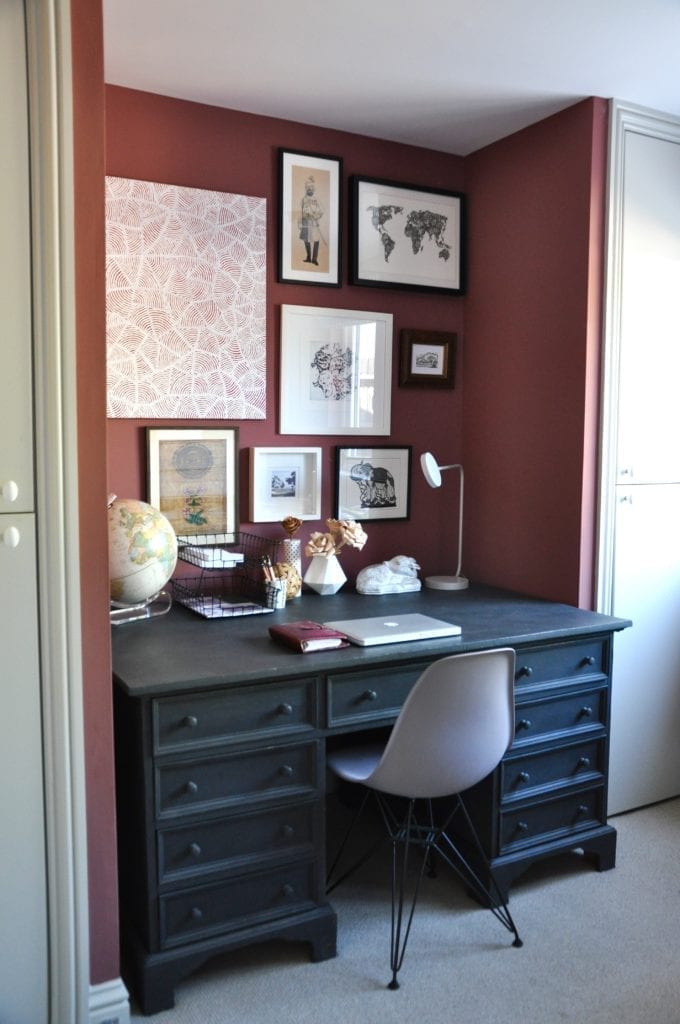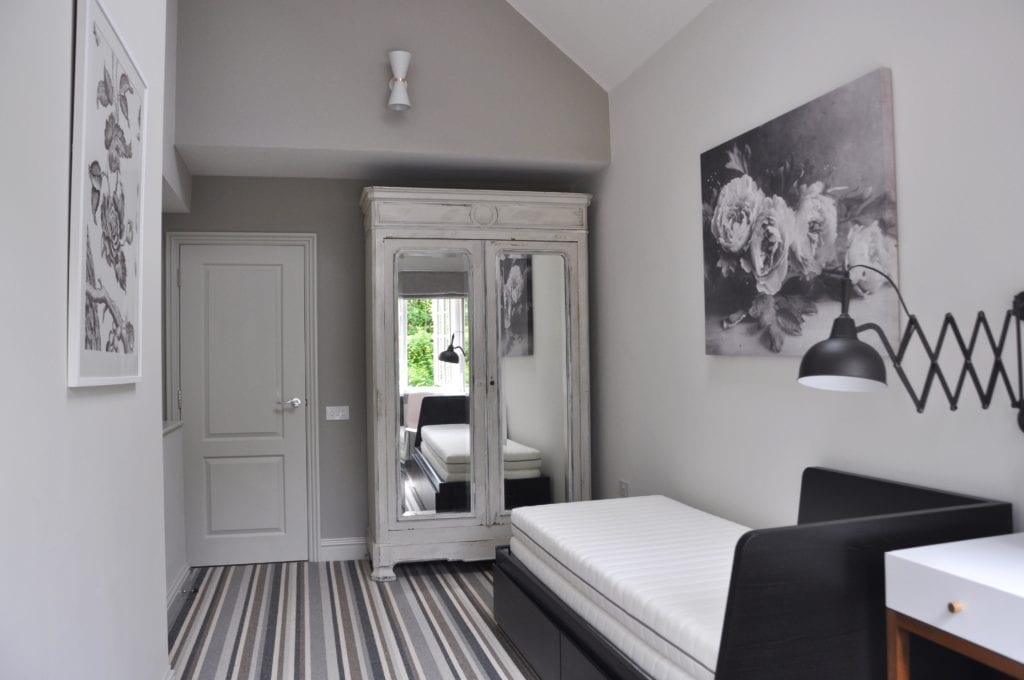 Left: This home office desk area was designed to take advantage of a nook between two built-in cupboards. The cupboards in fact hold double boilers and a megaflow hot water tank. An example of structural expediency meeting the practical needs of a self-employed homeowner. Right: This antique French armoire was chosen for three reasons. Decoratively it provides a pleasing juxtaposition with the cool, contemporary grey scheme. The mirrored doors bounce light around the room. It also provides capacious storage for guests. The Ikea day bed converts into a double bed for couples when needed.
Next, what activities need to be accommodated?
The likely activities of a room's occupants now take priority and should therefore dictate furniture choices and a good, workable layout.
Prioritise creating designated areas for particular purposes and functions. These might include eating, TV watching, gaming, reading, conversation or playing boardgames. Furniture choices and layout might need to facilitate hobbies or tasks such as playing musical instruments, writing or drawing at a desk or doing exercise on a mat such as yoga or pilates. The same applies to bedrooms – adults, teenagers, students and school-age children will almost certainly need a place to study/play/dress up/apply make-up/build their lego/disco dance/belt out tunes on their karaoke machine (delete as appropriate). Practical room design is as much about facilitating family fun as it is actual ergonomics!
In a nutshell, you need to list all the activities that each member of your family will be doing in each space and plan your room design accordingly.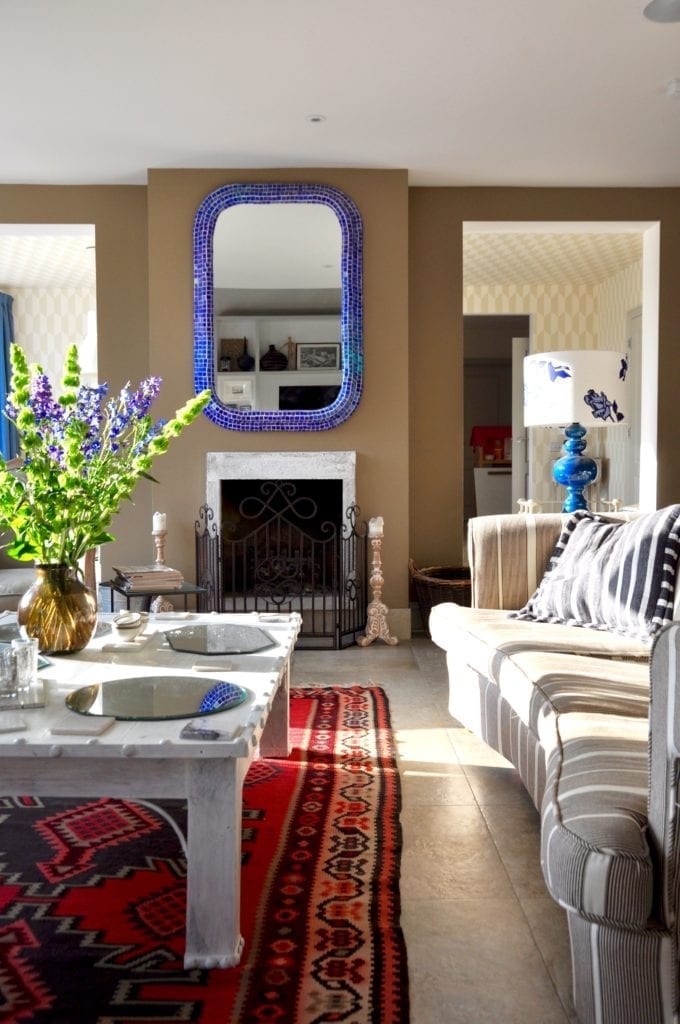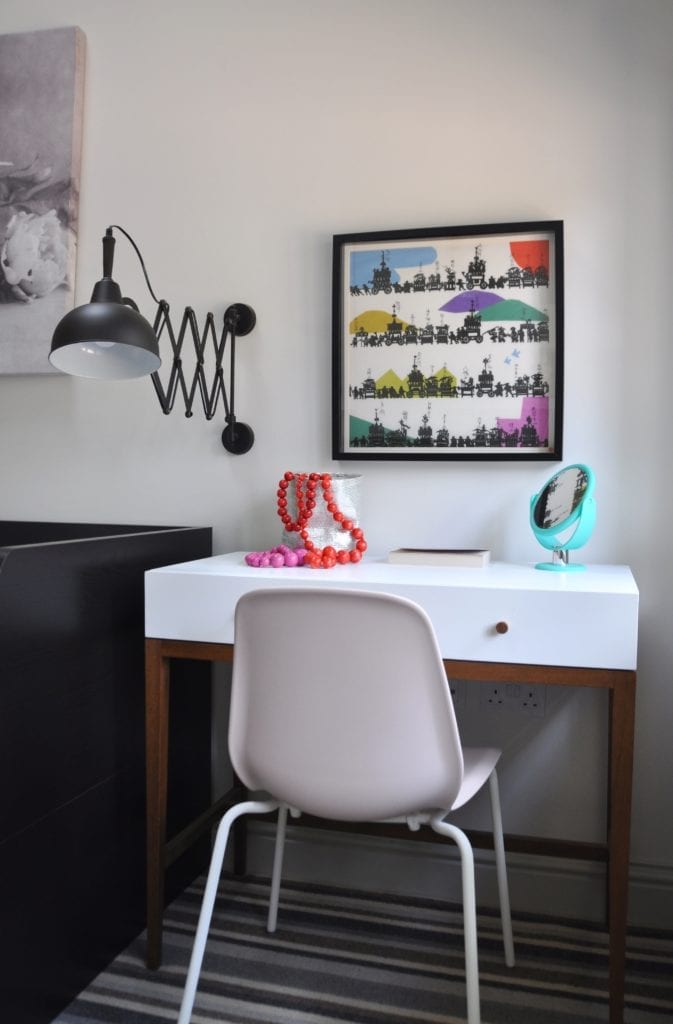 Left: A relaxed and informal sitting room. This sofa actually sits opposite another sofa. The fireplace anchors the scheme at one end, while a wall-mounted, widescreen TV (housed within built-in shelving) sits at the other. The space readily converts from an atmospheric, conversational seating area to a 'cinema'. Right: Compact desks are a great addition to any guest bedroom as they can be used for a variety of functions. This desk was sourced at Habitat, the extending wall light at Maisons Du Monde and the Japanese silkscreen print by Shogun Designs is available through us here.
Finally, how much storage is required?
Lastly, you need to consider the storage requirements for each room or space. Consider bespoke built-in, freestanding (case) and/or portable storage options.
This should be done well in advance of any internal remodelling. Much can be achieved with clever architectural devices and the expert input of an interior architect.
Built-in storage, whether boldly decorative or discreetly concealed can be well-worth the investment. It's undeniably the most efficent use of space. Storage that utilizes dead space such as pocket doors in cavity walls or low-level, roof eave cupboards can make all the difference to a loft bedroom where space is at a premium. On a similar note, always think 'up' when considering built-in solutions. It's amazing how a bookcase around a doorway or cornice-level shelving – ceiling height permitting – can transform the functionality of a space.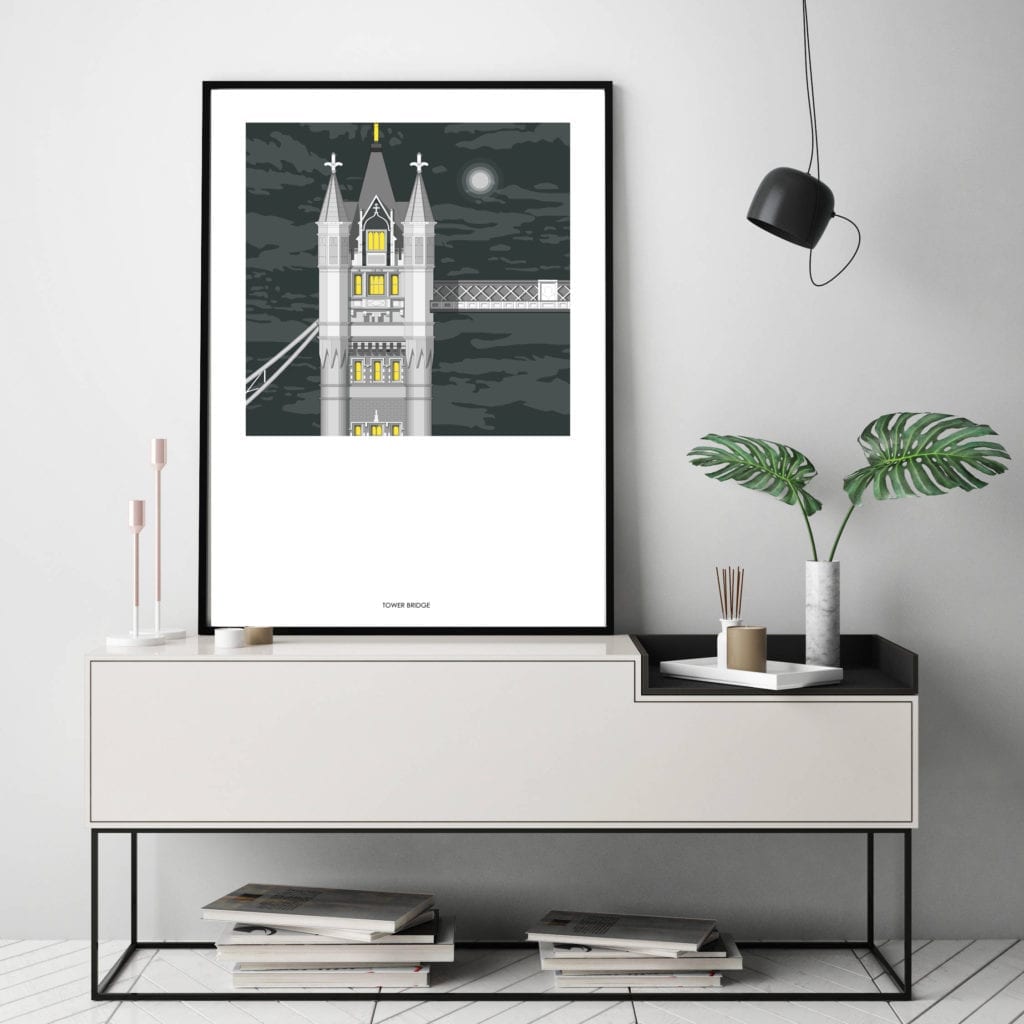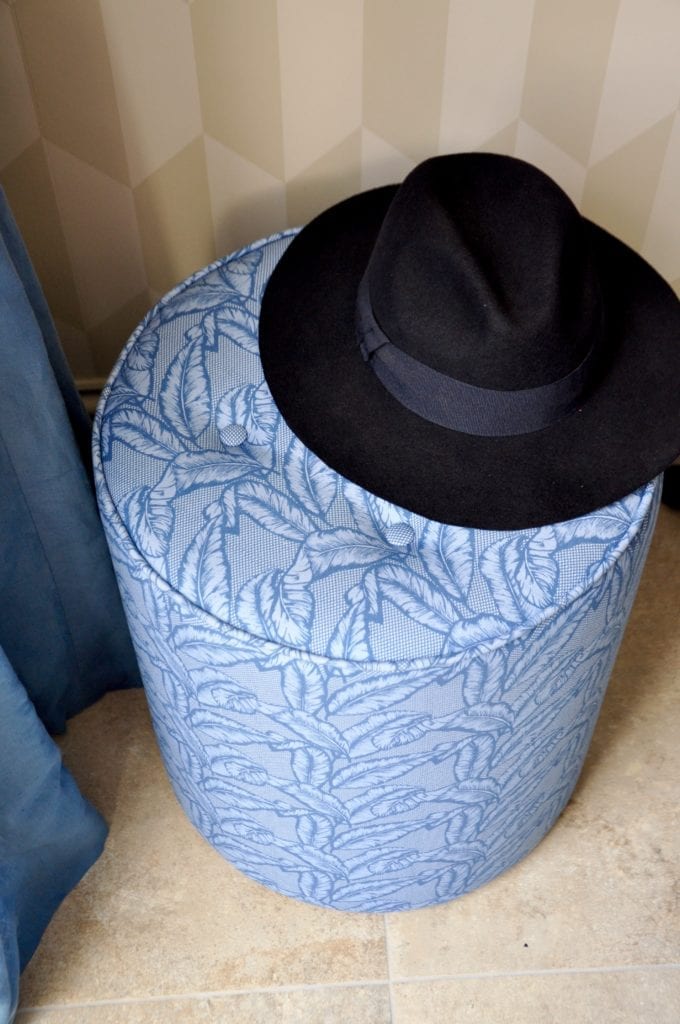 Left: Slick sideboards are a smart option for modern sitting rooms, both for storage and display. This glossy, linear example displays a striking architectural print of Tower Bridge from the Linescapes studio, available to order through us here. Upholstered stools offer versatility, in the case of unexpected guests. This elegant blue palm print stool from Eva Sonaike can be ordered online through us here.
List sitting room storage needs.
For sitting rooms think about books. Avid readers may require a wall or more of floor-to-ceiling shelving to accommodate their 'library'. Conversely, a single shelf may do. Think about the size of your tomes too. Be sure to check your shelves – built-in or freestanding – are the right height.
You may need to store toys, games, or hobby equipment. Perhaps you've a piano to site or you need a place to store your keyboard, cello or guitar. You might wish to include display shelving for personal collections. Of course there's also all the TV/AV tech kit to consider. You may be entirely wire free by now but you may still need to store TV boxes or gaming equipment, cables and speakers.
Think about house guests too…
If you entertain frequently, you might want to include a drinks cabinet or trolley in your dining room scheme. You might go further and install a bar area replete with sink, mini-fridge and cutting surface. Other than that, think about tabletop storage. This might include linens, cutlery, glassware and crockery as well as table centrepieces such as candlesticks and vases.
Bedrooms are more about bedside storage, home study and of course dressing. Clothes and accessories storage take priority. You'll need to calculate and list how many pairs of shoes, handbags and hanging and drawer space you require before you start browsing for storage solutions.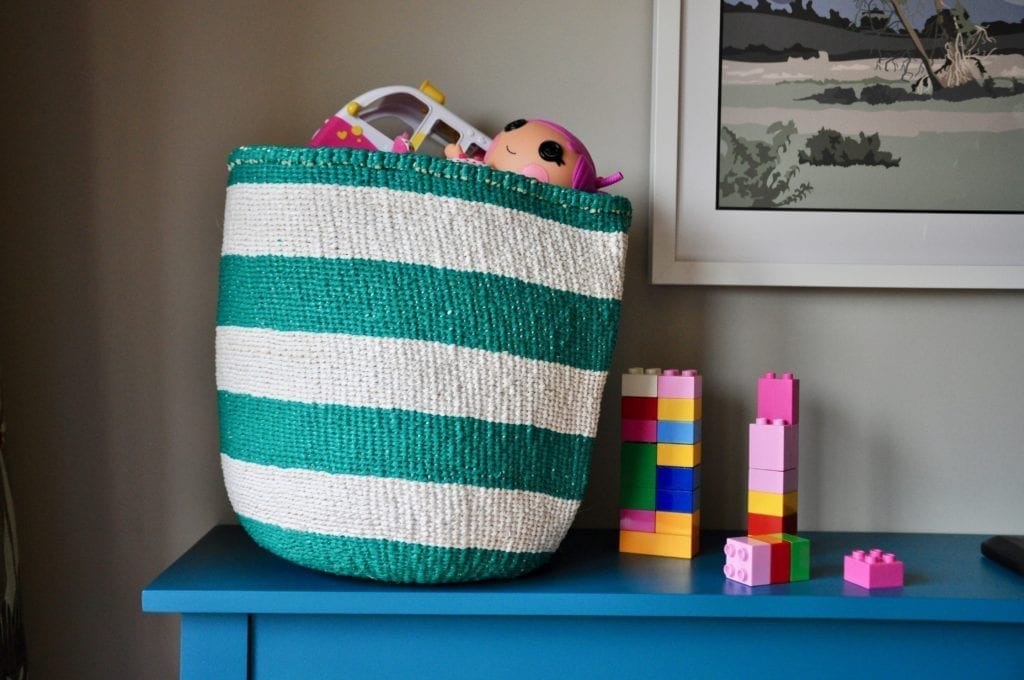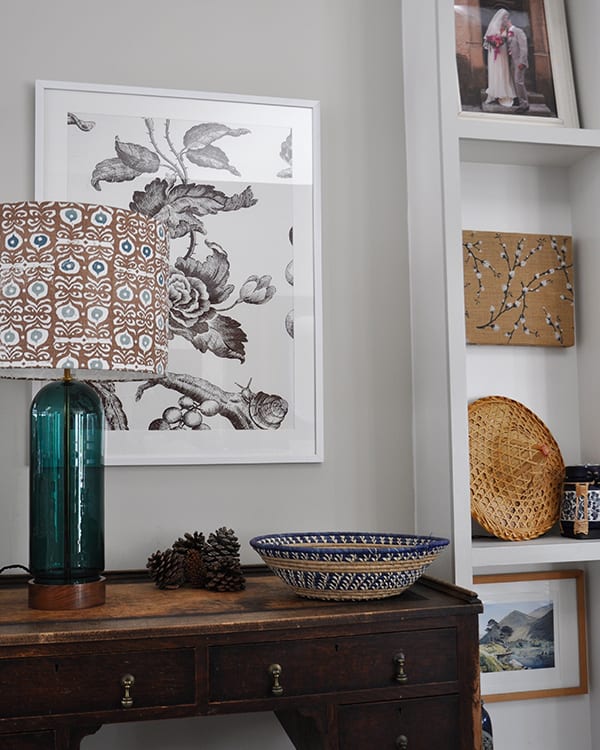 Left: Baskets don't have to be boring! Plus, they're a boon for toy-strewn sitting rooms. Add pop and verve and be proud to show off these Kenyan, artisan-made, Scandinavian-designed, recycled, storage baskets by Mifuko. They are available in a two colours and sizes through us here. Right: Shallow, built-in shelving is a great way of framing a wall-mounted TV with decorative display (the TV is just out of shot to the right). The straight lines also provide structure, height and interest to a previously ugly, wide, blank wall with a TV lost in the middle of it.
Practical room design for spaces that (really!) work.
What I haven't stated yet is that all this thinking and recording – practical room design with its emphasis on facilitating lifestyles – will inform and simplify your furniture sourcing later on in the project. It will also ensure you spend more wisely. 
Each stage in the design process informs the next. Diligence and careful planning ultimately pays off. You will avoid ad hoc, on-the-spot decision-making. As the need arises you can refer back to earlier thought processes. Feel safe in the knowledge that you covered all bases.
In conclusion…
So, in summary, work out who will be using the space. Think about the activities that need to be accomodated in that space. Then, list the items that will need to be stored that space. You need to carry out this exercise for every room in your project and it should be the first thing you do after completing your Project Concept Board – Page 2, so-to-speak, of the project notebook that you should have begun to carry around with you for ideas and inspiration on-the-go!
On that note, fish out your measuring tape because you're about to turn interior designer and do your own decorating site survey! Sign up here now or below for future installments of our Renovation Essentials blog series. Next up, we cover kitchen and bathroom planning so you can head to your specialist supplier armed with a complete and carefully thought through list of requirements. Second we'll talk you through conducting a room appraisal – a bit like a site survey – where you take a cold, hard look at the space you have to work with, faults and all. We'll also and provide you a number of remedial tricks to combat common decorating dilemmas from too low ceilings to a dearth of daylight. Catch you then!
A note about the author.
Design By Origin's focus is and will always be travel infused interiors and 'destination-inspired design'. However, generic blog features relating to interior design and decoration are relevant to all. My creative head, background as an interiors magazine journalist (read more here), own experiences both property developing, interior styling and designing for clients compels me to shout about what works and what doesn't. The pitfalls to avoid and the absolute must-dos. It's not comprehensive or exhaustive. However, I hope to assist, just a little, with your decorating dilemmas going forwards…
Annabel Smith, Designs By Origin