Your Kitchen Planning Primer…
Before you even set foot in the showroom, read our handy guide designed to help you plan your dream kitchen. Achieve the perfect balance between form and function, when it comes to kitchen planning, with our five, top tips.
Space Invaders
The most important question to ask yourself before anything happens is how you use your kitchen? Do you love entertaining and require lots of worktop space or a dining area? Perhaps you have a big family and need your kitchen to run like a well-oiled machine.
Look at the available space and figure out whether a galley style kitchen is the answer or if the room demands an L-shaped design? Maybe you think a traditional U-shaped kitchen is best. Whatever layout you choose, keep in mind the kitchen 'work triangle' concept. Most people have never heard of it, but many designers stand by it even today. It helps you create the perfect work flow in your kitchen by considering ease of access to the three main task areas; cook top, fridge and sink. First used in the 1940s, it was an attempt to help cooks in small kitchens utilise their space as efficiently as possible, and while kitchen design might have come a long way since then, the way we use them hasn't changed much at all.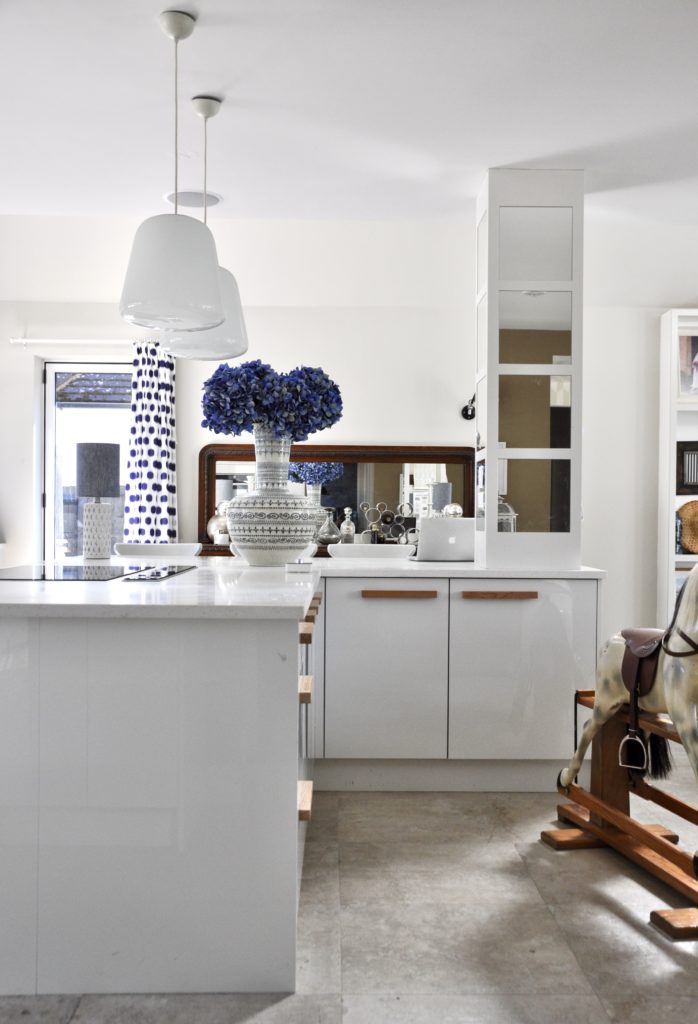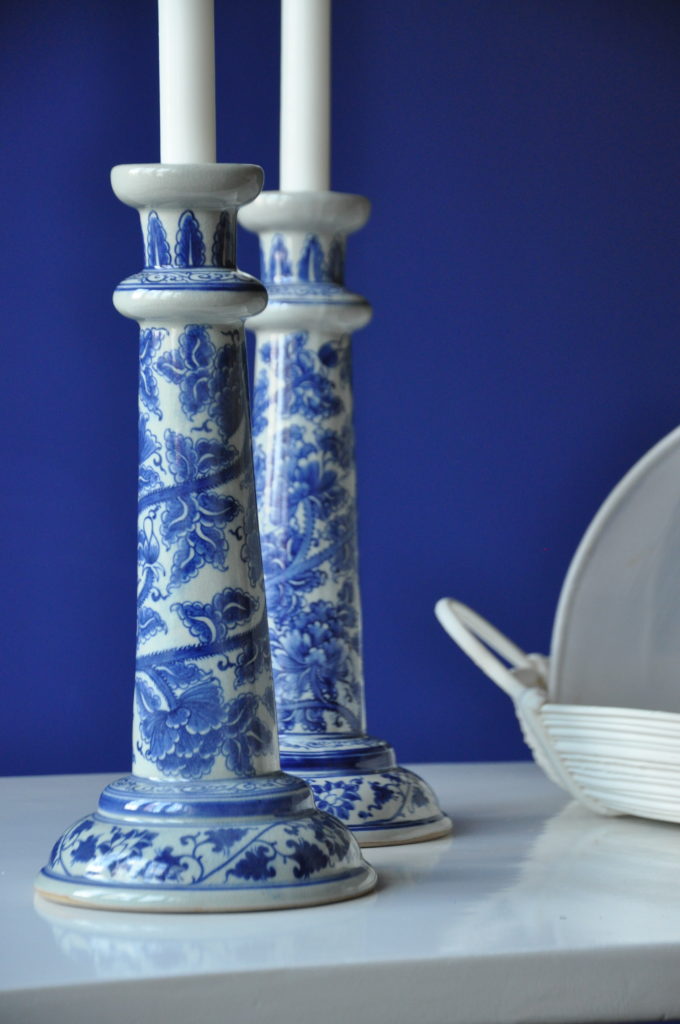 Left & Right: Never be afraid to introduce unfitted or vintage elements to modern kitchen design. These will make your space unique. Re-purposed wooden handles (made from old stair spindles); a mahogany, mirrored sideboard; vintage French café pendants; antique Asian pots and candlesticks (see tabletop, right) and, of course, a child-friendly vintage rocking horse all inject a lived-in, homely vibe to this all-white, gloss, fitted kitchen.
Into the Light
The orientation of the room plays a significant role in the design of your kitchen. Depending on where the sunlight tracks throughout the day, it affects the quantity and quality of natural light in the space.
Be sure to place a worktop by the window so you can make use of the light and the outlook, whether it's a bustling street or peaceful garden view. If the room won't allow a work station at the window, add a kitchen island or breakfast bar to facilitate potential vantage points in the room.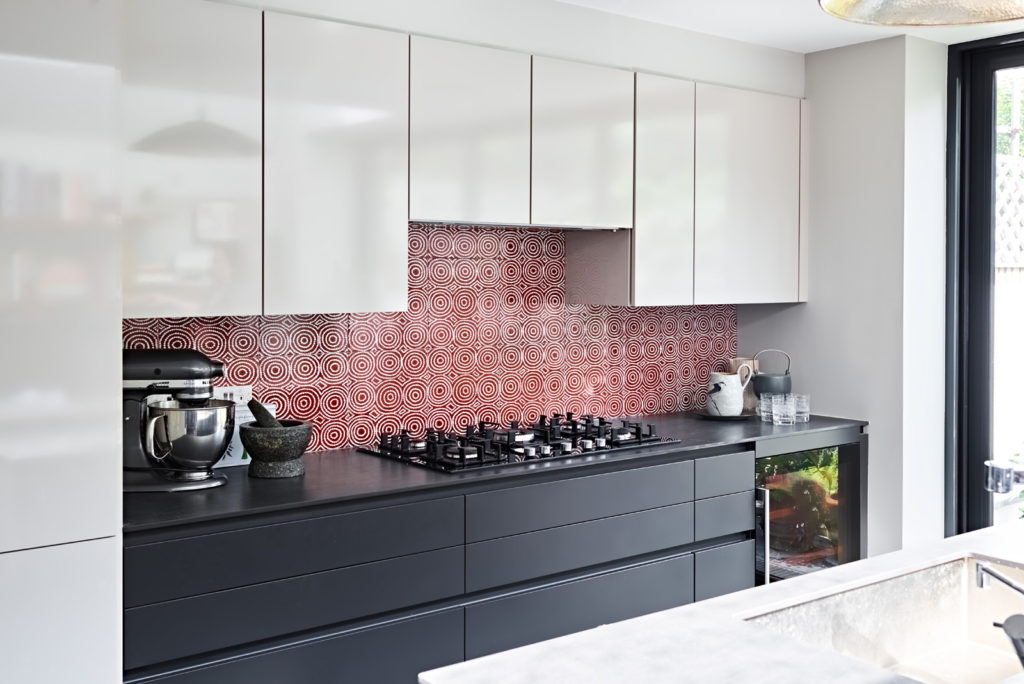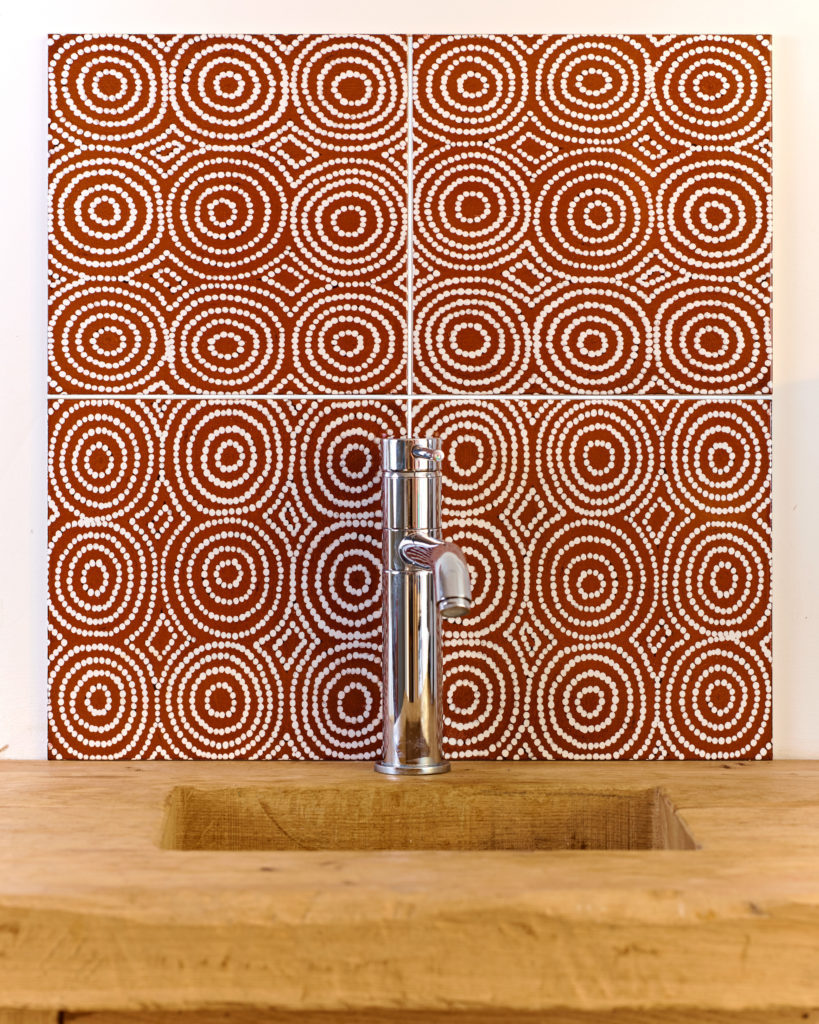 Left & Right: Unusual, large-scale, wall tiles in this striking dot pattern from Bay Gallery Home. The design is taken from an original, Aboriginal artwork and provides an eclectic contrast with this smart, fitted, galley kitchen in monochrome.
Storage Wars
You probably already know instinctively what you keep in your kitchen, but it never hurts to make a comprehensive list. That way you can be sure your new kitchen will successfully accommodate all the plates, glasses, cutlery, vases, tea towels and baking dishes you've accumulated over the years. By tallying up all the things that need a home, you'll be able to prioritise what is most important. How large to make your larder for example. How many drawers you might need. If you need to stow linens or small appliances?
Not all kitchen renovations are about upgrading and maximising. Perhaps you're moving into the stage of life where there won't be so many large family meals to make and you don't need to store so much food. Perhaps you want to make room for other kitchen features like wine storage or create a nook for sitting and browsing your recipe books.
Alternatively, you might be looking for ways to maximise the storage potential of the kitchen and need to carefully consider use of the available space, both laterally and vertically (always think up!).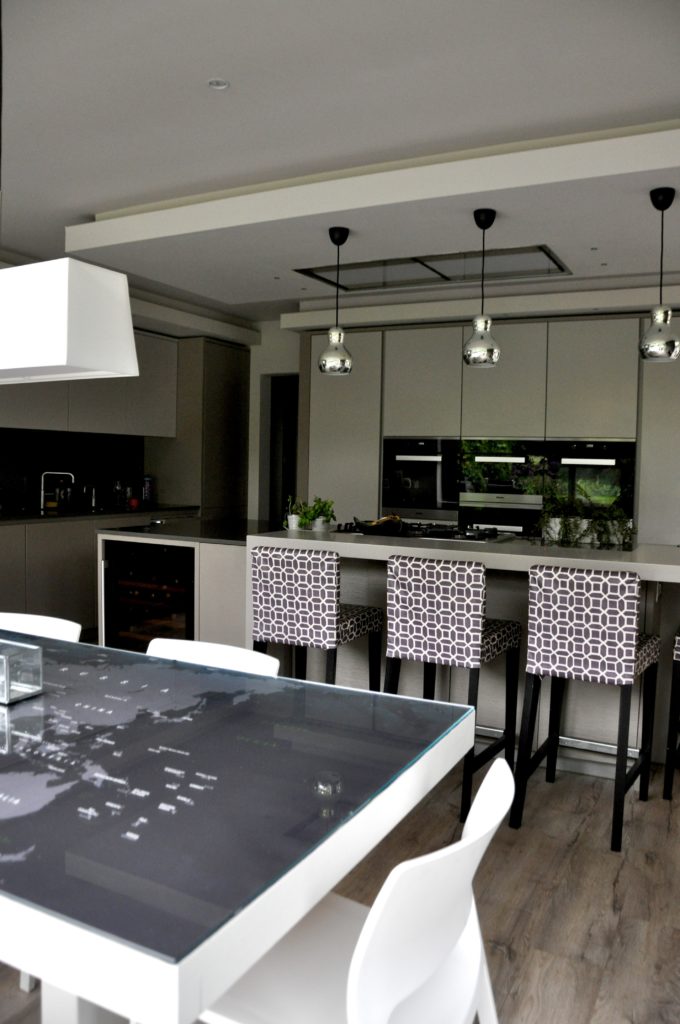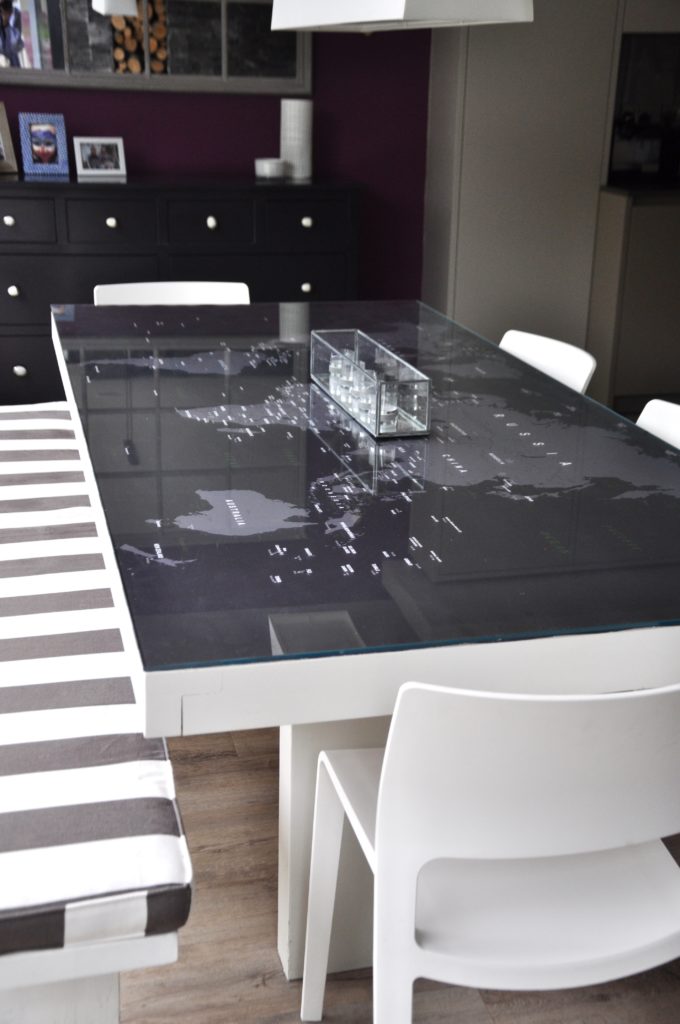 Left: Bar stools in a Moroccan-inspired geometric add character to this seamless, built-in kitchen from Red Kite Kitchens . Interestingly, the upholstery is actually in a wipeable oilcloth as a practical choice for the young family that lives here. Right: Another quirky addition is the up cycled 'travel' table. A digitally-printed map of the world was overlaid with glass to create the perfect surface upon which to plan foreign family adventures.
Open and Shut
Spacious, modern kitchens often do away with the traditional 'fully-fitted' style with trends that lean towards open shelving, free standing furniture and mix-and-match colour palettes and textures.
Do you like the spacious, clutter-free look of base-units only? Or do you need the storage clout of overhead cupboards?
Will you opt for sliding or folding 'up-and-over' doors to save space? Or do you like the idea of extra-shallow cupboards to make it easy to find all your larder essentials? Perhaps you need deep drawers for your tagine or maybe pull-out racks, rails and carousels appeal.
Where natural light is at a premium, internally-lit units and/or spots or LED strips beneath wall-hung cupboards, avoid you having to work in your own shadow and solve the problem of darker corners. If you always seem short of power points or there isn't space for more, supplement with pop-up, power panels or consider a charging drawer for devices and gadgets.
Are you going for a gas or electric cook top? Will you need space for a microwave or triple oven? Do you absolutely need an ice-maker in your fridge or a wine-storage cabinet for chilled drinks on demand? There is much to consider, and these days. It's perfectly acceptable to embrace a combination of traditional and modern storage and design solutions.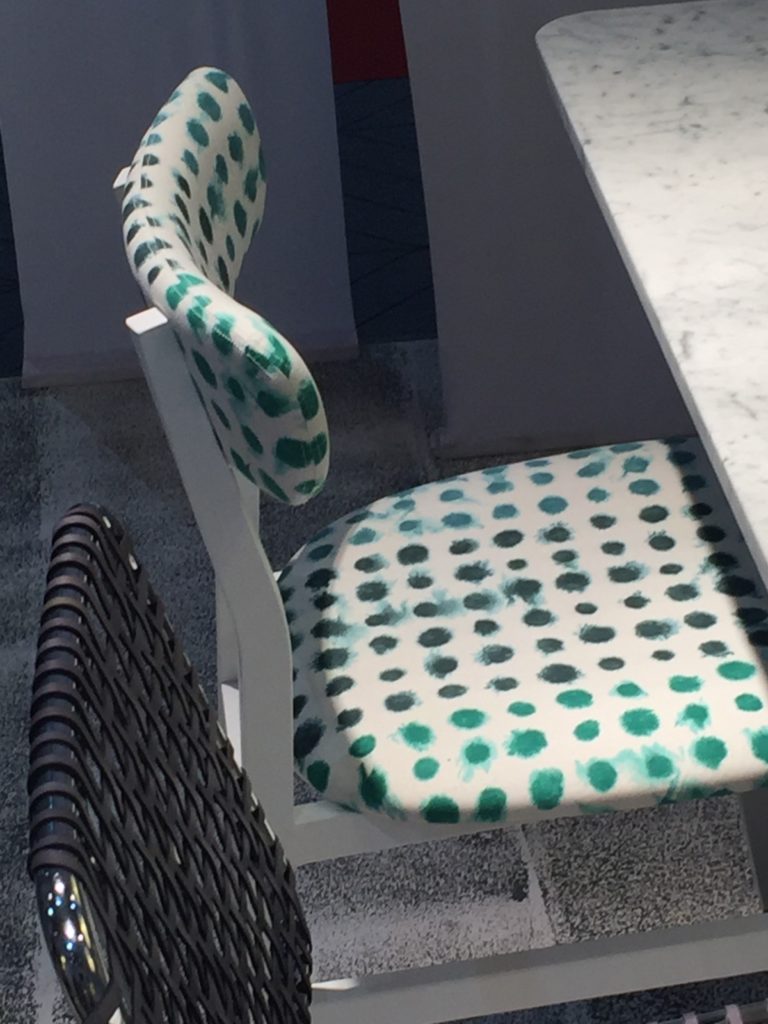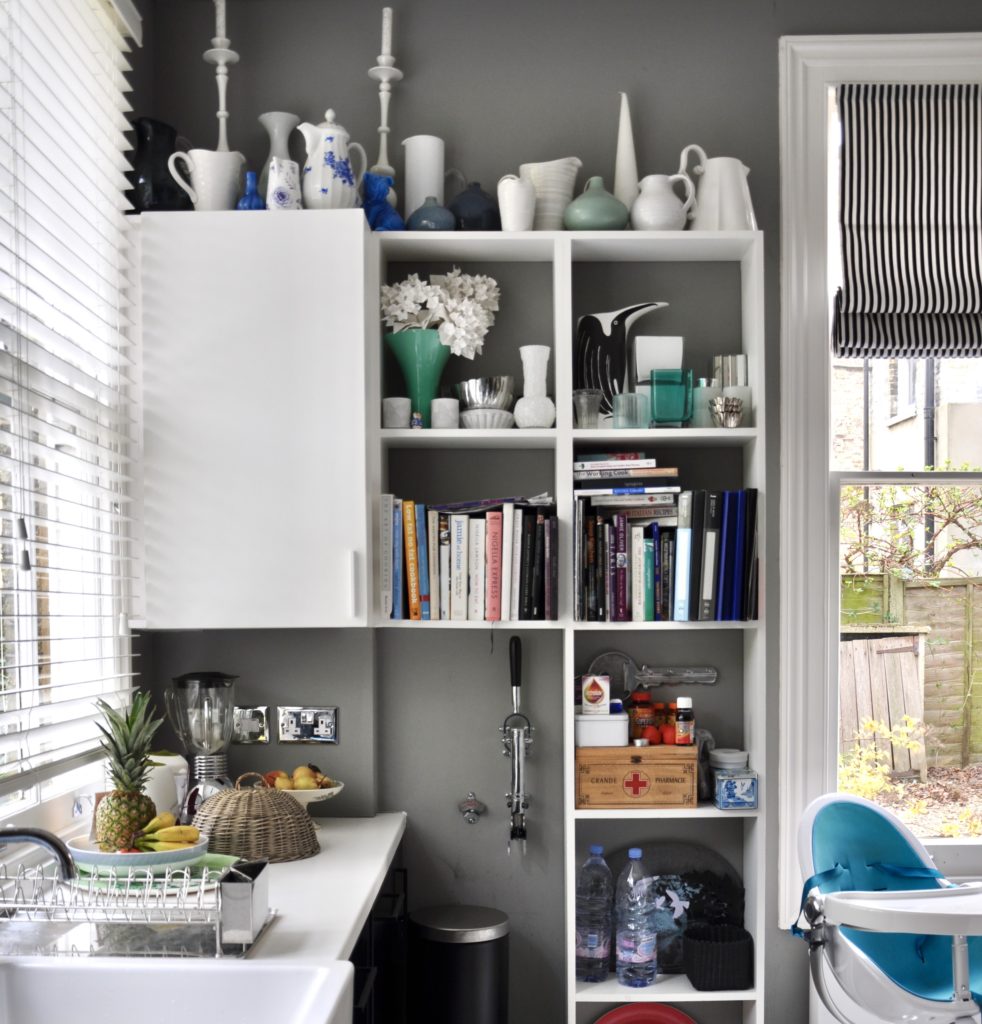 Left: Don't discount dining chair upholstery in kitchen eating areas. The look and feel of decorative textiles can lend softness and provide contrast with the utility zones. We're big fans of creating a more 'decorated' look in both kitchens and bathrooms. Perhaps best for older families already through the spaghetti-throwing, 'sticky fingers' phase though! Love the bold, smudged-spot pattern of these fabulous 'Brick' chairs by Paola Navone for Gervasoni. Right: Open plan shelving, even in compact galley kitchens, provides an opportunity to display collected treasures, general kitchen paraphernalia and rafts of recipe books.
Finishing touches
After all that hard work, it's time for the fun part. This is where kitchen planning turns to colours and textures, patterned or plain. A splash back, for example, can have a big impact if you select a contrasting colour or texture to the worktop.
You could opt for patterned floor tiles, a statement pendant light fitting, bold colourful units or unique additions like an antique cabinet. Choose between sympathetic, complementary combinations or mix things up by juxtaposing old and new, high and low or minimal with an eccentric twist. Browse these accompanying images and captions for some eclectic inspiration. The choices are endless, and remember, fortune always favours the bold.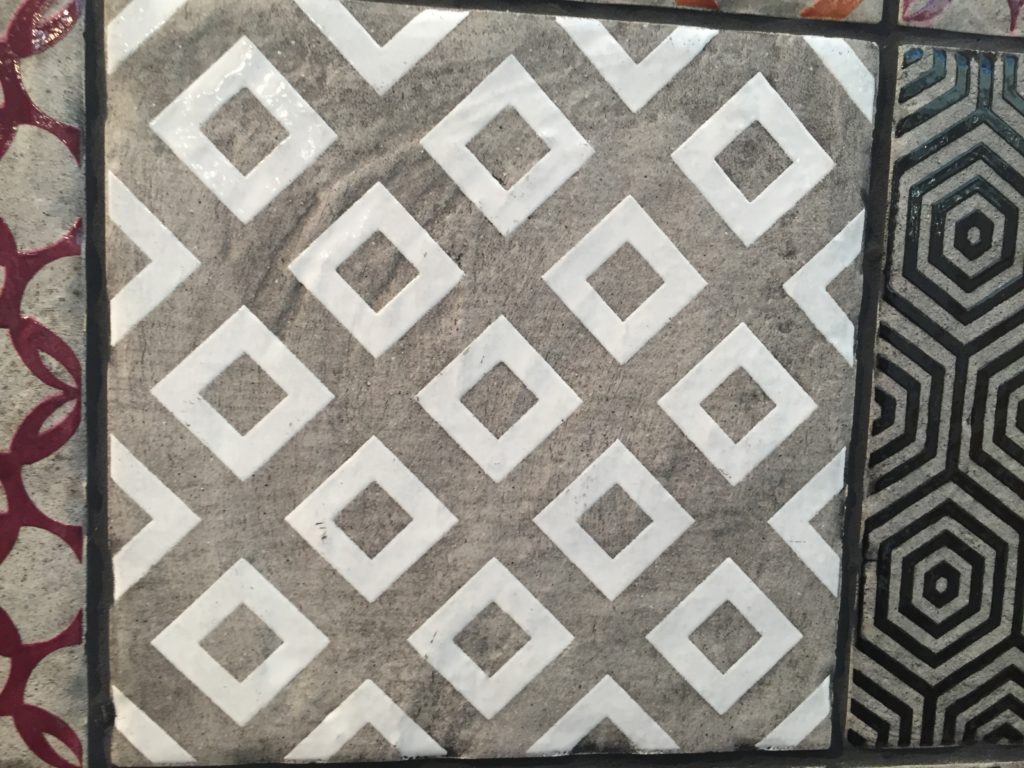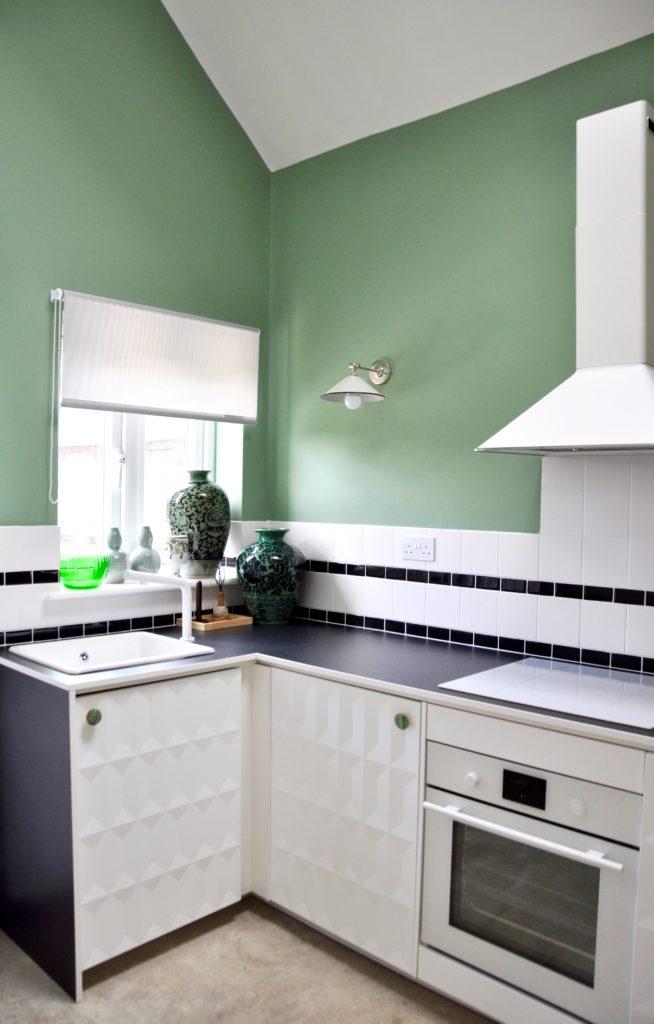 Left: Bold yet chic in neutral grey and white, these geometric patterned tiles from Bedrock Tiles have a distinctly African vibe. Right: Monochrome lines – by way of a stripy, metro-tile inspired splash back – meets traditional Thai pottery. Don't hesitate to combine clean-lined, monochrome looks with sinuous curves and decorative pattern. This kitchen is from Ikea.
Kitchen Planning – Conclusion
Now that you've learned about all the things you'll need to consider when kitchen planning, it's probably a good idea put down the tape measure, pick up a pen and get cracking on your own, tailored, kitchen checklist. You can't be too prepared when it comes to planning the most hard-working room in your house!
For more renovation and re-decorating advice from single rooms to whole house projects, head to our Home Decorating or Renovation pages to read similar features. Alternatively sign up here to our newsletter and receive your free, comprehensive guide to redecorating your home. Whether single room refresh or whole house renovation our 'Room Renovation Checklist' will have you covered!