Folk Art Made Modern…
Meet Julia Brendel, a globally-inspired textile & soft furnishings designer whose collections speak of home, heritage and the wider world.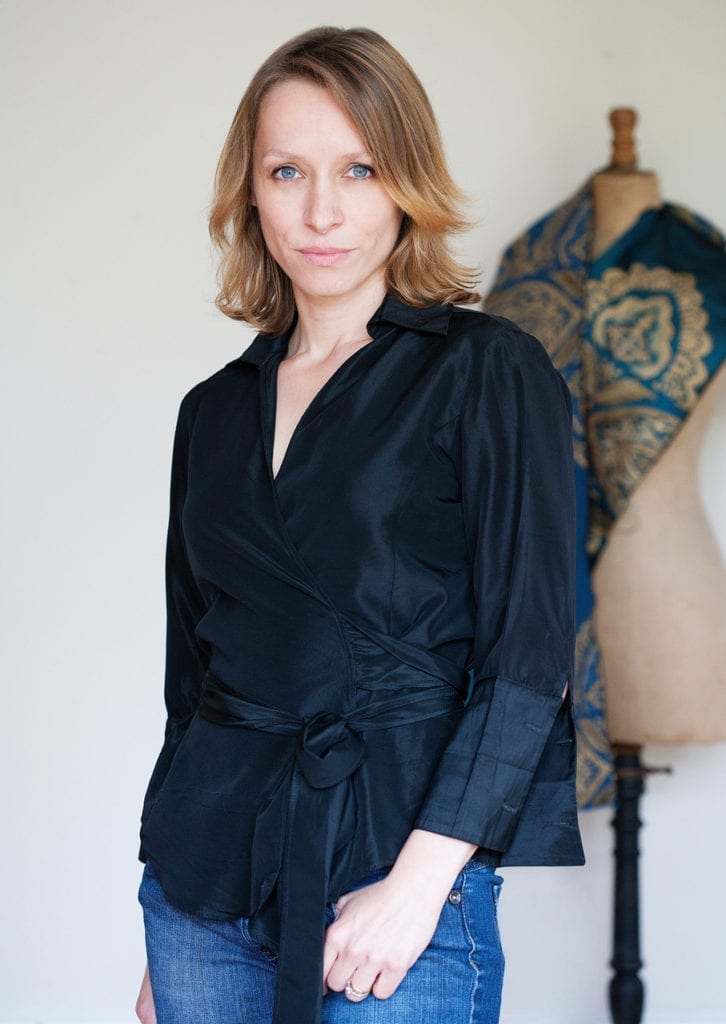 The first time I visited Polish-born textile designer Julia Brendel, deep in the Kent countryside, a glorious riot of pink, green and cream hydrangeas were in full bloom. They framed the entrance to her charming, fabric-filled, design studio and were swathed across the surrounding walled gardens. A bucolic and quintessentially-English setting that might provide endless inspiration for painterly florals and botanicals. And yet, despite being an avid gardener and having adopted the English countryside as her home, Julia's inspirations stretch back to her roots in Poland and Hungary and far beyond. Her folk art designs reference cultural aesthetics from across the globe taking in the Arab peninsula, Africa and India as well as Eastern Europe where she grew up.
A pretty patchwork bed dressing displays a variety of Julia's designs. The African-inspired geometric cushion in one of Julia's fabrics is available through Designs By Origin. The same fabric is also available by the metre through Julia Brendel direct. An eclectic display of Asian conical hats above a Swedish bench, in the entrance hall of Julia's home.
Tell us a little about you and your company…
'I am originally from Poznan in Poland and I set up the Julia Brendel brand in May 2012. A short textiles course at the V&A inspired me to start designing my own fabrics. My creativity, however, was instilled in me from a very young age. Despite growing up during the Communist era, I was raised in an eclectic and artistic home by my Polish mother and Hungarian father, both inspiring creatives with great taste and a passion for art and antiques. My love for painting and drawing as a child eventually led me to an MA design course at The Academy of Fine Arts in Poznan. I experimented with myriad art forms ranging from traditional fine art mediums, furniture and product design to printing, packaging, and mosaics. In 2001 I came to the UK where I met and fell in love with my husband. I've been here ever since!'
How do you go about designing a new fabric?
'When designing a new fabric, I always have the finished product in mind. I have to consider usability and how the folk art motifs will translate for a particular application. For example, how the pattern repeat will work for drapes or blinds and how motifs will translate on a lampshade or cushions.'
'In terms of artistic influence, I have always loved folk art from across the world and its association with the everyday. Simple, culturally-inspired designs that have innate, timeless appeal. I also like to think that my textiles add warmth and personality to any room scheme.'
The blind is in 'Kurpie' in Red. The same fabric is shown on the roll in Blue. The fabric was inspired by this vintage, embroidered, Polish, folk costume.
How do you see your designs being used in client's homes?
'I encourage clients and customers to mix and match patterns confidently and to not to be afraid of colour. Our latest printed linen collection is designed so the different patterns complement one another and can be used within the same room for curtains, cushions and upholstery, thereby uniting the various elements.'
'Our cushion collections, throws and tablecloths are also designed to coexist in a space. However, these elements and also our furnishing fabrics, work equally well individually, mixed with other brands or combined with a client's own textiles to create a unique, eclectic look.'
What interior design advice do you offer clients contemplating a room refresh?
'I would always encourage clients to stay true to themselves and work out what it is they really love. When I first exhibited at Decorex in 2014 I was totally unaware of trends and had simply created a collection I was proud of that reflected my heritage and roots. I showed my first folk art inspired collection and it was a huge success. Visitors were excited to see something new. Similarly, I urge clients to be confident in their approach to a room update, retaining favourite elements without being afraid to push their own boundaries a little and experiment. Above all, I advise clients not to copy formulaic looks or styles. Trends come and go much faster than personal likes and dislikes. Creating rooms that truly reflect who you are is always a better investment in the long term. It's important to examine what kind of interior spaces make you feel comfortable and happy. Conversely, public spaces often provide me with unexpected interior design inspiration. Hotels, train stations, banks and even shopping centres sometimes contain design details that can be implemented or reinterpreted on a smaller scale, within a domestic setting.'
'My favourite style is definitely eclectic – something old with something new. It is not the budget that makes an interior successful, but the ideas and unexpected contrasts within it.'
The bed displays the new 'Tribes' and 'Laibik' printed linens. Top right: 'Tribes Horizontal Stripe' in Charcoal. Bottom right: 'Memory Floral' in Forest.
So, what's up next? Tell us about your latest product launch…
'My newest 'Tribes' and 'Laibik' fabric ranges are now available to buy online. 'Tribes' represents an amalgamation of tribal-motifs from various global cultures translated into chic, wide stripes. 'Laibik' references the folk art embroidered costumes of Polish Highlanders, worn by men in Polish villages up until the early 20th century. These two collections are my first foray into printed linens – so far, all of my textiles have been woven. An exciting and related development is that we can now print to a client's bespoke specification. I am also planning to exhibit at design shows and exhibitions over the coming months so watch this space or sign up via our website newsletter for updates!'
What's the best part of your job?
'Designing new products and meeting with clients, especially those who are willing to experiment and try new things! I like the balance of working by myself from my studio in Kent and going out to see trade clients, exhibiting at fairs, visiting design shows and generally connecting with others in the industry.'
'What motivates me are my own little successes – looking back and seeing what I have achieved so far. It gives me the strength to believe that I can do whatever I want if I try hard enough.'
Julia's 'Hungarica' fabric works brilliantly on smart, statement drum lampshades. Julia also sells a collection of chic, colourful cashmere scarves with an eye-catching tribal design. Both ranges can be bought direct, through Julia Brendel or through us, at Designs By Origin.
Which other interior design brands inspire you?
'Actually, Ikea is one! The sheer variety of ideas and simple solutions to everyday problems is amazing. I love the innovation of many of their product ranges. The secret is to be selective about how, where and how much of the product you use in any given space. Mixing and matching Ikea accessories with other brands and styles works for me!'
'I also like the cultural references and decorative, almost theatrical style of many OKA homewares.'
'And I love antiques & vintage! I'm certainly not averse to a bit of car boot sale browsing! Antiques-wise, a local favourite and regular haunt of mine is Peter Barrows Antiques in Faversham.'
These vibrant, silk-chenille 'India' cushions in 'Peela'/Gold simply zing against their inky blue backdrop in this moody and atmospheric bedroom. Julia's super-soft and extra-wide patterned cashmere scarves are delivered in a chic, branded boxes and are perfect as a special gift.
Finally, any top tips or insider knowledge when it comes to exploring your Polish homeland?
'Poland is full of absolute treasures. We have it all: the mountains, the coast with its many fine, white sand beaches and dunes, plus lakes, forests and some incredible cities with wonderful architecture, both new and old.'
'I can recommend Gdansk, which I visited a couple of years ago (the first time since my early childhood). It took my breath away. The European Solidarity Centre and the Museum of the Second World War are both hugely impressive and fascinating exhibitions, well worth a visit.'
'I also visited Lodz recently as my fabrics were used to make costumes for the opera there. For anyone interested in textiles, Lodz is known as a former textile-manufacturing hub. I love the red brick industrial architecture now largely transformed into stylish apartments and commercial spaces with many great shops and restaurants. Lodz is now a lively culture and arts centre.'
'As a child, I also spent summer holidays in the Pieniny Mountains in Southern Poland. We used to stay in Niedzica Castle, built in the Middle Ages and still a hotel today. Take a raft down the Dunajec River Gorge with a local Highlander and climb The Three Crowns Massif for spectacular views. This area is also a stone's throw from Slovakia. We often pop across the border for more amazing mountain walks and scenery or to stock up on local food and beer!'